Africa Destined to Bleed Yet More! Any Remedy?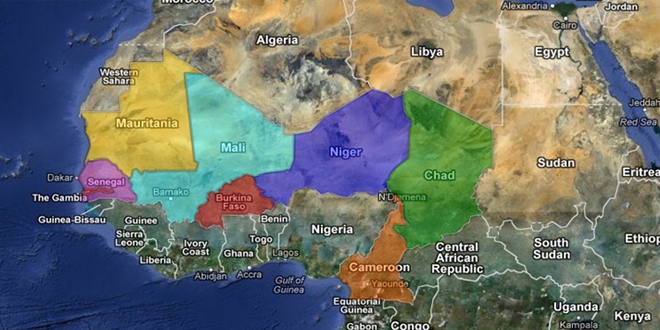 African continent, characterized by its geopolitical and geo-economics significance does not escape observers' focus with its 54 nations, having cumulative fifth world largest economy, next to US, China, Japan and India.
While ten fastest of the developing economies are located in Africa, the continent is, nevertheless, plagued by multiple paradoxes of threatening consequences.
The state upheavals, insurgency, chronic human rights violations, child wars, dripping poverty, drugs trafficking, ethnic and ideological massacres eclipse its peace and stability potentials. "… way to the Better there be, it exacts a full look at the worst", said Thomas Hardy. In modern era, perhaps it fits well on Sahel Region. Human dignity to the African masses stands denied, a few islands of exception notwithstanding.
The Arena
Sahel Region lies between the latitudes 120 N and 200 N. The two latitudes run through parts of, from the east, Ethiopia, Eritrea, Sudan, Chad, Niger, Nigeria, Mali, Burkina Faso, Mauritania, Senegal and Gambia. Possibly the recent flurry of worries would stand substantiated a bit more if we turn the pages of history for a while. Some old sources depict Sahel region historically a grey zone where peace and stability struggled to survive gaspingly between competing empires. In globalized world politics, the region has become more relevant because of its emergence as a menacing hotbed of organised crimes sprouting from its abject poverty. The scenario directly threatens the prosperous regions of Europe/Eurasian continents through a short hop across the Mediterranean. Like Cicero, early Roman Republic, expressing its anguish against high-sea pirates; can we label these crime perpetrators as enemies of human race? Such consensus would be easy to achieve only if international community musters collective will to render collective response to the conflicts.
Threat Dynamics
The implicit and explicit narrative to counter brief but deadly inventory of threats directed against the African masses as well as Mediterranean shores would be phase two of the response. The catastrophe, in fact, has already festered within Sahel Region as phase one of the existential threats. Hence, assessing the task and pre-empting the challenges would certainly be prudent strategy than waiting for knock by the monster. The print and electronic media has seen particular hype in delineating the threat trajectory, emanating from Sahel region. Prevailing destabilizing environments surface in nutshell as the bed-rock of the menace. Sahel region has remained marred by the extensive governance deficit that exacerbated the miseries of masses over decades. Prolonged absence of writ of states prompted the clans to coalesce inwardly to seek added security and settle scores with their foes. The tendency led to formation of organized armed militias to redress their genuine or perceived grievances. Warlords flourished, at times out-weighing military capabilities of the so called legitimate native regimes.
The region has also become heaven for the drug traffickers who operate with impunity through Colombian-Sahelian-Eurasian cartels' alliance. Illicit money enables terror gangs to flourish. Large segments of public, caught in the cross fire, attempts to flee massacre and poverty. It results in 'boat-loads' of irregular immigrants on European shores with dubious, if not criminal dossiers. Energy reserves and precious metals sites are subject of severe contention from within and without. While Africa moans, theatre of war without boundaries has also emerged in this region. Market states of consents are also grappling with transnational actors, inclined to wreak havoc as the Sahelian arena presents a perfect breeding ground for militants. There will be no clear victors and hence no conventional victory parades but the one staying the course would be winner, argued Philip Bobbitt. The region, in the wake of recent conflicts in Central Asia, Middle East and North Africa, is likely to draw more debate than ever. The fact that it is in the cusp of crises would be hard to deny. Elaborate strategies, modes and magnitudes to rescue it from the kind of a tragedy emerge as daunting questions. Here the issue has been approached from Atlantic alliance perspective.
Inspirations and Inhibitions
US, Europe fraternity have its military capability harnessed by NATO that performed operational
task in Afghanistan in unison. US also has its dedicated forces 'command' for Africa as well. Though there is no dearth of military muscle, US and Europe have to be on same page while keeping UN on board. Concurrently, understanding among P-5 would be a geopolitical prerequisite to help Sahel region manage its threats. Model interventions on humanitarian ground in Libya and recent French military's venture into Mali did draw some critique by the quarters that had reasons to sound their dissent. The divergent approaches manifested themselves all too glaring in the context of Syrian crisis. In predominantly Muslim world, spanning over Sahel from 20-90 percent of various countries' population, Islamic Maghreb and adjoining Middle East, some views, even shared by certain Western think tanks, are emerging to the contrary. The talk of creating a threat-bogey by the powers that are inclined to trample Africa through resource wars is becoming conspicuously shrilling. The patterns of recent conflicts have rendered the opponents strong arguments that (according to them) overblown crises are in fact the pretext to grab African assets. At the same time, they argue that under the hoax of Al-Qaeda and a contrived war on terror, another predominantly Muslim region would be targeted for achieving the ends that have no relevance to the pretexts. US, in effort to enforce its values, has drawn considerable volley of flak. It faces such allegations as crystallizing and aggravating the ongoing (rich) North-South (poor) dilemma, reviving the crusades and above all, attempting to maintain hegemonic imperium. Even some credible western sources share such fears.
Sahel region however, sinking in a quagmire, bears threat of impending human catastrophe in the fold. It calls for liquidating the menace in a decisive manner for humanity sake, disregard to the obtaining geo-politics, for and against arguments. Question is how to do it while eliminating the threat and at the same time, maintaining universal credibility as well?
Response Blueprint, Preparatory Posture
Employing military methodology, precisely assess the depth and magnitude of threat. A threat-prong aims inwardly at Sahelian states. International community, with larger input from trans-Atlantic alliance, should firm up Sahelian institutions' functional capacities. Place their militaries' sanitisation and modernisation at top of the agenda. Through extensive consultations, bring all Sahelian states and their immediate neighbours on board about inevitability of mustering collective response to achieve sustainable peace. Trans-Atlantic community should resort to diplomatic surge to seek concert within and of all other stake holders from UN platform. Strategic effort must be supported by strategic consensus. Second threat-prong aims outwardly at Europe, particularly its coastal states, Balkans and those located on southern and south-eastern periphery. They need to up the ante. Thwart arms, human smugglers and drug barons' attempts of reaping illicit bonanza. Adopt passive measures like enforcing stringent laws, surveillance, sweep and search at Greece, Turkish, Bulgarian and Serbian border entry points to deter them.
Establish Sahelian Command Centre (SCC), manned by the constituent states military experts and UN observers' team, to transmit real time intelligence, afforded by NATO, US African Command or any of P-5, to the military commands of the regional states. Enable them to locate, interdict and possibly destroy the carriers, collaborators or perpetrators of multifaceted organised crimes. The preparatory effort should be sanctioned by UN for a decade but subject to evaluation and performance audit every three years. When the Sahel situation stabilizes, extend SCC role to other African countries like Nigeria and Algeria to enable their governments to restore their writs, encouraging them at the same time to address their discordant root causes. Concurrently, prompt the states to achieve demonstrable bench marks on way to democracy that draws succour from absolute justice, free of shackles of class, creed, culture and faiths. Similar to provisions of accountability of crime against humanity, evolve a universal set up like ICJ, to deal with stinking corrupt rulers (Ministers, Prime Ministers and Presidents) anywhere in the world who remain out of the fragile net of respective states accountability apparatuses. UN charter should recognize corruption as a crime against humanity.
Execution Posture, Create and Deploy Military Punch
The preparatory phase is likely to come across some hiccups. SCC would also become effective gradually after coordinating and planting its tentacles with militaries of the host states. In the meantime, militaries of the region could be in reorganisation and restructuring phase. Hence pool up adequate military capability to assist SCC forthwith until it is capable of embracing the entire mission of war against rogue gangs with the help of native militaries.
Constitute a division size force under UN banner, requisitioned from African as well as Middle Eastern and South Asian countries having proven professional forces system. Designate it as UN Quick Reaction Force (UNQRF). Dominate at least three hotspots by virtue of its tactical positioning to straddle the entire Sahel region. Each segment of UNQRF's conduct of war effort should mutually reinforce others in impact. Integral mobility would enable them to react fast and maintain an edge over the militant gangs and smugglers. Decision, whether UNQRF would need any additional reserve component, say of brigade size troops, should be made contingent upon the final assessment of the magnitude of threat. Commanders' preference should focus on the desirability of creating an integral composite reserve within each of three battle groups of UNQRF to afford them response flexibility for unforeseen contingencies.
NATO and US African Command must not commit any ground troops. Instead tasks like reconnaissance, coastal surveillance, locate and destroy missions by air combat patrols in support of UNQRF should be assigned to them. For timely response, the region's air bases and others on the periphery should facilitate air support missions. Invite other powers like Russia, China, Egypt, Israel, India, Pakistan, Australia and Indonesia to share the burden of Atlantic alliance's material resources needed for sustained air operations. Command responsibility for the conduct of all air operations must be vested in the component that dominates the entire range of operations. More likely it would be US African Command. SCC and UNQRF would be responsible to UN for updating it through independent and exclusive periodic briefings.
Conclusion
It would take Herculean diplomatic effort to evolve consensus and execute the proposition but it would be economical, legitimate, non-partisan, quelling the critics and having silver linings to meet the challenges of Sahel.

'Full scale' humanitarian crisis unfolding in Ethiopia's Tigray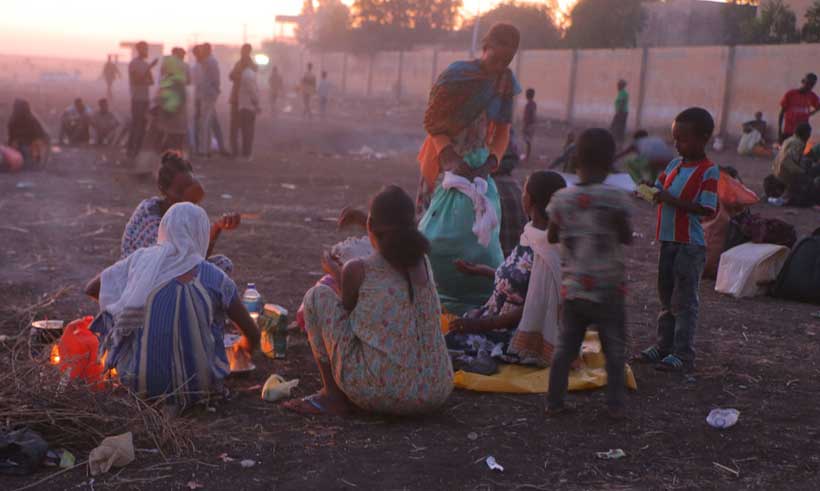 A "full-scale humanitarian crisis" is unfolding as thousands of refugees flee ongoing fighting in Ethiopia's Tigray region each day to seek safety in eastern Sudan, the UN refugee agency (UNHCR) reported on Tuesday.
More than 27,000 have now crossed into Sudan through crossing points in Kassala and Gedaref states, as well as a new location further south at Aderafi, where Ethiopian refugees started crossing over the weekend, according to UNHCR.
The scale of the influx is the worst that part of the country has seen in over 20 years, according to the agency.
"Women, men and children have been crossing the border at the rate of 4,000 per day since 10 November, rapidly overwhelming the humanitarian response capacity on the ground," said Babar Baloch, UNHCR spokesperson, briefing reporters in Geneva.
"Refugees fleeing the fighting continue to arrive exhausted from the long trek to safety, with few belongings", he added.
According to news reports, Ethiopian Prime Minister Abiy Ahmed, has indicated the military operation that was launched in response to the reported occupation of a Government military base by Tigrayan forces nearly two weeks ago, would continue, although he said it was now in its "final phase".
'Needs continue to grow'
UN agencies, along with relief partners have ramped up assistance – delivering food rations, hot meals and clean water, as well as setting up latrines and temporary shelters. They are also supporting the Sudanese Government in its response. But the needs continue to grow.
The UN World Food Programme (WFP) is also supporting other humanitarian workers in its response, providing fuel for vehicles and generators in remote locations. The UN Humanitarian Air Service, managed by WFP, has also increased flights from three times per week to daily flights for aid workers.
Since Saturday, UNHCR has relocated 2,500 refugees from the border to Um Raquba settlement site, in eastern Sudan. There is however, a "critical need" to identify more sites so that refugees can be relocated away from the border and can access assistance and services, said Mr. Baloch.
UNHCR has also issued an emergency fundraising appeal, through which people can help provide urgent, lifesaving assistance to refugees. Click here to make a donation
'On standby' in Tigray
Meanwhile in the Tigray region of Ethiopia itself, lack of electricity, telecommunications, fuel and cash, continue to severely hamper any humanitarian response, the UNHCR spokesperson said.
"After nearly two weeks of conflict, reports of larger numbers of internally displaced grow daily, while the lack of access to those in need, coupled with the inability to move in goods to the region, remain major impediments to providing assistance," he said.
UNHCR and partners are on standby to provide assistance to the displaced in Tigray, including basic items, when access and security allow.
The conflict is also a major ongoing concern for the Eritrean refugee population of nearly 100,000 in Tigray, who are reliant on assistance from UNHCR and partners.
"Potential for further displacement of refugees inside the country is increasingly a real possibility … The humanitarian situation as result of this crisis is growing rapidly" he warned, reiterating UNCHR's call for peace and urge all parties to respect the safety and security for all civilians in Tigray.
Russia to Build Naval Facility in Sudan
Emerging from the first Russia-Africa Summit held in Sochi a year ago, Russia will make one huge stride by establishing a naval facility in Sudan. This marks its maritime security presence in the Mediterranean and the Red Sea region. Sharing a northern border with Egypt, Sudan is located on the same strategic coastline along the Red Sea.
According to the executive order, the published document says "the proposal from the government of the Russian Federation to sign an agreement between the Russian Federation and the Republic of Sudan on creating a facility of the Navy of the Russian Federation in the territory of the Republic of Sudan be adopted."
It also authorizes "the Defense Ministry of Russia to sign the aforementioned agreement on behalf of the Russian Federation." The document stipulates that a maximum of four warships may stay at the naval logistics base, including "naval ships with the nuclear propulsion system on condition of observing nuclear and environmental safety norms."
Earlier, Prime Minister Mikhail Mishustin approved the draft agreement on establishing a naval logistics base in Sudan and gave instructions to submit the proposal to the president for signing. The draft agreement on the naval logistics facility was submitted by Russia's Defense Ministry, approved by the Foreign Ministry, the Supreme Court, the Prosecutor General's Office and the Investigative Committee of Russia and preliminary agreed with the Sudanese side.
As the draft agreement says, the Russian Navy's logistics facility in Sudan "meets the goals of maintaining peace and stability in the region, is defensive and is not aimed against other countries."
The signing of the document by the Russia president shows the positive results of negotiations, the possibility of constructing a naval base in the region, over the years with African countries along the Red Sea and in the Indian Ocean.
During a visit by then-President of Sudan Omar al-Bashir to Moscow in November 2017, agreements were reached on Russia's assistance in modernizing the Sudanese armed forces. Khartoum also said at the time it was interested in discussing the issue of using Red Sea bases with Moscow.
On the Red Sea and the Gulf of Aden, Russia had a naval base in Somalia during the Soviet days. Currently, Djibouti hosts Chinese and American naval bases. China's military base in Djibouti was set up to support five mission areas. India is another Asian nation that has increased its naval presence in Africa. In order to protect its commercial sea-lanes from piracy, it has established a network of military facilities across the Indian Ocean.
Will South Sudan follow its northern neighbour's lead?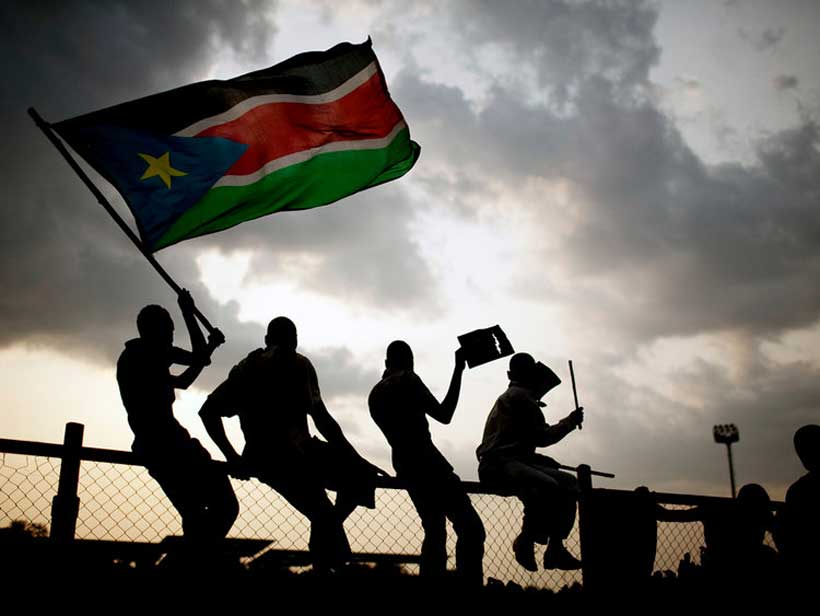 As the world watches to see whether President Trump accepts the US election results, few have noticed thatcivil war is looming in Ethiopia, after Prime Minister Abiy Ahmed announced that he was sending troops to the Tigray province. This imperils not only Africa's second most populous state but its neighbours, Sudan and South Sudan, as well.
Sudan has had a good run recently and is in a better position to weather any regional conflict. In a surprise movelast month, President Trump announced Sudan's removal from the US State Sponsors of Terrorism List (SST)in exchange for normalising relations with Israel. The US is understood to have sweetened the deal with a raft of economic and political incentives, including humanitarian assistance and high-level trade delegations. It would also support Sudan in its discussions with international finance institutions on economic and debt relief.
Since the toppling of President Bashir in 2019, the new transitional government, led by Prime Minister Hamdok, has focused on reviving Sudan's economy and managing its $60bn debt burden. Hamdok faces a severe economic crisis, aggravated by the Covid-19 pandemic, high inflation and the worst flooding in decades, that has affected more than 800,000 people and destroyed homes and large tracts of farmland just before the harvest. Food, bread and medicine are in short supply.
Thesanctions removal means that Sudan can now expect substantial assistance from the International Monetary Fund and the World Bankand unlock investment into its fledgling economy.
This is good news for Sudan. But where does it leave its neighbour, South Sudan?
The international community had high hopes for South Sudan when it announced independence in 2011. But its optimism was misplaced. It never understood the Sudanese conflict that began with British colonialism and erupted after the British left in 1956. It wasn't just a war between the Government of Sudan and the southern Sudanese rebels. Nor was it a fight between the Islamic North and the Christian South. It was a fight over resources and power.
South Sudan continues to fight. After its first post-independence civil war in 2013 and its endless cycle of violence and retribution, South Sudan is now as unstable as it was before it seceded from Sudan. To accommodate the different factions and keep old military men in power, the South Sudanese government and bureaucracy is peopled with those loyal to the former rebels.
Few have the skills needed to manage the country properly. They have squandered their oil opportunity, through mismanagement and corruption. With falling oil growth demand, oil is unlikely to remaina sustainable revenue source. This will challenge the South Sudanese economy which is 90% reliant on oil.
South Sudan is also facing multiple sanctions. In 2014, the international communityimposed travel bans and asset freezes, as well as an arms embargo. In 2018, the EU designated sanctions against individuals involved in serious human rights violations, alarmed by "the outbreak of a destructive conflict between the Government of South Sudan and opposition forces in December 2013." Most recently, the US added First Vice President of South Sudan, Taban Deng Gai to its Global Magnitsky sanctions list for his involvement in the disappearance and deaths of human rights lawyer Samuel Dong Luak and SPLM-IO member Aggrey Idry.
If US foreign policy towards Sudan was driven by religious and ideological interests in the 1990s and 2000s, what we are now seeing is a shift to transactional diplomacy. There is no reason to think that President Biden would change course.
South Sudan is watching closely. It may be why it has instructed a US lobbying firm to allegedly lobby for their own sanctions removal. It is also why it welcomed a peace deal between Sudan and five rebel groups in September, paving the way for increased oil export cooperation with its neighbour.
But stability in the youngest African state is fragile. Even with a recently signed peace agreement between former foes, President Kiir and Vice-President Machar, violence is always lurking. South Sudan is plagued with the same environmental challenges of flooding and poor harvests. The fighting in Ethiopia will not help.
As South Sudan looks to the North, it will see a New Sudan, unshackled by the weight of its history and benefitting from international goodwill. Will this encourage South Sudan to look forward instead of back? Or will it unleash demons from the past?
Let's hope that the international community pulls itself away from Trump's horror show and starts paying attention to East Africa. It may be a long winter.