Africa Destined to Bleed Yet More! Any Remedy?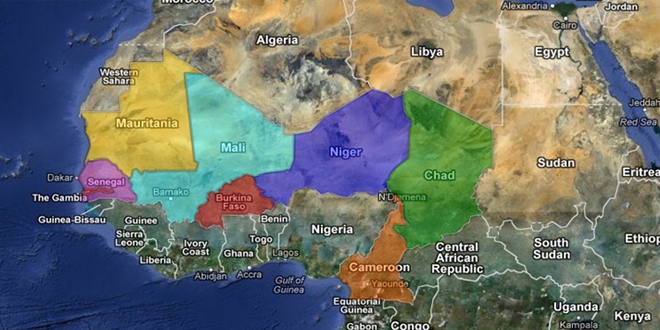 African continent, characterized by its geopolitical and geo-economics significance does not escape observers' focus with its 54 nations, having cumulative fifth world largest economy, next to US, China, Japan and India.
While ten fastest of the developing economies are located in Africa, the continent is, nevertheless, plagued by multiple paradoxes of threatening consequences.
The state upheavals, insurgency, chronic human rights violations, child wars, dripping poverty, drugs trafficking, ethnic and ideological massacres eclipse its peace and stability potentials. "… way to the Better there be, it exacts a full look at the worst", said Thomas Hardy. In modern era, perhaps it fits well on Sahel Region. Human dignity to the African masses stands denied, a few islands of exception notwithstanding.
The Arena
Sahel Region lies between the latitudes 120 N and 200 N. The two latitudes run through parts of, from the east, Ethiopia, Eritrea, Sudan, Chad, Niger, Nigeria, Mali, Burkina Faso, Mauritania, Senegal and Gambia. Possibly the recent flurry of worries would stand substantiated a bit more if we turn the pages of history for a while. Some old sources depict Sahel region historically a grey zone where peace and stability struggled to survive gaspingly between competing empires. In globalized world politics, the region has become more relevant because of its emergence as a menacing hotbed of organised crimes sprouting from its abject poverty. The scenario directly threatens the prosperous regions of Europe/Eurasian continents through a short hop across the Mediterranean. Like Cicero, early Roman Republic, expressing its anguish against high-sea pirates; can we label these crime perpetrators as enemies of human race? Such consensus would be easy to achieve only if international community musters collective will to render collective response to the conflicts.
Threat Dynamics
The implicit and explicit narrative to counter brief but deadly inventory of threats directed against the African masses as well as Mediterranean shores would be phase two of the response. The catastrophe, in fact, has already festered within Sahel Region as phase one of the existential threats. Hence, assessing the task and pre-empting the challenges would certainly be prudent strategy than waiting for knock by the monster. The print and electronic media has seen particular hype in delineating the threat trajectory, emanating from Sahel region. Prevailing destabilizing environments surface in nutshell as the bed-rock of the menace. Sahel region has remained marred by the extensive governance deficit that exacerbated the miseries of masses over decades. Prolonged absence of writ of states prompted the clans to coalesce inwardly to seek added security and settle scores with their foes. The tendency led to formation of organized armed militias to redress their genuine or perceived grievances. Warlords flourished, at times out-weighing military capabilities of the so called legitimate native regimes.
The region has also become heaven for the drug traffickers who operate with impunity through Colombian-Sahelian-Eurasian cartels' alliance. Illicit money enables terror gangs to flourish. Large segments of public, caught in the cross fire, attempts to flee massacre and poverty. It results in 'boat-loads' of irregular immigrants on European shores with dubious, if not criminal dossiers. Energy reserves and precious metals sites are subject of severe contention from within and without. While Africa moans, theatre of war without boundaries has also emerged in this region. Market states of consents are also grappling with transnational actors, inclined to wreak havoc as the Sahelian arena presents a perfect breeding ground for militants. There will be no clear victors and hence no conventional victory parades but the one staying the course would be winner, argued Philip Bobbitt. The region, in the wake of recent conflicts in Central Asia, Middle East and North Africa, is likely to draw more debate than ever. The fact that it is in the cusp of crises would be hard to deny. Elaborate strategies, modes and magnitudes to rescue it from the kind of a tragedy emerge as daunting questions. Here the issue has been approached from Atlantic alliance perspective.
Inspirations and Inhibitions
US, Europe fraternity have its military capability harnessed by NATO that performed operational
task in Afghanistan in unison. US also has its dedicated forces 'command' for Africa as well. Though there is no dearth of military muscle, US and Europe have to be on same page while keeping UN on board. Concurrently, understanding among P-5 would be a geopolitical prerequisite to help Sahel region manage its threats. Model interventions on humanitarian ground in Libya and recent French military's venture into Mali did draw some critique by the quarters that had reasons to sound their dissent. The divergent approaches manifested themselves all too glaring in the context of Syrian crisis. In predominantly Muslim world, spanning over Sahel from 20-90 percent of various countries' population, Islamic Maghreb and adjoining Middle East, some views, even shared by certain Western think tanks, are emerging to the contrary. The talk of creating a threat-bogey by the powers that are inclined to trample Africa through resource wars is becoming conspicuously shrilling. The patterns of recent conflicts have rendered the opponents strong arguments that (according to them) overblown crises are in fact the pretext to grab African assets. At the same time, they argue that under the hoax of Al-Qaeda and a contrived war on terror, another predominantly Muslim region would be targeted for achieving the ends that have no relevance to the pretexts. US, in effort to enforce its values, has drawn considerable volley of flak. It faces such allegations as crystallizing and aggravating the ongoing (rich) North-South (poor) dilemma, reviving the crusades and above all, attempting to maintain hegemonic imperium. Even some credible western sources share such fears.
Sahel region however, sinking in a quagmire, bears threat of impending human catastrophe in the fold. It calls for liquidating the menace in a decisive manner for humanity sake, disregard to the obtaining geo-politics, for and against arguments. Question is how to do it while eliminating the threat and at the same time, maintaining universal credibility as well?
Response Blueprint, Preparatory Posture
Employing military methodology, precisely assess the depth and magnitude of threat. A threat-prong aims inwardly at Sahelian states. International community, with larger input from trans-Atlantic alliance, should firm up Sahelian institutions' functional capacities. Place their militaries' sanitisation and modernisation at top of the agenda. Through extensive consultations, bring all Sahelian states and their immediate neighbours on board about inevitability of mustering collective response to achieve sustainable peace. Trans-Atlantic community should resort to diplomatic surge to seek concert within and of all other stake holders from UN platform. Strategic effort must be supported by strategic consensus. Second threat-prong aims outwardly at Europe, particularly its coastal states, Balkans and those located on southern and south-eastern periphery. They need to up the ante. Thwart arms, human smugglers and drug barons' attempts of reaping illicit bonanza. Adopt passive measures like enforcing stringent laws, surveillance, sweep and search at Greece, Turkish, Bulgarian and Serbian border entry points to deter them.
Establish Sahelian Command Centre (SCC), manned by the constituent states military experts and UN observers' team, to transmit real time intelligence, afforded by NATO, US African Command or any of P-5, to the military commands of the regional states. Enable them to locate, interdict and possibly destroy the carriers, collaborators or perpetrators of multifaceted organised crimes. The preparatory effort should be sanctioned by UN for a decade but subject to evaluation and performance audit every three years. When the Sahel situation stabilizes, extend SCC role to other African countries like Nigeria and Algeria to enable their governments to restore their writs, encouraging them at the same time to address their discordant root causes. Concurrently, prompt the states to achieve demonstrable bench marks on way to democracy that draws succour from absolute justice, free of shackles of class, creed, culture and faiths. Similar to provisions of accountability of crime against humanity, evolve a universal set up like ICJ, to deal with stinking corrupt rulers (Ministers, Prime Ministers and Presidents) anywhere in the world who remain out of the fragile net of respective states accountability apparatuses. UN charter should recognize corruption as a crime against humanity.
Execution Posture, Create and Deploy Military Punch
The preparatory phase is likely to come across some hiccups. SCC would also become effective gradually after coordinating and planting its tentacles with militaries of the host states. In the meantime, militaries of the region could be in reorganisation and restructuring phase. Hence pool up adequate military capability to assist SCC forthwith until it is capable of embracing the entire mission of war against rogue gangs with the help of native militaries.
Constitute a division size force under UN banner, requisitioned from African as well as Middle Eastern and South Asian countries having proven professional forces system. Designate it as UN Quick Reaction Force (UNQRF). Dominate at least three hotspots by virtue of its tactical positioning to straddle the entire Sahel region. Each segment of UNQRF's conduct of war effort should mutually reinforce others in impact. Integral mobility would enable them to react fast and maintain an edge over the militant gangs and smugglers. Decision, whether UNQRF would need any additional reserve component, say of brigade size troops, should be made contingent upon the final assessment of the magnitude of threat. Commanders' preference should focus on the desirability of creating an integral composite reserve within each of three battle groups of UNQRF to afford them response flexibility for unforeseen contingencies.
NATO and US African Command must not commit any ground troops. Instead tasks like reconnaissance, coastal surveillance, locate and destroy missions by air combat patrols in support of UNQRF should be assigned to them. For timely response, the region's air bases and others on the periphery should facilitate air support missions. Invite other powers like Russia, China, Egypt, Israel, India, Pakistan, Australia and Indonesia to share the burden of Atlantic alliance's material resources needed for sustained air operations. Command responsibility for the conduct of all air operations must be vested in the component that dominates the entire range of operations. More likely it would be US African Command. SCC and UNQRF would be responsible to UN for updating it through independent and exclusive periodic briefings.
Conclusion
It would take Herculean diplomatic effort to evolve consensus and execute the proposition but it would be economical, legitimate, non-partisan, quelling the critics and having silver linings to meet the challenges of Sahel.

Africa becomes area of global competition
The widespread view of Africa as one huge problem point on the planet's body characterized by pandemics, hunger, poverty and wars – the so-called "Afropessimism" – has now been replaced with an approach which was launched by global powers as they compete for economic and political presence on the continent. After a lull, Russia has joined the race as well.
According to Russian President Vladimir Putin, "African states are steadily gaining political and economic weight, asserting themselves as major pillars of the global multi-polar system and enjoying ever more say in making decisions on the most critical issues of the regional and global agenda." Significantly, Africa accounts for about one third of the votes in the UN.
After Russia made an impressive "comeback" in the Middle East, Moscow became attractive for states seeking alternatives to the old political and economic ties. The first African country to do that was the war-torn Central African Republic, and the next to follow was Sudan, a country facing a similar challenge. Then more countries did the same. At present, more than 30 African countries have reached agreements with Russia which envisage the development of geo-resources, the supply of produce of the military-industrial complex, and the training of army personnel and law enforcement forces. Among the most significant contractors are Algeria, Egypt, Angola, Uganda and Nigeria.
The consistent and rarely publicized efforts of the Russian diplomacy resulted in the first Russia-Africa summit, which was held in Sochi on October 23-24. The day earlier, the Russian-African Economic Forum opened in Sochi too. Of the 62 African legal entities officially recognized by the UN, the Russian forum was attended by heads of state of 43 countries while another 11 participated at minister and ambassador level. Abdel Fattah al-Sisi represented both Egypt and the African Union.
During the Sochi forum, Russia and African countries signed more than 500 agreements worth about 800 billion rubles. Considering the low solvency of African partners, the participants came to agreement to set up a $ 5 billion trade support fund. The success of the forum prompted the decision to hold it regularly, every two years.
China seems to be Russia's top economic competitor on the Black Continent. Beijing offers African countries big but easy loans and builds social infrastructure facilities on a gratuitous basis. China attaches great importance to "soft power" by promoting cultural and scientific contacts in an attempt to form loyal national elites. Every year thousands of Africans are granted scholarships to study at Chinese universities. As a result, ten years ago, China snatched from the United States its leadership as Africa's trade and economic partner thereby becoming one of the major investors and donors to African countries.
Since the beginning of the century, the China-Africa Cooperation Forum has been held regularly, with nearly four dozen African countries joining the One Belt One Road mega-project.
And finally, (as investments have to be protected) in 2017, a Chinese military base appeared in Djibouti, the first beyond the bounds of the PRC.
Simultaneously, Africa's growing dependence on Chinese financing may become one of Russia's competitive advantages as the continent starts to look for alternative partners.
The United States has unintentionally been contributing to this, by criticizing the policies of Moscow and Beijing in Africa. Washington has become seriously concerned with measures to repulse the "expansion" of China and Russia. In December 2018, the Trump administration presented a new strategy for Africa, or in fact, a plan to counteract the activity of Russia and China on the continent. There have been numerous official statements to this effect. "These countries are expanding their financial and political influence to Africa by applying "aggressive" practices and acting for their own benefit, which poses a threat to US national security," – the then adviser to the American president, John Bolton, said, as he unveiled the program. It turns out that the United States is acting in Africa to the detriment of its own interests?
China bore the brunt of criticism. Bolton, as usual, lashed at Beijing for many things, but above all, for using loans to enslave the Black Continent. Last summer, during the US-Africa business summit in Maputo, the United States launched the Prosperous Africa Economic Program. The Program's ultimate goal is the same – to contain the growing influence of Russia and China by expanding trade with countries of the continent, by promoting American technology and by boosting assistance in the anti-terrorism campaign. According to Bolton, the new approaches will allow African countries "to remain independent in reality, not in theory". But for the rhetoric, there is little new in the American approach.
Europe boasts traditionally strong positions on the African continent. After they gained independence, the authorities in many former French colonies' capitals installed monuments to Charles de Gaulle. African countries are interested in cooperating with the European Union in three interrelated areas: peacekeeping, which is so critical for the Black Continent, receiving economic and humanitarian aid, and assistance in the anti-epidemic effort.
In turn, the EU is more set on measures to thwart illegal migration from the African continent, which is its top priority for now. Simultaneously, the EU is trying to be realistic about the economic and political potential of African partners. As far back as in April 2000, Cairo hosted the first EU-Africa summit, attended by heads of state and government. Seven years later, the Strategic Partnership Agreement for Trade and Democracy was signed in Lisbon, designed to boost economic and political ties and calling for "genuine cooperation" and partner equality.
Nevertheless, the number of Europeans present on the continent has been dwindling. Even the French who until recently affected the political situation in Francophone Africa have become fewer in number. According to the authoritative French weekly Le Point, Paris "is losing ground here," and should thus "come to its senses", as its influence and economic weight on the continent are steadily declining.
Incidentally, Ankara embarked on cooperation with the continent years ago. The first summit on Turkey's cooperation with African countries (mainly Muslim) was held in 2008. This year the third summit took place. Since 2010, the government has been following the so-called "African Strategy." The Turkish Foreign Ministry has proudly reported on its website that the two parties have been demonstrating mutual interest in bilateral ties, which becomes clear from the following figures: while in 2009 there were only 12 Turkish representative missions on the Black Continent, today their number totals 39. And African countries have increased the number of their diplomatic missions in Ankara threefold – from 10 to 33 – over the same period.
Speaking of the prospects for cooperation between Russia and Africa, we can say first of all that Russia is one of the top ten exporters of food products to African markets. Secondly, Moscow is one of the major suppliers of military produce to the continent – the value of military contracts in 2019 is expected to exceed $ 4 billion. Thirdly, local consumers are quite satisfied with the price-quality ratio of many Russian-made products. And the contractors can pay for these goods: Africa accounts for up to one third of the developed mineral reserves, and given that surveys were not always carried out at the appropriate level and did not cover all resources-rich areas, there are more. So, the fourth area of Russia-Africa cooperation is geological prospecting work.
Addressing the Sochi forum, President Putin made it clear to African guests that Russia had no intention to repeat the mistakes of the USSR, which was determined to multiply the number of political pseudo-allies at the expense of economic feasibility. The United States and the EU have also reiterated the mutually beneficial nature of trade and economic relations. Moreover, all actors regularly write off Africa's debts, and Moscow is no exception.
And finally, it is necessary to point out that Western countries invariably make this cooperation conditional on the "right", from their point of view, foreign and domestic policies of their contractors. Russia has a clear edge here as it does not seek to force its opinion on anyone, be it Europe or the African continent.
From our partner International Affairs
Moscow's Institute for African Studies Marks its 60th Year
The Institute for African Studies under the Russian Academy of Sciences was founded 60 years ago, precisely in 1959. Since then it has undergone various changes and carried out huge scientific research on Africa.
Professor Dmitri Bondarenko, the deputy director, discusses some aspects of its most current achievements, challenges and the future. Here are excerpts from the interview conducted by Kester Kenn Klomegah:
Institute for African Studies marks its 60th year. Can we look at its performance, at least, during the past five years? What are the landmarked activities during the past half a decade?
The 60th anniversary is a good reason for looking both back at the results to date and ahead. If I could speak further about the achievements of the most recent years, I would mention first and formost, we try our best to organize fieldwork in Africa, although we are limited in our possibilities rather rigidly.
The landmark activities during the last five years in the academic sphere are as follows: the 13th and 14th conferences of Africanists (2014, 2017) – this is the Institute's "brand conference". Every time, it brings together about 500 participants from all over the world, including many African countries. The next, 15th, conference will take place in May 2020; 48 panels with about 10 presentations in each are included into its preliminary program.
In the last five years, several important conferences were organized together with foreign partners – from Slovenia, Portugal and, what is especially important, from Tanzania. The conference took place in Dar es Salaam in March 2019 and brought together scholars from 13 states. The next conference in Tanzania is scheduled for November 2020.
Several dozen books have been published in the last five years, among probably the most important of which are: Federalism in Africa: Problems and Prospects (in Russian and English), edited by Igho O. Natufe and Khristina M. Turyinskaya (2015), Tropical Africa: Evolution of Political Leadership (in Russian) by Tatiana S. Denisova (2016), Islam, Global Governance and the New World Order (in Russian) by Leonid L. Fituni and Irina O. Abramova (2018).
Assess the importance of its research, in form of consultancy, for government institutions and private both in Russia and Africa?
This importance is definitely growing, especially in the most recent years. State institutions and business companies seek the Institute's consultancy services more and more often nowadays. In particular, the Institute played an important role in the preparation of the Russia-Africa summit in October 2019.
As we are a research institution, my firm belief is that just academic research should be our primary task. The situation has been changing during the last few years. Today the importance of Africa for Russia in different respects, including political and economic, is recognized by the state, and the Russian Foreign Ministry and other state institutions dealing with the Russian-African relations in various spheres, not just purely political, ask us for our expert advice on different points quite often.
What are the current challenges and hindrances to research Africa these years? Do you have any suggestions here on how to improvement the situation?
The situation now is much better for African studies than for a long time before. In particular, today there are much more opportunities for doing fieldwork in Africa. Russian Africanists and their work are becoming better known in the global Africanist community. Quite a lot of junior researchers join the academy nowadays. In my assessment, African studies in Russia are on the right road.
The challenges our African Studies are facing now are the same as the whole Russian Academy are facing, and they are mainly related to the bureaucratic pressure on research institutions.
How about academic cooperation with similar institutions inside Africa? Do you exchange researchers and share reports with African colleagues?
At the moment, the Institute has Agreements on Cooperation or Memorandums of Understanding with 18 universities and research institutes from 12 African states and currently there are negotiations with two more institutions from one more country.
As noted above, many African scholars come to our conferences, and we had and will have jointly organized conferences with particularly Tanzanian partners. Our partners help organize the Institute researchers' fieldwork in their countries the outcome of which, besides other points, are joint publications (for example, with our colleagues from Tanzania and Zambia).
It is important to say that African colleagues regularly publish their articles in "The Journal of the Institute for African Studies". We also have book exchange programs with some of our African partners. However, we do not have well-established exchange of researchers with our African partners, especially because of financial difficulties from both sides.
Besides, I must say that not all African partners, even those with whom we have official Memorandums of Understanding or Agreements on Cooperation, are really active in supporting ties with us, some of them do not initiate any joint projects and remain passive when we propose something. Nevertheless, we do have good and diversified ties with many African partners.
And the future vision for the IAS? How would you like the IAS transform, or say, diversify its activities especially now the Kremlin prioritizes Africa?
As I see it, the Institute's forseeable future will be based on two main developments. On the one hand, it will more and more become a "think tank" for the state and business, and most probably, this development will dominate.
On the other hand, I hope the Institute will remain as a research institution where fundamental studies into different aspects of African and African diaspora's past and present are done. The Institute for African Studies has the potential and capacity for combining both trends at a high level and far into the future.
As it becomes clearer from the discussion, I see the prospects for the Institute's further development, in attracting more young researchers with their energy and new visions and approaches, in extending fieldwork in Africa, and in broadening international cooperation with Africanists worldwide.
We Should Exempt Africa from the Russia–UK Geopolitical Confrontation
Today neither Russia nor the United Kingdom can claim a leadership role in Africa. London reached the peak of its influence here between World War I and World War II, when the British Empire had a larger part of the continent under its direct control. Moscow's heyday in Africa goes back to the 1960s – 1970s, with the Soviet Union having played the role of the main overseas supporter of various national liberation movements. The odds are that in the XXI Century African countries' destinies will depend more on the logic of the emerging US – China global competition than on any decisions taken in the Kremlin or at Downing Street, 10.
Moreover, today both Russia and the UK have limited economic, political and strategic interests in Africa, compared to some other parts of the world — e.g. Europe or the Middle East. Arguably, this is the main reason why Africa does not look as toxic for Russia–UK relations as some other regions do. However, we cannot rule out potential clashes between the two powers in various present or future crises and conflicts in Africa. We should avoid underestimating the likely benefits of Russia–UK cooperation, even if it remains quite limited.
Many current trends suggest the role of Africa in the international system will continue to grow over time — both in terms of global challenges that the continent is likely to generate and in terms of global opportunities that it is going to offer. If everybody's attention seems to be focused on the Middle East today, tomorrow it might well shift to Africa. Russian and UK stakes on the continent are likely to grow, while the price of an uncontrolled confrontation is expected to increase.
Moscow and London have to start working on how to contain risks and cut costs of this confrontation. Ideally — on how to exempt Africa from their geopolitical confrontation altogether. The first important step might be to try to agree on an appropriate 'code of conduct' on the continent, which could be applied not only to Russia and the United Kingdom, but also to external players in general. Africa may well be an ideal place to test new ideas about such controversial notions as responsibility to protect, failed state, hybrid war or regime change. London and Moscow are more likely to reach an agreement on many African crises than on more sensitive matters like Ukraine or Syria. At the same time, with an understanding on 'rules of engagement' in Africa in hand, it would be easier to approach highly divisive cases in Europe or in the Middle East.
Another area for potential Russia–UK collaboration or, at least, for coordination in Africa could be the area of 'African commons'. The continent is in desperate need of essential public goods, the demand for them is huge and our two nations could do better avoiding old-fashioned competition and increasing the efficiency of their respective assistance projects in Africa. Take, for instance, the domain of general and higher education and human capital development in Africa, where both the UK and Russia have considerable experience and overlapping comparative advantages. Another area for potential cooperation is public health, which will require substantial investment, as well as personnel training and emergency management. Joint projects in infrastructure development, including private-public partnerships, constitute yet another opportunity.
In the security domain, Russia and the United Kingdom could explore options for more intense interaction in fighting international terrorism coming from Africa or targeting African countries. At the same time, Moscow and London could consider enhancing their respective roles in the UN led peacekeeping operations in Africa and demonstrating more appetite for consorted votes within the UN Security Council. They can work together in fighting piracy in the dangerous waters of the Gulf of Guinea, and so on.
It is evident that any Russia–UK interaction in Africa or about Africa cannot and will not be completely separated from the rest of their bilateral relations. If we fail to settle the core problems dividing Moscow and London today, this divisive agenda will continue to limit opportunities for cooperation in Africa as well. However, the Africa of today and especially the Africa of tomorrow will be too important for the world at large to approach it only as an extension of the ongoing Russia–UK confrontation. It is one of the most apparent cases, in which an exemption would not be a manifestation of weakness or cynicism, but rather a demonstration of political wisdom and a strategic foresight.
From our partner RIAC