Africa Destined to Bleed Yet More! Any Remedy?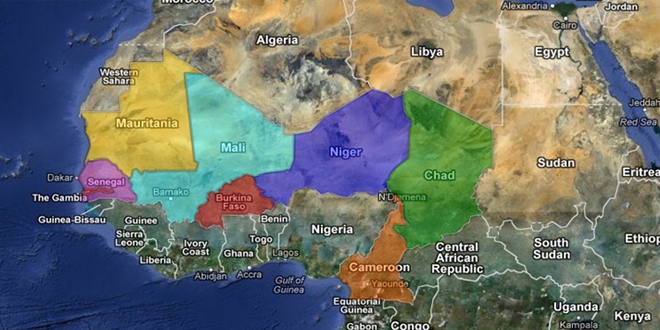 African continent, characterized by its geopolitical and geo-economics significance does not escape observers' focus with its 54 nations, having cumulative fifth world largest economy, next to US, China, Japan and India.
While ten fastest of the developing economies are located in Africa, the continent is, nevertheless, plagued by multiple paradoxes of threatening consequences.
The state upheavals, insurgency, chronic human rights violations, child wars, dripping poverty, drugs trafficking, ethnic and ideological massacres eclipse its peace and stability potentials. "… way to the Better there be, it exacts a full look at the worst", said Thomas Hardy. In modern era, perhaps it fits well on Sahel Region. Human dignity to the African masses stands denied, a few islands of exception notwithstanding.
The Arena
Sahel Region lies between the latitudes 120 N and 200 N. The two latitudes run through parts of, from the east, Ethiopia, Eritrea, Sudan, Chad, Niger, Nigeria, Mali, Burkina Faso, Mauritania, Senegal and Gambia. Possibly the recent flurry of worries would stand substantiated a bit more if we turn the pages of history for a while. Some old sources depict Sahel region historically a grey zone where peace and stability struggled to survive gaspingly between competing empires. In globalized world politics, the region has become more relevant because of its emergence as a menacing hotbed of organised crimes sprouting from its abject poverty. The scenario directly threatens the prosperous regions of Europe/Eurasian continents through a short hop across the Mediterranean. Like Cicero, early Roman Republic, expressing its anguish against high-sea pirates; can we label these crime perpetrators as enemies of human race? Such consensus would be easy to achieve only if international community musters collective will to render collective response to the conflicts.
Threat Dynamics
The implicit and explicit narrative to counter brief but deadly inventory of threats directed against the African masses as well as Mediterranean shores would be phase two of the response. The catastrophe, in fact, has already festered within Sahel Region as phase one of the existential threats. Hence, assessing the task and pre-empting the challenges would certainly be prudent strategy than waiting for knock by the monster. The print and electronic media has seen particular hype in delineating the threat trajectory, emanating from Sahel region. Prevailing destabilizing environments surface in nutshell as the bed-rock of the menace. Sahel region has remained marred by the extensive governance deficit that exacerbated the miseries of masses over decades. Prolonged absence of writ of states prompted the clans to coalesce inwardly to seek added security and settle scores with their foes. The tendency led to formation of organized armed militias to redress their genuine or perceived grievances. Warlords flourished, at times out-weighing military capabilities of the so called legitimate native regimes.
The region has also become heaven for the drug traffickers who operate with impunity through Colombian-Sahelian-Eurasian cartels' alliance. Illicit money enables terror gangs to flourish. Large segments of public, caught in the cross fire, attempts to flee massacre and poverty. It results in 'boat-loads' of irregular immigrants on European shores with dubious, if not criminal dossiers. Energy reserves and precious metals sites are subject of severe contention from within and without. While Africa moans, theatre of war without boundaries has also emerged in this region. Market states of consents are also grappling with transnational actors, inclined to wreak havoc as the Sahelian arena presents a perfect breeding ground for militants. There will be no clear victors and hence no conventional victory parades but the one staying the course would be winner, argued Philip Bobbitt. The region, in the wake of recent conflicts in Central Asia, Middle East and North Africa, is likely to draw more debate than ever. The fact that it is in the cusp of crises would be hard to deny. Elaborate strategies, modes and magnitudes to rescue it from the kind of a tragedy emerge as daunting questions. Here the issue has been approached from Atlantic alliance perspective.
Inspirations and Inhibitions
US, Europe fraternity have its military capability harnessed by NATO that performed operational
task in Afghanistan in unison. US also has its dedicated forces 'command' for Africa as well. Though there is no dearth of military muscle, US and Europe have to be on same page while keeping UN on board. Concurrently, understanding among P-5 would be a geopolitical prerequisite to help Sahel region manage its threats. Model interventions on humanitarian ground in Libya and recent French military's venture into Mali did draw some critique by the quarters that had reasons to sound their dissent. The divergent approaches manifested themselves all too glaring in the context of Syrian crisis. In predominantly Muslim world, spanning over Sahel from 20-90 percent of various countries' population, Islamic Maghreb and adjoining Middle East, some views, even shared by certain Western think tanks, are emerging to the contrary. The talk of creating a threat-bogey by the powers that are inclined to trample Africa through resource wars is becoming conspicuously shrilling. The patterns of recent conflicts have rendered the opponents strong arguments that (according to them) overblown crises are in fact the pretext to grab African assets. At the same time, they argue that under the hoax of Al-Qaeda and a contrived war on terror, another predominantly Muslim region would be targeted for achieving the ends that have no relevance to the pretexts. US, in effort to enforce its values, has drawn considerable volley of flak. It faces such allegations as crystallizing and aggravating the ongoing (rich) North-South (poor) dilemma, reviving the crusades and above all, attempting to maintain hegemonic imperium. Even some credible western sources share such fears.
Sahel region however, sinking in a quagmire, bears threat of impending human catastrophe in the fold. It calls for liquidating the menace in a decisive manner for humanity sake, disregard to the obtaining geo-politics, for and against arguments. Question is how to do it while eliminating the threat and at the same time, maintaining universal credibility as well?
Response Blueprint, Preparatory Posture
Employing military methodology, precisely assess the depth and magnitude of threat. A threat-prong aims inwardly at Sahelian states. International community, with larger input from trans-Atlantic alliance, should firm up Sahelian institutions' functional capacities. Place their militaries' sanitisation and modernisation at top of the agenda. Through extensive consultations, bring all Sahelian states and their immediate neighbours on board about inevitability of mustering collective response to achieve sustainable peace. Trans-Atlantic community should resort to diplomatic surge to seek concert within and of all other stake holders from UN platform. Strategic effort must be supported by strategic consensus. Second threat-prong aims outwardly at Europe, particularly its coastal states, Balkans and those located on southern and south-eastern periphery. They need to up the ante. Thwart arms, human smugglers and drug barons' attempts of reaping illicit bonanza. Adopt passive measures like enforcing stringent laws, surveillance, sweep and search at Greece, Turkish, Bulgarian and Serbian border entry points to deter them.
Establish Sahelian Command Centre (SCC), manned by the constituent states military experts and UN observers' team, to transmit real time intelligence, afforded by NATO, US African Command or any of P-5, to the military commands of the regional states. Enable them to locate, interdict and possibly destroy the carriers, collaborators or perpetrators of multifaceted organised crimes. The preparatory effort should be sanctioned by UN for a decade but subject to evaluation and performance audit every three years. When the Sahel situation stabilizes, extend SCC role to other African countries like Nigeria and Algeria to enable their governments to restore their writs, encouraging them at the same time to address their discordant root causes. Concurrently, prompt the states to achieve demonstrable bench marks on way to democracy that draws succour from absolute justice, free of shackles of class, creed, culture and faiths. Similar to provisions of accountability of crime against humanity, evolve a universal set up like ICJ, to deal with stinking corrupt rulers (Ministers, Prime Ministers and Presidents) anywhere in the world who remain out of the fragile net of respective states accountability apparatuses. UN charter should recognize corruption as a crime against humanity.
Execution Posture, Create and Deploy Military Punch
The preparatory phase is likely to come across some hiccups. SCC would also become effective gradually after coordinating and planting its tentacles with militaries of the host states. In the meantime, militaries of the region could be in reorganisation and restructuring phase. Hence pool up adequate military capability to assist SCC forthwith until it is capable of embracing the entire mission of war against rogue gangs with the help of native militaries.
Constitute a division size force under UN banner, requisitioned from African as well as Middle Eastern and South Asian countries having proven professional forces system. Designate it as UN Quick Reaction Force (UNQRF). Dominate at least three hotspots by virtue of its tactical positioning to straddle the entire Sahel region. Each segment of UNQRF's conduct of war effort should mutually reinforce others in impact. Integral mobility would enable them to react fast and maintain an edge over the militant gangs and smugglers. Decision, whether UNQRF would need any additional reserve component, say of brigade size troops, should be made contingent upon the final assessment of the magnitude of threat. Commanders' preference should focus on the desirability of creating an integral composite reserve within each of three battle groups of UNQRF to afford them response flexibility for unforeseen contingencies.
NATO and US African Command must not commit any ground troops. Instead tasks like reconnaissance, coastal surveillance, locate and destroy missions by air combat patrols in support of UNQRF should be assigned to them. For timely response, the region's air bases and others on the periphery should facilitate air support missions. Invite other powers like Russia, China, Egypt, Israel, India, Pakistan, Australia and Indonesia to share the burden of Atlantic alliance's material resources needed for sustained air operations. Command responsibility for the conduct of all air operations must be vested in the component that dominates the entire range of operations. More likely it would be US African Command. SCC and UNQRF would be responsible to UN for updating it through independent and exclusive periodic briefings.
Conclusion
It would take Herculean diplomatic effort to evolve consensus and execute the proposition but it would be economical, legitimate, non-partisan, quelling the critics and having silver linings to meet the challenges of Sahel.

African Union's Inaction on Ethiopia Deplorable – Open Letter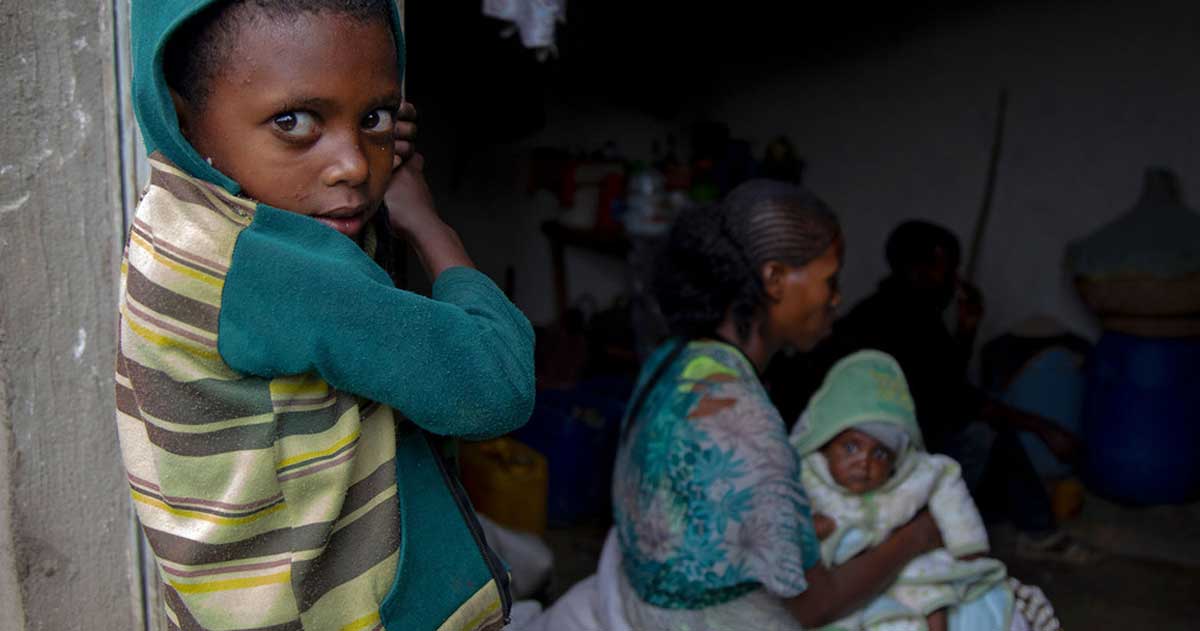 A group of African intellectuals says in an open letter that it is appalled and dismayed by the steadily deteriorating situation in Ethiopia. The letter, signed by 58 people, says the African Union's lack of effective engagement in the crisis is deplorable. The letter calls on regional bloc IGAD and the AU to "proactively take up their mandates with respect to providing mediation for the protagonists to this conflict".

The letter also asks for "all possible political support" for the AU's Special Envoy for the Horn of Africa, Olusegun Obasanjo, whose appointment was announced on August 26, 2021. A United Nations Security Council meeting on the same day welcomed the former Nigerian president's appointment.

Earlier in August 2021, UN chief Antonio Guterres appealed for a ceasefire, unrestricted aid access and an Ethiopian-led political dialogue. He told the council these steps were essential to preserve Ethiopia's unity and the stability of the region and to ease the humanitarian crisis. He said that he had been in close contact with Ethiopian Prime Minister Abiy Ahmed and had received a letter from the leader of the Tigray region in response to his appeal. "The UN is ready to work together with the African Union and other key partners to support such a dialogue," he said.

August 26, 2021 was only the second time during the conflict that the council held a public meeting to discuss the situation. Britain, Estonia, France, Ireland, Norway and the United States requested the session.

Fighting between the national government and the Tigray People's Liberation Front broke out in November 2020, leaving millions facing emergency or crisis levels of food insecurity, according to the United Nations. Both sides have been accused of atrocities.
Africa: The G20 Must Recommit to Covax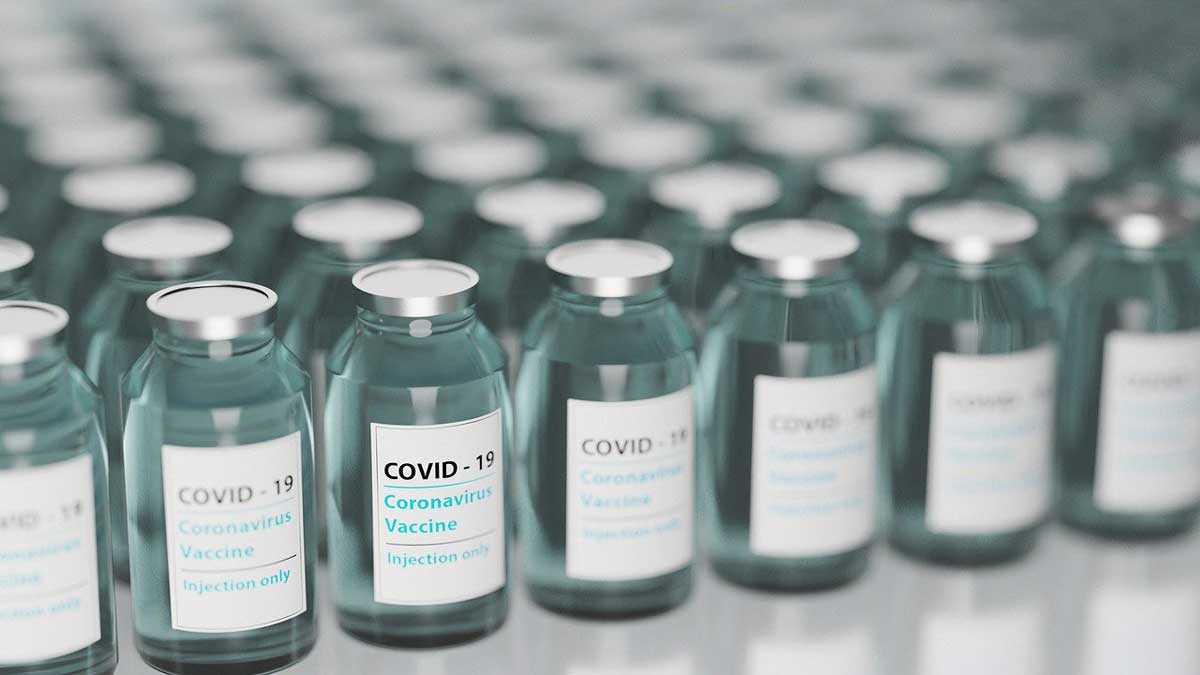 It is one year since the international community gave its backing to the COVID-19 Vaccine Global Access (COVAX) facility to lead a worldwide effort to end the acute phase of the pandemic. The initiative aimed to ensure that every country, and not just those with sufficient money or resources, could access life-saving vaccines once they became available. As G20 health ministers prepare to meet in Rome on September 5-6, they are in a position to ensure that COVAX fulfills its mission.
A year ago, no one knew when or even if it might be possible to develop a safe and effective vaccine against COVID-19, let alone the 20 that are available today. But since making its first international deliveries in February, COVAX a partnership established by the Coalition for Epidemic Preparedness Innovations, the World Health Organization, UNICEF, and Gavi, the Vaccine Alliance has delivered more than 235 million vaccine doses to 139 countries, and expects to deliver another billion doses in the fourth quarter. Only China, India, and the United States have delivered more. This start to the largest and most complex vaccine rollout in history has given hope to millions of people and laid solid foundations for how we respond to future pandemics.
Yet, so much more could, and should, have been achieved by now. It is unacceptable that only 1.8% of people in low-income countries have received their first dose of a COVID-19 vaccine, compared to 82% in high- and upper-middle-income countries. This shocking inequality is as economically senseless as it is destructive to human life, with the latest estimate of the cost of the slow rollout amounting to $2.3 trillion.
The world was woefully unprepared for a pandemic, and this is reflected in the challenges COVAX has faced. By the time initial funding arrived, wealthy countries had already locked up early vaccine supplies. Export bans affecting key suppliers, and difficulties experienced by many manufacturers in scaling up production to the required level, also undermined COVAX's ability to access doses early.
Given increasing global vaccine inequity and the rise of new, more contagious coronavirus variants, we must put these challenges behind us. Thanks to the support of almost all G20 governments, alongside that of foundations and private businesses, COVAX has now raised nearly $10 billion and secured more than 600 million donated doses. All the preparations are in place for the most comprehensive vaccination effort that the world has seen.
Based on the committed orders COVAX has placed with vaccine manufacturers and the additional donations, hundreds of millions of new doses should now be available each month. We need to make sure they reach poorer countries and get into people's arms. To avoid further delays, and for the facility to succeed, we need support from G20 leaders in four key areas.
First, we need doses, and we need them now. The premise of COVAX was always that the facility should be able to negotiate and buy its own doses. With our early vaccine access compromised, donations have played a vital role in maintaining our ability to keep doses flowing to those most in need. Of the 600 million doses pledged to COVAX to date, 100 million have now been delivered. We need more, and soon, with longer shelf lives and greater certainty so that recipient countries have time to plan their rollout. This can be achieved without jeopardizing high-income countries' national vaccination efforts.
We also need G20 leaders to support our call for transparency. COVAX has legally binding agreements with manufacturers for more than four billion doses, but has all too often faced delays in accessing them. Without greater clarity regarding firms' order books, it is impossible to know whether these holdups are due to production challenges or preferential treatment for bilateral arrangements. Insisting that manufacturers are transparent about their order timelines can ensure a level playing field where no one particularly those living in developing countries gets bumped to the back of the vaccine queue because of another bilateral deal.
In addition to ensuring that manufacturers keep their commitment to COVAX, governments should make global vaccine access their highest priority. Countries with pending orders for doses that they currently do not need should allow COVAX to take their place in the queue so that we can get doses to needy countries now.
Finally, lower-income countries require continued financial and technical support for their COVID-19 vaccine rollouts. Strengthening national health systems will help these countries to ensure delivery of doses and mitigate the pandemic's secondary effects, and will leave in place infrastructure critical to future global health security.
By recommitting to COVAX, G20 leaders will recommit to a multilateral solution that builds on the astounding scientific progress of the past year. Based on COVAX's latest forthcoming supply forecast, when topped up with doses through bilateral deals, equitable COVID-19 vaccine access can protect up to 60% of the adult population in 91 lower-income countries. This would represent a huge step toward the WHO target of 70%, which is needed to suppress the coronavirus everywhere, and COVAX represents the best opportunity to achieve it.
Failure would mean more lives lost, broken health-care systems, even deadlier and more transmissible variants, and a pandemic with no end in sight. The G20 must not allow that to be an option.
More African Countries Register Russia's Sputnik Vaccine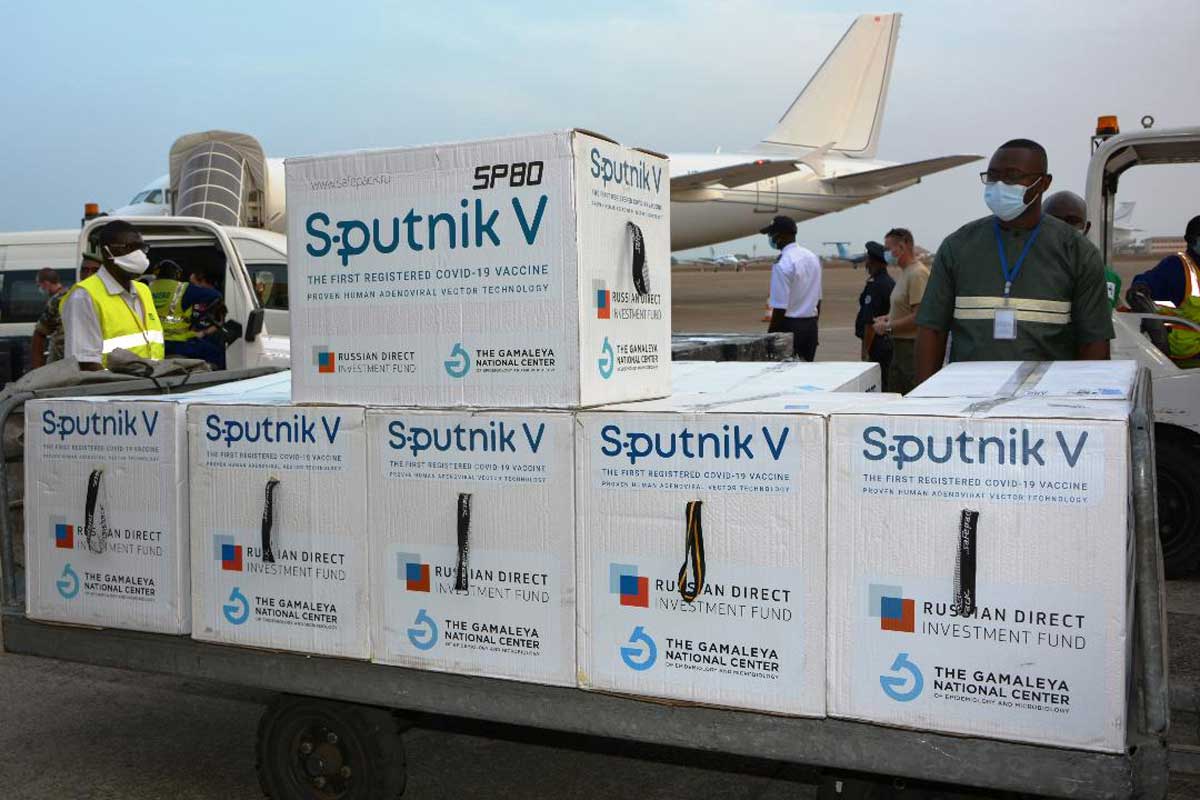 Africa Centres for Disease Control and Prevention (Africa CDC) is a specialized technical institution of the African Union (AU) that strengthens the capacity and capability of Africa's public health institutions as well as partnerships to detect and respond quickly and effectively to disease threats and outbreaks, based on data-driven interventions and programmes.
During the outbreak of the coronavirus, the African Vaccine Acquisition Task Team (AVATT), was established by African Union, as a component in support of the Africa Vaccine Strategy and was endorsed by the AU Bureau of Heads of State and Government on 20th of August 2020.
Dr John Nkengasong, Director of the Africa Centers for Disease Control and Prevention (Africa CDC), has emphasized: "Africa has to team up with development partners to achieve its 60% continent-wide vaccination in the next two years. I think that is why we should as a collective of the continent, and of course, in partnership with the developed world make sure that Africa has a timely access to vaccines to meet our vaccination targets."
An official media release in February 2021, the Africa Vaccine Acquisition Task Team from the African Union (AU) informed that Russia would supply and deliver 300 million Sputnik V vaccines to Africa. That step was intended to support African countries to attain their targeted immunization of 60% of the population by the year-end. That vaccine story disappeared, but instead what become so common is the speedy registration of Sputnik V on bilateral basis in various African countries.
According to the latest, Nigeria has become the 68th country in the world to approve the Russian vaccine. The use of the Sputnik V coronavirus vaccine has been approved in Nigeria, the Russian Direct Investment Fund (RDIF) said in an official statement.
"The Russian Direct Investment Fund (RDIF, Russia's sovereign wealth fund) announces the approval of the Russian Sputnik V vaccine against coronavirus by the National Agency for Food and Drug Administration and Control of Nigeria (NAFDAC). Nigeria has become the 68th country in the world to approve the Russian vaccine. Total population of all countries, where Sputnik V is approved for use, now exceeds 3.7 billion people, which is nearly half of the global population," the statement said.
"Nigeria is the most populous nation in Africa, and the approval of Sputnik V will provide for using one of the safest and most effective vaccines in the world. Sputnik V is based on a proven human adenoviral vectors platform and is successfully used in over 50 countries. Approval in Nigeria will make an important contribution to the country's fight against the pandemic," CEO of the Russian Direct Investment Fund (RDIF) Kirill Dmitriev said.
Besides Nigeria, other African countries have registered Russia's Sputnik V vaccine. Reportedly, the vaccine has been registered in Algeria, Angola, Djibouti, Egypt, Gabon, Ghana, Guinea, Kenya, Morocco, Namibia, Tunisia, the Republic of Congo (DRC) and Zimbabwe.
Russia's drive to share Sputnik V vaccine, of course, offers a chance to raise its image and strengthen alliances in Africa. Ministry of Foreign Affairs of the Russian Federation has made efforts promoting the vaccine using all its channels. But supply and delivery have largely lagged behind, the pledges have simply not been fulfilled. Russian authorities have oftentimes said that they would step up efforts for fruitful cooperation in combating coronavirus in Africa.
Promising more than can be delivered appears to be a universal problem with coronavirus vaccines, and it is a real risk for Russia as well, said Theresa Fallon, Director of the Brussels-based Centre for Russia Europe Asia Studies. "They have won the gold medal for creating this very effective vaccine," she said. "But the problem is how are they going to implement production and delivery?"
Russian Direct Investment Fund (RDIF), with profit motivation, has attempted supplying the Russian vaccines through, Sheikh Ahmed Dalmook Al Maktoum, from the Monarch family and a third party in Dubai, United Arab Emirates, to a number of African countries. For instance, the Republic of Ghana reportedly signed US$64.6 million contract for Sputnik V vaccine from Russia through Sheikh Ahmed Dalmook Al Maktoum. It was double the price from the producer as reported in the media.
On the other hand, Russian President Vladimir Putin has noted, in a speech early September, that advanced countries that produce vaccines against the coronavirus do little to protect humanity from the pandemic.
"The benefits of vaccination are enjoyed mostly by advanced economies. The bulk of the vaccines is made there, and it is used to protect their own population. But very little is being done to protect humanity in the broad sense," Putin said at the plenary session of the Eastern Economic Forum in Vladivostok, the Far East of Russia. "This is very bad for the producers, because all this boomerangs around the globe. For instance, in Africa the level of protection with vaccines is minimal, but contacts with the African countries continue. There is no getting away from this. This infection will return again and again."
According to an official release obtained late February, the Sputnik V vaccine the following advantages:
• Efficacy of Sputnik V is 91.6% as confirmed by the data published in the Lancet, one of the world's oldest and most respected medical journals; It is one of only three vaccines in the world with efficacy of over 90%; Sputnik V provides full protection against severe cases of COVID-19.
• The Sputnik V vaccine is based on a proven and well-studied platform of human adenoviral vectors, which cause the common cold and have been around for thousands of years.
• Sputnik V uses two different vectors for the two shots in a course of vaccination, providing immunity with a longer duration than vaccines using the same delivery mechanism for both shots.
• The safety, efficacy and lack of negative long-term effects of adenoviral vaccines have been proven by more than 250 clinical studies over two decades.
• The developers of the Sputnik V vaccine are working collaboratively with AstraZeneca on a joint clinical trial to improve the efficacy of AstraZeneca vaccine.
• There are no strong allergies caused by Sputnik V.
• The price of Sputnik V is less than $10 per shot, making it affordable around the world.
In February, peer-reviewed medical journal The Lancet published an analysis from Phase III clinical trial of the Russian vaccine, showing its 91.6-percent efficacy against symptomatic COVID-19. The Sputnik V vaccine was developed by the Gamaleya Research Institute of Epidemiology and Microbiology.
Sputnik V was registered in Russia on August 11, 2020 as the world's first officially registered coronavirus vaccine. Russian vaccines have advantages as no deaths have been reported after vaccination with the Sputnik V, Alexander Gintsburg, Director of the Gamaleya Center, the vaccine developer, said and was reported by TASS News Agency. "As of today, no deaths after vaccination with Sputnik V have been registered," he said.
Russian Direct Investment Fund (RDIF) is Russia's sovereign wealth fund established in 2011 to make equity co-investments, primarily in Russia, alongside reputable international financial and strategic investors. RDIF acts as a catalyst for direct investment in the Russian economy. RDIF's management is based in Moscow.
In Africa, during first of September, the coronavirus-related death toll has topped 196,190, while more than 6.9 million recoveries have been reported. South Africa accounts for a majority of coronavirus cases and deaths across Africa – 2,777,659 and 82,261 respectively. The death toll in Tunisia climbed to 23,451, and 664,034 cases have been confirmed. Egypt recorded 16,736 deaths and 288,441 coronavirus cases.
In Sub-Saharan Africa, Ethiopia is ranked second to South Africa (308,134 cases and 4,675 deaths) and is followed by Kenya (235,863 cases and 4,726 deaths) and Nigeria (191,805 and 2,455). The total number of COVID-19 cases has reached almost 8 million in Africa, according to the World Health Organization's (WHO) Regional Office for Africa.