Africa Destined to Bleed Yet More! Any Remedy?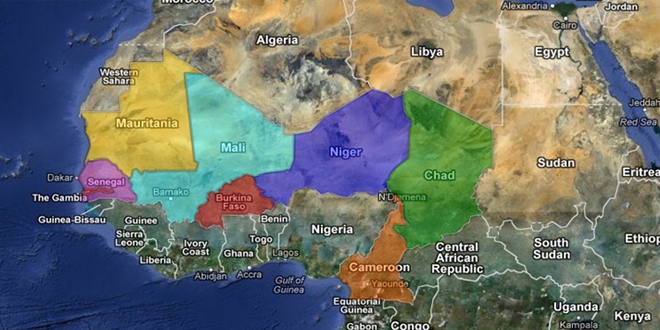 African continent, characterized by its geopolitical and geo-economics significance does not escape observers' focus with its 54 nations, having cumulative fifth world largest economy, next to US, China, Japan and India.
While ten fastest of the developing economies are located in Africa, the continent is, nevertheless, plagued by multiple paradoxes of threatening consequences.
The state upheavals, insurgency, chronic human rights violations, child wars, dripping poverty, drugs trafficking, ethnic and ideological massacres eclipse its peace and stability potentials. "… way to the Better there be, it exacts a full look at the worst", said Thomas Hardy. In modern era, perhaps it fits well on Sahel Region. Human dignity to the African masses stands denied, a few islands of exception notwithstanding.
The Arena
Sahel Region lies between the latitudes 120 N and 200 N. The two latitudes run through parts of, from the east, Ethiopia, Eritrea, Sudan, Chad, Niger, Nigeria, Mali, Burkina Faso, Mauritania, Senegal and Gambia. Possibly the recent flurry of worries would stand substantiated a bit more if we turn the pages of history for a while. Some old sources depict Sahel region historically a grey zone where peace and stability struggled to survive gaspingly between competing empires. In globalized world politics, the region has become more relevant because of its emergence as a menacing hotbed of organised crimes sprouting from its abject poverty. The scenario directly threatens the prosperous regions of Europe/Eurasian continents through a short hop across the Mediterranean. Like Cicero, early Roman Republic, expressing its anguish against high-sea pirates; can we label these crime perpetrators as enemies of human race? Such consensus would be easy to achieve only if international community musters collective will to render collective response to the conflicts.
Threat Dynamics
The implicit and explicit narrative to counter brief but deadly inventory of threats directed against the African masses as well as Mediterranean shores would be phase two of the response. The catastrophe, in fact, has already festered within Sahel Region as phase one of the existential threats. Hence, assessing the task and pre-empting the challenges would certainly be prudent strategy than waiting for knock by the monster. The print and electronic media has seen particular hype in delineating the threat trajectory, emanating from Sahel region. Prevailing destabilizing environments surface in nutshell as the bed-rock of the menace. Sahel region has remained marred by the extensive governance deficit that exacerbated the miseries of masses over decades. Prolonged absence of writ of states prompted the clans to coalesce inwardly to seek added security and settle scores with their foes. The tendency led to formation of organized armed militias to redress their genuine or perceived grievances. Warlords flourished, at times out-weighing military capabilities of the so called legitimate native regimes.
The region has also become heaven for the drug traffickers who operate with impunity through Colombian-Sahelian-Eurasian cartels' alliance. Illicit money enables terror gangs to flourish. Large segments of public, caught in the cross fire, attempts to flee massacre and poverty. It results in 'boat-loads' of irregular immigrants on European shores with dubious, if not criminal dossiers. Energy reserves and precious metals sites are subject of severe contention from within and without. While Africa moans, theatre of war without boundaries has also emerged in this region. Market states of consents are also grappling with transnational actors, inclined to wreak havoc as the Sahelian arena presents a perfect breeding ground for militants. There will be no clear victors and hence no conventional victory parades but the one staying the course would be winner, argued Philip Bobbitt. The region, in the wake of recent conflicts in Central Asia, Middle East and North Africa, is likely to draw more debate than ever. The fact that it is in the cusp of crises would be hard to deny. Elaborate strategies, modes and magnitudes to rescue it from the kind of a tragedy emerge as daunting questions. Here the issue has been approached from Atlantic alliance perspective.
Inspirations and Inhibitions
US, Europe fraternity have its military capability harnessed by NATO that performed operational
task in Afghanistan in unison. US also has its dedicated forces 'command' for Africa as well. Though there is no dearth of military muscle, US and Europe have to be on same page while keeping UN on board. Concurrently, understanding among P-5 would be a geopolitical prerequisite to help Sahel region manage its threats. Model interventions on humanitarian ground in Libya and recent French military's venture into Mali did draw some critique by the quarters that had reasons to sound their dissent. The divergent approaches manifested themselves all too glaring in the context of Syrian crisis. In predominantly Muslim world, spanning over Sahel from 20-90 percent of various countries' population, Islamic Maghreb and adjoining Middle East, some views, even shared by certain Western think tanks, are emerging to the contrary. The talk of creating a threat-bogey by the powers that are inclined to trample Africa through resource wars is becoming conspicuously shrilling. The patterns of recent conflicts have rendered the opponents strong arguments that (according to them) overblown crises are in fact the pretext to grab African assets. At the same time, they argue that under the hoax of Al-Qaeda and a contrived war on terror, another predominantly Muslim region would be targeted for achieving the ends that have no relevance to the pretexts. US, in effort to enforce its values, has drawn considerable volley of flak. It faces such allegations as crystallizing and aggravating the ongoing (rich) North-South (poor) dilemma, reviving the crusades and above all, attempting to maintain hegemonic imperium. Even some credible western sources share such fears.
Sahel region however, sinking in a quagmire, bears threat of impending human catastrophe in the fold. It calls for liquidating the menace in a decisive manner for humanity sake, disregard to the obtaining geo-politics, for and against arguments. Question is how to do it while eliminating the threat and at the same time, maintaining universal credibility as well?
Response Blueprint, Preparatory Posture
Employing military methodology, precisely assess the depth and magnitude of threat. A threat-prong aims inwardly at Sahelian states. International community, with larger input from trans-Atlantic alliance, should firm up Sahelian institutions' functional capacities. Place their militaries' sanitisation and modernisation at top of the agenda. Through extensive consultations, bring all Sahelian states and their immediate neighbours on board about inevitability of mustering collective response to achieve sustainable peace. Trans-Atlantic community should resort to diplomatic surge to seek concert within and of all other stake holders from UN platform. Strategic effort must be supported by strategic consensus. Second threat-prong aims outwardly at Europe, particularly its coastal states, Balkans and those located on southern and south-eastern periphery. They need to up the ante. Thwart arms, human smugglers and drug barons' attempts of reaping illicit bonanza. Adopt passive measures like enforcing stringent laws, surveillance, sweep and search at Greece, Turkish, Bulgarian and Serbian border entry points to deter them.
Establish Sahelian Command Centre (SCC), manned by the constituent states military experts and UN observers' team, to transmit real time intelligence, afforded by NATO, US African Command or any of P-5, to the military commands of the regional states. Enable them to locate, interdict and possibly destroy the carriers, collaborators or perpetrators of multifaceted organised crimes. The preparatory effort should be sanctioned by UN for a decade but subject to evaluation and performance audit every three years. When the Sahel situation stabilizes, extend SCC role to other African countries like Nigeria and Algeria to enable their governments to restore their writs, encouraging them at the same time to address their discordant root causes. Concurrently, prompt the states to achieve demonstrable bench marks on way to democracy that draws succour from absolute justice, free of shackles of class, creed, culture and faiths. Similar to provisions of accountability of crime against humanity, evolve a universal set up like ICJ, to deal with stinking corrupt rulers (Ministers, Prime Ministers and Presidents) anywhere in the world who remain out of the fragile net of respective states accountability apparatuses. UN charter should recognize corruption as a crime against humanity.
Execution Posture, Create and Deploy Military Punch
The preparatory phase is likely to come across some hiccups. SCC would also become effective gradually after coordinating and planting its tentacles with militaries of the host states. In the meantime, militaries of the region could be in reorganisation and restructuring phase. Hence pool up adequate military capability to assist SCC forthwith until it is capable of embracing the entire mission of war against rogue gangs with the help of native militaries.
Constitute a division size force under UN banner, requisitioned from African as well as Middle Eastern and South Asian countries having proven professional forces system. Designate it as UN Quick Reaction Force (UNQRF). Dominate at least three hotspots by virtue of its tactical positioning to straddle the entire Sahel region. Each segment of UNQRF's conduct of war effort should mutually reinforce others in impact. Integral mobility would enable them to react fast and maintain an edge over the militant gangs and smugglers. Decision, whether UNQRF would need any additional reserve component, say of brigade size troops, should be made contingent upon the final assessment of the magnitude of threat. Commanders' preference should focus on the desirability of creating an integral composite reserve within each of three battle groups of UNQRF to afford them response flexibility for unforeseen contingencies.
NATO and US African Command must not commit any ground troops. Instead tasks like reconnaissance, coastal surveillance, locate and destroy missions by air combat patrols in support of UNQRF should be assigned to them. For timely response, the region's air bases and others on the periphery should facilitate air support missions. Invite other powers like Russia, China, Egypt, Israel, India, Pakistan, Australia and Indonesia to share the burden of Atlantic alliance's material resources needed for sustained air operations. Command responsibility for the conduct of all air operations must be vested in the component that dominates the entire range of operations. More likely it would be US African Command. SCC and UNQRF would be responsible to UN for updating it through independent and exclusive periodic briefings.
Conclusion
It would take Herculean diplomatic effort to evolve consensus and execute the proposition but it would be economical, legitimate, non-partisan, quelling the critics and having silver linings to meet the challenges of Sahel.

To Silence the Guns, Africa Should Tap its Diaspora
For the year 2020, the African Union, chaired by South Africa, will pursue as its principal aim the silencing of the guns. It has its work cut out, as the continent also braces itself for combating the COVID-19 outbreak. The number of terrorist attacks in Africa has grown from some 400 annual attacks in 2007 to over 2,000by 2016, with well over 13,182 killings. In the most recent report by the Global Terrorism Index, two of the countries which saw highest increases in terrorist attacks were in Africa; Egypt and Somalia, with deaths increasing by 123per cent and 93 per cent respectively from 2017. The continent's gun-wielding forces, therefore, come in various forms, as terrorist groups have mushroomed all over the continent, and are increasingly unpredictable and internationalised; with African groups being allied to jihadist groups from the Middle East, whilst also recruiting locally, using ethnicity as a benchmark. Whilst effective, this approach works mainly because of its moorings with the local context. Consider Burkina Faso for example, where "the combination of poverty, a lack of public services, security forces' inefficiency and neighbouring countries' instability has contributed to the growing radicalisation of civil populations," according to a recent study by Mahamoudou Savadogo, who adds that the brutality and geographic reach of tactics used by the terrorists in turn increases the likelihood of support by local communities in locales where the government has an absence or, when present, approaches them with suspicion, curbs liberties and civil rights as well as developmental assistance.
Economics and terrorism have well-documented interaction. The latest Global Terrorism Index (GTI) report notes that the global economic impact of terrorism was US$33 billion in 2018. Some context is needed here. For example, compared to other forms of violence, terrorism is a small percentage of the total global cost of violence, which was equal to 14.1 trillion dollars in purchasing power parity terms. However, it should be noted that these numbers are on the conservative side, and do not account for the indirect impacts on business, investment and the costs associated with security agencies in countering terrorism. As the same report acknowledges, "terrorism also has wide-ranging economic consequences that have the potential to spread quickly through the global economy with significant social ramifications." In the global context, Africa is also among the more disproportionately affected regions.
Countries facing terrorist activity are found to have lower economic growth through lower investment on physical and human capital, higher cost of capital, and lower non-military consumption. Perhaps the most direct manner through which terrorism affects economic outcomes is in its discouragement of foreign tourism. Overall, terrorism has been found to decrease foreign direct investment flows by exerting a significant impact on the allocation of productive capital and reducing the expected returns to investment, and at the same time terrorism encroaches on bilateral trade flows by raising trading costs and hardening borders. This is particularly worrisome for Africa, in light of its goal of accelerated intra-continental trade through the Continental Free Trade Agreement, whose other face is free movement of people.
The economic time-lag effects of terrorism can vary depending on the conflict status of a country. Observers have noted that terrorism has an economically and statistically significant negative impact on tourism. For example, an empirical study of the Caribbean after September 11 attacks – which had an effect on tourism to the Caribbean due to its regional proximity to the US and the use of the US as a stop-over by many Caribbean-bound tourists – the relationships between terrorism and low tourism tended to be at their strongest in for two years following the incident. In the case of Nigeria, in 2019 the cost of terrorism in terms of lost GDP per year is estimated at 0.82% as the government had to appropriate funds to combating terrorism, the reduced tourism potential notwithstanding.
The correlation of inequality and terrorism within and across countries has led to appeals for international aid from within the continent itself. This appears to have universal consensus and goes with common-sense assumptions. However, such consensus may be unwarranted as such a path may not be linear.
In a 2018 study focused on the role of aid in offsetting terrorism in the 1984–2008 period with 78 countries by African Governance and Development Institute's Professor Simplice Asongu and colleagues found that foreign aid cannot be used as a policy tool to effectively address a negative effect of terrorism on FDI. This is echoed by a 2017-publishedanalysis of 38 countries in Sub-Saharan Africa, the Middle East and North Africa, and South Asia for the 2006–2014 period by Godwin Okafor and Jenifer Piesse who found foreign aid was insignificantly related to decreasing terrorism. In my own 2017 study, I noted Djibouti and Uganda to be the sole exceptions, whilst there were mixed results from Kenya.
The diaspora and expatriates (themselves a consequence of the instability in the continent)on the other hand remain an untapped channel for combating terrorism in the continent as well as offsetting the flight of capital in the wake of perceived vulnerability.
A study which focused on Sub-Saharan Africa found that terrorism incidences and remittances were positively correlated, with each incidence of terrorism coinciding with remittance receipts of between US$250, 000 and US$1, 000, 000.In a roundabout fashion, terrorism may lead to an increase in financial inflows, with remittances rivalling and, in some cases, surpassing FDI and foreign aid in many countries in the developing world as a source of foreign income which could in turn decrease the socio-economic causes of terrorism. As the continent grapples with the problem of terrorism, the solutions to its economic causes increasingly appear to lie within the continent itself, as well as its diaspora, which had been the AU's theme for 2019, who could be more actively institutionalised.
Terrorism stands to be a destructive force for the AU's significant but precarious gains, including accelerated intracontinental trade, people movement, and gains in FDI. In turn, silencing the guns will, therefore, hinge on economic policymaking and confidence-building and renewed social contracts between the governments and their populaces. If nothing, ensuring this (through its various arms, including the African Peer Review Mechanism), is the raison d'être of the AU, especially in the crises-ridden days presently underway.
The Mandera triangle crisis: Somalia and Kenya diplomatic face-off
While the COVID-19 was morphing from an epidemic into a catastrophic global pandemic, captivating the global news, a diplomatic confrontation is unfolding in the horn of Africa between Somalia and Kenya.
On 2 March, fighting between the Somali National Army (SNA) and the regional Jubaland paramilitary forces erupted in the border town of Beled Hawo killing 21 combatants on both sides and civilians. The fighting in Beled Hawo spilled across into Kenya's territory as the SNA pursued the retreading Jubaland paramilitaries into the Kenyan border town of Mandera. On 4 March, Kenya accused Somalia of ''unwarranted attack'' on its territory as the two East African nations traded accusations of internal political interference.
To understand the crisis in the Mandera triangle – a converging point of Somalia's, Kenya's and Ethiopia's borders and the towns of Beled Hawo, Mandera and Suuf on each side of the borders, respectively – one has to grasp the intricacies of the horn's new geopolitical reconfigurations, Villa Somalia's long-term political agenda and Kenya's geopolitical anxieties and concerns of Ethiopia's increasing influence in Somalia.
Somalia's governance model confusion
After nearly 30 years-long intra-tribal and warlords-based civil war, now, Somalia seems to be descending into a looming intra-federal states and central government military confrontations. The recent fighting in Beled Hawa between the SNA and a regional paramilitaries signal the commencement of a new civil war in the country – unless quickly resolved.
At the root of this violence lie confusions on which governance model suites Somalia best and its interests. Federal member states (FMS) like Jubaland and Puntland, coupled with their political and ideological difference with the Federal government of Somalia (FGS), envision a loosely connected federal system where federal member states have more powers as the central federal state a la a Swiss confederacy model. Contrary to this, the current administration of President Mohamed Abdullahi ''Farmajo'', with its nationalist and centralist tendencies conceives a 'strong' Somali state with a relatively autonomous and subordinate regional states.
The current governance model crisis in Somalia is also compounded by the slow constitutional review process which would have stipulated clearly the division of powers between the FGS and its constituent FMS.
Furthermore, the Somali governance model crisis also took a geopolitical dimension: neighbouring countries and Gulf States have been courting federal member states hence by-passing the central government. The Current administration's siding with Qatar and a strong diplomatic relation with Turkey has worried Gulf powers. This has created a situation where FMS with the implicit support of Gulf powers and neighbouring countries challenge the central government.
Villa Somalia's political end-game
Since the election of President Mohamed Abdullahi ''Farmajo'' in 2017, a more assertive and centralist policies laden with Somali nationalism rhetoric has been observed in Mogadishu. In a speech while on a visit to Kenya delivered in the Somali embassy in Nairobi, the president lamented that Somalis are tired of political chaos, disintegration and accused some leaders of the federal member states of being unpatriotic and treasonous.
In its effort for recentralisation the central federal government had influenced the regional elections in Konfur Galbeed state and Galmugud state and got elected in both states leaders who were allied to the central federal government.
Furthermore, the ascent to power by Abiy Ahmed in 2018 in Ethiopia seems to have favoured the current administration in Mogadishu. In Abiy Ahmed, President Farmajo had found an ally who made sure that Ethiopia only engages with the FGS in Mogadishu. This has created the perception in the Somali public that Ethiopia has ceased interfering in Somali politics. The new-found close relations between Somalia and Ethiopia had worried Kenya which sees the bordering Jubaland state of Somalia as a buffer zone against the terror group Al-Shabab and as its sphere of influence. Prof. Peter Kagwanja observed that with Abiy Ahmed in power in Ethiopia and President Farmajo's centralist and Somali nationalist tendencies, a new Somali-Oromo ''cushitic allience'' is emerging in the horn that will put in risk Kenya's geopolitical interest.
More crucially, with elections in the corner in Somalia in 2020/21, Mogadishu is flexing its powers over what it considers rogue federal member states. After two days of fighting in Dhusamareeb, the capital of Galmudug state, the leaders of the armed sufi group Ahlu-Sunna Wal-Jamaa (ASWJ) surrendered and were detained by the Somali army on 29 February.
Then, the central federal government turned its gaze on Jubaland state and its leader Ahmed Mohamed Islam ''Madobe'', a close ally of Kenya. Madobe got himself re-elected as the president of Jubaland state last year in an election the FGS refused to recognize. In a show of support his inauguration was attended by some Kenyan members of parliament spear-headed by Majority leader Adan Duale Barre. Amid an exchange of internal political interference accusations between Kenya and Somalia, the first shots were fired in Beled Hawo, Somalia and spread into Mandera, Kenya. Furthermore, Abdirashid Janan, a fugitive Jubaland warlord with an arrest warrant from the Federal government resided and mobilised his Jubaland paramilitaries from Mandera, Kenya with the displeasure of Mogadishu.
Time for de-escalation, dialogue and cooperation
Diplomatic relations between Kenya and Somalia have reached their lowest point this year. Amid an increase in terror attacks by Al-Shabab in both Somalia and Kenya's North-Eastern region, both nations have to de-escalate diplomatic tensions and cooperate closely in security matters.
On 9 March, President Uhuru Kenyatta sent his interior minister Fred Matiangi to Mogadishu in an effort to de-escalate tensions with Somalia. This is a step in the right direction. The interior minister also travelled to Addis Ababa in a bid to iron out conflicting geopolitical interests with Ethiopia.
Finally, Somalia needs to have a constitutional review process before the elections on how to peacefully and efficiently institute and implement its federal system. While the Somali state in the Weberian sense, has a right to violence and coercion within its territory, nevertheless, regional states like Puntland and Jubaland are armed to the teeth and a violent confrontation would be a recipe for a new civil war. With Al-Shabab still terrorizing Somalis, Villa Somalia has to mobilize its meagre military resources against the terror group and employ internal diplomacy channels to engage and reconcile with regional states. Dialogue is paramount for Somali politics at this moment.
Meet this Year's African Change-makers
This year's 115 most promising artists, activists, academics, executives and political leaders under the age of 40 today join the World Economic Forum's community of Young Global Leaders. They are pushing boundaries, achieving firsts, innovating and breaking traditional rules to improve the world.
The Forum of Young Global Leaders was founded in 2004 by Klaus Schwab, Founder and Chairman of the World Economic Forum, to create a world where leaders take responsibility for a sustainable future, while meeting increasingly complex and interrelated challenges. Today, the Forum counts 1,300 members and alumni, representing more than 115 countries. Notable members include Yao Chen, actress, Amal Clooney, lawyer, Hilary Cottam, author, Wanuri Kahiu, Filmmaker, Carlos Alvarado Quesada, President of Costa Rica, Jack Ma, Founder of Alibaba,and Jimmy Wales, Founder of Wikipedia.
YGLs are active in today's most exciting and dynamic fields and work with a focus on impact. In the past year, they have collaborated together to accelerate refugee entrepreneurship to unlock local talent and inject an estimated GDP of $56 million from Kenya's Kakuma camp into the global economy. They have worked to solve waste management challenges by focusing on improving treatment capacity in Indian plants, and more broadly, they have equipped young generations with the tools to effectively influence politics and policy.
This year, over half the new members are women, and nearly half of Young Global Leaders are from emerging economies. They represent a diverse group with an ability to enhance understanding and promote action.
Members of the new class will take part in a five-year programme that includes executive education courses, group expeditions and opportunities to collaborate and test ideas with a trusted network of peers. This will also be an opportunity for them to identify ways in which their ground-breaking work can advance new models of innovation and make a difference in their communities.
African YGLs will benefit from the Dangote Fellowship, made possible by the Aliko Dangote Foundation (ADF). The aim of the fellowship is to increase the quality and quantity of young African leaders across the continent by supporting the engagement of African YGLs in the community, such as those from small enterprises or the non-business sector. The Fellowship helps YGLs from Africa attend YGL and Forum events.
"By championing these promising and accomplished leaders we hope to create positive ripple effects that benefit entire communities. In response to a startling decline in trust in leadership over the past decade, these Young Global Leaders inspire the world through their dynamism, passion and integrity," said Mariah Levin, Head of the Forum of Young Global Leaders at the World Economic Forum.
Civil Society
Yetnebersh Nigussie, Ethiopian Lawyers with Disabilities Association, President and Co-Founder
Education
Faraja Nyalandu, Shule Direct, Founder and Executive Director
Food and Beverage
Shani Senbetta, Kidame Mart, Founder and Chief Executive Officer
Governmental
Paula Ingabire, Minister of Information Communication Technology and Innovation of Rwanda
Kojo Oppong Nkrumah, Government of Ghana, Minister of Information
Health and Healthcare
Chinny Ogunro, Africa Health Holdings, Managing Director
Fredros Okumu, Ifakara Health Institute, IHI, Director of Science
Information Technology
Aurélie Adam Soule, Government of the Republic of Benin Minister of Digital Economy and Communications
Tunde Kehinde, Lidya Founder
Media Entertainment and Information
Larry Madowo, BBC World News Africa Business Editor
Mayur Patel, Kwesé iflix, Chief Executive Officer