The Cyber Gulag revisited & Debate reloaded
Is there life after Facebook? Or after the Spring-ing 'revolution'? Now, when Wall Street is occupied, how will we occupy ourselves? Could we google protest, tweet discontent, arming ourselves with all the mobile launcher gadgets powered by the micro & soft, touch screen & scream tech, then upload promenades, block a tragedy and avoid farce, and eventually download pure happiness – happily ever after? … Pimp my revolution, Date my resolution …
Through the pain of sobriety, the protesters all across the MENA, Euro-Med and overseas are learning that neither globalization nor the McFB way of life (mostly spent in the large, air-conditioned shopping-malls) is a shortcut to development; that free trade is not a virtue, but an instrument; that liberalism is not a state of mind but a well-doctrinated ideology, and finally that the social media networks are only a communication tool, not a replacement for indepen- dent critical thinking or for the collapsed cross-generational contract. "We are the suckers, the eternally expectant ones, the hopeful ones – and the eternally disappointed ones…"
Machines run on binary-coded algorithms (predictability of human behavior cyber-providers) can neither compensate for an empathic human touch nor can they replace the wonders of socio-emotional interactions of individuals in a real time-space. Sociableness is neither of linear, one-directional dynamics à la Running Sushi, nor can it be a 3-size simplified and instant portable like the Starbucks coffee. Personal relations are lived, not utilized by a mouse click. Human integrity is self-molested (brutalized) and self-reduced (trivialized) to a lame shop-window commodity, which is purchasable 24/7 by 'poking' on the photo of someone's personal profile. And, likies are available to give a rating for 'displayed commodities'.
MORPHEUS TO NEO:
Your appearance now is what we call 'residual self-image'.
It is the mental projection of your digital self.
TRINITY TO NEO:
The Matrix cannot tell you who you are, but who you are seems to be at least
in some sense related to whom you think you are in the Matrix.
MORPHEUS TO NEO:
You have the look of a man who accepts what he sees, because he's expecting to wake up.
Ironically, this is not far from the truth…
Unfortunately, no one can be told what the Matrix is. You have to see it for yourself.
This grotesque of self-imposed cyber gulag, called 'social media networks' might end up like smoking of the 21st century. In early 20th century, smoking was cool, sexy, brave, rebellious, liberating and most of all: social. As such it was glorified and promoted by that time Western press, film and other entertainment industries. However, as soon as the physical and mental exposures and distortion, as well as the dependency, submissiveness and heavy-addiction have been credibly verified, smoking was barred from all public places, from children and elderly, schools and hospitals. First opposing for some decades, the tobacco industry was eventually forced to visibly and clearly state warnings about all hazards associated with its products. Today, smoking is proscribed in the OECD countries, ghettoized, and effectively confined to the specially designated glass-boxes with powerful ventilations systems and sensitive fire-alarms. The developing world will maybe follow, one day, successfully. As for the OECD states and media networks: London/UK's tweet and loot nights of early August 2011 and NY feed, occupy and camp autumn days of 2011 are an indication enough.
Misled by a quick triumphalism of the social-media cheerleaders and TV reporter–nomads, the international news agencies have definitely confused the two: revolt and revolution. As they later missed to co-relate a massive EU bail-outing and the UK loot-outing. Negotiating on the coined "Euro-zone debt crisis" (debt bound economies) without restaging the forgotten Lisbon strategy (knowledge-based societies) is simply a lame talk about form without any substance – it is a grand bargain about control via austerity, not a vision of prosperity.
The very precursor of the so-called Arab Spring was the winter of the (still unsettled) global financial crisis with its severe impact felt or misused locally. Consequently, the Arab unrests started as a social, not political, public revolt over high unemployment and soaring costs of living (Tunisia and Egypt), over the inter-tribal inequalities (Libya, Bahrain), or over a combination of all factors (Yemen and Syria). Besides publicly 'crucifying' a couple of scapegoats, it has then failed to bring about structural change (r/evolution), and is paradoxically ending up with more debts, ever higher living costs, and more unemployment than before the real or fabricated austerity measures were imposed in a response to the mounting global financial crisis. Finally, it is not clear whether these popular revolts have been preempted (or diverted by hacktivists), and at the end, scrutinized and criminalized.
How does the Arab 'Spring' correlate with the UK/London (looting) 'Summer' and the Wall Street (walking charade) 'Autumn'? Well, the difference between a dialectic and cyclical history is a distance between success and fall: The Arab Oil Embargo of 1973 (that interestingly enough also included the non-petrol exporting republics of Egypt, Syria and Tunisia) was an attempt at political emancipation. In the aftermath of the Oil Shock that the Embargo subsequently triggered, the Arab states have found themselves within ever stronger external financial and politico-military dependencies… History also rounds up the virtuality, (of) taxation and representation. No taxation without representation! – isn't it?!
MORPHEUS TO NEO:
Welcome to the desert of the real! …How do you define 'real'!?
If you're talking about what you can feel, what you can smell, what you can taste and see, then 'real' is simply electrical signals interpreted by your brain …
The world exists now only as a part of a neural interactive simulation that we call the Matrix.
CYPHER TO TRINITY:
If I had to choose between that and the Matrix … I choose the Matrix.
TRINITY:
The Matrix isn't real?
CYPHER:
I disagree, Trinity. I think the Matrix can be more real than this world.
The Ancient world of the Roman Empire was one of the first legal systems to extensively practice the institute of the so-called Civic death. This savage, inhuman but effective sanction medieval Europe eagerly continued for centuries, before it was finally abolished by the post-Napoleonic age. What would be the modern equivalent to this Antique criminal law penalty? Imagine that instead of a fine or imprisonment, the convicted individual gets a sentence which bars him from any access to mobile phones, internet/FB and to shopping malls. Science fiction? Not really! That is exactly what the Prime Minister Cameron asked for in the British Parliament, as to put the London riots under control in August 2011.
CYPHER:
I know that this steak doesn't exist. I know when I put it in my mouth,
the Matrix is telling my brain that it is juicy and delicious.
After nine years, do you know what I've realized?
Ignorance is bliss.
AGENT SMITH:
Then we have a deal?
CYPHER:
Reinsert me into the Matrix… I don't want to remember nothing. Nothing! You understand?
And I want to be rich… Someone important, like an actor… You can do that, right?
AGENT SMITH:
Whatever you want, Mr. Reagan.
For over ten years, Europe's youth (in France, Greece, Hungary, Portugal, Spain, Ireland, Norway, Britain) is repeatedly sending us a powerful message on the perceived collapse of the cross-generational social contract. So far, the only consolidated response was the impressive build-up of the so-called 'Wing/s front'. These movements, seemingly rightist political parties, are effectively exploiting mounting frustration of electorate over the main center-left and center-right political parties (that lost most of its traditional ideological platform and specific political content, but far too often co-habituating in a form of grand-coalitions across the EU), and the potent emotional charges related to 'migration question'.
The history of Europe is a story of small hysterical nations, traditionally sensitive to the issue of otherness (as the ethnic, linguistic, religious or behaviorist minorities were misused far too many times in history by assertive neighbors all over the continent, or domestically presented as a Hassobjekt for the locally surfacing hardships). The present-day, aged but not restaged, EU is (in) a shadow of the grand taboo that Europe can produce everything but its own life. The 'Old Continent' is demographically sinking, while economically just keeping afloat. The cross-generational social contract is silently abandoned (as one of its main operative instruments – the Lisbon strategy – has been eroded, and finally lost its coherence). European youth feels it correctly, still does not express it right: The escapist, defeatist/rejectionist, retreating and confrontational anti-politics is on a rise in lieu of the visionary, dynamic far-reaching policies, aimed at the knowledge-based economy and solidarity-based society.
Imagine human beings living in an underground, cave like dwelling, with an Entrance
a long way up, which is both open to the light and as wide as the cave itself. They've
been there since childhood, fixed in the same place, with their necks and legs fettered,
able to see only in front of them, because their bonds prevent them from turning their
heads around. Light is provided by a fire burning far above and behind them.
Also behind them, but on higher ground, there is a path stretching between them and
the fire. Imagine that along this path a low wall has been built, like the screen in front
of puppeteers above which they show their puppets … Then also imagine that there are
people along the wall, carrying all kind of artifacts that project above it – statues of
people and other animals, made out of stone, wood, and every material. And, as you'd
expect, some of the carriers are talking, and some are silent.
What is the possible message of the Arab 'Spring', London 'Summer' and the Wall street 'Autumn' for Asia in general and for Southeast Asia (SEA) in particular? Well, there are few. The cross-generational social contract should be neither neglected, nor built on the over-consumerist, anti-intellectual, trivialized and brutalized McFB way of life. Equally alienating and dangerously inflammatory is the radicalization of the entering youth generation – be it a religious or political radicalization. There must be a third way! – especially for the newly arriving SEA middle class that is also rapidly urbanizing. The middle class formation and its urbanization is closely related to the identity-crisis, too. The forthcoming task of intellectuals is to offer the best ways for accommodation of these new arrivals and their integration. It is the political parties who should then promote those policies and best practices for the lasting benefit of all stake holders and the social cohesion which, not only "pleases the markets" and complies with the spooky and shadowy rating agencies but, stabilizes the entire nation.
No doubt, just as the cyber-autistic McFB way of life is the same in any European and Middle Eastern city, so are the radical, wing politics! Have you spotted any critical difference between the rhetoric of Norwegian serial killer Breivik and the Al Qaida Wahhabi 'Islamists'? "Just like Jihadi warriors are the plum tree of Ummah, we will be the plum tree for Europe and for Christianity"– many news agencies reported these as words allegedly written by the Christian Jihadist Anders Behring. The European (right-wing) parties opposing e.g. Muslim immigration are nothing but the mirror image of the MENA's Islamist parties. In both cases, there are: (i) Socio-political outsiders (without much of an coherence, integrity and autonomy) that are denouncing the main, status quo, parties as a 'corrupt establishment'; (ii) Extensively exploiting domestic economic shortcomings (e.g. unemployment, social inequalities, etc.), but they themselves do nothing essential to reverse the trend; (iii) Making ethnic and religious appeals (preaching the return to tradition), attacking foreign influences in their societies and otherwise 'culturally purifying' population; (iv) Generally doing better in local rather than in national elections (the 'Rightists' win on the national elections only when no other effective alternative exists to challenge the governing party/coalition block); (v) More emotionally charged populist movements than serious political parties of the solid socio-economic and socio-political program (per definition, these parties have very poor governing score).
NEO:
What is this place?
MORPHEUS:
More important than 'what' is when!
NEO:
When?
MORPHEUS:
You believe that it is the year 1999…
I can't tell you exactly what year it is, because we honestly do not know…
So far, the Middle Eastern/MENA and European political establishments responded to these developments in similar fashion: (i) the Middle East: became more sectarian Islamic in its orientation, symbols, practices; (ii) the EU/Europe: mainstream (center) parties adopted rhetorics and promoted the measures advocated by the right-wing, anti-immigrant parties.
The calamities all over the EU and Euro-Mediterranean zone are showing us how dangerous, disastrous, and short-sighted these (anti-politics) policies of exclusion are.
Is Southeast Asia able to prevent its own Middle Eastern 'Spring', London 'Summer' and
'Occupying Autumn' social-cohesion 'Fukushima-Daiichhi-like' meltdown?
The Arab world's population growth is considerably higher than its economic growth. This means that besides the grave indigenous political and regional security problems, domestic disparities, unemployment, pauperization and inequalities are on the sharp rise. Past the prime age of the "baby boomer" generation, Europe suffers the worrying negative demographic growth and rapid ageing. The EU replacement ratio is between 1,3 and 1,7 (and is afloat only due to steady and silent but massive naturalizations all across Europe over the last decade). The EU's economic growth is very symbolic, despite huge territorial enlargements in the past decade. Actually, the EU's growth in many categories could be portrayed as negative.
Ergo, both regions are in a socio-economic retreat, naturally reflected in their political defensive. To reverse the trend, both regions would need an extra effort (which is not presently lurking on the horizon).
CAPTAIN TO AUTO (SHIP's COMPUTER):
That's all I've ever done! That's all anyone on this blasted ship has ever done. Nothing! Nothing!!
AUTO TO CAPTAIN:
On the Axiom, you will survive.
CAPTAIN:
I don't want to survive. I want to live.
AUTO:
…must follow my directive.
WALL-E:
Dirrrr-ect-ti-veee?… Eveeee!
EVE:
Waaaalll-eeee!… Wall-E!
WALL-E:
Ta-dah!
Finally, what is the karma and dharma of current financial crisis? Where is a thin line between too big to fail (so, bail) and too heavy to fly (but, expensive to buy)? Is the 'Occupy Wall Street' a spontaneous outcry, a stress-eliminator walk (usually recommended by medics), a camping charade overrun by a bluffing demagogue of anti-corporate populists and mid-term elections opportunists? Is this in fact a Woodstock-remake TV show, just another US exporting item? Or is it the (only way out for domestically needed) solution? Is OWS a mix of all, or none of these?
AGENT SMITH TO MORPHEUS:
Did you know that the First Matrix was designed to be a perfect human world, where none suffered, where everyone would be happy? … It was a disaster. (… entire crops were lost.)
MOUSE TO NEO:
To deny our own impulses is to deny the very thing that makes us human.
CYPHER:
Ignorance is bliss!
Revelation 21:4, KING JAMES BIBLE
And God shall wipe away all tears from their eyes; and there shall be no more death, neither sorrow, nor crying, neither shall there be any more pain: for the former things are passed away.
MORPHEUS TO NEO:
Most of these people are not ready to be unplugged, many of them so inert, so hopelessly dependent…
IVAN, in Dostoyevsky's The Brothers Karamazov
So long as man remains free he strives for nothing so incessantly and so painfully
as to find someone to worship.
AGENT SMITH TO MORPHEUS:
Some believe that we lacked the programming language to describe your perfect world,
but I believe that, as a species, human beings define their reality through misery and suffering.
The perfect world was a dream that your primitive cerebrum kept trying to wake up from.
GARCIN, In Sartre's No Exit:
Hell is – other people.
Sagan is very precise and instructive: "If we are to survive, our loyalties must be broadened further… Many of those who run the nations will find this idea unpleasant…"
As one of the exceptionally few world regions, Southeast Asia so far holds both what is otherwise missing in the other two mentioned theaters – stabilized demographic growth and an impressive economic growth. However, the demographic and economic growth poses an additional environmental stress, which – if not under check – may result in confrontational domestic policies and practices aimed at to maximize a grab for finite, scarce resources.
Hence, be the outside world Kantian or Hobbesian (be it driven by the sense of higher civilizational mission and common ASEAN destiny, or by the pragmatic need to strengthen the nation's position), all necessary means are here! To register its future claims, the SEA – as well as any other theater – have to demonstrate its lasting and decisive will now.
Tentatively, we can cluster that will around three main tasks:
(i) Prosperity: Support to all three sides of the knowledge triangle: research (creation of knowledge); development/innovation (application of knowledge); education (dissemination of knowledge), as well as the promotion of life itself;
(ii) Solidarity: Human dimension enhancement through promotion of cohesion policies, including the full respect of authenticity as well as the preservation and promotion of indigenous socio-cultural and environmental diversities;
(iii) Security: Enhancing the human-centered (socio-economic) safety, based on free- dom, justice and inclusive collective (environmental and socio-political) security.
This opportunity should be understood as history's call – which both invites and obliges at the same time. Or, as Hegel reminds us that since: "reason is purposive activity…" the state should be: "…the actuality of the ethical Idea, of concrete freedom…" for all. An effective long-range prosperity, solidarity as well as (external or internal) security cannot be based on confrontational (nostalgia of) 'religious' radicalism and other ideological collisions. Clearly, it cannot rest on the escapist consumerism, corrosive socio-economic egoism and exclusion, restriction and denial, but only on promotion and inclusion. Simply, it needs to be centered on a pro-active, participatory policy not a reactive, dismissive one.
TRUMAN:
Who are you?
CRISTOF:
I'm the Creator
…of a TV show that gives hope and joy, inspiration to millions.
TRUMAN:
Then who am I?
CRISTOF:
You are the star.
CRISTOF:
I know you better than you know yourself.
TRUMAN:
You never had a camera in my head!
Post Scriptum
NEO TO AGENT SMITH:
…You can't scare me with this Gestapo crap. I know my rights…
I want my phone-call.
AGENT SMITH TO NEO:
Mr. Anderson, you disappoint me…
Tell me, what good is a phone-call if you're unable to speak?
Note:
An early, shorter version of Is there life after Facebook?, the so-called fb1,article appeared at first in China (Beijing, the 4th Media) on 12th August 2011. Is there life after Facebook? – The Cyber Gulag revisited & Debate reloaded, the so-called fb2, article was an extended version of that text published by the Addleton Publishers, New York, RCP 10 (2), 2011.
The present text is an expanded, unpublished version that includes SEA and elaborates on OWS for the first time in this article. It is exclusively prepared for the International Media Conference in Paris, France (23–25 November 2011).
References:
1. Bajrektarevic, A. (2003), Beyond the Cyberpunk of negative utopia, Reader for the Research colloquia: Alternative Futures, Helsinki, Finland
2. Kirkpatrick, D. (2010), The Facebook Effect, Simon & Schuster
3. Bajrektarevic, A. (2011), No Asian century without the pan-Asian Institution, Post Script THC, Jakarta 8:3
4. Heidegger, M. (1927), Sein und Zeit (Being and Time), Max Niemeyer Verlag Tübingen (page: 37)
5. Dostoyevsky, F.M., (1880), Братья Карамазовы (The Brothers Karamazov), (Chapter 5), Bantam Classics
6. Huxley, A. (1932), Brave New World, A Flamingo Modern Classics 1994 (page: 82)
7. Nietzsche, F. (1886), Jenseits von Gut und Böse; Vorspiel einer Philosophie der Zukunft (Beyond Good and Evil) (page 199), Druck u. Verlag von C.G. Neumann, Leipzig
8. Fromm, E. (1956), The Art of Loving, Perennial Classics, (page: 79 and page: 80).
9. The Matrix Movie, written and directed by the Wachowski brothers (1999). According to the movie script; all quoted dialogues refer to the first motion picture of the Matrix trilogy (1999-2003)
10. Pariser, E., (2011), The Filter Bubble: What the Internet Is Hiding from You, Penguin (page: 43)
11. Khanthong, T. (2011), Overdrive: Conveniently Ignoring the Truth, The Nation – Thailand (page 13A, 07 X 11)
12. Plato Republic, (trans. Grube, G.M.E.), 2nd Ed. Rev. C.D.C. Reeve, Indianapolis, Indiana: Huckett Publishing Co., 1992 (514a1 – 515a3)
13. Dante, A. (1321), La Divina Commedia (The Devine Comedy), The NAL, Penguin Group /first published, 1954/
14. Goethe, J.W. (1808), Faust, Anchor Books Editions 1961 (page: 73, Der Tragödie erster Teil)
15. NIC – National Intelligence Council (2008), Mapping the Global Future – Disruptive Civil Technologies (STwP Impacts on US Interests out to 2025), Conference proceedings April 2008
16. Tim Lister, Europe's resurgent far right focuses on immigration, multiculturalism, CNN (July 24, 2011)
17. Bajrektarevic, A. (2005), Destiny Shared: Our Common Futures – EURO-MED Human Capital beyond 2020, Crans Montana Forum, Monaco
18. Bajrektarevic, A. (2005), Towards the Creation of the OSCE Task Force on Human Capital, Documents of the 13th OSCE Economic Forum, Prague, Czech Republic
19. Youngs, R. (2010), Europe's Decline and Fall – The Struggle against Global Irrelevance, Profile Books
20. WALL-E (2008), written by Andrew Stanton and Pate Docter, directed by Andrew Stanton. All quoted dialogues taken from the official movie's script
21. Bajrektarevic, A. (2010) The JHA Diplomacy: Palermo Convention, 10 Years After, GHIR – Geopolitics, History and Intl Relation (3:1/2011) (page:32)
22. Friedman, G. (2009), The Next 100 Years, Anchor Books/Random House NY
23. Sartre, J.–P. (1944), Huis Clos (No Exit), Vintage International (Random House 1989)
24. The Truman Show, written by Andrew Niccol and directed by Peter Weir in 1998. All quoted dialogues taken from the official movie's script
25. Hegel, G.W.F. (1807), Phänomenologie des Geistes (The Phenomenology of Mind), Oxford University Press, 1977 (page: 25 VII)
26. Sagan, C. (1980), Cosmos Random House, NY /Carl Sagan Productions Inc. (page: 327).
Global Vaccine Divide: Covid-19 Pandemic and Opportunity for India
As the novel coronavirus (SARS CoV-2) pandemic is raging across the world, a race has already ensued for the discovery of a vaccine. Normally, vaccine development takes a decade. But given the urgent need for a vaccine to fight the novel coronavirus, different national drug regulatory agencies are observed to have fast tracked their approval process. Additionally, various regulatory bottlenecks were also removed in order to facilitate the development of a vaccine in an earliest possible time. According to the World Health Organization (WHO), as of 17th May 2020, there are eight vaccine candidates already in different phases of clinical trials around the world.
As the Covid-19 vaccine race picked pace, questions are once again raised over the affordability of the vaccines to the population in the Low and Middle Income Countries (LMIC). The question appears timely, given the past behavior of developed countries to place bulk orders and hoard vaccines, at the expense of other countries. Additionally, exorbitant prices will lead to denial of vaccines to the population in the global south. At the heart of this affordability debate is the "patent monopoly" usually enjoyed by the firm that discovers the vaccine first. In this context, the Doha Declaration on TRIPS and Public Health has allowed for "compulsory licensing" of pharmaceuticals during national health emergencies. Opponents of this emergency provision have made a counter-argument that invoking TRIPS exemption to break patent monopoly would disincentivize innovation. Their argument seems valid given the fact that vaccine discovery involves billions of dollars in sunk costs. Therefore, by following their line of argument, it can be stated that any measure taken to forcefully license a future Covid-19 vaccine would be counterproductive.
In the quest to make vaccines affordable, it is important to keep in mind the interest of both the patent holder and the populations in the LMIC. In recognition of this factor, the 73rd session of the World Health Assembly (WHA) passed a resolution to establish a 'voluntary' global patent pool. Another solution is to introduce a government-funded prizing system that would keep the incentives for vaccine development, and prevent the emergence of patent monopolies at the same time. Few others have called the future patent holders for Covid-19 vaccine to 'unlock' their patent for a short period. Such small steps would enhance vaccine availability during times of pandemic, by allowing vaccine manufacturers in LMIC to mass produce vaccines and distribute them at affordable prices. However, these global efforts and other suggestions made towards preventing the emergence of patent monopoly, has invoked opposition from the US, the UK and Switzerland, as these countries are the home to many of the world's major pharmaceutical companies. In contrast, in his speech to the WHA made on 18th May 2020, President Xi of China declared that Chinese Covid-19 vaccine when available will be made a 'global public good', which will ensure "vaccine accessibility and affordability in developing countries".
At the beginning of the current pandemic, states were seen to be behaving in their own self-interest by hoarding medical supplies. For instance, both Italy and Spain accused Germany for denying ventilators to them during their times of shortage. Similarly, the US was accused by a handful of countries for diverting critical medical supplies meant to be delivered to them. Eventually, as the pandemic control measures failed, states' interests are seen to have shifted towards vaccine development and ensuring its future availability to their populations. In this regard, the Trump administration in the US was supposed to have paid the German firm Curevac to shift its vaccine research to the US, drawing Germany's ire. The French were infuriated when its pharmaceutical major Sanofi announced that the US will be the first country to get access to its future vaccine. Also, the US did not participate in the EU-organized global fund raising event to support Covid-19 vaccine development, signaling its intention to go alone. Instead, the Trump administration offered $1 billion to UK firm AstraZeneca to support its vaccine development efforts. Thus, in ensuring vaccine accessibility, few developed countries are behaving in a similar way as they have done in the past.
The present situation has given an opportunity for Indian vaccine manufacturers to step in to ensure 'equitable' access to Covid-19 vaccines. India is known for mass production of vaccines and selling them at affordable costs to multilateral organizations like GAVI. Indian manufacturers also account for 60% of vaccines supplied to UNICEF's global immunization programmes. India has also ramped up its efforts to indigenously develop a vaccine for Covid-19. If a successful vaccine emerges elsewhere, India could still leverage its strong biotech industrial base to partner with foreign firms and institutions for mass production of vaccines. In this respect, the University of Oxford has already partnered with Serum Institute of India in anticipation of a huge global demand for Covid-19 vaccines. Similarly, Bharat Biotech has joined hands with the University of Wisconsin and US firm FluGen to make 300 million doses of vaccines for global distribution. Given the uncertainty associated with vaccine development efforts, Indian pharmaceutical companies should choose the right partners based on the efficacy of their technology, and their suitability for mass production.
Majority of these partnerships are being formed while the vaccine is in the development phase and may fail to fructify in the future. This is because a successful vaccine candidate requires to pass rigorous clinical trials before it could be approved for wider usage. However, the need to mass produce vaccines to end the pandemic will lead to a number of post-development partnerships between biotech firms. In this respect, Indian vaccine manufacturers are better positioned to clinch more deals as they have the necessary 'skilled' workforce and R&D infrastructure for mass production. Still, the questions over the 'equitable' distribution of vaccines will remain unresolved, unless a percentage of vaccines produced by the manufacturers in India and other LMIC are reserved for local distribution at affordable prices.
Coronavirus in a Time of Chimeras
As the global COVID-19 scourge appears to recede, questions remain over the source and morphology of a virus that had locked down two-thirds of humanity over the first half of 2020. It may take years to satisfactorily decipher this extraordinary episode in human history.
Nonetheless, the novel coronavirus was not germinated in a vacuum. The type of research conducted at the Wuhan Institute of Virology had ominous analogues worldwide. These included the quest for super intelligence and the development of interspecies hybrids or chimeras.
Genetically-Enhanced Competitiveness
What began as a scientific mission to remedy congenital defects has rapidly morphed into a global race to create designer babies, super soldiers and transhumans through the aid of biotechnology and Artificial Intelligence. 21st century eugenics is tacitly justified by the need to boost "national competitiveness".
China leads the way here. In one revealing instance alone, genome sequencing giant BGI Shenzhen had procured and sequenced the DNA of more than 2,000 people – mostly Americans – with IQ scores of at least 160. According to Stephen Hsu, a theoretical physicist from Michigan State University and scientific adviser to BGI:
"An exceptional person gets you an order of magnitude more statistical power than if you took random people from the population…"
BGI Shenzhen intends to become a "bio-Google" that will collate the "world's biological information and make it universally accessible and useful". From 2012 onwards, it began to collaborate with the Bill & Melinda Gates Foundation.
Scientific endeavours like these are based on the assumption that an assemblage of smart samples will help in the identification and transplantation of optimal bits of DNA into future generations. It is not dissuaded by the nurture over nature debate, even after exhaustive studies have failed to establish genetic variants associated with intelligence. For example, a 2010 study led by Robert Plomin, a behavioural geneticist at King's College London, had probed over 350,000 variations in single DNA letters across the genomes of 7,900 children but found no prized variant. Curiously, most of the smart samples procured by BGI Shenzhen were sourced from Plomin's research activities.
Periodic setbacks will not deter the proponents of "procreative beneficence" who argue that it is a human duty to augment the genetic codes of future generations1. Failure to do so is couched in terms of "genetic neglect" and even child abuse2.If this sounds eerily familiar, look no further than the worldview that once animated Nazi Germany.
The eugenic zeitgeist has gripped China in a big way. Under its Maternal and Infant Health Care Law (1994), foetuses with potential hereditary diseases or deformities are recommended for abortion. At the rate Beijing is building its eugenic utopia, the definition of serious deformity may ultimately include a genetically-diagnosed lower IQ.
Instead of raising an eyebrow, the law precipitated a headlong rush to select "intelligent" babies through methods like preimplantation genetic diagnosis (PGD). The idea behind PGD isto screen and identify the most promising embryos for implantation and birth. Combined with CRISPR gene-editing tools, next generation Chinese citizens are expected to exhibit remarkably higher IQs – at least according to bioethicists who fret over a future marked by the "genetic haves" and "genetic have-nots". China already has three CRISPR-edited babies whose current fate remains unclear.
In the aftermath of the COVID-19 contagion, the availability of "smart samples" would have increased exponentially and may dovetail nicely with the vaccination agenda oft he Rockefeller Foundation and Bill Gates. Incidentally, Gates grew up in a household that was heavily invested in population control and eugenics.
Our smart societies may inevitably face the existential question of "live-lets" and "live-nots" down the line. The orchestrated rebellion towards selective extinction, if it occurs, has a tragicomical public face: A 17-year-old Swede who unceasingly exhorts the world to "listen to the science" and "listen to the experts" but who has little time to listen to her own school teachers.
What can future designer babies contribute to society? For one thing, we will be missing individuals like Beethoven (deaf); Albert Einstein (learning disability/late development); John Nash (schizophrenia); Andrea Boccelli (congenital glaucoma) and Vincent van Gogh (chronic depression/anxiety). A future Stephen Hawkings (motor neurone disease) and Greta Thunberg (Asperger's Syndrome – allegedly) may be genetically disqualified before birth.
It is now an inconvenience to consider intelligence as a result of peer interactions, human environment and personal adversity. Mapping out the complex and sometimes unpredictable interplay between 100 trillion synaptic connections in a human brain may take centuries. Genetic manipulation is implicitly regarded as the eugenic wormhole that will accelerate the emergence of a global smart society.
The late billionaire paedophile, Jeffrey Epstein, was a prominent proponent of this eugenics philosophy. Epstein intended to breed a"super race of humans with his DNA by impregnating women at his New Mexico ranch, genetic engineering and artificial intelligence." Welcome to Lebensborn 2.0 and it is all about saving the environment and humanity. For now!
Prominent scientists linked to Epstein's transhumanist fantasies included "molecular engineer George Church; Murray Gell-Mann, the discoverer of the quark; the evolutionary biologist Stephen Jay Gould; the neurologist and author Oliver Sacks; and the theoretical physicist Frank Wilczek."The late Stephen Hawking – who will ironically flunk the genetic pre-screenings of tomorrow – was another Epstein associate. Are misanthropes in charge of humanity now?
Eugenics-driven national competitiveness is a tacitly growing obsession among major powers.Its hyper-materialistic focus is encapsulated by an analogy used by Russian scientist Denis Rebrikov:
"It currently costs about a million rubles ($15,500 at the time) to genetically change an embryo—more than a lot of cars—but prices will fall with greater use…I can see the billboard now: 'You Choose: a Hyundai Solaris or a Super-Child?'"
Will that be an energy-efficient, coronavirus-resistant super child who will instinctively lead a low carbon-emitting lifestyle? The road to hell is indeed paved with fanciful intentions.
But why stop at children? From genetically engineered horses in Argentina that are supposedly faster, stronger and better jumpers to super-dogs in China that are comprehensively superior to the average mutt, the DNA of the entire natural world may be slated for a revolutionary redesign in the future.
Crouching Chimeras, Hideous Hybrids
We however cannot create a future generation of superhumans without being adept at recombining genetic sequences across species. That is the logic guiding eugenicists. As a result, a slew of chimeras or interspecies hybrids have been spawned with the aid of CRISPR. These include human-monkey hybrids, monkey-pig hybrids, human-rabbit hybrids and a host of other lab-manufactured monstrosities.
Chimeras are created when human embryonic stem cells are injected into embryos from another species. The goal, for the time being, is to induce the growth of targeted human organs. Those facing terminal illnesses will no longer have to worry about long organ waiting lists.A less controversial approach to human organ replacement is 3D bioprinting or its 4D bioprinting iteration. These techniques involve the "printing" of a replacement organ from the stem cells of a transplant recipient, thereby eliminating the odds of organ rejection.
But why stop at replacement organs when we can have replacement humans altogether? Future generations must think like Einsteins, be as nimble as leopards and possess owl-like night visions. And, of course, be virus-resistant as well!
The manipulation of the human genome is the new "grand response" to the venerable set of "grand challenges". Thanks to globalization, China is the go-to place for such genetic tinkering as some of these undertakings are technically illegal in the West. Since 2014, the Wuhan Institute of Virology was the recipient of a two-stage grant worth $7.2 million from the United States government for gain-of-function research into bat coronaviruses. According to a Newsweek report:
Many scientists have criticized gain of function research, which involves manipulating viruses in the lab to explore their potential for infecting humans, because it creates a risk of starting a pandemic from accidental release.
Such caution has not deterred a flurry of research into microbial gene manipulation. It may have instead spawned COVID-19. Recombining genetic codes at the substrate levels is fraught with risks, as any systems theory scholar can attest3. COVID-19 was therefore not a Black Swan event but likely an "emergent"4outcome arising from complex genomic interactions and human folly.
To solely blame China for the coronavirus pandemic therefore may bea tad unfair. Just as China is the factory of the world for foreign corporations, it is also the genetic incubator for a variety of viruses and chimeras for foreign governments and foundations. Even so, the human-pig chimera was the creation of the Salk Institute in California. Research into the world's first human-mouse hybrid was largely a Japanese affair. The Portuguese in the meantime had created a virus chimera.
The British, on their end, had spawned a human-cow hybrid embryo in 2008 – perhaps reflective of the bovine disposition of those who consume its mainstream media. Clinically-speaking, such analogies are not wholly unwarranted. It was in Britain where the game-changing Dolly the Sheep was cloned in 1996. The transition from sheep to sheeple may turn out to be a short 21st century Jurassic Park ride.
Coincidences and Consequences
Before the advent of gene-editing tools and supercomputing, it would have taken hundreds of years to create a viable chimera. The Genetics-Industrial Complex and contact tracing-type Panopticons constitute a new growth area for nearly-bankrupt Tech Titans5. Is it any wonder that the mainstream media and their Big Tech owners are furiously censoring contrarian expert views on COVID-19?
The dangers of genome editing were in fact included in the Worldwide Threat Assessment reports submitted to United States Congress in 2016 and 2017. They were either omitted or glossed over in the 2018 and 2019 reports– just as such risks were on the rise.
Is it a coincidence that the nations most affected by COVID-19 are the very ones that had either promoted or encouraged a variety of genetic experimentations that are contrary to nature? By the time this crisis is over, independent researchers should superimpose the maps of "genetic superpowers" with those of nations with either the highest COVID-19 fatality rates or the worst socioeconomic fallouts. There may likely be a good degree of overlap as the figure below indicates.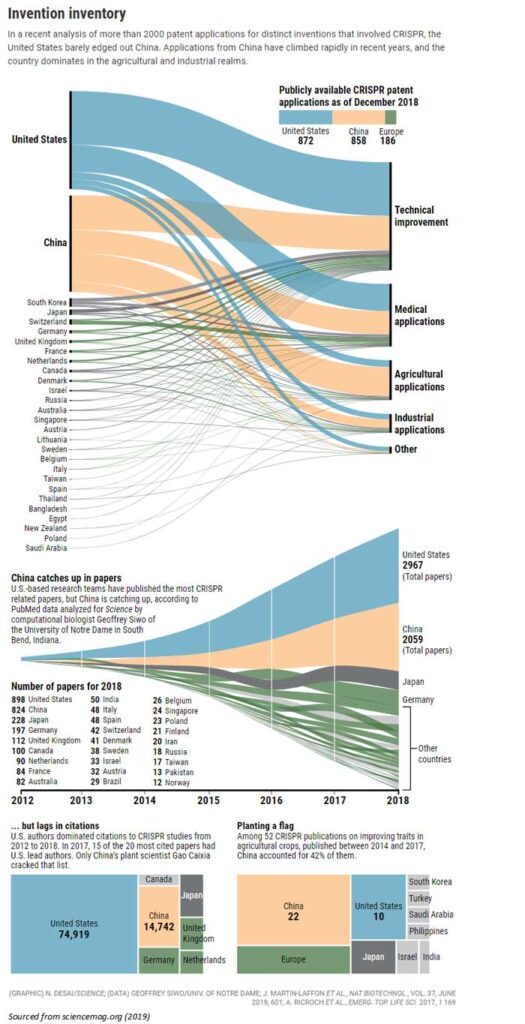 A Pandora's Box has been opened and more hideous chimeras may emerge during this decade. It is quite an irony that a new generation of artificially-manufactured and cerebrally-deficient "thought leaders", academics and activists are being groomed to promote "global governance" – a concept due for a portentous mission creep in tandem with the Second Great Depression. What will be their future worth in a eugenic global society that is centrally-controlled bya digital panopticon6?
"Designer babies" and "super humans" may also render many humans redundant. Will the genetic have-nots be reclassified as "live-nots" in the not-so-distant future?
India's Digitalization: Big Data is the New Oil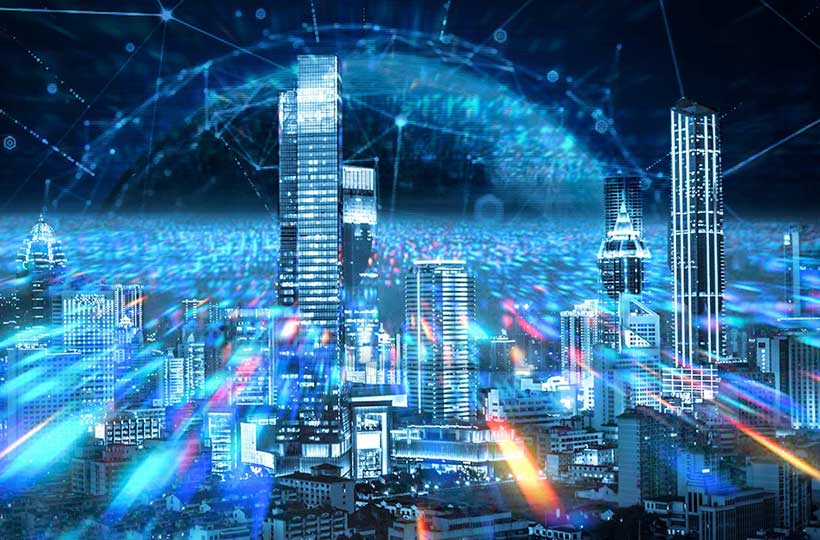 Over the last few years, India has travelled the path of rapid digitalization. Not only has the current crisis failed to stop this process, on the contrary, it has served to accelerate it in many areas and make some trends more evident.
Government efforts, active work of India's business and joint steps undertaken by India's public bodies and private entrepreneurs who are equally cognizant of the digital transformation's significance, difficulties and prospects for India's economy and society as a whole have advanced the process of shaping India's new digital realities.
In 2015, India's Prime Minister Narendra Modi announced the launch of the Digital India campaign spanning a series of key government initiatives such as increasing the people's digital literacy, developing infrastructure and creating an e-government. The most significant achievements include completing and putting into operation the Aadhar digital identification system; a single taxation system covering all Indian states that previously had individual taxation rules; and the Reserve Bank of India, jointly with the association of Indian banks, developing and introducing an instant payment system similar to that created by Russia's Central bank.
Nandan Nilekani, a well-known Indian entrepreneur and public figure, leads the committee on deepening digital payments at the Reserve Bank of India. An engineer by training, together with Narayana Murthy and several other entrepreneurs, Nilekani co-founded Infosys, one of India's most famous and successful companies working in software development and IT consulting. In 2009, Nilekani left Infosys and wrote several books about India's development and the way he sees its future: Imagining India: The Idea of a Renewed Nation (2009); Rebooting India: Realizing a Billion Aspirations (2015). He also headed the Unique Identification Authority of India, the government body that developed Aadhar, a digital biometric identification system, and introduced it throughout the country; Aadhar has already been mentioned; its importance for India is hard to overestimate. Digitalization has already resulted in tectonic shifts within a very short time-span, no more than 5-7 years, in such areas as India's e-payments and financial technologies, e-commerce, telemedicine and entertainment. The spread of digital technologies has great significance and potential in such areas as agriculture, education, increasing energy efficiency, regulating employment and the labour market, transportation, logistics and further development of e-government.
Yet, none of that would have been possible had government initiatives not been backed up by the ambitions and strategic approach of another Indian entrepreneur, Mukesh Ambani, who swiftly provided Indians with cheap Internet and accessible smartphones. As he advanced his digital business initiatives, Ambani called upon Narendra Modi's government to achieve maximum localisation of Indian data in India and spoke about the need to fight a new type of colonialism, the country's informational enslavement by global corporations, so-called data colonisation. He devoted all his resources to developing a new sovereign digital platform; back in 2016-2017, Ambani already said that data are the new oil and smart data are the new fuel of India's economy.
Following the sectoral liberalisation at the turn of the 20th-21st century, India created a telecommunication services market characterised by high competition among players (both Indian and international companies) that came to the promising area via partnerships with national bodies holding the requisite licences. By around 2010, most companies working in India saw that their revenues coming from traditional services might potentially drop, so they planned to transition to selling data. None of the many telecommunication companies on India's market have, however, succeeded in the attempt. The failure stems from several factors, including the policies of the regulator (which decided to change the rules of the game and check the terms and conditions of previously issued licences at a crucial time for the sector) and appearance of a new player with the requisite resources, who was willing to spend them on achieving his large-scale goals. That player was Mukesh Ambani and his company called Jio. The history of Ambani's family business is an integral and characteristic part of India's economy, and the development track of his companies, including Jio, is regularly discussed in business media and is the subject of several business cases in the world's leading schools.
Dhirubhai Ambani, the father of Mukesh Ambani and Anil Ambani, launched his business empire in 1957 with a small Bombay-based company importing synthetic fibers and exporting spices. In 1977, following its successful IPO, Dhirubhai Ambani's Reliance Group became synonymous with business success and guaranteed financial investment for many Indians. The company did not confine itself to the textile business and became a diversified holding that also worked in exploring and developing hydrocarbons, in oil processing, petrochemicals, as well as energy, finances, trade and other areas. In fewer than 30 years, Reliance Group became a fixture of Fortune Global 500 and India's biggest private company, rivalling such famous family holdings as Tata, Birla, Godrej, Mahindra. Dhirubhai Ambani died in 2002, leaving his sons a multibillion fortune. The brothers Anil and Mukesh engaged in a series of high-profile and unrestrained quarrels that resulted in Reliance Group's assets being split in 2006. The telecommunication company Mukesh Ambani formed in 2002 had to be transferred, among others, to Anil, but Mukesh had the powerful oil processing business left under his control. His company was now called Reliance Industries. Its assets included the famous high-tech complex in Jamnagar (Gujarat State) processing up to 1.4 million barrels of oil a day. 2010 marked an important stage in this story, when the brothers agreed on revising the terms and timeframe for the non-compete agreements, and subsequently, Mukesh had a chance to announce openly his intentions to embark on a qualitatively new approach to the telecommunication business.
It took Mukesh Ambani about six years to create a new company named Jio (Hindi for "live"). It was officially launched in September 2016. Back then, its telecommunication rivals realised that their already difficult situation would become far worse following the emergence of a powerful new player, but hardly anyone could imagine the cardinal and radical changes in store for the sector. India's normally very active anti-monopoly agency, as well as other supervisory bodies, were prepared to close their eyes to many controversial points, since Ambani's goals of swiftly spreading accessible Internet coincided with the course for digitalization steered by the government, while his statements that Indians' data must be kept in India were very appealing for India's political leadership. As of today, there are only two big players left in India's telecommunication sector besides Jio, and these two are in a deep financial crisis. India's government had to bail out both these companies by allowing large-scale foreign investment and by permitting all players to raise the prices for their services slightly, which had, over the last few years, fallen to an unprecedented low (between 2013 and 2017, the cost of 1 GB of data in India fell by 95%).
Today, Reliance Jio is part of the Jio Platforms holding company formed in 2019 as part of Reliance Industries. Mukesh Ambani's two elder children hold top managerial positions in the family business. His son Akash, a graduate of Brown University, is in charge of strategy in Reliance Jio, while his daughter Isha, who graduated from Yale University, is on the board of directors in Reliance Jio and Reliance Retail.
The infrastructure and entire digital ecosystem of Reliance Jio was created and put into operation in under 2–3 years. The estimated costs of creating Reliance Jio vary between USD 20 and 45 bn., which is approximately the amount of Reliance Industries' debt increase over the period of creating Jio. At the time of the company's IPO in 2016, two-thirds of India's population of over 1.3 bn. had no Internet access. The company set the goals of deploying an efficient 4G network throughout India, including its remotest areas, while securing a large tech margin for future improvements, and of providing its clients with cheap smartphones and access to various contents and services through its own apps. In the first few months of its operations, while the equipment and all systems were being checked, cheap mobile devices under Jio's own brand were literally handed out to customers free of charge. Later, minimal tariffs were introduced that immediately made India the leader in mobile operator accessibility for both voice services (phone calls were essentially free) and high-speed data transfer. Once sales took off, the company endeavoured to achieve 100 million new clients in the first 100 days, and did not slack off later: in the first two years, Jio had 250 million subscribers, and today it has 388 million. The company plans to reach 500 million users by 2021.
Jio has a large number of apps and services that have quickly become fixtures in the lives of Indians. They include JioTV, JioCinema, JioSaavn (a music service), JioMoney, JioCloud, JioFiber (broadband Internet access service). Jio rather efficiently provided digital functions to the conglomerate's commercial line: Reliance Retail, which is also the leader in its segment in India. JioMeet, a video call service, is the latest addition to this extensive range of services. Reliance Jio's contribution to increasing India's per capita GDP is estimated at 5.65% in 2018.
Internet access is, indeed, changing India's image and lifestyle before our very eyes. Largely owing to the decisive actions of the Indian businessman Mukesh Ambani, India has, in just a few years, made a qualitative leap in many digitalization-related areas while avoiding many intermediary stages that other countries spent years on. Only Indonesia outstrips India in its digitalization pace. In 2018, only China exceeded India's number of digital consumers (560 million users). A survey McKinsey conducted in 2019 showed that the pace of data consumption per user in India grew twice as fast as in the US and China, increasing by 152% annually. Various estimates put an Indian user's average data consumption at up to 9.8 GB of mobile Internet a month (this indicator is 5.5 GB in China, 8–8.5 GB in South Korea, and the 2019 figure in Russia is about the same). The number of Internet users in India was expected to grow by about 40% by 2023, to 750–800 million people, and the number of smartphones is expected to double, reaching 650–700 million (as of 2018, India had 1.2 bn. mobile subscribers). We can be sufficiently confident that new conditions arising from the pandemic will speed up these trends significantly.
The development prospects of India's digital economy and primarily its consumer segment stimulated an explosive growth of entrepreneurship that also relies on the traditionally strong stratum of Indian IT specialists. In 2017, Indian developers participated in creating over 100 000 apps for the App Store alone, while the total number of such apps is far higher, given that Indian specialists mostly create apps for Android. In the entrepreneurs' major league, 30 Indian digital high tech companies are unicorns (their capitalisation is over USD 1 bn., and they are still owned by their founders). In 2017, there were ten such companies. The crucial thing is that would-be unicorns in India are also quite numerous: in 2019, there were over 50 potential future champions.
There have always been many difficulties in working on the Indian market. Suffice it to say that, today, the majority of new Internet users in India do not speak English and need interfaces and content in regional languages. The country has 22 such principal languages. WhatsApp, for instance, supports 11 of them. Still, international investors bank on Indian tech companies, which is greatly helped by government bodies constantly working to stimulate the sector's investment appeal. Companies working in e-commerce, digital payment services, and tourism have long been the leaders in attracting investment among India's tech startups. A telling recent example of the international capital race for digital India was the USA's Walmart acquiring Flipkart, one of India's many digital e-commerce platforms, in May 2018. Walmart had long tried to gain access to India's offline market, all to no avail, and it finally came to India by buying 77% of Flipkart for USD 16 bn.
Several investment funds of Russian origin are among those making big investments in India. They continue actively selecting new projects for investment and for strategy adjustment, as do other investors.
Companies that appear not to have any tangible assets, not to make any money, and to accrue debt abound not only in developed countries but now in India as well and still continue to increase their investment potential, thus greatly befuddling traditionally-minded financiers. Yet, analysts increasingly have to admit that high-tech digital companies have unique sets of their clients' big data, which allows these companies to increase their market share and make correct managerial decisions while constantly improving the functions or services they provide.
Big data is becoming more and more important for governments as well. The quality of analytical materials, development of AI technologies and efficiency of modelling processes depend directly on data volume used as learning material; it can be used, among other things, to manage processes and resources in smart homes and cities efficiently. This is the purpose of Smart Cities, one of India's government programmes. By late 2020, Jio planned to present commercial solutions for the Internet of Things. The company's technical capabilities make this possible. While the Indian government is only preparing to make the decision on deploying 5G, Mukesh Ambani says that he has already built a new infrastructure capable of working with 6G and he is now striving to make India one of the principal beneficiaries of the 4th industrial revolution. Jio has no rivals in India in its capacity for collecting up-to-date data of Indian consumers and it plans to improve its technologies for their most prompt and precise processing and further use, while simultaneously developing cloud computing, smart devices, blockchain, augmented reality and more.
The current crisis arising from the pandemic is both shaping new consumer habits and bolstering demand for qualitative changes in approaches to the future economic development of many countries. This is also important for Russia, where, despite all the efforts to diversify its economy, there still remains the threat linked to dependency on commodity exports and the high energy intensity of other Russian exports. And it is also important for India, where 80% of its economy depends on imports of coal, oil and gas.
It was previously announced that 20% in Reliance Industries' petrochemical business would be sold to Saudi Aramco, Saudi Arabia's oil giant, for USD 15 bn. With oil prices falling to record lows, however, in March the deal fell through.
Instead of the Saudi Aramco deal, Jio Platforms finalised three different sales: 9.99% was sold to Facebook for USD 5.7 bn., 2.32% of Jio Platforms is now owned by the Vista Equity Partners investment fund (the stock is worth USD 1.5 bn.), and an additional 1.15% of the company's stock was purchased by investors at Silver Lake Partners for USD 747 m. Mukesh Ambani still holds 86.54% of the company. Other deals with other investors are likely to follow, which will allow the Indian businessman finally to pay off Reliance Industries' debt (about USD 8 bn.) by March 2021, without losing control of Jio Platforms, just as he planned.
In their official statements concerning the deals, all the participants, including Mukesh Ambani and Mark Zuckerberg, emphasize their confidence in the promising Indian market and in Jio Platforms' potential. In full accord with the expectations of the Indian government and regular Indian citizens, they say that the new collaboration does not entail data exchange between partner companies. Jio, Facebook, Vista and Silver Lake also say they intend to use their technologies for the benefit of India's small and medium-sized businesses by connecting such entrepreneurs more actively to e-commerce platforms. They are talking street trade and the so-called kiranas, typical Indian "neighbourhood" grocery stores; they will be able to find a more efficient digital way to meet their customers' demand. Facebook-owned WhatsApp, which is very popular in India, is expected to play an important role in this process. If talks with the regulator concerning granting WhatsApp payment-making functions are successful, then, by pooling efforts with JioMart, the company will be able to expand both sellers and buyers' capabilities significantly and compete with India's most widespread fintech service PayTM, whose investors include Alibaba Group (the Chinese company owns 40% in PayTM).
India, with its 300 million users, is Facebook's biggest market. WhatsApp has over 400 million users in India. As for the two other investors in JioPlatforms, Vista Equity Partners is noted for its major presence in India's tech sector: its Indian companies have over 13,000 employees, while its co-founder Brian Sheth is a native of Gujarat, like Mukesh Ambani and Narendra Modi. Like Vista, Silver Lake is based in Silicon Valley and has already invested over USD 40 bn. in tech companies such as Airbnb, Alibaba, Ant Financial owned by Alphabet Verily and Waymo, and also Dell Technologies and Twitter.
Observers with a lively imagination have long since noticed that the company's name, Jio, is a mirror image of the word "oil." It is not known for certain whether this is by its founder's design, but the events of the last few months and transactions around Jio Platforms confirm that, instead of demand for oil, the world is demonstrating a growing demand for innovations. Consequently, compared to other countries, India has every chance of becoming part of the process and a big-time winner. Russia's business cooperation with India needs, like never before, to have its current realities supplemented in new formats, be it financial technologies, information security, artificial intelligence, sustainable energy infrastructure, advanced materials or other innovative areas.
From our partner RIAC