Accountability: Real or Flirtatious?
Shakespeare said, "The lunatic, the lover, and the poet are of imagination all compact". He must have been desperate to even bracket himself. In my country, Pakistan, one can safely add, under the obtaining politically chaotic scene, some ruling politicians.The recent oratories by our arch-leaders while addressing large crowds have settled our apprehensions for the worse. The language they speak is incomprehensible, of defeated minds,
waning willpower and manifestly encumbered with heavy baggage of personal guilt. Their efforts to seek crutches through loathsome slogans, which have in the recent history agonizing realities to the contrary, are no longer disguised. With empty hands generally and great sense of loss, their Himalayan blunders are ticking on their conscience like a time bomb. If that is the plight of our leaders, who would wish to grate ones' ears for interpreting their veiled language as well as guilt, even though their misdeeds qualify them to emerge as Shakespeare stuff.
The official behavior of our top guns is perplexing. When there has been no hurdle in achieving good governance and transparent accountability as ship rudders have been in their firm control for years, one fails to comprehend, why the government itself is bent on rocking the boat. Does it aim at churning out yet another slogan of becoming 'siyasi shaheed' (martyr of politics) after the heap of wreckage scatters around them? Such a contemplated slogan would be as repugnant as some of the current ones. Sudden disappearance of the governor, Mr. Salman Taseer from the political scene has left many questions for its own party than to answer by others.
In Punjab, a well intentioned Chief Minister recently broke down emotionally on the rostrum though his blizzard-like reach to the victims and grieved families is known far and wide. Fantastically humane gesture but what he confesses and acknowledges by implication is the prevalence of gargantuan efficiency-jam of entire executive machinery between him and the districts. Who would demand from the bureaucrats setting of high performance standards to nourish 'accountability' in whose departments nothing moves and if something moves, it moves on victims' agonies? Khyber Pukhtoonkhwa, once much cleaner a province, is bubbling with the tales of corruption. Unfortunately the ruling party there is at the worst ever rating nationally as well as internationally despite its claims of bearing the brunt of Taliban attacks in chivalrous ways. Even this stigma could be gulped down for a while but what is frustrating is that the leaders turn around and call the kettle black. In other words, accountability is ordained to remain an orphan.
In Sindh, the accountability is being disgraced in the name of series of 'Bhutto Martyrs' whose blood could possibly be found on the sleeves of their own family beneficiaries. In Baluchistan, ruckus about deprivation of civil rights to the Baluchis dominates without reminding them the responsibility, they owe to the motherland. Expecting initiation of any worthwhile accountability there would be a lunatic's wish. Billions of rupees being siphoned off from the state's coffers, even cheating the pilgrims mercilessly and rampant injustice have become eternal phenomena. Judiciary's interventionist role is commendable but it has to stay short of assuming executive's role per se, particularly after squaring off with ample evidence that Government itself is the sharp wedge to rupture accountability balloon. Army is tight lipped to watch from the periphery. One could guess that fortnightly 'situation brief' from GHQ to the Prime Minister, as a past tradition set by Mohtrama Benazir Bhutto from Gen Abdul Wahid Kakar, must have been discontinued because none in present government has the forte to look into mocking mirror of their own follies. Accountability would therefore remain flirtatious as we never made any serious attempt to seek its virtues. Where is the wrong all about? Have we missed any benchmark of enforcing accountability? Yes, we did!
Sad saga of 1971 was clear red line that should have heralded an era of unflinching accountability across the board. The tragedy of dismemberment was deadly and attributable to our fateful political and military architects, more than the ones commonly blamed for. 'Mukti Bahinis' and Indians were the later entrants to the arena as a factor to hasten the split that we had firmly set on the track decades earlier. Constitution of Hamood-ur Rehman commission was a brilliant idea but soon it lost relevance. It was mandated by the President to find out, "the circumstances in which the Commander, Eastern Command, surrendered and the members of the Armed Forces of Pakistan under his command lay down their arms and…" Undeniably military lexicon does not have the word 'surrender' but it was not a new sting. In 1943 Germans, admittedly the best fighting soldiers, surrendered in even larger number than ours after severely bitten by the vagaries of the extreme weather along with Field Marshal Friedrich Paulus. Similarly, winning the war in erstwhile East Pakistan with severed communication lines and seething hostility all around was inconceivable. In fact, among the prudent echelons, military strategy employed as a possible solution of the crises was reckoned as first casualty. Yet our valiant soldiers fought several pitched battles but were overwhelmingly outnumbered.
On the other hand, with restricted commission's mandate in Post-71 scenario, the politicians were not prepared to give accountability a chance across the board. Because of its partisan spirit and neutral accounts emerging in the mean time world over, people at the helm of affairs shrewdly appreciated that even if axe was wielded successfully on the would-be scapegoat and his accomplices, the accountability would move in next phase to grip their necks, being equally, if not more, guilty of expediting the fall of East Pakistan. Despite riding on the popularity spectrum, political leadership of 1972 chose to let the commission report rot in heavily guarded files for long time.
Had the precedence been established by rolling some heads of linch-pin actors then, the orientation of flirtatious accountability thus far would have been trimmed to its real recourse. Instances of punishing political leadership as well as military hierarchy abound among the states that have moved on the path of justice and accountability, way ahead of us. Romania, Turkey, U.S, Britain, Germany, China, Iran and Russia are a few relevant references who upheld rule of law. Recently Sri Lanka has impressed the world where former Army Chief, Sarath Foneska, who pioneered smashing of the Tamil Tigers' insurgency, has been sentenced on treason charges and stripped off of all the benefits and military decorations, he earned during 40 years of his military service.
The fact is that when governing mechanism, to which power is entrusted, is honest and loyal to the state, accountability becomes tangible. It is the moral strength and unwavering justice that enables the leaders to quash any resistance encountered from criminals as well as mafias. We are certainly at the cross-road with little choice but to enforce real accountability, no matter at what cost. Second benchmark that presents itself right now with heaps of white-collar crimes from treason to high profile murders, corruption and swindle is threatening our survival. "We must reject the idea that every time a law's broken, society is guilty rather than the lawbreaker. It is time to restore the American precept that each individual is accountable for his actions," said Mr. Ronald Reagan whose concern was palpable for his citizens. One wonders if our 'masters' would move by a bit. And if they move, they must commence 'jihad' by roping in the arch-devils first, no matter who they are and move spontaneously downward from top of the pyramid. Enforcement of justice and real accountability is the only panacea for all ills including terrorism that have wreaked havoc on the masses.
A Hybrid Political System for Pakistan: A Proposal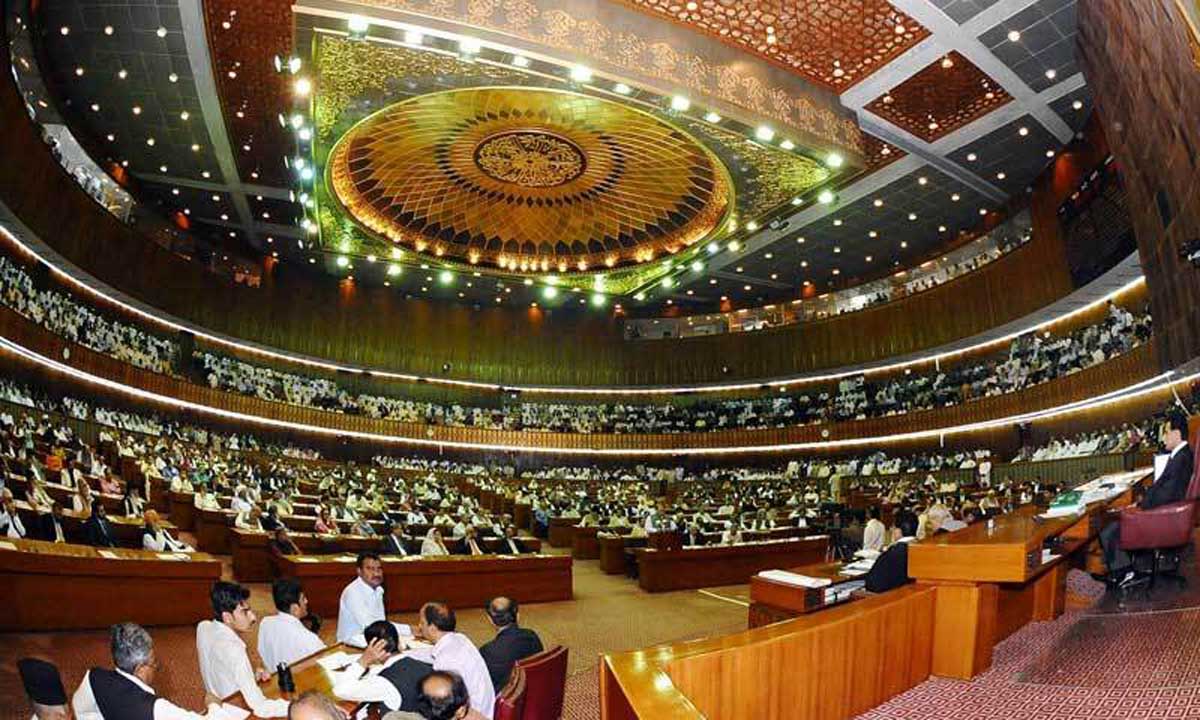 The political system of Pakistan is an amalgamation of Islamic, British, and Indian influences, shaped by a multifaceted array of religious, ethnic, and regional factors, making it a culturally rich and ever-changing landscape. Pakistan is renowned for its powerful military establishment, which has traditionally wielded significant influence in determining its political direction. The nation's political history is characterized by cycles of military rule, punctuated by several coups, followed by phases of democratic rule, though the military has continued to exert a significant degree of influence in the country's politics. Furthermore, Pakistan has had to contend with the pernicious threat of extremism, with various militant groups operating within its borders and perpetrating terrorist attacks, which have destabilized the nation's political, social, and economic stability.
This article aims to shed light on the challenges faced by the political system in Pakistan, specifically concerning the current political turmoil the country is experiencing. It also suggests a potential solution to stabilize the system and bring about a revolution in the way politics is conducted in Pakistan
The challenges faced by Pakistan's democracy are compounded by the elite classes' actions. The country is currently facing significant upheaval, which can be attributed to several factors. The lack of solid democratic institutions, frequent military takeovers, and the involvement of powerful military and civilian elites are among the underlying causes of the country's political instability. Additionally, ethnic and regional conflicts, poverty, and economic growth issues further exacerbated political instability. The ongoing conflict in Afghanistan, as well as political unrest in neighboring countries, have also had an impact on the country. Furthermore, Pakistan's history of military control, political corruption, and a lack of a deeply ingrained democratic culture have all contributed to the volatility in its political system.
The current political quagmire that plagues Pakistan is multifaceted, primarily stemming from a dearth of political acumen and a paucity of commitment on the part of leaders to prioritize the exigencies of the populace over their own personal and factional interests. This has led to a diminution of public confidence in the political system and government officials. Furthermore, the military's prolonged political intervention and sway history has exacerbated a lack of democratic stability and accountability. Another critical conundrum that has impeded the country's political evolution is the preponderance of corruption and nepotism in every government agency, rendering it difficult for citizens to repose trust in government officials. As a result, there is a burgeoning loss of faith in institutions of all varieties, with people losing trust in the government, corporations, and political leaders.
Furthermore, the failure of successive governments to address the issue of corruption has further undermined public trust in the political system. The permeation of corrupt practices in every government institution has made it difficult for citizens to have faith in government officials, leading to a general disillusionment with the political system. Additionally, the lack of transparency and accountability in government operations has enabled corrupt officials to operate with impunity, further eroding the public's trust in the political system. The aforementioned issues have resulted in a political climate marked by a lack of stability and continuity, hindering the country's economic and social development. It is imperative that the political class and other stakeholders work towards addressing these issues to ensure that the political system can effectively serve the people's needs and promote the country's long-term stability and prosperity.
Proposing A New Way to get stability in Political System?
A hybrid political system combines characteristics of many political systems, such as democracy and autocracy. Two examples are a semi-presidential system, which combines a prime minister and a president, and a federal system, which combines a central government with regional administrations. Hybrid systems can also include components of other kinds of democracy, such as a parliamentary system combined with a robust presidential system. These systems are frequently viewed as a compromise between competing political ideologies or as a means of balancing the strengths and shortcomings of various systems
If the official replaces the current political system with a hybrid one, it could be very beneficial. One of the main advantages of a hybrid system is that it allows for a balance of power between the legislative and executive branches of government. In a presidential system, the executive branch is separate from the legislative branch, with the president having a lot of power. In a parliamentary system, however, the executive branch is accountable to the legislative branch. In a hybrid system, the executive branch has some independence from the legislative branch but is still responsible for it. This helps to prevent too much power from being concentrated in one person or group and also helps to protect citizens' rights and to avoid abuse of power.
An additional benefit of implementing a hybrid system is that it may facilitate more efficient decision-making by leveraging the strengths of both presidential and parliamentary systems. In a presidential system, the separation of powers can result in stalemates and prolonged indecision, while in a parliamentary system, the government can swiftly collapse if it loses the legislature's support. A hybrid system, on the other hand, can offer a balance of stability and agility, allowing for more prompt decision-making while maintaining the accountability of the executive branch. Furthermore, considering Pakistan's history of military involvement in politics, a hybrid system can provide a mechanism to hold the military accountable to the civilian administration and reduce the likelihood of military intervention.
It is imperative to acknowledge that a hybrid system may not be the ultimate remedy for all of Pakistan's issues, and its successful operation would require meticulous planning and execution. Nevertheless, this system could potentially provide a glimpse of sustained stability in Pakistan's political landscape, and it is incumbent upon the authorities to consider this system as a viable option to circumvent further obstacles.
Regional Implications of Strategic Triangle of China-India & Pakistan
Strategic Triangle is defined as three states binding in a triangle's strategic relationship. It is focused on three factors. 1) A state must be sovereign and rational in its foreign policy. 2) Action of one state in a triangle must affect the other two states. 3) Two states must have the potential to be united against other.
The Strategic Triangle has four models: unit veto, stable marriage, a romantic triangle, and ménage à trois. 1) Unit-veto means that all three states must have a different nature. 2) Stable marriage means that the relationship between two states is better than both with the other. 3) Romantic triangle means that good relations exist between one pivot and two states. In contrast, good relations don't exist between two states when the relation between two states and one pivot is compared. 4) Ménage à trois means where all three states enjoy good relations.
The roots of contention between India and Pakistan can be traced since independence, while the rivalry between China and India has existed since the Sino-India war in 1962. However, due to this rivalry, India is considered a threat to both (Pakistan and China). India underwent three times for a full-scale war against Pakistan and once to a full-scale military conflict, while India and China went to war in 1962. India struggles to influence the South-Asian Region, which has increased the foundation of a Geostrategic triangle (Pakistan-China and India). The triangle evolved in Asia after the Sino-India war in 1962 when Pakistan and China signed an agreement on the border delimitation in 1963. Pakistan handed over the Trans-Karakoram tract to China, a territory claimed by India in Kashmir. The bilateral dispute between (India and Pakistan) turned into a trilateral (China-India & Pakistan).
This triangle has a crucial role in the international arena, changing the dynamics of power. The triangular relationship between China, India, and Pakistan is one of the key drivers for Asian security. Indo-US relations strategically have been getting deeper for the last two decades, and their ties with China are under high strain. There is a massive growth in Pak-China strategic relations that is essential for peace and balance in the region. It is due to an Indian hegemony dream after Sino-India, and Indo-Pak wars. Pakistan, China, and India have nuclear capabilities. This triangular nuclear chain increasingly connects geopolitical competition with the nuclear issue. China, India, and Pakistan must be cautious in their nuclear trilemma.
Nuclear weapons are a strategic tool that creates deterrence and restricts the concerned state from full-scale war. China believes in cooperation and the concept of mutual security. Geopolitical muddles will have impacts on the regional nuclear situation. China has adopted "no first use" nuclear weapons under any condition or circumstances since declaring itself a nuclear state. It will not threaten any non-nuclear state or zone that does not hold nuclear weapons. China is stable, responsible, and committed to its nuclear policy.
Pakistan is a responsible state in this region. Pakistan successfully conducted its first nuclear test in May 1998, aiming to respond to the Indian nuclear test, and declared itself a nuclear power. Pakistan has adopted a "full spectrum deterrence" policy rather than "no first use," which deters India from conventional war or nuclear war since 1998. The conventional war between Pakistan and India cannot be ruled out; however, under nuclear weapons, the conflict between Pakistan and India may escalate to a full-scale war.
India adopted a "no first use" policy but will retaliate with nuclear weapons if any major incident that counters India with chemical or biological weapons. India considers Pakistan one of its immediate rivals, while China is a long-term target for its nuclear weapons and the most significant military potential threat. India has security concerns over civil nuclear cooperation between Pakistan and China. India argues that Pak-China strategic alliance is a rivalry and perceives this growing threat to its security.
Both countries (China and India) became neighbours after China declared Tibet as an integral part in 1951. The border tension is arising and sharpening the geopolitical rivalry between China and India. An incident occurred recently between China and India in Galwan valley in June 2020 that triggered a conflict between China and India, resulting in military casualties. After this incident, the bilateral relations between China and India went to the lowest. On the Line of Actual Control (LAC), concerned states (China and India) deployed much equipment and troops. They were on the brink of limited military conflict. Major sources of contention between China and India are border infrastructure and the issue of terrain gaining in Ladakh and Dokhlam.
An incident occurred in Pulwama in Indian-Occupied Jammu and Kashmir. Indian authorities blamed Pakistani Security Agencies without solid evidence; however, former Prime Minister Imran Khan demanded to share evidence-based reports against Pakistan, if any, but the Indian authorities failed to share any factual evidence. The armed forces of Pakistan and India were on high alert, and a series of armed clashes occurred on the Line of Control (LOC). India violated Pakistan's air space on 26 February 2019, which was very concerning to Pakistan, but on 27 February 2019, Pakistan shot down the Indian fighter jet Mig-21 and arrested Indian Fighter Pilot Abhinandan Varthaman. It occurred for the first time since 1971 when Indian fighter jets crossed the Line of Control, and both nuclear-armed states were at the brink of nuclear war; however, the former premier of Pakistan endured to stop both states from nuclear escalation. India launched either intentionally or unintentionally unarmed missiles toward Pakistan in March 2022, which crashed in Mian Channu (a city in Punjab). India Defence Minister Mr. Rajnath Singh claimed that there was a technical malfunction in the routine maintenance of missiles that carried accidental firing of missiles in Pakistan. Pakistan immediately summoned an Indian envoy, protested, and showed deep concerns over the firing of an Indian missile. However, Indian negligence or aggressive attitude can be harmful to regional peace. These kinds of incidents may lead to a nuclear war.
China is emerging as a superpower. India is rising as a regional power and is offensive in its approach towards other states like China, Pakistan, etc. Late Indian Chief of Army Staff (COAS), and Chief of Defence Staff (CDS) Bipin Rawat said the Indian Army is on two fronts. We have brought many changes in our capabilities. The Indian Army, Air Force, and Navy are fully prepared for any eventuality from any side. India wants its hegemony in the South Asia region and maintains the balance of power with China. The US is a strategic partner of India that supplies arms to India and shares civil nuclear technology, which disturbs the balance of power in South Asia and concerning for Pakistan's security. Pakistan is defensive in its approach toward Indian hostility. China is a strategic partner of Pakistan that addresses Pakistan's security concerns and maintains the balance of power in the South-Asia region. The attitude of China, Pakistan, India, and the U.S. will affect the South Asia region. Nuclear capability characterizes the geographical proximity of the strategic triangle, where any military confrontation may lead to a nuclear war.
Indian Republic Day: A Black Day for Kashmiris
India celebrates 'Republic Day' on January 26th every year to commemorate the day when the Constitution of India came into effect, replacing the Government of India Act 1935, and making India a republic. However, it is observed as a 'black day' in Indian Illegally Occupied Jammu & Kashmir (IIOJK) because it marks the day when the Indian government stripped the region of its autonomous status and imposed direct rule from New Delhi. Kashmir has been a contentious issue between India and Pakistan since the two countries gained independence in 1947. The people of Jammu and Kashmir were promised a high degree of autonomy under Article 370 of the Indian Constitution, which was in effect until August 2019, when the Indian government revoked it. This autonomy included the right to a separate constitution, a separate flag, and laws that were distinct from the rest of India. However, in practice, the Indian government has been involved in suppressing the political and basic rights of the people of Jammu & Kashmir and denying them their right to self-determination.
The special status granted to Jammu and Kashmir under Article 370 of the Indian Constitution, which was revoked by the Indian government in 2019, had given the region a high degree of autonomy and protected its distinct identity. The revocation of this special status has led to widespread protests and resentment among the people of the region, who see it as an infringement on their rights and an attempt by the Indian government to suppress their political and cultural identity and right of self-determination.
The Indian government's handling of the situation in Jammu and Kashmir has also been criticized by international human rights organizations, who in their recent reports have highlighted how the Indian government has been involved in human rights violations of the people of Kashmir, through the use of excessive force, arbitrary arrests, and censorship of the media. International Human Rights Law forbids the unjustified deprivation of life. The right to life is embodied in Article 3 of the Universal Declaration of Human Rights, which is being flagrantly violated in Kashmiri. India has signed the International Covenant on Civil and Political Rights as well (ICCPR). Which hasn't prevented it from abusing the law, though.
When the Indian government removed Indian Occupied Kashmir's special status and sent thousands more troops to the area, the situation for the locals of Kashmir became much tougher. Additionally, India reverted to age-old slavery techniques by enforcing a curfew on the helpless population, cutting off the internet and telecommunications, and detaining political figures, leaving 1.47 billion people cut off from the outside world, devoid of fundamental human rights, and living in dread. Since the repeal of Article 370 and the ensuing curfew, there have been reports of nighttime raids in which youngsters have been kidnapped and tortured, as well as of women being harassed. Intentionally violating both international humanitarian law and human rights law, the Indian military has intentionally dismembered, injured, and several times murdered people during this forceful conquest. The Kashmiri diaspora in the UK and Europe observe "Black Day" on January 26th each year to protest the Indian government's illegal actions in Jammu& Kashmir. This day marks the anniversary of the Indian Constitution coming into effect in 1950, which provides a pretext for the formalization of Indian control over Kashmir, a region that has been the subject of ongoing conflict and human rights abuses. The diaspora uses this day to raise awareness about human rights abuses and the ongoing conflict in the region, and to call for self-determination for the people of Kashmir. They also call on the international community to break the status quo imposed by the fascist Indian government. For instance, the president of Tehreek-e-Kashmir UK president claimed that "the people of Kashmir have challenged India to take out the forces (one million) from the valley and then celebrate the republic day". Jammu & Kashmir salvation movement president Altaf Ahmed also call the UN for intervention to protect the rights of Kashmiris.
India has long claimed to be the world's largest democracy and a champion of human rights. However, it has a long history of human rights abuses and political suppression in the region of Kashmir. Despite India's claims of being the world's largest democratic state, it has been involved use of excessive force against peaceful protesters, the imposition of strict curfews and internet shutdowns, and the detention of political leaders and activists in the Kashmir region. The Indian government has also been criticized for its heavy-handed tactics in dealing with the insurgency in the region, which has resulted in widespread human rights abuses, including extrajudicial killings, torture, and enforced disappearances. The Indian government has also failed to provide the people of Kashmir with basic democratic rights, such as freedom of speech, freedom of the press, and the right to self-determination.
It is certainly true that the Indian government's actions in the region of Kashmir have been widely criticized for human rights abuses and the suppression of political dissent. The deployment of a large number of security forces in the region, along with heavy-handed tactics, have resulted in widespread human rights abuses and a lack of protection for the people of Kashmir. This is in contrast to the protection of basic human and democratic rights, which are supposed to be guaranteed to all citizens of India by the Constitution. How a democratic state can be the largest human rights violator? A self-proclaimed secular state which does not give the rights of minorities cannot be a democratic republic state.
The situation in Kashmir raises questions about the Indian government's commitment to protecting the rights of all of its citizens, regardless of ethnicity or religion. A democratic state should ensure that all citizens are protected and treated fairly under the law, but the actions of the Indian government in Kashmir suggest that this is not always the case. Similarly, a self-proclaimed secular state like India should ensure that all religious groups are treated fairly, but the Indian government has been criticized for its treatment of minority groups in the country, particularly the Muslim population of Kashmir.