Pakistan's Case of Diplomacy and Glacier Conks
Roedad Khan, quoting him as a metaphor for any Pakistani, has burnt himself out, at least proverbially. His passion remains stuck with stark disappointments as he yearns to see our 'Quaid's'(founding father) dreams as achieved.
Several icons from our civil society including journalists would soon be hunch-backs under the heap of scandals they expose about massive corruption, nepotism and state conspiracies, to the verge of proving the gluttons committing acts of treason. However, our federal top guns remain soaked in their unholy hobbies on the trajectory of their ill founded domains. Instead of fishing for clues for recovery from public opinion through the media, their genius is consumed by the devices to go more lethal and ambitious in wicked pursuits. In the mean time, our judiciary has been inundated with the burden of their responsibility to often act unilaterally but brilliantly when state's institutions' functional credibility is not characterized by their service to the people but by self-glorifying their misdeeds. Where such comparison is within the 'corrupts' in competition, the magnitude and tainted colossus of these monsters become immeasurable. It would be absolutely fair to exclude Army from this ominous bracket.
Federation functionaries have the tongue in their cheeks to clamor that democracy is threatened in Pakistan. Wikileaks has thoroughly exposed them as if they are hanging by a cliff and seeking rescue from the external collaborators. The dramatic irony in the whole issue is that the 'cliff' is their own making to provoke sympathies among our allies of war on terror. Pakistani coalition government, thoroughly vulnerable to blackmail by its own constituent allies, has devised a nefarious strategy to gobble up themselves and extend absolute impunity to their accomplices. They, amidst the volleys of mutual barbs, cling to each other because they are desperately in the need of a continuing empire to mop up their sins.
Once this humbug goes on, our foreign policy brains have been lax wittingly and unobtrusively from the public eyes on several crucial issues of international relations, which crystallize through the conduct of diplomacy, 'as a policy instrument possibly in association with other instruments such as economic or military force to enable an international actor to achieve its objectives' (Baylis & Smith). Thanks to globalization, we are not only an international actor but the geo-strategic location endows us with tremendous significance. If the diplomacy wizards do recognize our inherent vitality which is doubtful, one thing is sure that their recognition has not been supplemented with adequate exterior maneuvers. Our stance is mercurial and not commensurate to the challenges. We tend to buckle under the weight of national and international issues to keep ourselves well aligned to the wishes of external factors which push us to the pitfall of erroneous decisions when our indigenous failings are in no dearth.
Our government attempts to project its weight by ridiculing other pillar(s) of state despite knowing that our deeds or misdeeds are picked up by international community faster than we do, being cast in a crystal. When Army asserted that we would defend our borders employing all means available, certainly it was aimed at India with whom there have been three wars since independence in 1947. However it was not meant to negate the spirit of diplomacy and freedom of dialogues option with our eastern rival. Rather it meant reinforcing the dialogue diplomacy with military support in tandem to lend our negotiations a position of advantage. None else than our ruling party spokesperson spew out a firm denial that these were not the government views, at colossal detriment to the conduct of successful diplomacy.
Mr. Asif Ali Zardari calling Kashmiri freedom fighters as terrorists from as responsible a platform as that of 'President' and offering withdrawal from Siachin Glacier in 2008 and 2010 respectively, made our adversary's stance more stubborn. Did he know the extent of damage he inflict to our foreign policy, strategic implications for India and advantages that accrue to Pakistan when we keep the bull locked by the horns in Siachin with perhaps much lesser comparative, though considerable, cost in men and material? His statements were not only antithesis to the basics of the diplomacy dynamics but also of our valiant men's and officers' sacrifices, literally crouching like Dr. Iqbal's (Poet of the East) legendary 'shaheens' (eagles), gasping for each breath, yet resolutely perched on the rocks above 20,000 feet. On the contrary, India has not budged an inch from its reticence beyond fascinating colloquialism occasionally over Kashmir as well as Sir Creek. Instead it has launched a well orchestrated effort to encircle and isolate Pakistan from Afghanistan, the West, Japan, Russia, China, and Middle East. Recognition of India's role in Afghanistan by U.S., European Union and Russia is a direct set back to the conduct of our foreign policy. Already India is being accused of fomenting instability in Pakistan's south-western province, Baluchistan and funding a segment of Taliban. Some dissident leaders' trails by our intelligence agencies are reported to have confirmed this hypothesis. Thus when India claims it stakes for having a role in Afghanistan, it is crystal clear what she exactly means.
India played Mumbai card very shrewdly, depicting Pakistan backing and actively supporting the tragic episode once its voices even feeble, are heard loud and clear for an obvious advantage of its much trumpeted democratic platform versus Pakistan. Murder of 93000 Kashmiris so far has not been able to move the world conscience that seems to be pushed by commercialism more than philosophy of pursuing peace. For the major powers, India is a prolific trade partner and worth billions dollar arms market as well. On our side is a dark picture. Pakistan run by a dictator for nine long years from 1999-2008 has been ravaged beyond repairs. Wikileaks disclosure about Israeli leadership's continuing concern for President Musharraf's safety and well being explains the entire myth of his millions dollar bonanza; he is now reaping under the guise of 'enlightening' lectures in the West. During his rule, his meetings with Israeli top functionaries are no secrets. The only country declared off limits by Pakistani passport, unfortunately, is Israel. The printed warning it carries 'this passport is valid for all the countries of the world except Israel' had obligated him by implication to refrain from such honey-mooning but flouting the norms and ethics had been his favorite slushy slippery ground that he has yet to answer when cold hands of justice would reach him. Not only toppling but throwing a democratically elected Prime Minister, Mr. Mian Nawaz Sharif and the bonafide Chief of Army Staff, Gen Khwaja Zia-ud-Din into black dungeon are the major charges against him, among dozens of other allegations of heinous crimes, he is not likely to wade through clean. How one would have expected such a con man to have stood for national interests? Unfortunately the successor government is also incapable and bent upon adding insult to the injury. Amidst lurking disenchantment of the masses, Pakistan failed to cash upon the vital evidence emanating from Indian sources about setting 'Samjhauta Express' ablaze in 2007. The complicity of Indian government officials, in firebombing Pakistan bound train near Panipat (India), with the Hindu terrorists is undeniable. Charred bodies of sixty eight Pakistanis were pulled out and fifty two were injured, most of them critically.
Analysts in India also remembered the moments of the tragedy that preceded it by five years in 2002 at Godhra railway station in Gujarat (India). No evidence could prove that fire attack was preplanned by Muslims when fifty Hindus were killed. One thing is sure that the magnitude of revenge which the majority Hindus unleashed over Muslims next morning was unprecedented. They burnt them alive and killed about 2500 of them. The state's machinery deliberately stood by, watching the human carnage till there were ashes and stench all around. Mysterious then and later also, the candidate of extremist Hindu party, BJP, which thrives politically on the heaps of hatred towards Muslims, had clean sweep in the coming election. Many observers believe that the train massacre was stage-managed to the logical conclusion, which was consummation of BJP victory. In India such treachery, when it comes to Muslims, is never surprising. Recent comments by a senior Indian Congress leader, DigVijay Singh, likening Indian RSS and BJP hatred for Muslims to that of Nazi's against Jews, is a stark reality and stigma, BJP carries.
Pakistanis could hope with a sense of loss from our policy wizards that these tragic events could be brought up as an effective counter-lever to parry off Mumbai scathing and consequent dent to our image among the comity of nations. While Mumbai massacre rumbles every now and then, our diplomats perhaps are not even mindful of the butchery meted out to Muslims in India, including Kashmir. Such are the short memories on our side. Absence of flurry of publicized diplomacy offensives usually means all quiet on this front to suggest that our policy pundits are gripped by inertia or inert dreams. Compromises are not welcome because we would be led to demolishing our crucial geo-political pivots. On the other hand we are clear about the hypothesis that India needs peace more than us. It does not need a genius to guess but simple arithmetic that Indian stakes in peace are much more monumental than Pakistan. Yet the reality predominates the scene for both the neighbors that peace-making is the only way through. It should be driving both sides crazy that it has remained elusive for sixty three years until now. While talking to an eastern TV channel, Indian Prime Minister, Mr. Manmohan Singh talked of responding and readjusting to global trends towards multi-polarity and managing the regional environments in Asia in a manner which enhances peace, security and overall development of our societies. He asserted that it is incumbent on all countries of the region to build cooperative partnerships. It is a paradox that in real dynamics of international relations, he appears excluding India from 'incumbent on all countries of the region' clause about matters relevant to Pakistan.
India has persisted in achieving threatening posture. She has secured a base in Tajikistan and is doing thriving business in Kazakhstan in energy sector despite presence of a very tough and competitive rival, China. Ajay Patnaik rightly boasts, "Two landmarks signified India's changing approach. In November 2003 India agreed to renovate and upgrade the Ayni air base in Tajikistan. In August 2005 Indian state-owned company ONGC combined with Mittal Industrial Group to form ONGC Mittal Energy Limited (OMEL) to acquire energy assets in Kazakhstan". What laurels have we achieved despite our territorial contiguity with Central Asia? Dr. Azmat Hayat Khan, Vice Chancellor, University of Peshawar, is rightly bewildered to observe that in Central Asia, India is every where. While he does not deny their privilege to be there, he maintains, Pakistan is nowhere.
Potentials of the land mass, Pakistan, as a bridge to satiate Indian energy-thirsty but booming economy remain precious bargaining chips during negotiations with India. Transit trade relaxation from Afghanistan to India and Turkmenistan-Afghanistan-Pakistan-India (TAPI) Gas Pipe Line agreement are some hasty if not ill-thought moves that have left us empty handed when we had an alternative to flaunt Gwadar outlet for the sake of diplomacy. With our hind view about the quality of Indian diplomacy that is consistent and vibrant, at some point in time, we would again be cornered by her as in Afghanistan, and now for Siachin Glacier where India has picked up 'environments degradation' card to force our forces pull-out on us. It also shows how India manipulates universal trends to its advantage. Indian burgeoning defense budget and attempts to ditch our economy by choking off rivers inflow prove its relentless pursuits to strike at our survival roots. On the contrary, our foreign office apathy of not launching diplomatic blitz for effective resolution of mother-of-all disputes (Kashmir) is intriguing. Our moral ascendancy has been rendered redundant at international level when poor and reluctant campaigning has resulted in our faltered stance, with emerging impression at times that we are about to ditch Kashmir issue. President Musharraf's claim to justify Kargil misadventure that it brought Kashmir Issue to the world focus, could not have been more repulsive and loathsome. On the other hand India successfully invaded Junagadh, Goa, Hyderabad, Kashmir and clipped off our wing to the East in 1971 to become Bangla Desh. Through effective diplomacy it has not only managed to wipe off its sins of aggression but has become a standard bearer of the largest democracy in the world. Having licked off its claws after several territorial hunts, it now purrs, a stance more lethal to secure Energy Bridge to link with Central Asia in the absence of which it's ardently perceived global role would remain a pipe-dream. Playing to Indian tunes, we are eager to oblige without ever exploring the ramifications that would accrue for Pakistan.
The bottom line of the debate is not that diplomacy doors be shut off but made more responsive with cutting edge. An edge that is not reactionary but preemptive, far sighted and to engage our adversary on forward foot. Before the two sides line up nuclear armaments for a devastating conflict in the wake of deep rooted mutual frenzy, there is a need to mobilize world opinion to avert another holocaust. UN silence on this issue, despite the existence of plebiscite-supporting resolutions in its archives, is certainly lamentable. It is also reality that diplomacy in 21st Century is far more complicated particularly when convergence of national interests of the major powers is a foregone conclusion in this region. Yet our foreign policy 'gurus' are perhaps not putting the diplomats stationed in our embassies abroad to the optimum utilization whose performance had been traditionally dismal, some exceptions notwithstanding. They may have been led to complacency and lavish lethargy by innate greed but the irony is that no specific goals are given to them to shoulder-push our national interests to fruition. At the same time our government has to recognize that diplomacy, though largely concentrates on international issues, draws succor from state's internal environments. If the state remains laced with corruption, nepotism and horrible governance, diplomacy limps everywhere it tries to project itself being on fragile roots. Successive failures to plug the yawning gaps would subject us to agonizing arm-twisting by India in sync with other stake holders to squeeze more and yet more from our clattering skeleton As the word 'Conk' means a blow to the head, one would implore the rulers to save us from such deadly blows. Conversely 'conk' also means fungus growth on decaying wood. One would pray, Pakistan is not destined to such doom.
The writer is a defense analyst and member of WSN International Advisory Board with doctorate in International Relations, ( makni49@hotmail.com)
(An abridged version, of this opinion article appeared in The News International-Pakistan, 22 December 2010)

SAARC against COVID-19: Is everybody in?
On 15th March, under the initiative led by Indian Prime Minister Narendra Modi, distinguished dignitaries of SAARC nations came together through a video conference and joined their hands to chalk out a common strategy to fight against the deadly COVID-19 in the region. They raised their concerns about the disease and shared possible preventive measures among themselves. This initiative received a huge appreciation both from member states and other parts of the world. Notably, SAARC leaders did not meet on a regional platform since after attending the 18th SAARC Summit. In 2016, the 19th SAARC Summit was scheduled to be held in Islamabad was later got canceled.
In the video conference, the Indian Prime Minister expressed his faith in regional cooperation. He proposed the establishment of an emergency COVID-19 Fund that can be utilized by any member states for meeting up their cost of immediate actions. India has made an initial offer of USD 10 million for this fund. Simultaneously, all SAARC members have made a significant contribution to this fund including Afghanistan (USD 1 million), Bangladesh (USD 1.5 million), Bhutan (USD 100,000), Maldives (USD 200,000), Nepal (USD 831,393.45), and Sri Lanka (USD 5 million). Pakistan is the only SAARC member that has yet not made any contribution to the fund (data is collected on 25th March 2020 from the website of SAARC Disaster Management Centre.
During the video conference, Pakistan Prime Minister's Special Assistant on Health Dr. Zafar Mirza made a remark on Kashmir that was howsoever unrelated to the mandate of the video conference. Article II of the SAARC Charter specifically mentions that "Cooperation within the framework of the Association shall be based on respect for the principles of sovereign equality, territorial integrity, political independence, non-interference in the internal affairs of other States and mutual benefit." Pakistan is an essential part of the SAARC region. It is a home for around 12% of the South Asian population. As of 25th March, it has the highest number of people affected by a coronavirus, that is, 887 in the region. This makes it more important for Pakistan to actively engage with the joint measures for the welfare and prosperity of the region.
There is a difference between politics and pandemic. Both of them should not be mixed at this juncture. Our development has been halted. Our movement has been restricted. Recently, UN Secretary-General António Guterres has also called for an immediate global ceasefire. We are not living a similar life, as we were a few months ago. This is a crucial time when countries should keep aside their differences and come together facilitating each other in the common fight against such global concern.
SAARC is aptly being utilized in these challenging times when the COVID-19 virus has already infected 1647 people and causing the death of 20 people from the region. The initiative aimed to discuss measures to contain the spread of COVID-19 in the region. SAARC is founded upon historical and cultural ties among its member states and advocates for a co-operation for the development of the region. Preambular paragraph of SAARC Charter specifically recognizes the commonalities within the region and provides for cooperation to:
"Aware of the common problems, interests, and aspirations of the peoples of South Asia and the need for joint action and enhanced cooperation within their respective political and economic systems and cultural traditions;"
It further provides, "Convinced that regional cooperation among the countries of South Asia is mutually beneficial, desirable and necessary for promoting the welfare and improving the quality of life of the peoples of the region; Recognising that increased cooperation, contacts and exchanges among the countries of the region will contribute to the promotion of friendship and understanding among their peoples;"
Similarly, Article I of the SAARC Charter provides the objectives of this Association that includes: "to promote the welfare of the peoples of South Asia and to improve their quality of life; to contribute to mutual trust, understanding and appreciation of one another's problems; to promote active collaboration and mutual assistance in the economic, social, cultural, technical and scientific fields". Indeed, SAARC can bring all members together and collectively overcome this pandemic. Also, the effective co-operation among its members can play a significant role in the success of this initiative.
On 26th March, SAARC Health professionals shall meet again to share their experiences and build up joint actions for the prevention and cure of the disease. It will be pertinent to observe the role of SAARC members in their collective fight against COVID-19. What advancements will be brought to its status after the eradication of this disease? How SAARC members will proceed jointly before the international community? These are a few questions that can be answered over time. Meanwhile, this initiative has provided a good opportunity for the region to strengthen its loose ties while fighting against COVID-19. The SAARC initiative on COVID-19 is making good progress. Member parties are significantly willing to cooperate. If everything goes well, SAARC could re-emerge as a significant voice in the global east.
SAARC Video Conference: Reclaiming the Humanness
The opportunity provided by crisis in the backdrop of worldwide emergency due to lethal Corona pandemic (Covid 19) has re-set the button to once again appreciate the values of human connectivity and to co-exist on March 15, 2020 in South Asia as well. A call by the Prime Minister of India, Narendra Modi in a bid to foster collective thinking amongst the SAARC countries after a hiatus of four years, was a welcome step responded enthusiastically by all the member states. Reclaiming the space essential for a multilateral or even a bilateral dialogue, particularly between Pakistan and India, scuttled by the protracted and historically generated acrimony, this nature's intervention has a lesson to learn from, as humans. It is a lesson needed much more than ever, against merciless encroachment allowed to the politics of might through arms race, nuclear supremacy and economic concentration. Already, the arrogance of nationhood has significantly destroyed the peace of the stressed habitat belonging to the South Asian region occupied by 3% of the world's landmass and 21% of world's population. The SAARC countries have even agreed to set up COVID-19 fund with India contributing an initial corpus of $10 million. All the leaders shared country situations and experiences in the aftermath of the outbreak of COVID-19, as well as measures taken by them to control the spread of the virus. They also recognized the need to analyze and address the long-term economic consequences of the COVID-19 pandemic in the region and continue with the consultation process through meetings at the ministerial and experts' level; identifying the Nodal Experts to take further action on the proposals discussed during the Conference; and formulating a comprehensive regional strategy against COVID-19 through the SAARC process and other appropriate steps.
South Asia has managed to resist the COVID-19 assault so far, given the vast region it covers but the unpredictability continues to loom. How long will this sense of cooperation and coordination prevail and help the nations of the region transition the defunct SAARC? It is direly essential to improve the immunity required to counter unprecedented challenges? How sustainable will these measures be in the absence of building confidence ruined so brutally over the years?
The Advisor to the Prime Minister of Pakistan, Dr.Zafar Mirza, in his address to the video conference of South Asian Association Regional Cooperation (SAARC),very pertinently pinpointed the member states; India, Pakistan, Nepal, Bhuttan, Sri Lanka, Maldives, Bangladesh and Afghanistan, and urged them to gear up its resources as a region to fight against the deadly virus collectively. However, while highlighting the core human issue, realizing the freedom of Kashmiris living in Indian Occupied Kashmir forcefully quarantined for more than 200 days is could be the first step of not only towards the humanness, but also would encourage the importance of unanimity. India itself was the first one to have taken the Kashmir issue to the world's international forum, UN, way back in 1958 while respecting the collective solution of the outstanding issues. The issue has taken an ugly curve due to India's non-compliance with the UN decision of holding plebiscite. Instead Kashmiris are suffering from worst denial of human rights by using the brutal mechanism of state terrorism. They are being constitutionally ripped off their demand for self-determination. More so, the exponential rise in communal progrom seen in the recent past has further exasperated the fear of non-secular behavior. The contradiction in the primary role itself along with the fancied or may be masquerated in a perpetual hypocritical policy already fractures the collective mechanism proposed by India itself. India needs to do more to initiate a human gesture.
Already, founded in 1985, the cooperative outcomes denied by the pain of non-socialisation of the member states particularly after the Uri attack, mainly initiated by India during the 19th SAARC Summit, which was to be held in Islamabad in November 2016; undermined the vitality of regional integration. In March 2018, during his visit to Kathmandu, Pakistan Prime Minister Shahid Khaqan Abbasi once again sought the help of Nepal, the chair of SAARC, to revive the organisation by convening the pending Summit in Islamabad. Pakistan has also solicited the support of Sri Lanka. Aimed at achieving peace, freedom, social justice, and economic prosperity by promoting a shared understanding, good neighbourly relations, and meaningful cooperation, improving the quality of life in the member countries by fostering self-reliance, promoting mutual assistance, and strengthening the relations has been a baseline objective. However, the mismatch between SAARC's ambitions and achievements has been unfortunately profound. Unlike the other regional forums like European Union (EU), The South East Asian Association of ASEAN etc,no tangible economic or political benefits have been realised by SAARC so far. It is mostly termed as a case of 'retarded regionalism'. Regrettably, the regional behavior of India has also not been very encouraging, since no initiatives have been portrayed by India to transcend the parochial politics with Pakistan as a co-member of Shanghai Cooperation Organization (SCO) unlike the other smaller states of the organization. In fact, the behavior had been on the contrary with continuing strategic offense. The resonance of surgical strikes, the pronounced offensive nuclear doctrines, the politics of diplomatic and economic isolation desired for Pakistan, all add more weight to the disrespect of peaceful co-existence rather than the cooperative and coordinated step. The re-buttoning of SAARC is a welcome opportunity and holds silver line, yet the journey holds massive ifs and buts for its structure to sway the temporariness in the call. The mechanism of this Regional Association has to be strengthened with more permanent sincerity.
Trends on Afghan Peace Agreement
The long awaited and much deliberated Afghan Peace Agreement has finally been concluded. However, amid the celebrations and new found hope, naysayers rightly point out the fragility of the painstakingly negotiated agreement between USA and the Taliban. Skeptics rightly bring to forth the unhappiness of the Afghan government, which was not given any weight during the "two-sided" agreement. The intra-Afghan talks have been scheduled between Taliban and the Government as the next phase of the peace process; however, a question arises that which government should the Taliban talk to? The comical situation of two individuals taking up their oath as the president of the country certainly does not do any favors.
The basic aim of the enduring Afghan Peace Agreement between the two conflicting parties that were first held in Doha was to standstill the longest and superfluous war of the history of mankind. The global actors however possess special geopolitical interests in Afghanistan which directly or indirectly effects the Afghan peace process. There exists a reality related to the peace accord that remained unobserved not only at regional level but globally as well. President Ashraf Ghani defined the success of the agreement as "disruption the status quo" but what is this status quo Ghani was referring to? The never-ending eighteen years long war between the Afghan Taliban's/forces and the United States of America and the improvised rule of the Karzai and later Ashraf Ghani on the Afghanistan under western influence is the status quo if given a reality check – nothing beyond that.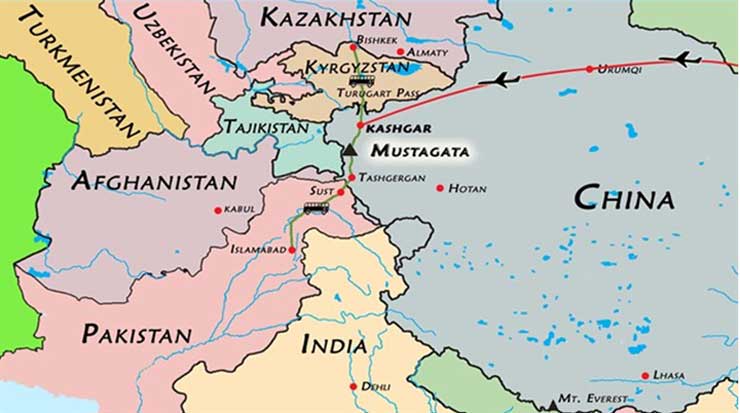 President Trump of the U.S. had made his reservations on the U.S. led Afghan war time to time and has been seen keen to deescalate the prolonged war. Even before his selection as a President, he was critical of the unending Afghan war and made a commitment – when in power, he'll withdraw U.S. forces from Afghanistan. The reality persists that the Afghan war has been badly hurting U.S. economy and U.S. forces. In other words, the occupation of an unruly and tribal Afghanistan has once again proved to be another misadventure by yet another superpower. Clearly, the U.S. had decided long ago to withdraw its forces from Afghanistan but was in search of a face-saving exit which came in the form of this agreement. The U.S, however, will not lose its interest in the region and the clout it enjoys over the Afghan Government. Keeping in perspective the unpredictable personality of President Trump; one can not rule out the reversal of the peace agreement, as it may be a mean of winning the next term.
Russia and China have actively supported the Afghan peace process and have facilitated the resumptions of talks. With the peace agreement and eventual withdrawal of US forces from Afghanistan, Russia will definitely term it as a sweet revenge for the humiliating defeat dealt to her by the USA after its invasion of the country in late twentieth century. China will surely like to have a sigh of relief with the superpower not breathing down its neck and pose a constant threat to its trade initiatives through proxies. Both countries will then try to exert their influence on the country through various proxies as part of their expansionist strategies.
There is no doubt that an enduring peace on the western border of Pakistan would directly benefit Pakistan in every conceivable way. Instability in Afghanistan precisely damages Pakistan in a full spectrum – thus, tranquility in Afghanistan will help Pakistan not only with the tribal apprehensions on the western border but also expand the economic ties, primarily in the shape of CPEC into Afghanistan which indeed is a territory with huge geographical and economical potential. The expansion of CPEC from just north-south to east-west will bring along its own perks to the entire CPEC project which will benefit not only Pakistan and China but the people of Afghanistan as well. Pakistan also looks forward towards a friendly and cooperative regime in Afghanistan as a result of the peace talks; which has a reduced Indian influence over its foreign policy.
Talking about the Indian role in Afghanistan which previously was active and dominating for quite some time has been clearly marginalized during the Afghan Peace Agreement. Despite investment of huge capital with a goal to find a strong strategic partner in South Asia primarily to counter Pakistan – India dooms to a partial failure as Pakistan played a vital and active role in the Afghan peace accord. Though, India will not easily give up on their geopolitical motives in Afghanistan, they might act as spoilers with opportunities to sustain and instigate conflict in the region.
The real stakeholders in the peace process are the Afghan people. It is unfortunate that despite being played in the hands of other powers; the country is still strife with conflict and does not show a united front. Tribalism and parochial approach by different Afghan factions has only brought them short term benefits and a sense of false security. Everyone is happy with whatever little clout they enjoy and no one thinks of the benefit of the Afghan nation as a whole. Perhaps, this is the "status quo" that the President of Afghanistan was referring to while showing his discontent with the peace pact. The never-ending eighteen years long war between the Afghan Taliban's/forces and the United States of America, the improvised rule of the Karzai and later Ashraf Ghani on the Afghanistan under western influence – this is the status quo to be exact. How the various factions approach the intra-Afghan peace talks yet remains to be seen.
In view of the domestic conflicts in Afghanistan between various factions, peace in Afghanistan would remain a dream even after the withdrawal of U.S. and NATO forces until and unless good sense prevails in the region. It certainly requires the will of the facilitating nations like U.S, Russia, China and Pakistan to ensure that the process goes towards an amicable end. The only spoilers to the peace process are the Indians and the Afghans themselves.