Envisioning the Future in Colombia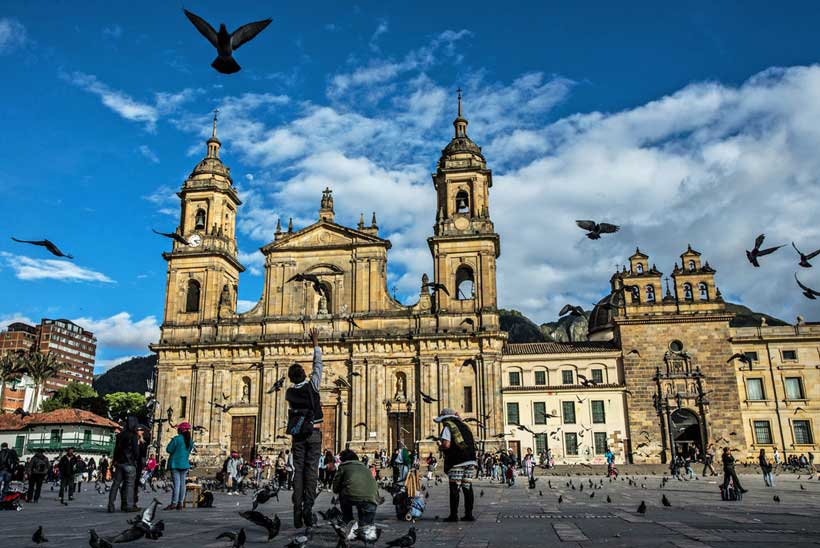 In the sun-scorched desert of La Guajira Peninsula on the northern border of Colombia, a girl walks along the dirt road to her "rancheria", a handful of makeshift homes that constitute her village. The heat of the parched, barren land is broken only by a brittle tree or a few spiny cacti. She has just returned from the city of Bucaramanga.
"Icetex subsidies helped a lot to make living in the city possible," she said. "If it weren't for them, it wouldn't have been possible for me to join the university. They help me pay for tuition, clothing, transport, and other expenses of my stay in Bucaramanga."
Icetex itself was the dream of a Colombian student, Gabriel Betancourt, who later became Minister of National Education. In 1950, he supported Icetex's founding, the first higher education loan program in the world. Today, it is a state-owned enterprise (SOE) that promotes university education through student loans to under-privileged students with good academic performance.
"For an SOE to survive and thrive it needs to raise stable, low-cost financing. The central government plays an essential role in making this happen by issuing guarantees" said Rodrigo Cabral, Senior Financial Officer, World Bank Treasury. "But like any financial underwriting, when a government issues a guarantee for a loan to one of its agencies, it assumes risk as the co-signer, as the agency may not be able to meet its financial obligation, and pay the loan."
Those risks have not always paid off. As the result of an economic recession in the late 1990s, several government guarantees were triggered, leading to cumulative payments of up to two percent of the Colombian GDP by 2004. The materialization of these contingent liabilities generated a financial shock to an economy already under pressure from the recession.
Following the crisis, Colombia updated its legislative framework to better accommodate the contingent liability issue and to improve the risk management of government guarantees.
Cooperation with the World Bank Treasury
In 2011, the Colombian government partnered with Government Debt and Risk Management (GDRM) Program, a World Bank Treasury initiative sponsored by the Swiss State Secretariat for Economic Affairs (SECO), to fine tune risk assessment and the management of contingent liabilities. The outstanding issue was finding a quantitative risk model to determine the right fees, set aside in a contingency fund, and define the right collateral from public entities that wanted government guarantees so that they could borrow.
The GDRM program supported the Colombian ministry of finance in two primary ways. First, by providing a technical expert who gave on-site consultancy with direct support for research and development of the new methodology. Second, by fostering peer-to-peer dialogue with other countries at each stage of the risk management process. The team of practitioners included Sweden, a developed country with years of experience in issuing guarantees; Turkey, an emerging country with a solid framework for issuing guarantees and managing on-lending practices; South Africa, whose experience in managing government guarantees most closely matched Colombia's; and Indonesia, a nation just starting down the path of government guarantee risk management.
"The work began with a series of virtual dialogues via WebEx: five half-day sessions in the span of two months, during which each practitioner asked questions specific to their needs and benefited from the shared expertise of the others," said Alessandro Scipioni, World Bank Treasury resident advisor. The group of countries got the unique opportunity to meet in person and present ideas during a fiscal conference dedicated to their issues that the World Bank Treasury facilitated in Istanbul.
Trifecta for the Colombian Debt Management
Refined Methodology: The Public Credit and Treasury Directorate—the equivalent of a debt management office—improved its methodology to determine the appropriate fees and collateral required for the government to issue guarantees; these fees are set aside in a contingency fund that belongs to the central government.
Revised Legal framework: The national comptroller requested that the ministry of finance produce a written policy on government guarantees for non-financial public sector borrowing. In 2015, the Public Credit and Treasury Directorate approved a ministerial resolution on government guarantees.
Change implemented: The Public Credit and Treasury Directorate has so far applied the new methodology to external loans from multilateral organizations obtained by three public agencies:  Findeter, Icetex, and Bancoldex. . All three loans were covered by central government guarantees.
Colombia and the World Bank Treasury GDRM Program's partnership resulted in better risk management for issuing guarantees that supports public borrowing and while also protecting the government's credit rating. Understanding and proactively managing these risks helps to guard against a recurrence of the shocks of early 2000s. These efforts also enable public entities like Icetex to thrive and allow the neediest students to receive continued access to higher education.
'Guns Don't Kill People, People Kill People': Time to retire
Again, another mass shooting, again a school, again a troubled teen, a racist, a white supremacist, a Bloods or Crips gangster, a refugee, a war veteran, a mad policeman, a terrorist from al-Qaeda, al-Nusra Front or from the ISIL (Islamic State in Iraq and the Levant/Daesh) terrorist outfits … what difference does it make and again dead bodies lying on the ground in their blood. Who believes they were alive seconds ago. The story goes on and to my surprise it is having less effect than it used to have years ago. Why?
We are getting bad. We are not hurt anymore. Too much violence has made us numb.
What does the motto on the entrance of the United Nations building says? A poem by the Iranian influential poet Sa'adi, from the 13th century, the medieval period. The poem has many translations however one is this:
The sons of Adam are limbs of each other,
Having been created of one essence.
When the calamity of time affects one limb
The other limbs cannot remain at rest.
If you have no sympathy for the troubles of others,
You are unworthy to be called by the name of a Human.
Give it a thought, try to put it in practice, politician and statesmen in the United Nations, New York, United States. It is ludicrous that almost all of them call for end of wars, urge foe peace and tranquil but at the same time produce and sell arms.
War, violence and killing is simply unacceptable, nasty and painful in any kind and form, whether it occurs in a house, street, city, countries like Iraq, Syria, Yemen, Palestine or the United States of America.
U.S. teen confesses to mass shooting at Florida Marjory Stoneman Douglas High School
A troubled teen with alleged ties to a white supremacist group confessed on Thursday to murdering 17 people at his former high school in Florida, as the FBI (Federal Bureau of Investigation) admitted it had received a tip-off about the 19-year-old gunman yet failed to stop him.
As Americans reeled from the country's worst school massacre since the horror at Sandy Hook six years ago, the U.S. President Donald Trump suggested the root cause of the violence was a crisis of mental health — and defied calls to address gun control.
Terrified students hid in closets and under desks on Wednesday at Marjory Stoneman Douglas High School in Parkland, texting for help as the gunman, Nikolas Cruz, stalked the school with a semi-automatic AR-15 rifle.
Cruz has been charged with 17 counts of premeditated murder, appearing on Thursday afternoon before a judge who ordered him held without bond.
After being read his legal rights, "Cruz stated that he was the gunman who entered the school campus armed with a AR-15 and began shooting students that he saw in the hallways and on the school grounds," court documents showed.
Cruz also admitted he discarded his rifle — which he bought legally in Florida — and tactical gear in order to blend in with the crowd to flee the campus, the documents showed.
The recent mass shooting at a school in Florida is the latest reminder that the United States is a "very violent country," a journalist in Detroit says.
After the shooting, he stopped at a Wal-Mart store and then McDonald's, Broward County Sheriff Scott Israel told reporters. He was detained 40 minutes later, after police identified him using school security camera footage.
Expelled from school for disciplinary reasons, Cruz was known to be fixated on firearms — and had reportedly been identified as a potential threat to his classmates.
In a somber televised address to the nation in response to the 18th school shooting so far this year, Trump vowed to make mental health a priority — after tweeting about the "many signs" the gunman was "mentally disturbed" — while avoiding any talk of gun curbs.
Earlier in the day, Trump had asserted that "neighbors and classmates knew he was a big problem. Must always report such instances to authorities, again and again!"
But U.S. authorities themselves were under scrutiny, after the FBI confirmed it was alerted last September to a message posted on YouTube, in which a user named Nikolas Cruz vowed: "I'm going to be a professional school shooter."
In a statement, the FBI said it had carried out "database reviews and other checks" but was unable to identify the person who made the post.
Trump cites mental health, not guns, in speech on shooting
Declaring the nation united and grieving with "one heavy heart," Trump promised on Thursday to tackle school safety and "the difficult issue of mental health" in response to the deadly shooting in Florida. He made no mention of the scourge of gun violence.
Not always a natural in the role of national comforter, Trump spoke deliberately, at one point directly addressing children who may feel "lost, alone, confused or even scared."
"I want you to know that you are never alone and you never will be," Trump said. "You have people who care about you, who love you, and who will do anything at all to protect you."
However, the ones killed were alone when they were shot in cold blood in fear and hope. The ones who lost their precious lives had many hopes and ambitions.
Now they are dead, and it could be every and each one of us, at a school, stadium, concert hall, cinema, home, Middle East, Americas… anywhere, it could be.
Such incidents are cause of sorrow and pain, I cannot explain how I felt when I saw the horrible pictures of the Florida High School shooting, just like how I felt when I saw the massacre committed by the ISIL terrorists killing cadets in Camp Speicher in Tikrit, Iraq. At the time of the attack there were between 4,000 and 11,000 unarmed cadets in the camp. ISIL terrorists singled out Shia and non-Muslim cadets from Sunni ones and murdered them.
Who arms and supports terrorist groups like ISIL? No one can be so naeive to believe that they have just popped out. I recall the U.S. President Trump as saying on his election campaign to Hillary Clinton that the U.S. created ISIL. Well done!
While Trump stressed the importance of mental health and school safety improvements, his latest budget request would slash Medicaid, the major source of federal funding for treating mental health problems, and cut school safety programs by more than a third. Last year, he signed a resolution blocking an Obama-era rule designed to keep guns out of the hands of certain mentally disabled people.
Trump's silence on guns was noted with displeasure by many who are seeking tougher firearm restrictions. But the White House said the president wanted to keep his remarks focused on the victims.
Before he was a candidate, Trump at one point favored some tighter gun regulations. But he embraced gun rights as a candidate, and the National Rifle Association spent $30 million in support of his campaign.
During his brief, televised statement, Trump said he wanted to work to "create a culture in our country that embraces the dignity of life," a phrase likely to resonate with his conservative base.
In contrast, former President Barack Obama tweeted out a call for "long overdue, common-sense gun safety laws." Obama wrote: "We are grieving with Parkland. But we are not powerless. Caring for our kids is our first job."
In reacting to previous mass shootings, Trump has largely focused on mental health as a cause, dismissing questions about gun control. After a shooting at a Texas church in November left more than two dozen dead, the president said, "This isn't a guns situation."
The US has averaged one school shooting every 60 hours since the beginning of 2018, data shows.
Trump was criticized in early August for saying that both white nationalists and counter-protesters were responsible for the violent clashes at a white nationalist rally in Charlottesville, Virginia.
While Trump has offered somber responses to some tragedies, he has also drawn criticism for other reactions.
After the Orlando shootings at a gay nightclub that left 49 dead in June 2016, then-candidate Trump tweeted, "Appreciate the congrats for being right on radical Islamic terrorism." In the wake of a deadly terror attack in London last June, he went after Mayor Sadiq Khan on Twitter.
Sadiq Khan compares the US president's rhetoric against Islam to tactics used by ISIL to inspire terror attacks in Western cities.
First published in our partner Tehran Times
On Jettisoning Failed Leaders and Mass Shootings in the U.S.
The scene is the House of Commons; the date May 7, 1940.  A simple motion to adjourn for the ten-day Whitsun recess is of little concern to Prime Minister Neville Chamberlain who has a comfortable 213 seat majority.  Then things take a turn.  A plan approved by the first Lord of the Admiralty Winston Churchill to land troops in Norway and engage the Germans directly has been a disaster with huge losses, and the eventual naval evacuation of the expeditionary force — an Arctic Dardanelles planned by the same man.
Chamberlain rises to defend Churchill and the conduct of the war in what has now come to be known as the "Norway Debate".  In the most unlikely of scenarios and with no evidence of Winston trying to put his name forward — in fact the opposite — when the tide turns against Chamberlain, within three days as more favored candidates are shed, he has become prime minister.  Such is the parliamentary system.  Margaret Thatcher is another example, toppled shortly after success at the polls.
The American system, however, puts the president beyond such reach other than through a laborious impeachment.  Analogous to the third Roman Emperor Caligula, Donald Trump, too, has no military or political experience.  Caligula made his horse a senator or some say consul; Trump has the equivalent running government departments and agencies.  Caligula declared himself a god; Trump tweeted he is a 'stable genius.'  If Caligula's reign ended with assassination, Trump's will be more prosaic — just disaffected voters.
Another mass shooting this time at Marjory Stoneman Douglas High School in Parkland, Florida.  Seventeen are dead and  many more injured.  The gunman, identified as Nikolas Cruz, used an AR-15 assault type rifle, a weapon far deadlier than a pistol — perhaps he watched the coverage of the Las Vegas shooting.  He was a former pupil who had been suspended from the school, and who students recalled as disturbed and scary.
President Trump in his remarks following the incident did not bring up the obvious question of why an AR-15 was so easily available for purchase.  Gun owners and the gun lobby are part of his constituency.
Following a mass shooting in April 1996 when a man armed with two semi-automatic rifles killed 35 people in Port Arthur, Tasmania, the Australian government put together strict gun laws.  They were supplemented with a mandatory gun-buyback program through which 650,000 firearms were destroyed.  Did the program work?  The data tells the story more vividly:  From 1979 to 1996, Australia suffered 13 mass shootings; since 1997 it has had none.
Under his usual theme of 'guns don't kill people, people kill people', President Trump continues to talk about finding ways to deal better with disturbed people.  The sure Australian way is to stop them acquiring guns.
Lost in the Florida school story was another shooting the same day when trigger-happy guards let loose at a National Security Agency entrance.  The forested area is a confused mass of entries and exits.  It has happened before that somebody inadvertently makes a wrong turn and panics when faced with shouting armed guards.  In this incident, bullet holes can be seen in the windshield and the three men in the car were injured.
Introducing the Gates Foundation's annual philanthropic letter a few days ago, Bill and Melinda Gates appealed to Donald Trump to not cut foreign aid — "even a 10 percent cut could lead to 5 million deaths in the next decade", Bill Gates warned.  Will President Trump listen?
Despite the many wonderful aspects the U.S. Constitution and the Bill of Rights, when it comes to jettisoning incompetent leaders, it is difficult to best the parliamentary system for immediacy.
Trump's new nuclear doctrine just rhetoric
Recently the US President Donald Trump unveiled his new nuclear doctrine which had remained unchanged since 2010. Many experts consider Trump's new doctrine which enjoys many ambiguities as just campaign rhetoric. To shed more light on the issue we reached out to Prof. Filip Kovacevic, University of San Francisco geopolitics.
The US new nuclear doctrine was published several days ago. This document had remained unchanged since 2010. What are the reasons for new changes?
According to the US military establishment, the most important reason for changes is that the world has been a more dangerous and geopolitically unstable place. What the generals are not saying, though, is that it was their own actions which are responsible for this state of affairs. The hegemonic US foreign policy, the attempt to force a neo-liberal Pax Americana on the diversity and richness of the world's cultures and traditions, is the cause of the present world problems.
Of course, you won't find this stated openly in the doctrine. What you will find there, in a typical manipulative fashion, are the accusations of others for the problems that the US foreign policy has caused itself. In fact, this hypocritical pattern of behavior, where you take the legitimate reactions of others to your own provocations and aggressive moves as the main cause of tensions and conflicts, goes back many decades into the past.
What is the most significant difference between the new doctrine and the previous one?
In my opinion, the most significant difference is that a lot more money will be poured into the development of nuclear weapons. This will inevitably lead to a nuclear arms race with other states and to the proliferation of nuclear weapons as more and more countries will want to acquire them. But it will bring tremendous profits to the US military-industrial complex. In fact, the Trump administration is completely under the control of this section of the US corporate oligarchy. Trump is essentially breaking down all the institutional checks and balances in the US political system and paving a way for a military dictatorship. I have no doubt that the next US president will be a military officer. This means that we are about to see more wars and more deaths around the world, including in the Middle East. Many old, frozen conflicts will be re-opened across Asia and, apparently, the US is also setting a stage for the first-time use of a low yield nuclear weapon. Let's not forget, though, that the bombs with depleted uranium have already been extensively used in the US /NATO conflicts, starting with the attack on the Federal Republic of Yugoslavia in 1999, causing horrific public health and environmental problems for generations to come.
In new doctrine, the use of nuclear weapons is allowed in extraordinary situation. There are some ambiguities around this. What are those extraordinary situations exactly?
The fact that the US reserves the right to respond with a nuclear weapon to a non-nuclear attack is nothing new. In fact, the US dropped nuclear bombs on Hiroshima and Nagasaki even though there was no nuclear threat from the Imperial Japan. However, what is new in this doctrine is that now the US considers the potential use of a nuclear weapon against a large-scale cyber-attack. This is extremely worrying, because, as is well known, it is very difficult to correctly attribute the source of a cyber-attack. This could make a false-flag attack by some rogue terrorist faction or by the inside provocateurs misinterpreted as an attack by another nuclear power and lead to the nuclear annihilation of all life on Earth.
As the US considers the first strike on Russia acceptable, it means the spirit of the cold war is governing this new doctrine. Why has the US taken this approach?
Provoked by the rapid and aggressive expansion of the US political, economic, and cultural influence in Central and Eastern Europe under the umbrella of NATO, Russia has embarked on the campaign of re-arming and strengthening its defense and security apparatus in recent years. It appears that the US thought that Russia would cave in under its demands and accept to be a third-rate power in Eurasia. However, this was a serious misunderstanding of the Russian history and tradition. Now that Russia pushes back, the US establishment does not know what else to do but to make threats. However, these are empty threats because any kind of use of nuclear weapons against Russia or against its allies within the Collective Security Treaty Organization would quickly lead to mutual destruction. The spirit of the old Cold War has returned, and it will be with us for a long time to come. Accordingly, we will see the flare-up of proxy conflicts and covert actions across the world.
How do you assess the US new doctrine toward Iran? What are the new points?
Iran is one of only four states separately mentioned in the doctrine. The others are Russia, China, and North Korea. Iran is given the least coverage because it is not seen as an immediate nuclear danger to the US .The main emphasis is on what will happen after the Joint Comprehensive Plan of Action (JCPOA) ends in 2031. It is stated that after this period, Iran will be able to produce a nuclear weapon within a year. Interestingly, there is no mention of the US getting out of the JCPOA before that time, which is in contradiction to what the US president Donald Trump has been saying recently. It appears that Trump's statements are just campaign rhetoric intended to please some important and wealthy interest groups, but that, in reality, it will be difficult for the US to get out of the JCPOA, considering that all other signatories are still backing it. However, this is not to say that the US will not use all other means at its disposal, including its vast media and intelligence resources, to sow discord within the Iranian political elite and create an economic and political crisis in the country.
First published in our partner Mehr News Agency