Five Reasons why Haiti should invest in Resilient Cities
Over the past 15 years, Haiti has experienced a rapid urbanization and the number of urban dwellers has doubled from 3 million to 6 million people. Haiti is now the third most urbanized country in Latin America and the Caribbean, after Trinidad and Tobago, and Mexico. Each year more than 133,000 Haitians move to cities.
What does this mean for the future of urban dwellers? And how best can cities respond to growing demands for services, jobs, and accessibility? These are some of the questions the Haitian government and the representatives of many other countries and cities will be asking during the World Urban Forum in Kuala Lumpur next month.
For Anabela Abreu, World Bank Country Director for Haiti, "Effective policies and investments are key to build sustainable cities with the participation of citizens and local communities; future cities where economic opportunities go hand in hand with population growth."
Many residents of Port-au-Prince struggle to find a place to live with affordable rent and running water, and many spend hours in traffic as they commute to their work place every day. Responding to our twitter poll on @WBCaribbean, our audience identified resilient infrastructure and access to services as the two most pressing priorities in building resilient cities in Haiti.
Despite the challenges of rapid urbanization, extreme poverty levels have declined in Haiti and coverage of some services in cities has improved. Major cities are now all connected to the main road network, and access to micro credits has improved.
Here are five challenges and opportunities to build resilient cities in Haiti, highlighted in a new report, "Haitian Cities: Action for today with an eye on tomorrow":
Sixty-four percent of Haitians live in cities and the number of urban dwellers could surge from 6 million to 11 million people by 2050: Such rapid urbanization comes with growing demands for infrastructure, services and jobs, but most importantly it also brings economic opportunities. This is particularly striking in the streets of Port-au-Prince, which is bustling with people, small street vendors, telecom shops and colorful tap-taps – painted vans used as public transports. To seize these opportunities, the report calls for more resilient urban planning to close the gap in infrastructure, services and to prepare for future urban growth.
Access to basic services has improved, particularly in urban areas, but more needs to be done to respond to fast growing needs: While residents in the capital of Port-au-Prince or the second largest city of Cap Haitian have better access to schools, health services and electricity, two thirds of urban residents lack improved sanitation and the collection rate of solid waste is very low. Strengthening municipal financing will allow local governments to make the right investments and engage citizens in decision making.
Accessibility and affordable transport is key to access economic opportunities: 60 % of households are not using motorized transport. Tap Taps are the most widely used form of public transport, yet some of the most vulnerable can spend up to 73 percent of their total income in Tap Tap fares just by riding in these collective vans twice a day during the week. Investing in roads and improving efficiency and affordability of public transport, as well as strengthening urban land management, will be key to reducing the time people spend sitting in traffic and in improving the accessibility to jobs and markets.
Costly natural disasters have undermined the benefits of the urbanization process: More than 96 percent of Haitians are at risk of two or more natural hazards. High concentrations of construction are found in seismic areas, and half are built in flood prone areas. Following the 2010 earth­quake, Haiti developed disaster risk management information and planning tools, such as multi-hazard risk assessments, the mapping of seismic zones and exposed assets. A first open data platform – Haitidata.org –  was also launched to better allocate public resources in post-disaster situations.
A stronger system of municipal finance is needed to close the infrastructure and service gap and accommodate the growing urban population: Only 0.6 percent of GDP is currently spent by communes (municipalities). As cities expand in size and population, the challenge is to finance sustainable and inclusive urban development growth.
UNESCO demonstrates multi-pronged approach to resilient cities
By 2050, the world will be two-thirds urban, placing cities at the frontline of global challenges and opportunities.  Migration is a major factor of urbanisation, contributing significantly to economic development and cultural diversity.  As people and assets concentrate in cities, these become increasingly vulnerable to the impact of climate change, disasters and conflicts. Yet if planned and managed well, cities will become an engine for sustainable development.
For cities to be inclusive, safe and resilient, governments, mayors and local stakeholders need urban policies that integrate the soft power of culture, education, science and social integration, as suggested in the New Urban Agenda adopted at the Habitat III conference in 2016. UNESCO's participation at the 9th World Urban Forum in Kuala Lumpur, Malaysia, 7-13 February 2018, demonstrated this with five events engaging international and local voices on how cities can forge a sustainable future.
Cities in post-conflict and post-disaster situations face numerous challenges and were the focus of the networking event on "Culture, Reconstruction, Recovery" led by UNESCO and the World Bank. "Culture should be placed at the core of reconstruction and recovery processes by embedding cultural and natural heritage as well as intangible heritage and creativity into integrated strategies that rely on both people-centred and place-based approaches," said Sameh Wahba, World Bank Global Director for Urban and Territorial Development, Disaster Risk Management and Resilience.  Experts stressed that urban regeneration strategies need to use culture as a key resource, asset, and tool, and build on the "3-Ps" approach (people, places, policies) set out in the UNESCO Global Report, Culture Urban Future.
The training event on "Creativity for Sustainable Cities: Leveraging Culture for Social Inclusion, Economic Development, and enhanced resilience" co-organized by UNESCO and UN Habitat highlighted the importance of cultural heritage, living heritage, and culture and creative industries in the shaping, implementation and assessment of culture-engaged urban development policies.  "Culture is a key element to humanizing cities" said Christine Musisi, Director for International Relations in UN-Habitat.  Virginio Merola, Mayor of Bologna (Italy), underscored that the major responsibility of mayors and local authorities is to enhance the "urban commons" and use culture to build the conditions for people from diverse social, cultural and generational backgrounds to live together peacefully. The importance of measuring the actual contribution of culture to urban development processes was underlined, to build not only on its economic value but also on its impact on education, people's well-being, resilience and social inclusion.
UNESCO's event on "Building Urban Resilience" focused on how cities cope with the provision of water related services and natural hazards.  Water services, for example, can be acutely affected by climate change.  There are many replicable best practices and solutions for water management and policies, and disaster risk reduction.  Dr Nicola Tollin, part of the UNESCO Chair of Sustainability at the Technical University of Catalonia, President of RECNET and Executive Director of the International Programme on Urban Resilience, RESURBE, demonstrated the need to bridge local and international climate action at the urban level, with projects that use nature-based solutions for water management and generate environmental, economic, social and climate co-benefits. The VISUS methodology, a science-based assessment methodology for school safety was also presented, along with the UNESCO International Hydrological Programme's examples of knowledge sharing and exchange on water within the framework of the Megacities Alliance for Water and Climate (MAWaC), which are all useful tools and resources for enhancing the resilience of cities.
As the number of international migrants worldwide has continued to grow rapidly in recent years, reaching 258 million in 2017 (UNDESA, 2017), and internal migration, though more difficult to determine the number of people moving, is vast, a networking event on  "Integrating Migrants in Cities: Challenges and Opportunities" examined the importance of a holistic, intersectoral, and collaborative approach to integrating migrants in cities. UNESCO, in partnership with UNDP, Un-Habitat and the IOM, presented data from current research on migration trends and policy responses that can assist at national and local level to deal with the large scale movement of people, both internally and internationally.  Among the findings that foster learning to live together sustainably in cities was the need for long term urban planning that integrates political, economic, cultural and social aspects of city life.
Health and well-being of communities in urban spaces were discussed in UNESCO and ADB's "Physical inactivity and Rising Non-Communicable Diseases"side event.  Experts advocated for the creation of open and safe public spaces for sport to drive socioeconomic development in the Asia-Pacific region, particularly in tackling non-communicable diseases, a global issue on the rise all around the world. The Kazan Action Plan, adopted by the Ministerial Council on Physical Education and Sport in 2017, sets out a global road map linking sport, the SDGs and other important development frameworks. The panellists show-cased several local initiatives whereby cities that enhanced sport saw improvements in community well-being and belonging, especially for youth.
New "Urban Sustainability Framework" Guides Cities Towards a Greener Future
In an effort to support cities to achieve a greener future, a new Urban Sustainability Framework (USF), launched today by the World Bank and the Global Environment Facility (GEF), serves as a guide for cities seeking to enhance their sustainability.
Launched at the ninth session of the World Urban Forum (WUF9)*, taking place February 7-13, in Kuala Lumpur, Malaysia, this guide supports cities along the sustainability pathway, from creating a vision to identifying financial resources to implement their plans.
The USF lays out six key dimensions of urban sustainability: governance and integrated planning, fiscal sustainability, economic competitiveness, environment and resource efficiency, low carbon and resilience, and social inclusiveness. The Framework is a collaboration among cities, organizations, and experts who have contributed to the development of the Framework.
"We are confident that through this collaboration, a shared vision and common approach to urban sustainable development can be forged. We invite cities to use the framework to meet the challenges they face today and in the coming decades, and we enthusiastically look forward to the collaborative efforts to adopt an integrated approach to urban sustainability," said GEF CEO and Chairperson Naoko Ishii.
The new USF guidance document includes a "Four-Stage Approach" for cities to improve their sustainability status through the following process: defining a vision with priorities, determining financing, and, finally, monitoring and evaluating their project implementation progress.
"The USF assists cities to identify their sustainability aspirations and establish how they will finance their implementation plans. These two very important stages of the process go hand in hand," said Ming Zhang, World Bank Practice Manager for Urban Development. "A special aspect of the USF is that it provides a corresponding selection of forward-looking methods and tools which peer cities are using to successfully finance and implement their projects."
Cities can understand the USF's dimensions of urban sustainability by using its "Measuring Framework", which includes a selection of indicators that help cities track their progress toward their sustainability goals, while comparing against their peers, to promote an integrated approach to sustainability.
The USF is part of a larger collaboration for knowledge exchange on sustainable urban planning. Financed by the GEF and led by the World Bank, the Global Platform for Sustainable Cities (GPSC, www.thegpsc.org) was launched in March 2016. It was designed to meet the need for an enabling environment – a platform – that allows cities to exchange ideas, share experiences, use analytical tools, and, most importantly, steer investment toward long-term sustainability.
The GPSC assists cities in tapping into cutting-edge knowledge and expertise on topics ranging from urban planning to low-carbon strategy, transit-oriented development, and sustainable financing. Together with various partners in the urban realm, the GPSC is creating a suite of knowledge products and tools that will help cities drive their development agenda. The platform currently comprises of 28 cities from 11 countries.
An important collaborator joined the platform at WUF9 with the signing of a Memorandum of Understanding (MOU) between the city of Aarhus, Denmark, and the World Bank. Through the MOU, Denmark's second largest city becomes a knowledge partner of the GPSC.
"Aarhus is very excited to become a GPSC knowledge partner and the opportunity this presents to collaborate with cities on a world-wide scale. We definitely have worthwhile experiences to share with our peers, and likewise hope to learn from others. Through this knowledge exchange, Aarhus can reflect upon our own policies and practices and work toward improving the city's urban sustainability," said Jacob Bundsgaard, Mayor of Aarhus.
GPSC and Aarhus will be collaborating in the following areas:
sustainable, integrated planning strategies;
low carbon development towards the goal of carbon neutrality;
adaptation and resilience; and
water management
"The GPSC builds a strong partnership with cities around the world to share cutting-edge knowledge. We look forward to working with the city of Aarhus to bring its urban sustainability knowledge and insights to many other cities," said Xueman Wang, Program Manager for the GPSC.
Forced Displacement to Cities Demands an Urban Development Approach to the Crisis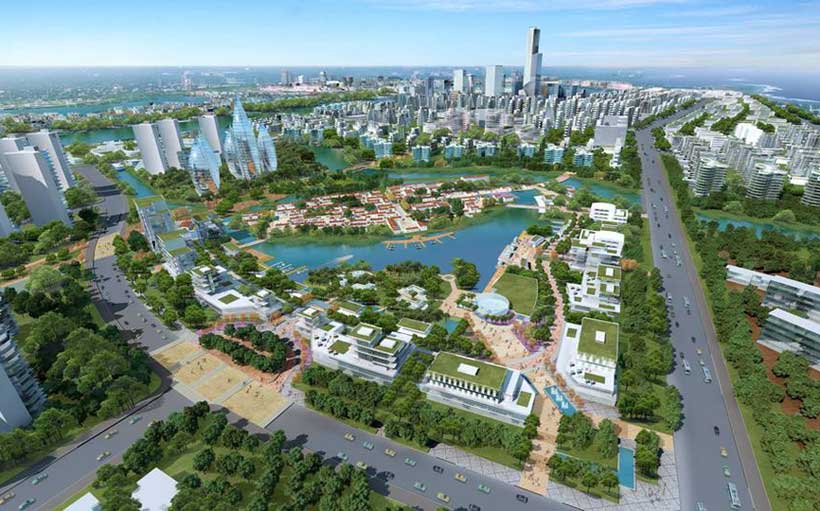 Forced displacement is increasingly an urban crisis that needs an integrated humanitarian and development approach in towns and cities hosting displaced populations to better serve all residents and ensure sustainable urban growth, says a new World Bank report released today at the World Urban Forum.
Forced displacement is among the most pressing challenges in the Middle East North Africa (MENA) region. The number of people forcibly displaced worldwide continues to increase, particularly in MENA, where waves of unrest and conflict have driven a huge increase in displacement.
In 2016, there were an estimated 65.6 million people forcibly displaced around the world, of which about one-quarter were living in countries across the MENA region. For each refugee displaced in MENA, there are almost five internally displaced people (IDPs).
According to the new, "Cities of Refuge in the Middle East: Bringing an Urban Lens to the Forced Displacement Challenge" report, contrary to common belief, most of the forcibly displaced live outside of camps. Today, most of the displaced are in towns and cities.  This pattern is particularly evident in the already highly urbanized MENA region, where an estimated 80-90 percent of displaced live in towns and cities – significantly above the global average of 60 percent, and underscoring the need to bring in longer-term urban development approaches to address protracted forced displacement situations.
Such a sudden and rapid influx of large populations compounds difficulties that cities already face in the highly urbanized Middle East region, leading to overcrowding of informal settlements and increasing demand for urban services, land, jobs, and housing.
"The reality in the Middle East is that the forcibly displaced are actually urban residents in cities that are struggling to meet the needs of the poor and vulnerable," stressed Ede Ijjasz-Vasquez, Senior Director of the World Bank's Social, Urban, Rural and Resilience Global Practice. "With the forcibly displaced no longer residing in segregated areas in camps, but, in fact, blending into existing urban populations, traditional programs targeting individuals based on their IDP or refugee status are no longer sufficient."
Ijjasz-Vasquez emphasized that "In a constantly evolving urban and social fabric, where the location and needs of host and displaced communities are increasingly hard to distinguish, targeted assistance to the displaced should be complemented with place-based development approaches that build on existing governance structures and service delivery mechanisms to promote the welfare of all residents, regardless of origin."
With the majority of displaced people no longer living in camps and blending into existing urban populations, the international community needs to think differently and apply an urban lens. Assistance targeting individuals based on their refugee or IDP status can be complemented with development approaches that aim to improve the urban environment for all, building on existing national and local governance structures and service delivery mechanisms.
For greater impact, humanitarian and development partners need to work in complementary ways, depending on conditions in host cities, including size, magnitude of displacement, existing infrastructure, as well as services and financial and administrative capacity.
"Although addressing forced displacement in cities is a relatively new challenge, there is much that we can learn from proven urban development approaches, adapted to each situation. Investing in urban services, promoting social cohesion, and building resilient communities and institutions are critical to respond to protracted crises effectively," said Sameh Wahba, Director for Urban Development, Territorial Development, and Disaster Risk Management, World Bank.
As the refugee crisis in the Middle East wears on, the report calls for a concerted effort from communities, local authorities, national government, and the international community to apply an urban development framework in thinking about forced displacement from an urban angle.
The scale and nature of the challenge also requires governments and the international community to mobilize additional resources. The World Bank has been addressing the unprecedented burden of forced displacement on middle-income countries by supporting countries such as Lebanon and Jordan to access financing on concessional terms through the Global Concessional Financing Facility (GCFF) for development projects that benefit refugees and the communities that host them.  The GCFF has unlocked $1.4 billion since its launch in April 2016 with the United Nations and Islamic Development Bank.
"A development approach to urban forced displacement expands the focus from reducing the vulnerabilities of the displaced to mitigating impacts on host communities. Supporting the community as a whole in this way can help to shape the overall policy dialogue," said Axel Baeumler, Senior Infrastructure Economist, World Bank, co-author of the report.
Financial support for this policy note was provided by the Global Program on Forced Displacement, German Federal Ministry of Economic Cooperation and Development, The Global Facility for Disaster Risk Reduction, the Italian Ministry of Foreign Affairs and International Cooperation and the Italian Agency for Development Cooperation.