Life made simpler and sustainable among vulnerable communities in Colombia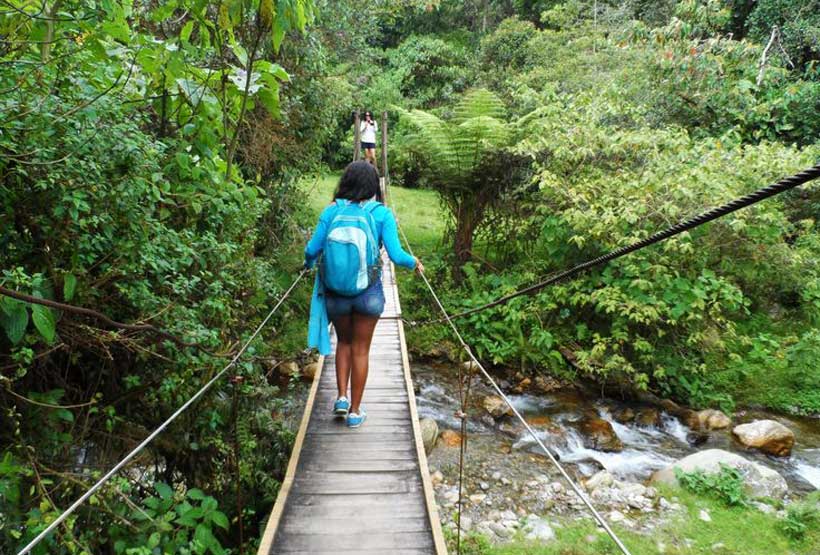 Fishermen who make their living from the Cauca River in the south of Colombia have had their daily task made easier by adapting their traditional rafts to solar power.
That is just one of the concrete sustainable actions enabled by Pacto Planeta  a civil society organization designing, implementing and tracking high impact social and environmental projects in 12 provinces in Colombia. Its main goal is to help organizations with environmental projects to maximise their impact.
The project works closely with School Laboratories for Sustainable Development (LEDS) and has three main action areas: environment and climate change, designing pedagogical notebooks to learn maths and English with exercises based around the Sustainable Development Goals (SDG) and, training of teachers.
The LEDS scheme helps schools in socially vulnerable populations by teaching students about the six SDGs relating to climate change, food security, gender equality and health. This is done through one-year voluntary programmes that include building educational spaces within schools which act as laboratories for learning about the SDGs, building community gardens, classrooms with low cost ecology construction techniques, solar plants, compost systems and improving communal spaces with murals which are also directed to inspire girls particularly to study science, technology, engineering, and mathematics.
Catering for a variety of needs
Project Manager Christhian Verdugo said: 'We work with a huge variety of different communities, urban and rural, including different ethnic groups, indigenous people, and populations who have suffered violence and displacement."
'Everyone's needs are different. In Bogota, we have many people who have fled guerrilla conflict to restart their lives and need employment. In urban areas, the need might be for sustainable agriculture or we might teach people how to turn garbage into ecobricks for fuel. In particularly arid regions like Cartagena where there is little soil, hydroponic growing can make an enormous difference. Indigenous communities may suffer social issues like food insecurity.'
Since its inception, Pacto Planeta has taken part in more than 350 corporate volunteer activities in 12 provinces of Colombia working with communities, teachers, students from early childhood and their parents. It also participated in two UN Youth Assemblies in New York.
The LEDS project is currently financed by private business and the plan for 2018 is to secure funding from large business foundations. By 2020, Pacto Planeta will be present in 20 % of public schools in Colombia and is already looking to expand.
'Last year I was in the UN Assembly and shared our work with many Guatemalan friends and colleagues who have the same vision. Many of the problems and social issues they are facing are the same as in Colombia. We plan to spread the work we are doing here to Guatemala where there are already similar projects.'
For Christhian, the greatest challenge remains convincing people whose lives have been scarred by conflict to believe in sustainable development values.
'The easiest to convince are children and young people who are open and responsive to the work that is needed to be done to reach the targets of the SDGs," he said.
Children who have taken part in growing their own gardens or managing water wisely easily take up leadership roles in their local environments and become adults who promote sustainable solutions.
'The remaining challenge is to convince the 30 to 40-year-olds who are poor and living in areas which have suffered from guerrilla conflict. They are suspicious about everything,' Christhian said.
And there is a need to prepare for the future.
'The end of the conflict in several regions of Colombia will lead to the creation of new population centres and the development of small economic centres, which is why new generations living in these regions should be made aware of sustainable alternatives for developing their communities in post-conflict scenarios,' he said.
Source: UNICEF
Promoting food production that values ecosystems
Kenya is looking to develop agricultural activity that recognizes the benefits of biodiversity and climate-friendly land management.
UN Environment and the National Museums of Kenya have agreed to work together to develop policy reforms in agriculture that take into account the value of ecosystems. A scoping workshop for the three-year German-funded project entitled Supporting Biodiversity and Climate-friendly Land Management in Agricultural Landscapes will take place on 21-22 February 2018. Other collaborating countries are Colombia, Tanzania and Thailand.
Within UN Environment the project is being led by The Economics of Ecosystems and Biodiversity (TEEB) unit, which focuses on "making nature's values visible".
The project seeks to:
mainstream the values of biodiversity and ecosystem services into decision-making at all levels
help decision-makers recognize the wide range of benefits provided by ecosystems and biodiversity.
demonstrate their value in economic terms.
Agriculture is at the centre of human well-being and sustainable development. It has influenced our value systems, our cultural heritage, the structure and location of our communities, and the development of other sectors in the economy.
However, the ties between food systems and human health and cultural heritage are increasingly becoming invisible, as are the impacts our production systems are having on nature. This invisibility discourages stewardship of our natural resources and fosters their unsustainable use, generating negative impacts for both present and future generations.
2015 TEEB for Agriculture and Food (TEEBAgriFood) Interim Report seeks to explain the complex links between ecosystems, agriculture and the food we eat. It provides insights into the importance of ecosystems and biodiversity, and the (visible and invisible) impacts of different production systems on human and ecological well-being.
Much of the project's work will focus on building national, regional and local government capacity to produce tailored economic assessments of ecosystems. The ecosystems and agricultural landscapes that are critical to policy will be chosen at the workshop.
The project will consolidate guidance and training for TEEB national implementation; provide technical support on valuation and accounting for specific national-level TEEB projects; and enhance the communication and dissemination of TEEB results.
5 ways the United Kingdom is leading the fight against plastic pollution
We're only two months into 2018, but this year has already seen a number of concrete steps to combat plastic pollution in the United Kingdom. Changing public opinion, along with new restrictions on sending plastics to China (which previously took in 66 per cent of the UK's plastic waste), have forced businesses and government bodies to reconsider traditional strategies for dealing with discarded plastic.
1. Queen Elizabeth bans disposable plastic
Buckingham Palace has implemented a plan to phase out the use of disposable plastics at royal estates. The new waste plan calls for ending the use of plastic straws and bottles in public and private dining areas. Additionally, biodegradable takeaway containers will be introduced. The Queen was reportedly inspired after working on a wildlife film with Sir David Attenborough, whose recent involvement in the BBC series Blue Planet 2 has been praised for bringing greater attention to the issue of plastic pollution in the world's oceans.
2. Restaurants ditch plastic straws
An increasing number of UK restaurants and pubs are joining the global movement to end the use of plastic straws. Chains such as Costa Coffee, Pizza Express, Wagamama restaurants, and Wetherspoons have all put plans into place to phase out the use of non-biodegradable drinking straws in 2018. A number of independent establishments have also followed suit, encouraging customers to forego the straw or use a biodegradable one.
3. Scotland announces nationwide bans
While many companies and individuals have made great progress by phasing out plastic straws, the British nation of Scotland took it a step further by announcing plans for a countrywide ban on straws, which will be developed this year. This came on the heels of a previous announcement in January to ban the sale and manufacture of plastic cotton buds, which will be phased out over the course of 2018.
4. The UK says no to microbeads
In January, a government ban on plastic microbeads officially went into effect. The miniature plastic particles are widely used in cosmetics, soaps, and toothpastes, and due to their small size, can slip through treatment plants and pollute rivers and lakes. The first phase of the ban prevents the plastics from being used in the making of cosmetics and cleaning products, followed by a complete sales ban in July. This law follows similar ones passed by the United States, Canada, and Ireland, as well as moves by global cosmetics companies to phase out the use of such products.
5. Supermarkets go plastic free
In January the UK supermarket chain Iceland made headlines when it announced plans to eliminate plastic packaging for all Iceland branded products. The company released a five-year strategy that calls for introducing paper and pulp food containers, as well as paper bags, all of which can be returned to in-store recycling facilities. The company has already banned plastic straws and is beginning to introduce the new packaging over the next couple of months. Other companies such as Tesco and Aldi UK have announced similar plans, a response to increased demands from shoppers for environmental responsibility.
This article was originally published by UN Environment
India to host World Environment Day 2018
Today, Dr. Harsh Vardhan, Minister of Environment, Forest and Climate Change, and Erik Solheim, United Nations Under-Secretary-General and Head of UN Environment, jointly announced that India will be hosting the global World Environment Day celebrations on 5 June 2018.
"Beat Plastic Pollution", the theme for World Environment 2018, urges governments, industry, communities, and individuals to come together and explore sustainable alternatives and urgently reduce the production and excessive use of single-use plastic polluting our oceans, damaging marine life and threatening human health.
"India is excited to host the World Environment Day this year on June 5. Indian philosophy and lifestyle has long been rooted in the concept of co-existence with nature. We are committed to making Planet Earth a cleaner and greener place", said Dr. Harsh Vardhan.
He added: "If each and every one of us does at least one green good deed daily towards our Green Social Responsibility, there will be billions of green good deeds daily on the planet."
The Government of India has committed to organizing and promoting the World Environment Day celebrations through a series of engaging activities and events generating strong public interest and participation. From pan-Indian plastic clean-up drives in public areas, national reserves and forests to simultaneous beach clean-up activities – India will lead the initiative by setting an example.
"India will be a great global host of 2018's World Environment Day celebrations," said Erik Solheim at the announcement on Monday.
He added: "The country has demonstrated tremendous global leadership on climate change and the need to shift to a low carbon economy, and India will now help galvanize greater action on plastics pollution. It's a global emergency affecting every aspect of our lives. It's in the water we drink and the food we eat. It's destroying our beaches and oceans. India will now be leading the push to save our oceans and planet."
India is emerging as a leader, given it has one of the highest recycling rates in the world. It can be instrumental in combating plastic pollution. By hosting World Environment Day 2018, the Indian government is accelerating its leadership on an issue of tremendous magnitude.
World Environment Day is a UN Environment-led global event, the single largest celebration of our environment each year, which takes place on June 5 and is celebrated by thousands of communities worldwide.
Since it began in 1972, it has grown to become a global platform for public outreach that is widely celebrated across the globe.
Most of all, World Environment Day is a day of everyone around the world to take ownership of their environment and to actively engage in the protection of our earth.
Plastic Pollution facts:
Every year the world uses 500 billion plastic bags
Each year, at least 8 million tonnes of plastic end up in the oceans, the equivalent of a full garbage truck every minute.
In the last decade, we produced more plastic than in the whole last century
50 percent of the plastic we use is single-use or disposable
We buy 1 million plastic bottles every minute
Plastic makes up 10% of all of the waste we generate