UN Environment and WHO agree to major collaboration on environmental health risks
UN Environment and the World Health Organization have agreed a new, wide-ranging collaboration to accelerate action to curb environmental health risks that cause an estimated 12.6 million deaths a year.
Today in Nairobi, Mr. Erik Solheim, head of UN Environment, and Dr. Tedros Adhanom Ghebreyesus, Director-General of WHO, signed an agreement to step up joint actions to combat air pollution, climate change and antimicrobial resistance, as well as improve coordination on waste and chemicals management, water quality, and food and nutrition issues. The collaboration also includes joint management of the BreatheLife advocacy campaign to reduce air pollution for multiple climate, environment and health benefits.
Although the two agencies cooperate in a range of areas, this represents the most significant formal agreement on joint action across the spectrum of environment and health issues in over 15 years.
"There is an urgent need for our two agencies to work more closely together to address the critical threats to environmental sustainability and climate – which are the foundations for life on this planet.  This new agreement recognizes that sober reality," said UN Environment's Solheim.
He added: "Most of these deaths occur in developing countries in Asia, Africa and Latin America where environmental pollution takes its biggest health toll."
The new collaboration creates a more systematic framework for joint research, development of tools and guidance, capacity building, monitoring of Sustainable Development Goals, global and regional partnerships, and support to regional health and environment fora.
The two agencies will develop a joint work programme and hold an annual high-level meeting to evaluate progress and make recommendations for continued collaboration.
The WHO-UN Environment collaboration follows a Ministerial Declaration on Health, Environment and Climate Change calling for the creation of a global "Health, Environment and Climate Change" Coalition, at the United Nations Framework Convention on Climate Change (UNFCCC) COP 22 in Marrakesh, Morocco in 2016.
Just last month, under the overarching topic "Towards a Pollution-Free Planet", the United Nations Environment Assembly (UNEA), which convenes environment ministers worldwide, adopted a resolution on Environment and Health, called for expanded partnerships with relevant UN agencies and partners, and for an implementation plan to tackle pollution.
Focus on GDP Fuelling Inequality and Short-Termism
Decades of prioritizing economic growth over social equity has led to historically high levels of wealth and income inequality and caused governments to miss out on a virtuous circle in which growth is strengthened by being shared more widely and generated without unduly straining the environment or burdening future generations. These are the findings from the World Economic Forum's Inclusive Development Index 2018, which is released today.
Excessive reliance by economists and policy-makers on gross domestic product as the primary metric of national economic performance is part of the problem, since GDP measures current production of goods and services rather than the extent to which it contributes to broad socio-economic progress as manifested in median household income, employment opportunity, economic security and quality of life.
The Inclusive Development Index is an annual assessment that measures how 103 countries perform on 11 dimensions of economic progress in addition to GDP. It has three pillars: growth and development; inclusion; and intergenerational equity – sustainable stewardship of natural and financial resources.
According to this year's index, over the past five years, the 29 advanced economies included in the study have on average flatlined in terms of inclusion, which is measured by median household income, poverty, and wealth and income inequality, despite boosting their Growth and Development score by over 3%. The four indicators that make up the index's Growth and Development pillar are: GDP per capita; labour productivity; employment; and healthy life expectancy.
Over the same period, only 12 of the 29 advanced economies were successful in reducing poverty and only eight saw a decrease in income inequality.
More worrying still: rich and poor countries alike are struggling to protect future generations. The index's Intergenerational Equity and Sustainability pillar – which takes into account public debt; carbon intensity of GDP; dependency ratio and adjusted net savings (which measures savings in an economy after investments in human capital, depletion of natural resources and the cost of pollution) – actually deteriorated in upper-, middle- and low-income economies since 2012 and improved only marginally (0.6%) in advanced economies.
Top performing countries
According to the index, the most inclusive advanced economy in the world in 2018 is Norway. The Nordic nation ranks second overall for intergenerational equity and third for the two other pillars of the index: Growth and Development, and Inclusion. Small European economies dominate the top of the index, with Australia (9) the only non-European economy in the top 10.
Of the G7 economies, Germany (12) ranks the highest. It is followed by Canada (17), France (18), the United Kingdom (21), the United States (23), Japan (24) and Italy (27). In many countries, there is a stark difference between individual pillars. For example, the US ranks 10 out of 29 for Growth and Development; however, it ranks 28 on Inclusion and 26 on Intergenerational Equity. France, on the other hand, fares less well on Growth and Development (21 out of 29); however, it ranks 12 for Inclusion. Its low ranking on Intergenerational Equity (24) suggests it may be storing up problems for the future.
Six emerging European economies are located in the top 10 spots in the emerging economies' ranking: Lithuania (1), Hungary (2), Latvia (4), Poland (5), Croatia (7) and Romania (10). These countries perform well on Growth and Development, benefiting from EU membership, as well as on inclusion indicators, as median living standards rose and wealth inequality declined significantly. Latin America also performs well, with three countries featured in the top 10: Panama (6), Uruguay (8) and Chile (9).
Performance is mixed among BRICS economies, with the Russian Federation ranking 19th, followed by China (26), Brazil (37), India (62) and South Africa (69). Although China ranks first among emerging economies in GDP per capita growth (6.8%) and labour productivity growth (6.7%) since 2012, its overall score is brought down by lacklustre performance on Inclusion. Other emerging countries such as Mexico (24), Indonesia (36), Turkey (16) and the Philippines (38) show more potential on Intergenerational Equity and Sustainability but lack progress on Inclusion indicators such as income and wealth inequality.
Key findings and policy implications
IDI data suggest that relatively strong GDP growth cannot be relied upon by itself to generate inclusive socio-economic progress and rising median living standards. All but three advanced countries have experienced GDP growth over the last five years, but only 10 of 29 have registered clear progress in the IDI's Inclusion pillar. A majority, 16 of 29, have seen Inclusion deteriorate, and the remaining three have remained stable. A majority of those countries with the best GDP growth performance failed to improve on Inclusion. This pattern is repeated in the relationship between GDP growth and performance on Intergenerational Equity and Sustainability with 11 of 29 showing clear progress and 18 of 29 deteriorating.
Emerging -country data show a similar disconnect between GDP growth and Inclusion. Of the 30 emerging economies with the highest GDP per capita growth over the past five years, only six have scored similarly well on a majority of the Inclusion indicators, while 13 have been no better than mediocre and 11 have registered outright poor performance. With respect to Intergenerational Equity, only eight have scored similarly well on a majority of the Intergenerational Equity and Sustainability indicators, while 12 have been no better than mediocre and 10 have registered outright poor performance.
This evidence suggests that GDP growth is a necessary but not sufficient condition for achievement of the broad-based progress in living standards by which most people judge countries' economic success. This message is particularly relevant at a time when global economic growth is returning to a more robust level and policy-makers could do more to future-proof their economies and make them more equitable. Political and business leaders should not expect higher growth to be a panacea for the social frustrations, including those of younger generations who have shaken the politics of many countries in recent years.
"Economic growth as measured by GDP is best understood as a top-line measure of national economic performance. Broad, sustainable progress in living standards is the bottom-line result societies expect. Policy-makers need a new dashboard focused more specifically on this purpose. It could help them to pay greater attention to structural and institutional aspects of economic policy that are important for diffusing prosperity and opportunity and making sure these are preserved for younger and future generations," said Richard Samans, Managing Director and Head of Global Agenda at the World Economic Forum.
About the Inclusive Development Index
The IDI is a project of the World Economic Forum's System Initiative on Shaping the Future of Economic Progress, which aims to inform and enable sustained and inclusive economic progress through deepened public-private cooperation, thought leadership and analysis, strategic dialogue and concrete cooperation, including by accelerating social impact through corporate action.
Connecting Armenia's Regions with Technology to Ensure Greater Opportunities for Young People
Just over two months ago, an economist, an IT specialist, a historian and a linguist teamed up at the Vanadzor Technology Center to establish a startup for developing mobile applications. Their first creation, "Digital Menu", is an app that will help customers in restaurants and cafes to choose dishes and pay online, and it has already started attracting potential clients.
Irina Ghazazyan, a former historian, is the team lead and the driving force behind the startup. She describes how her life has taken a whole new direction since the opening of the Vanadzor Technology Center in late 2016. "We learned programming, set up our own venture, and found space for work and business opportunities," says Irina.
Vanadzor is the third largest city in northern Armenia and the capital of Lori province. Like other urban areas beyond the country's capital Yerevan, the city has suffered from industrial decline. Today, its landscape blighted by a huge Soviet-era chemical plant, Vanadzor experiences especially high rates of poverty and long-term youth unemployment.
Patvakan Hakhinyan left Yerevan for Vanadzor some years ago and is today the Business Development Manager for Vanadzor Technology Center. He proudly shows visitors the Center's labs, shares success stories, and outlines the opportunities that the Center provides to the young generation in Lori region.
"It was obvious that the Center would become an educational hub that offered consultations and workshops, and would house startups and businesses," says Patvakan. "We are changing the profile of Vanadzor by filling the gap in the quality of IT education and providing new prospects in the city and the region."
So far, eight companies have opened their offices at the Center, their work ranging from IT to architecture.
"Our training courses are identifying more and more young talent, although the companies that want to open in Vanadzor are also looking for professionals with experience. We need time and patience, but we are on the right track," says Patvakan.
Hi-Tech Gateway is one of the pioneer companies at the Center. A branch of the American company, ConnectTo, it focuses on research and creating new technologies for the market. Svetlana Jaghatspanian, the company's team leader, says that the possibilities and services provided by the Center can really help their business to grow. They have hired 30 people so far, while another 8 will be employed soon.
"The Center is unique for Vanadzor, as it is where young people can put their dreams into action," Svetlana says.
Each month, around 40 people participate in training sessions at the Vanadzor Technology Center. In addition to the trainers based there, professional trainers travel to Vanadzor from Yerevan – they discuss market requirements with participants and outline the knowledge and skills required for employability. The young students are so focused and attentive, they even turn off their phones for a while!
Omni Code, another growing company, provides web services and hosts workshops and training courses. "After our classes, four people got jobs, and seven more will join us in the next round," says Yuri Virabyan, co-founder of Omni Code.
The Vanadzor Technology Center is open to anyone who is creative and wants to grow professionally – people like Babken Mkhitaryan and Arman Vardanyan, each of whom has a space and a computer at the Center. "We are working on an app that will connect taxi services to their customers," says Babken. "This will be a more competitive, multifunctional and comprehensive app than the ones currently available on the market."
The Center is a safe, supportive and fun environment where young people can come together as a community to learn and explore opportunities for future employment. Starting from the age of 10, children can learn the basics of programming. Almost 3,000 students from the region have so far attended these classes.
Vahe Aloyan is a 16-year-old high school student and he also works for the company X-Tech. A true polyglot, he knows eight programming languages. At the age of 14, Vahe designed his first game and won a contest organized by the Vanadzor Technology Center. His second game won an award for best design.
"My desire is to work for a company that produces only games," Vahe says. "But my biggest dream is to see the gaming industry in Armenia fully developed and supporting the economy."
In Shirak region, the Gyumri Technology Center (GTC), established four years ago with support from the World Bank's E-Society and Innovation for Competitiveness project, has been very successful. Currently, the GTC houses 28 companies with over 200 employees and up to 2,000 students, and has business connections with over 10 countries. It is not a local phenomenon, but a regional IT hub.
The Vanadzor Technology Center could follow the same path to success.
Both Technology Centers demonstrate the empowerment of regional development beyond the capital city, and wide-ranging decentralization of the IT industry to the provinces. The right mix of skills and talent is being created locally and nationally, through investments that are economically and socially rewarding.
Source: World Bank
Advocacy for Quality Education for All in Africa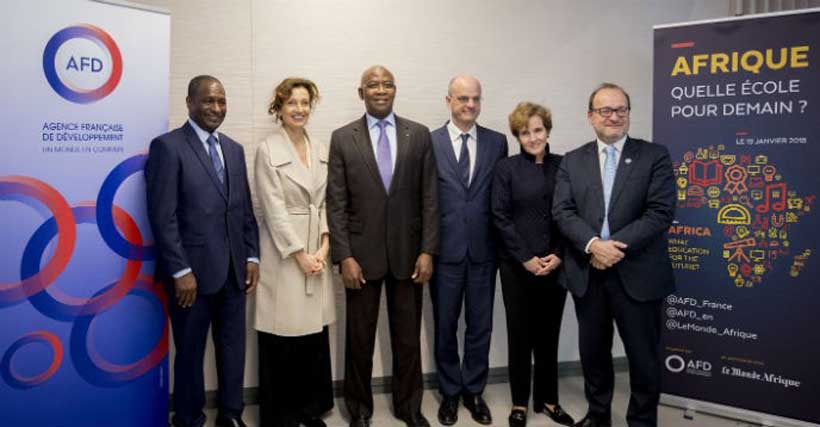 UNESCO Director-General, Audrey Azoulay, advocated for education as a priority investment for sustainable development at a conference organized by the French Development Agency (AFD) in Paris on 19 January 2018.
During a round table with the Ministers of Education of Senegal, Serigne Mbaye Thiam, and France, Jean-Michel Blanquer, as well as the CEO of the Global Partnership for Education, Alice Patricia Albright, the Director-General outlined priorities to meet the challenges of educational access and quality in a region that still counts 32 million out-of-school children and faces advancing urbanization as well as conflict and crises situations.
To implement the 2030 Education Agenda, the Director-General outlined three priorities for Africa. First, the relevance of teaching and learning, right through to higher education. This involves adapting curricula and pedagogies, training teachers and drawing on new knowledge from the field of cognitive sciences.
The second priority is to better articulate education, health and employment policies, while the third priority focuses on the transmission of values for responsible citizenship and peace education. In this regard, the Director-General shared UNESCO's initiative, led with with African Ministers of Education, to develop educational content based on the ten volumes of The General History of Africa.
In all of these dimensions, the Director-General stressed that priority attention should be given to gender equality, in particular to the education of young adolescent girls.
"The challenges are immense and we must all contribute through our mandates. UNESCO coordinates Sustainable Development Goal 4 and focuses on its added value: supporting public policies, sharing innovation and research, collecting statistical data and monitoring results," concluded the Director-General.
The event, opened by the Director- General of the French Development Agency, Rémi Rioux, was held in preparation for the Global Partnership for Education's Replenishment Conference, to be co-hosted by France and Senegal, in Dakar on 1 and 2 February, in which UNESCO will participate. This conference is a unique opportunity to increase international mobilization and aid to education, which has been steadily decreasing since 2009.