If the Nile is Cairo's ailing heart, then polluted skies are its black lungs.
Choking the city with swirling dust from the early hours, they cake the towering apartment blocks with muck and blanket the Great Pyramids in an impenetrable haze. Air-conditioning units clog up, no longer able to fend off the filth; asthmatics often stay indoors – prisoners in their own homes.
For shopkeepers on Cairo's biggest, most heavily-trafficked thoroughfares life can seem like a perpetual battle to breathe. "I don't even smoke, but on some days it feels like I do!" said Hassan Sabry Mohammed, a fruit vendor in the downtown district, as he doused the surrounding sidewalk with water to keep the dust down.
He's not alone. With some 20 million people crammed into a relatively compact space, Cairo was never going to have the cleanest air. No one, however, anticipated how bleak the situation has become. Rates of respiratory disease have soared, adding to the burden on the state's already-ailing hospitals. The economy is taking a pummelling, with poor air quality knocking off at least one per cent of gross domestic product every year, according to the World Bank. Pollution is even changing the capital's make up, as some young families gravitate towards the fast expanding satellite cities in pursuit of cleaner air. 'Live Fresh', scream highway billboards for a new desert compound. After years of stalled clean-up efforts, those who remain appear resigned to the conditions.
But for the first time in a while, there is some hope that Egypt's mega metropolis might be getting to grips with its bad breath. Public transport projects are progressing at their fastest pace in almost a decade, while authorities appear to be slowly reining in illegal agricultural waste fires. This year's 'Black Cloud', the annual burning of the rice straw in the Nile Delta, was less noxious than in past years. Most importantly, perhaps, a growing cadre of entrepreneurs, start-ups, and business leaders are turning their talents to tackling some of their hometown's most debilitating woes. If cities like London, afflicted by the 'Great Smog' in the 1950s, could clean up their act, why can't Cairo? "When I opened this place I thought I could make nice things from something that would otherwise just be burnt," said Enas Khamis, whose non-profit group, Nafeza, employs deaf people to make arts and crafts out of rice straw. "So you're helping people and the environment."
Though among the most polluted cities of its size, Cairo and its residents are far from unique. Globally, only 12 per cent of urban areas meet the World Health Organization's air quality standards. And at least one in nine deaths can be traced back to air pollution, or roughly seven million people a year. But while most cities suffer from some kind of air quality-related woe, it's particularly problematic in many developing countries. Rapid urbanization, weak enforcement of environmental regulations and cheaper fuels have left hundreds of millions of poorer urbanites vulnerable to bad air. As populations continue to boom, often overwhelming services, experts say officials and citizens alike will have to pull out all the stops to tackle these crises. "There is increasing awareness, and more knowledge on the issue of air quality on a global scale, despite the lack of data in some regions. We also know a lot more about solutions now," says Soraya Smaoun, a senior air quality specialist at UN Environment. "But I think a lot more pressure is needed to keep the momentum on."
Farms to factories
Cairo is something of a classic case. Once a relative oasis of green along the Nile, its pollution problems have surged along with its population. The skyline has bulged, as developers race to accommodate numbers that have more than tripled since the 1970s. With narrow streets between most of the tower blocks, there's nowhere for the toxins to go. Almost all of the city's trees, its most effective dust sponges, have disappeared under the concrete, as has much of the surrounding agricultural land. Up to 30,000 acres of greenery is lost to urban sprawl across the country every year, so there's even less of a barrier when regular blobs of sand and occasional storms blow in off the nearby Sahara. And like Tehran and Los Angeles, both of which suffer from varying degrees of poor air quality and which are at least partly surrounded by mountains, Cairo's topography doesn't always help either. The Mokattam hills, above the citadel to the city's southeast, prevent the prevailing northerly winds from blowing away as much of the filth.
Into this already potent mix has come a growing mass of car and factory emissions. The number of vehicles in Egypt grew from seven to eight million between 2013 and 2014 alone, but neither Cairo's roads nor its vehicle inspection standards have kept pace. Air quality is noticeably better during the school holidays when there are fewer trips. And among industry, too, there's been a barely-controlled boom – often within densely populated neighborhoods. From Helwan's massive brickworks and iron and steel works in the south to Shubra Al-Kheima's sprawling smelters and chemical plants in the north, the city is now practically ringed by big-time polluters. Few of them seem to be sticking to the rules. "At the moment, industry is violating every imaginable industrial regulation," said Laila Eskander, a former minister of the environment. "And no one is even talking about the quality of fuel."
And then there's the burning of agricultural waste. Every year, between September and November, long plumes of toxic smoke waft down to Cairo from the Nile Delta, leaving a cancerous trail of chronic respiratory problems in their wake. Unable to easily dispose of the detritus from their rice crops – and with nowhere to stash it on their small plots of land, many farmers torch the straw, despite a government ban. These fires, which are so big they can be seen from space, now account for almost half the country's air pollution, the Ministry of Environment says.
Black lungs to bicycles
Unsurprisingly, all of this has exacted a grave public health toll. Roughly 40,000 people are dying from pollution-related problems across Egypt every year, according to Breathe Life 2030, a joint initiative of the World Health Organization, UN Environment and the Climate and Clean Air Coalition to boost awareness of air pollution. And among the living, bleak air quality is saddling more and more Cairenes with severe medical woes. "There's narrowing of the airways, increasing risk of infection, more bronchial spasms, lung infections, pneumonia," said Mahmoud El-Zorkany, a professor of chest diseases at Cairo University. "It's only getting worse." In November last year, Cairo American College, a private school in the Maadi district, sent out air quality warning emails on 11 occasions, often shifting sports sessions indoors when the conditions were too grim.
There is, nevertheless, some reason to believe Egypt might be turning the corner. Because for all the challenges, there are at least some partial solutions on the table. Cairo's third metro line, another much-needed link across the traffic-clogged Nile, is steaming ahead after some lengthy stoppages. A number of start-ups, like Swvl and Bus Pooling, have sprung up, intent on pushing private car owners into more sustainable modes of transport. Cycling, too, appears to be experiencing something of a boom, leading some environmentalists to wonder whether Cairo might one day take to two wheelers in serious numbers. "The idea was that the city is swelling with cars, and that the air quality is really bad and really exhausting for everyone," said Moustafa Darsh Hussein, a former organizer at the Cairo Cyclists' Club and a team member at the Green Arm, an environmental think tank. "We were thinking what can we do, and thought that if people use bikes instead of cars that might be a good solution in the long run." He and his colleagues are busily installing bike racks at some metro stations and lobbying local authorities to mark out cycling lanes.
Even more pressingly, perhaps, the public and private sectors both appear to have come up with some solutions to the rice straw-burning epidemic. An architect, Essam Hosni, has designed building blocks out of the straw, possibly providing an answer to Egypt's lack of affordable construction materials in the process. "It's converting this problem to our benefit!" he says. Potters in the capital's Old Cairo district have taken to packing their delicate wares with rice straw; some small businesses collect it, consolidate it, and sell it to the cement industry. And after years of negotiation, the Ministry of Agriculture seems close to agreeing a deal with farmers, whereby they would be paid to deliver their straw to government depots.
On a global level, too, the international community, including UN Environment, is devoting more attention and resources to confronting what's now considered the world's biggest environmental health risk. UN Environment and the World Health Organization have partnered to evaluate and work out how to better monitor the health implications of poor air quality. Starting with Addis Ababa, Nairobi and Kigali, UN Environment will also begin providing support for urban air pollution management systems. In a reflection of the urgency with which experts believe this problem must be tackled, the 2017UN Environment Assembly focused on pollution.There, experts are keen to push the idea that polluted cities, like the Egyptian capital, can transform their fortunes, and without breaking the bank.
"There are some low-hanging fruits. It's not necessary to always use sophisticated technologies to monitor air quality and have complicated policies if they are not enforced," says UN Environment's Soraya Smaoun. "There are local solutions to monitor and manage air involving a wide range of stakeholders in sectors such as clean and sustainable transportation, waste management, cleaner industries to name a few. This is something that cities like Cairo can work on."
WhatsApp-ening with Forests and Climate in Togo?
After years of working in environmental protection in Togo, Brigitte Acakpo-Addra identified a problem in need of an innovative solution. While the country was making encouraging strides to reduce its emissions from deforestation and forest degradation (REDD+), women weren't adequately integrated into REDD+ activities and decision making. They didn't feel that they had proper access to capacity-building to help them deal with climate change, land tenure and the negative impacts of deforestation.
Given Togolese women's significant role in forestry and natural resource management, and their dependence on forest resources for food, fuel and medicines, Acakpo-Addra knew something had to change. In 2016, she founded Le Consortium Femmes REDD+ Togo (CF-REDD+) – a national platform that brings together members from women's organizations in forest governance. CF-REDD+ is composed of 62 members, ranging in age from 30 to 60 years old, who come from the five administrative regions of the country.
Acakpo-Addra soon realized it would be difficult to bring this geographically-dispersed group together on a regular basis. That's when she got the idea to start using the mobile application WhatsApp. CF-REDD+ now uses the social media tool to host weekly meetings on activities, capacity-building trainings, and urgent information related to forest conservation in Togo. These remote meetings are guided via text by either Acakpo-Addra or CF-REDD+'s support staff, and are now well-attended, with an average of 64% of the group's participants engaging in each meeting.
The weekly WhatsApp meetings have helped improve CF-REDD+ member's knowledge of climate change and the status of forest emission reductions in Togo. This communications solution has increased women's involvement, enabling them to integrate forest conservation activities into their grassroots women's organizations.
"My participation in the WhatsApp group meetings allow me to better understand climate change and the validity of the REDD+ process in Togo. And I can share this knowledge in other community meetings and with my organization," says Kokoe Mawulolo Logosu-Teko, CF-REDD+ member.
The weekly WhatsApp meetings have also helped to coordinate CF-REDD+ initiatives over the past year. In May of 2017, the consortium went on a national awareness tour in 60 communities (reaching close to 7,000 women and 300 men) to promote forest-friendly practices, including improved cookstoves, to limit charcoal use.
"These events gave women confidence to believe they are change-makers who have the power to help reduce greenhouse gases, and increase women's representation in REDD+ efforts," says Acakpo-Addra.
Acakpo-Addra was recently appointed to represent women in Togo's National REDD+ Committee, which is the highest decision-making body for REDD+ in the country. Moving forward, she hopes to continue forest-friendly demonstrations in more communities, as well as setting up monitoring committees in villages, and assist countries, including Burkina Faso and Madagascar, in developing women's platforms for sustainable forest management.
World Bank's work on gender and forest conservation
CF-REDD+ should be proud for taking steps to fight deforestation in Togo, and recognize women's socioeconomic role in the process. The experience of CF-REDD+ provides a great example for other countries seeking to further engage women in forest conservation.
The World Bank's Forest Carbon Partnership Facility (FCPF) continues to align its work with the Bank's Gender Equality Strategy (FY16–23), to ensure women are treated as partners in the design and implementation of forest conservation initiatives. The Bank's Gender Strategy and its associated Action Plan are helping the FCPF work with participating countries to find new entry points to mainstream and track gender considerations in REDD+ and larger emission reductions programs.
This initiative in Togo is providing good lessons for the FCPF's future gender work. It's a real-world example of how REDD+ is not just a commitment to reduce the carbon footprint from forests, but also a gateway to embed social inclusion and gender equality in sustainable development.
Source: World Bank
Flagship Afghan Rural Program Lays Strong Foundation for the Future
The azan sounds from the village mosque as people gather for the noontime prayer. Shir Khan, 39, leaves off working on his crops and walks past fields of ripening wheat, across the flowing waters of the irrigation canal, toward the village mosque.
It has been more than 15 years since Shir Khan returned from Pakistan to his native village, Melani Kalay, more than 15 kilometers west of Khost city in southeastern Afghanistan. Nestled in a broad sweeping valley, and surrounded by bare brown hills, the inhabitants of the village have long endured both floods and water shortages. In recent years, however, they have seen a great deal of improvement in their lives with the help of the National Solidarity Programme (NSP).
Some 15 years ago the village had no irrigation canal nor enough water for its people. The farmlands in the village were dry, especially in summer, the peak growing season, and locals had to work as day laborers in neighboring villages or venture out to the provincial capital of Khost city to earn a bare living.
"We had no water to irrigate our lands," remembers Shir Khan, who farms a tiny patch of land (2 jeribs or 0.4 hectare) in the village. "As all the male villagers worked as unskilled agricultural laborers and there was never enough labor, we never had enough money to look after our families." The irrigation canal, he says, has greatly improved the situation.
"The irrigation canal is a lifeline for us," says Besmillah, 40, a farmer and another CDC member. "Our financial situation has steadily improved since the canal was built. Now most people work on their own farms and some even take their produce to sell in the market."
Today, the canal irrigates large tracts of village farmland (56 hectares) with pomegranates and walnuts accounting for the largest share of horticultural production. The villagers also grow wheat, maize, alfalfa, and clover, and crop yields have risen. All told, more than 290 families have benefitted from the canal.
The five-kilometer long canal was one of the results of the NSP. The NSP not only brought village communities together but also empowered them to identify, plan, manage, and monitor their own projects through their local Community Development Council (CDC).
Apart from the much-needed canal — built at a cost of about 1.5 million afghanis ($22,000) — the NSP also enabled the villagers to construct a series of walls to protect their lands from flooding in the winter, spending 1.9 million afghanis ($28,000) on the effort. Each time, the villagers contributed 10 percent to the project costs. Following this, the NSP gave the village a grant of 640,000 afghanis ($9,600) for the repair maintenance of the canal, under its Maintenance Cash Grants (MCG) sub-program.
Importantly, the NSP helped village communities resolve any conflicts or problems that arose amongst them. "The NSP was our project and we had a deep respect for it," says Besmillah.  "It not only gave us many things like roads and schools, it also established CDCs and unified us."
"Melani Kalay inhabitants now gather in the mosque to make decisions, solve conflicts, and resolve other matters related to the village," adds Haji Pir Salimuddin, another member of the local CDC. "This has now become normal for them."
Building on the NSP
The NSP, which ran for thirteen years and closed in March 2017, helped communities across Afghanistan build roads and schools, and bring drinking water, irrigation, and electricity to their villages. "We can say that a significant number of the basic needs of the people in the communities covered by NSP in the province have been met though the NSP," says Engineer Sayed Ghaffar, monitoring and evaluation officer in Khost province.
The NSP has now been succeeded by the Citizens' Charter Afghanistan Project (CCAP). The CCAP seeks to strengthen the CDCs and aims to bring infrastructure and social services for 10 million people in all the country's 34 provinces and four large municipalities over the next four years.
The Citizens Charter is an inter-ministerial, multi-sectorial NPP, where Ministries have collaborated to provide basic services to rural communities. The key service delivery ministries involved are: Ministry of Rural Rehabilitation and Development (MRRD), Ministry of Education (MoE), Ministry of Public Health (MoPH) and Ministry of Agriculture, Irrigation and Livestock (MAIL), with oversight by Ministry of Finance (MoF). MRRD has a key role and will be responsible for infrastructural development and strengthening CDCs and Cluster CDCs.
"I know that NSP is now being succeeded by the new project – CCAP," says Besmillah, who is hopeful for the future. "Under the new project, we will implement bigger projects, which would hopefully benefit more people."
After more than a decade of experience in project implementation and local governance, CDCs will be able to implement projects more efficiently. "We are very happy about the NSP projects and have learned a lot from them, and this will help us to implement the CCAP much better."
NSP was supported by the International Development Association (IDA), the World Bank Group's fund for the poorest countries, the Afghanistan Reconstruction Trust Fund (ARTF), the Japan Social Development Fund (JSDF), and other bilateral donors.
The CCAP, supported by ARTF and IDA and resources from the Afghan Government, has defined a set of core infrastructure and services that the government will provide to all accessible communities. The Citizens' Charter will be the first inter-ministerial program where ministries will collaborate on a single program in both rural and urban areas.
NSP established more than 35,000 CDCs throughout Afghanistan.
In Khost province alone, 1,138 CDCs were established across all the 13 districts.
2,900 NSP projects were implemented in different sectors in this province alone.
Source: World Bank
Life made simpler and sustainable among vulnerable communities in Colombia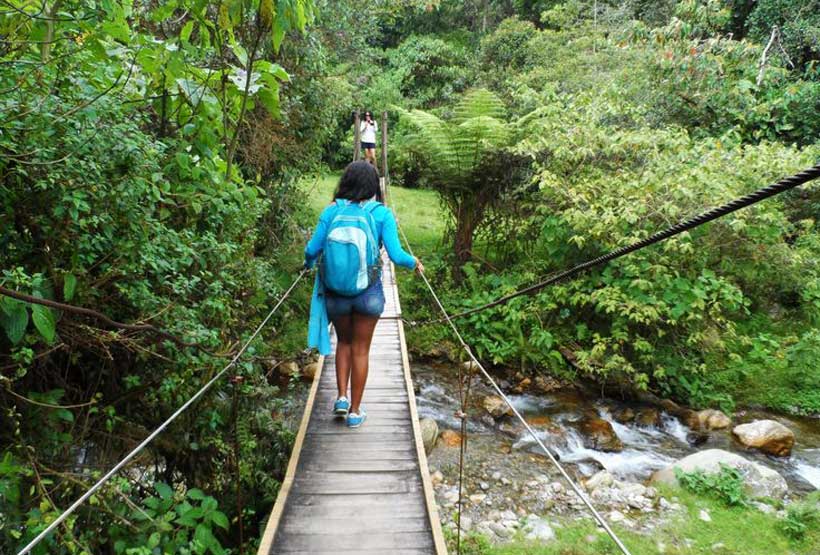 Fishermen who make their living from the Cauca River in the south of Colombia have had their daily task made easier by adapting their traditional rafts to solar power.
That is just one of the concrete sustainable actions enabled by Pacto Planeta  a civil society organization designing, implementing and tracking high impact social and environmental projects in 12 provinces in Colombia. Its main goal is to help organizations with environmental projects to maximise their impact.
The project works closely with School Laboratories for Sustainable Development (LEDS) and has three main action areas: environment and climate change, designing pedagogical notebooks to learn maths and English with exercises based around the Sustainable Development Goals (SDG) and, training of teachers.
The LEDS scheme helps schools in socially vulnerable populations by teaching students about the six SDGs relating to climate change, food security, gender equality and health. This is done through one-year voluntary programmes that include building educational spaces within schools which act as laboratories for learning about the SDGs, building community gardens, classrooms with low cost ecology construction techniques, solar plants, compost systems and improving communal spaces with murals which are also directed to inspire girls particularly to study science, technology, engineering, and mathematics.
Catering for a variety of needs
Project Manager Christhian Verdugo said: 'We work with a huge variety of different communities, urban and rural, including different ethnic groups, indigenous people, and populations who have suffered violence and displacement."
'Everyone's needs are different. In Bogota, we have many people who have fled guerrilla conflict to restart their lives and need employment. In urban areas, the need might be for sustainable agriculture or we might teach people how to turn garbage into ecobricks for fuel. In particularly arid regions like Cartagena where there is little soil, hydroponic growing can make an enormous difference. Indigenous communities may suffer social issues like food insecurity.'
Since its inception, Pacto Planeta has taken part in more than 350 corporate volunteer activities in 12 provinces of Colombia working with communities, teachers, students from early childhood and their parents. It also participated in two UN Youth Assemblies in New York.
The LEDS project is currently financed by private business and the plan for 2018 is to secure funding from large business foundations. By 2020, Pacto Planeta will be present in 20 % of public schools in Colombia and is already looking to expand.
'Last year I was in the UN Assembly and shared our work with many Guatemalan friends and colleagues who have the same vision. Many of the problems and social issues they are facing are the same as in Colombia. We plan to spread the work we are doing here to Guatemala where there are already similar projects.'
For Christhian, the greatest challenge remains convincing people whose lives have been scarred by conflict to believe in sustainable development values.
'The easiest to convince are children and young people who are open and responsive to the work that is needed to be done to reach the targets of the SDGs," he said.
Children who have taken part in growing their own gardens or managing water wisely easily take up leadership roles in their local environments and become adults who promote sustainable solutions.
'The remaining challenge is to convince the 30 to 40-year-olds who are poor and living in areas which have suffered from guerrilla conflict. They are suspicious about everything,' Christhian said.
And there is a need to prepare for the future.
'The end of the conflict in several regions of Colombia will lead to the creation of new population centres and the development of small economic centres, which is why new generations living in these regions should be made aware of sustainable alternatives for developing their communities in post-conflict scenarios,' he said.
Source: UNICEF