Londoners are used to inhaling poison. In Victorian Britain, the sickly brown smog that blanketed the capital was known as a "pea-souper", so thick that on bad days it was impossible to read a book. But it wasn't until the Great Killer Fog of 1952, which lasted a week and killed as many as 12,000 people, that the government finally decided to tackle the miasma that had immiserated Londoners for centuries and earned the city its nickname, "The Big Smoke".
London has struggled to shake off this "badge of dishonour". While air pollution may be less visible today, it is no less deadly. Each day, more than eight million Londoners breathe air that is considered unsafe by the World Health Organization. This means that thousands of the city's residents die prematurely every year because of the nasty cocktail of toxins that have fouled the city's air.
This won't make for pleasant reading, but the reality is that these noxious gases and tiny particles of poison penetrate deep inside our lungs, permanently damaging our bodies. From Ealing to the East End, babies across London are being born earlier than normal, children are growing up with weaker lungs and adults are more likely to die prematurely from heart attacks, strokes, lung cancer and other lung diseases as they age. Studies show that air pollution steals an average of two years from the lives of every child born in London in 2010. This terrible blight, which seeps insidiously into our schools and homes, must be stopped.
Once again, London is in the throes of a major pollution emergency. This time there is a plan to tackle its root causes. We already know what needs to be done to clean up the capital's dirty air. Vehicles cause roughly 50 per cent of the city's air pollution. To improve the health of Londoners, the capital must transform its transport system, removing from its roads the vehicles that are spewing out the most damaging fumes.
This is exactly what London has started to do with its new toxicity charge on the most polluting vehicles comes. As the previous congestion charge has already proved, this should dramatically cut the number of big polluting vehicles and their harmful fumes.
However, this is just the beginning. The mayor has doubled the amount of money the city will spend on tackling smog. He also plans to retrofit 5,000 of London's older buses and introduce new hybrid and electric buses to further cut emissions. The mayor aims to phase out diesel taxis and invest in electric charging ports across the city as part of plans to introduce an ultra-low-emission zone in central London.
These are bold steps that will help London hit its most ambitious target: achieving the WHO's Air Quality Guideline Goals by 2030 – the "gold standard" for air quality. London is the first capital city in the world to commit to this target as part of its pledge to the BreatheLife Campaign, launched by WHO, UN Environment and the Climate and Clean Air coalition. This places it at the vanguard of a growing coalition of cities seeking to combat the devastating impact that air pollution has on our health, our economies and our environment.
Over the last year, more than 100 cities, including Manchester, Washington DC, Medellin and Tshwane, have joined the BreatheLife campaign with public commitments to reduce air pollution, which kills about 6.5 million people around the world every year. The campaign gives cities the tools that are needed to clean the dirty air that plagues their citizens. But we urgently need more cities to join the coalition. This is a global epidemic – and many of the same pollutants that harm our health are also driving climate change.
Never has it been more important for cities to unite to fight the smog. By investing in cleaner forms of transport, improving the way cities are built and switching to greener forms of power, we not only boost the health of our people. We also slow down global warming by reducing "short-lived climate emissions" of black carbon from vehicle emissions and methane from sources like waste dumps. By tackling the key sources of urban air pollution we also reduce carbon dioxide emissions, which persist for centuries and threaten the long-term health of our planet. If the world is to keep warming below the levels set out in the Paris Climate Agreement, then it is vital that cities follow London's lead and immediately move to tackle the pollution in their air.
London's history teaches us that in crisis there is huge opportunity for change –provided we act together. In 1854, British physician John Snow improved the health of millions around the world when he discovered that a single well pump had triggered a cholera outbreak in the city. Now renowned as the father of epidemiology, Snow's findings dramatically improved water quality in London and, as cities began to follow suit, the world. Today, we already know where to find the sources of air pollution and we already know how to tackle them. It is again time for cities to follow London's example to defeat this menace. The need to do so is as clear as the air that all of us deserve to breathe.
WhatsApp-ening with Forests and Climate in Togo?
After years of working in environmental protection in Togo, Brigitte Acakpo-Addra identified a problem in need of an innovative solution. While the country was making encouraging strides to reduce its emissions from deforestation and forest degradation (REDD+), women weren't adequately integrated into REDD+ activities and decision making. They didn't feel that they had proper access to capacity-building to help them deal with climate change, land tenure and the negative impacts of deforestation.
Given Togolese women's significant role in forestry and natural resource management, and their dependence on forest resources for food, fuel and medicines, Acakpo-Addra knew something had to change. In 2016, she founded Le Consortium Femmes REDD+ Togo (CF-REDD+) – a national platform that brings together members from women's organizations in forest governance. CF-REDD+ is composed of 62 members, ranging in age from 30 to 60 years old, who come from the five administrative regions of the country.
Acakpo-Addra soon realized it would be difficult to bring this geographically-dispersed group together on a regular basis. That's when she got the idea to start using the mobile application WhatsApp. CF-REDD+ now uses the social media tool to host weekly meetings on activities, capacity-building trainings, and urgent information related to forest conservation in Togo. These remote meetings are guided via text by either Acakpo-Addra or CF-REDD+'s support staff, and are now well-attended, with an average of 64% of the group's participants engaging in each meeting.
The weekly WhatsApp meetings have helped improve CF-REDD+ member's knowledge of climate change and the status of forest emission reductions in Togo. This communications solution has increased women's involvement, enabling them to integrate forest conservation activities into their grassroots women's organizations.
"My participation in the WhatsApp group meetings allow me to better understand climate change and the validity of the REDD+ process in Togo. And I can share this knowledge in other community meetings and with my organization," says Kokoe Mawulolo Logosu-Teko, CF-REDD+ member.
The weekly WhatsApp meetings have also helped to coordinate CF-REDD+ initiatives over the past year. In May of 2017, the consortium went on a national awareness tour in 60 communities (reaching close to 7,000 women and 300 men) to promote forest-friendly practices, including improved cookstoves, to limit charcoal use.
"These events gave women confidence to believe they are change-makers who have the power to help reduce greenhouse gases, and increase women's representation in REDD+ efforts," says Acakpo-Addra.
Acakpo-Addra was recently appointed to represent women in Togo's National REDD+ Committee, which is the highest decision-making body for REDD+ in the country. Moving forward, she hopes to continue forest-friendly demonstrations in more communities, as well as setting up monitoring committees in villages, and assist countries, including Burkina Faso and Madagascar, in developing women's platforms for sustainable forest management.
World Bank's work on gender and forest conservation
CF-REDD+ should be proud for taking steps to fight deforestation in Togo, and recognize women's socioeconomic role in the process. The experience of CF-REDD+ provides a great example for other countries seeking to further engage women in forest conservation.
The World Bank's Forest Carbon Partnership Facility (FCPF) continues to align its work with the Bank's Gender Equality Strategy (FY16–23), to ensure women are treated as partners in the design and implementation of forest conservation initiatives. The Bank's Gender Strategy and its associated Action Plan are helping the FCPF work with participating countries to find new entry points to mainstream and track gender considerations in REDD+ and larger emission reductions programs.
This initiative in Togo is providing good lessons for the FCPF's future gender work. It's a real-world example of how REDD+ is not just a commitment to reduce the carbon footprint from forests, but also a gateway to embed social inclusion and gender equality in sustainable development.
Source: World Bank
Flagship Afghan Rural Program Lays Strong Foundation for the Future
The azan sounds from the village mosque as people gather for the noontime prayer. Shir Khan, 39, leaves off working on his crops and walks past fields of ripening wheat, across the flowing waters of the irrigation canal, toward the village mosque.
It has been more than 15 years since Shir Khan returned from Pakistan to his native village, Melani Kalay, more than 15 kilometers west of Khost city in southeastern Afghanistan. Nestled in a broad sweeping valley, and surrounded by bare brown hills, the inhabitants of the village have long endured both floods and water shortages. In recent years, however, they have seen a great deal of improvement in their lives with the help of the National Solidarity Programme (NSP).
Some 15 years ago the village had no irrigation canal nor enough water for its people. The farmlands in the village were dry, especially in summer, the peak growing season, and locals had to work as day laborers in neighboring villages or venture out to the provincial capital of Khost city to earn a bare living.
"We had no water to irrigate our lands," remembers Shir Khan, who farms a tiny patch of land (2 jeribs or 0.4 hectare) in the village. "As all the male villagers worked as unskilled agricultural laborers and there was never enough labor, we never had enough money to look after our families." The irrigation canal, he says, has greatly improved the situation.
"The irrigation canal is a lifeline for us," says Besmillah, 40, a farmer and another CDC member. "Our financial situation has steadily improved since the canal was built. Now most people work on their own farms and some even take their produce to sell in the market."
Today, the canal irrigates large tracts of village farmland (56 hectares) with pomegranates and walnuts accounting for the largest share of horticultural production. The villagers also grow wheat, maize, alfalfa, and clover, and crop yields have risen. All told, more than 290 families have benefitted from the canal.
The five-kilometer long canal was one of the results of the NSP. The NSP not only brought village communities together but also empowered them to identify, plan, manage, and monitor their own projects through their local Community Development Council (CDC).
Apart from the much-needed canal — built at a cost of about 1.5 million afghanis ($22,000) — the NSP also enabled the villagers to construct a series of walls to protect their lands from flooding in the winter, spending 1.9 million afghanis ($28,000) on the effort. Each time, the villagers contributed 10 percent to the project costs. Following this, the NSP gave the village a grant of 640,000 afghanis ($9,600) for the repair maintenance of the canal, under its Maintenance Cash Grants (MCG) sub-program.
Importantly, the NSP helped village communities resolve any conflicts or problems that arose amongst them. "The NSP was our project and we had a deep respect for it," says Besmillah.  "It not only gave us many things like roads and schools, it also established CDCs and unified us."
"Melani Kalay inhabitants now gather in the mosque to make decisions, solve conflicts, and resolve other matters related to the village," adds Haji Pir Salimuddin, another member of the local CDC. "This has now become normal for them."
Building on the NSP
The NSP, which ran for thirteen years and closed in March 2017, helped communities across Afghanistan build roads and schools, and bring drinking water, irrigation, and electricity to their villages. "We can say that a significant number of the basic needs of the people in the communities covered by NSP in the province have been met though the NSP," says Engineer Sayed Ghaffar, monitoring and evaluation officer in Khost province.
The NSP has now been succeeded by the Citizens' Charter Afghanistan Project (CCAP). The CCAP seeks to strengthen the CDCs and aims to bring infrastructure and social services for 10 million people in all the country's 34 provinces and four large municipalities over the next four years.
The Citizens Charter is an inter-ministerial, multi-sectorial NPP, where Ministries have collaborated to provide basic services to rural communities. The key service delivery ministries involved are: Ministry of Rural Rehabilitation and Development (MRRD), Ministry of Education (MoE), Ministry of Public Health (MoPH) and Ministry of Agriculture, Irrigation and Livestock (MAIL), with oversight by Ministry of Finance (MoF). MRRD has a key role and will be responsible for infrastructural development and strengthening CDCs and Cluster CDCs.
"I know that NSP is now being succeeded by the new project – CCAP," says Besmillah, who is hopeful for the future. "Under the new project, we will implement bigger projects, which would hopefully benefit more people."
After more than a decade of experience in project implementation and local governance, CDCs will be able to implement projects more efficiently. "We are very happy about the NSP projects and have learned a lot from them, and this will help us to implement the CCAP much better."
NSP was supported by the International Development Association (IDA), the World Bank Group's fund for the poorest countries, the Afghanistan Reconstruction Trust Fund (ARTF), the Japan Social Development Fund (JSDF), and other bilateral donors.
The CCAP, supported by ARTF and IDA and resources from the Afghan Government, has defined a set of core infrastructure and services that the government will provide to all accessible communities. The Citizens' Charter will be the first inter-ministerial program where ministries will collaborate on a single program in both rural and urban areas.
NSP established more than 35,000 CDCs throughout Afghanistan.
In Khost province alone, 1,138 CDCs were established across all the 13 districts.
2,900 NSP projects were implemented in different sectors in this province alone.
Source: World Bank
Life made simpler and sustainable among vulnerable communities in Colombia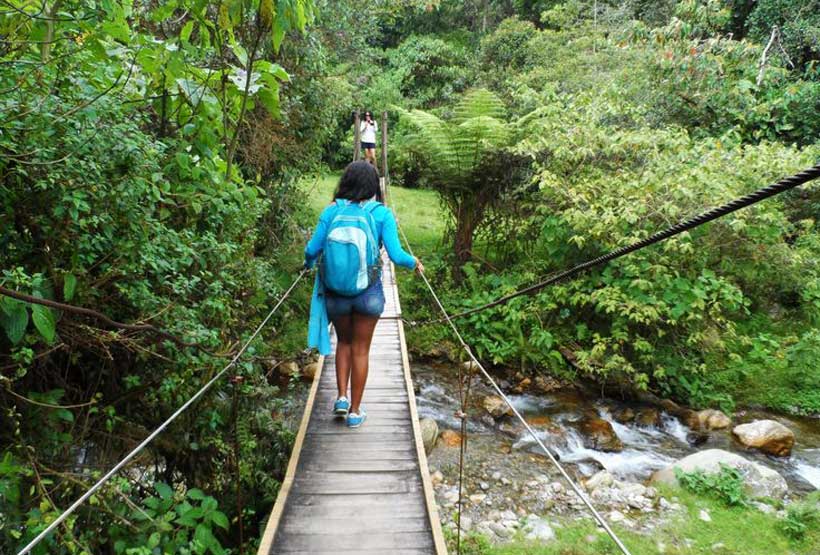 Fishermen who make their living from the Cauca River in the south of Colombia have had their daily task made easier by adapting their traditional rafts to solar power.
That is just one of the concrete sustainable actions enabled by Pacto Planeta  a civil society organization designing, implementing and tracking high impact social and environmental projects in 12 provinces in Colombia. Its main goal is to help organizations with environmental projects to maximise their impact.
The project works closely with School Laboratories for Sustainable Development (LEDS) and has three main action areas: environment and climate change, designing pedagogical notebooks to learn maths and English with exercises based around the Sustainable Development Goals (SDG) and, training of teachers.
The LEDS scheme helps schools in socially vulnerable populations by teaching students about the six SDGs relating to climate change, food security, gender equality and health. This is done through one-year voluntary programmes that include building educational spaces within schools which act as laboratories for learning about the SDGs, building community gardens, classrooms with low cost ecology construction techniques, solar plants, compost systems and improving communal spaces with murals which are also directed to inspire girls particularly to study science, technology, engineering, and mathematics.
Catering for a variety of needs
Project Manager Christhian Verdugo said: 'We work with a huge variety of different communities, urban and rural, including different ethnic groups, indigenous people, and populations who have suffered violence and displacement."
'Everyone's needs are different. In Bogota, we have many people who have fled guerrilla conflict to restart their lives and need employment. In urban areas, the need might be for sustainable agriculture or we might teach people how to turn garbage into ecobricks for fuel. In particularly arid regions like Cartagena where there is little soil, hydroponic growing can make an enormous difference. Indigenous communities may suffer social issues like food insecurity.'
Since its inception, Pacto Planeta has taken part in more than 350 corporate volunteer activities in 12 provinces of Colombia working with communities, teachers, students from early childhood and their parents. It also participated in two UN Youth Assemblies in New York.
The LEDS project is currently financed by private business and the plan for 2018 is to secure funding from large business foundations. By 2020, Pacto Planeta will be present in 20 % of public schools in Colombia and is already looking to expand.
'Last year I was in the UN Assembly and shared our work with many Guatemalan friends and colleagues who have the same vision. Many of the problems and social issues they are facing are the same as in Colombia. We plan to spread the work we are doing here to Guatemala where there are already similar projects.'
For Christhian, the greatest challenge remains convincing people whose lives have been scarred by conflict to believe in sustainable development values.
'The easiest to convince are children and young people who are open and responsive to the work that is needed to be done to reach the targets of the SDGs," he said.
Children who have taken part in growing their own gardens or managing water wisely easily take up leadership roles in their local environments and become adults who promote sustainable solutions.
'The remaining challenge is to convince the 30 to 40-year-olds who are poor and living in areas which have suffered from guerrilla conflict. They are suspicious about everything,' Christhian said.
And there is a need to prepare for the future.
'The end of the conflict in several regions of Colombia will lead to the creation of new population centres and the development of small economic centres, which is why new generations living in these regions should be made aware of sustainable alternatives for developing their communities in post-conflict scenarios,' he said.
Source: UNICEF