Lost in Lebanon Opens Global Migration Film Festival
The second edition of the Global Migration Film Festival opened yesterday (05/12) with the screening of Lost in Lebanon, at the Graduate Institute of International and Development Studies in Geneva, Switzerland.
Addressing more than 350 attendees, Leonard Doyle, UN Migration Agency Head of Media and Communications introduced the film, announcing that this year, the Festival will present films in over 100 countries from Niger to Indonesia.
"This festival is a truly global event, sometimes taking place in venues like this, sometimes in a thousand-mile caravan driving through the desert from Agadez, Niger up to the border with Algeria, and sometimes in detention centers in Libya where migrants are suffering appallingly," said Doyle.
Lost in Lebanon tells the stories of Sheik Abdo, Nemr, Reem and Mwafak, four Syrian refugees living in Lebanon. The documentary follows their struggle after leaving behind their friends and families, through the uncertainty that ensues when they lose their residency visas at the end of Lebanon's open-door policy for refugees in early 2015, which rendered them unable to stay or return to their home country.
The four protagonists were not alone – by the end of 2016, 600,000 Syrians had lost their legal status in Lebanon. Despite the challenges, these characters remain committed to helping their displaced communities, whether by teaching young children at an informal school, offering counselling to fellow refugees, or sharing their artistic skills.
The film was followed by a panel discussion moderated by Riccardo Bocco, Professor of Anthropology and Sociology at the Graduate Institute, with directors Georgia and Sophia Scott, and Pindie Stephen, IOM Integration Senior Specialist.
"As filmmakers, we open a window for you to look through, and as a viewer you can do your own research, or lobby your own governments to change policy," said Sophia Scott. "This film can have a great impact, but we need to partner with organizations," she added.
Asked about how this film impacts the work of IOM, Stephen praised the film as a tool to help dispel the many myths about refugees. "As I watched this film it reminded me of how important it is to have these tools to share with others… It's amazing to see how much these refugees contribute to their own people," said Stephen. "It can also serve to prepare communities that are receiving refugees and can help prepare for their integration challenges," she added.
The Global Migration Film Festival, organized by IOM with support from DHL and other partners, showcases films that capture the promise and challenges of migration. It runs from 5 to 18 December, International Migrants Day.
A committee of international film professionals and migration specialists will select three winners from the Emerging Filmmakers category and one from the Professional Filmmakers category.
Each winner will receive USD 1,500. The award ceremony will take place on 18 December in Les Cinémas du Grütli, Geneva.
2018 Crystal Award: Leading artists who are bridge-builders and role models for all leaders of society
Actor Cate Blanchett, musician Elton John and actor Shah Rukh Khan are the recipients of the 24th Annual Crystal Award, the World Economic Forum announced today. The winners will be honoured at the opening session of the Forum's Annual Meeting 2018 in Davos-Klosters, Switzerland, on the evening of Monday, 22 January. The award celebrates the achievements of leading artists who are bridge-builders and role models for all leaders of society.
"We heartily congratulate the 24th Annual Crystal awardees. Their commitment to dignity and to the upholding of essential human values serves as an inspiration to us all, particularly in these trying times when compassion is needed more than ever," said Hilde Schwab, Chairwoman and Co-Founder of the World Economic Forum's World Arts Forum, which gives out the awards.
Awardees
Cate Blanchett, for her leadership in raising awareness of the refugee crisis
Cate Blanchett is an internationally acclaimed award-winning actor and director of both stage and screen. Appointed a UNHCR Global Goodwill Ambassador in 2016, in recognition of her commitment to refugees, she has lent her voice and influence to raising awareness, advocating and fundraising for the UNHCR. Having met refugees in countries including Lebanon, Jordan and her home country, Australia, she advocates for increased solidarity and responsibility sharing for the 65 million-plus displaced people across the world. She has brought her creative skills to bear in sharpening focus on the individual human stories that lie behind the vast numbers.  Blanchett said: "As a UNHCR Goodwill Ambassador, my job is simple: to help connect people to the human stories of those forced to flee, and to state the case for all of us to stand with refugees."
Sir Elton John, for his leadership in the fight against HIV/AIDS
Sir Elton John is one of the world's most successful musical solo artists of all time, whose career has spanned more than five decades. With thirty-five Gold and twenty-five Platinum albums, he has sold more than 250 million records worldwide. In 1992, he established the Elton John AIDS Foundation (EJAF), which today is one of the leading non-profit HIV/AIDS organizations. EJAF has raised more than $400 million to date to support hundreds of HIV/AIDS prevention, service and advocacy programmes around the globe. In 1998, HM Queen Elizabeth knighted him Sir Elton John, Commander of the Order of the British Empire for his services to music and charitable causes. Sir Elton John recently received the Harvard Foundation's Peter J. Gomes Humanitarian Award. John said: "AIDS is the leading cause of death for women of childbearing age, yet the medicine and know-how exists to prevent this. If we want to give the next generation a better future, we could solve this problem. What it takes is our collective passion and compassion."
Shah Rukh Khan, for his leadership in championing children's and women's rights in India
Shah Rukh Khan is one of Bollywood's most prominent actors who has been at the forefront of the Indian film and television industry for over 30 years. He is the founder of the non‐profit Meer Foundation, which provides support to female victims of acid attacks and major burn injuries through medical treatment, legal aid, vocational training, rehabilitation and livelihood support. He has also been responsible for the creation of specialized children's hospital wards and has supported childcare centres with free boarding for children undergoing cancer treatment. Khan said: "With victims of acid attacks I have had the privilege to witness the unparalleled courage and compassion that women are capable of. I have seen the transformative strength of goodness and the healing power of gentleness."
New Museum on Underwater Archaeology opens in Mexico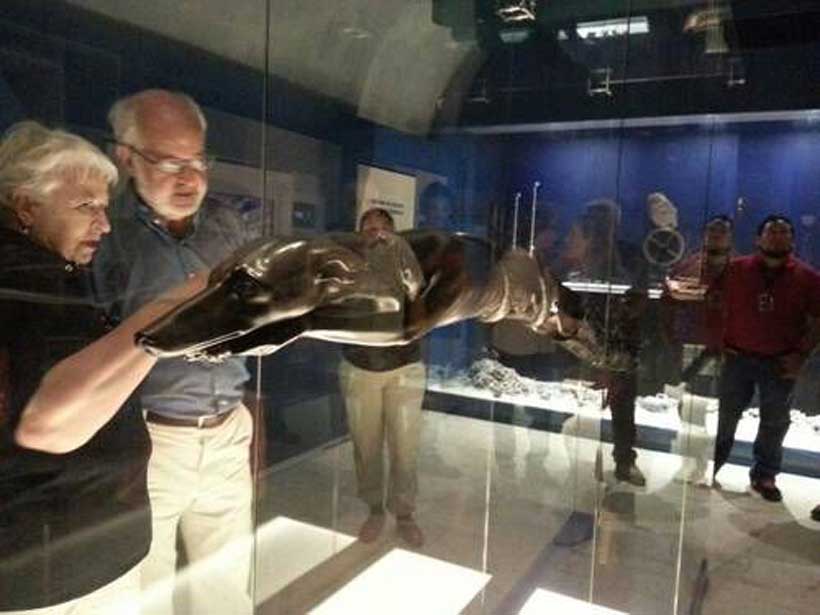 On December 5th 2017 the new Museum of Underwater Archaeology opened in the 18th century fortress of Reducto San Jose el Alto, in Campeche, Mexico.
The museum was designated by the 6th session of the Meeting of States Parties to the 2001 Convention on the Protection of the Underwater Cultural Heritage as a Best Practice of access to underwater cultural heritage. It has been considered one of the most important in underwater archaeology in the Latin America and Caribbean Region by Xavier Nieto Prieto, Vice-President of the Scientific and Technical Advisory Body to the 2001 Convention (STAB) at the opening event, where Helena Barba and Michel L'Hour, also members of the STAB attended.
The Museum contains spectacular finds from Mexican cenotes and from historical shipwrecks as well as a collection that retraces all the Mexican history through the archaeological sites found under water. The Museum uses new technologies to reconstruct sites and is illustrated with different media platforms on the history of the discoveries.
Designed to preserve the underwater cultural heritage, the 2001 Convention seeks to promote public access to this heritage and to stimulate archaeological research. The Museum of Underwater Archaeology of Campeche is an example of how the submerged heritage can be shared with the society for its benefit and enjoyment.
The museum has also been evaluated as a Best Practice concerning Underwater Cultural Heritage by the STAB. The STAB is an Advisory Body compound of 12 experts elected by the Meeting of States Parties. It provides advice and assistance in technical matters in the national implementation of the 2001 Convention and in the observance of the Rules of its Annex in all activities directed at the underwater cultural heritage. The STAB recommended, during the 5th session of the Meeting of States Parties (2015), to promote examples of best practices worldwide. These initiatives include maritime heritage museums, scuba diving routes, virtual exhibitions, and other cultural activities.
UNESCO Launches Global Report Re-shaping Cultural Policies
Audrey Azoulay, Director-General of UNESCO, together with Annika Markovic, Ambassador and Permanent Delegate of Sweden to UNESCO, representing Alice Bah Kuhnke, the Swedish Minister for Culture and Democracy, launched on 14 December UNESCO's new 2018 Global Report, Re| Shaping Cultural Policies.