Colombia Launches Partnership to Protect Amazon Rainforest from Deforestation
The Tropical Forest Alliance 2020, an initiative hosted by the World Economic Forum, is joining forces with the Government of Colombia to launch a multistakeholder platform of businesses, civil society organizations and donor agencies to protect over 60 million hectares of Amazon rainforest within its borders from commodity-driven deforestation.
The platform, launched today, is called the TFA 2020 Colombia Alliance and follows the government's target to have zero net deforestation in the Amazon by 2020.
It will initially cover palm oil and is expected to extend to other major commodity-driven causes of deforestation, including beef, dairy and timber. It will follow principles laid out in TFA 2020's Commodities and Forests Agenda 2020, which outlines strategies to address deforestation – a major driver of pollution, greenhouse gas emissions and biodiversity loss. Colombia is home to one of the most biologically diverse ecosystems on Earth, home to about 10% of the world's species, yet its tropical forests are under threat.
It is supported by a range of stakeholders:
Businesses include dairy company Alqueria, retailer Grupo Exito, agricultural firm Poligrow, consumer goods company Unilever, and chemicals and agricultural products company Yara International.
Donor countries and organizations include the governments of Germany, the Netherlands, Norway, the United Kingdom, USAID and the World Bank.
NGOs and civil society organizations include Climate Focus, Earth Innovation Institute, Fondo Acción, Global Green Growth Institute (GGGI), The Nature Conservancy, Proforest, Solidaridad, the South Pole Group, the Wildlife Conservation Society and the World Wide Fund for Nature (WWF).
"The TFA 2020 Colombia Alliance will be a platform to join forces towards sustainable agricultural production free of deforestation," said Colombia's Minister of Environment and Sustainable Development, Luis Gilberto Murillo. "The signature of the Palm Oil Zero Deforestation Agreement represents a key effort in bringing down international commitments to the Colombian context, and in employing our National Forest and Carbon Monitoring System from IDEAM as a catalytic tool to identify and prevent deforestation in the production and supply of palm oil in Colombia. We are pleased to have a critical mass or companies and organizations joining these efforts."
Vidar Helgesen, Norway's Minister of Climate and Environment, said: "Colombia is at the forefront, and is becoming one of the world leaders on forest preservation and restoration. I commend Colombia for being the first country in Latin-America to join the Tropical Forest Alliance 2020. We are very happy to be taking part in today's launch of a national coalition of public and private partners committed to promoting sustainable agriculture and zero deforestation supply chains in Colombia."
Retailer Grupo Éxito was the first company in Colombia to become a TFA 2020 global partner in 2014. Since then, the company have been working on several activities to promote a more sustainable production in Colombia of beef and palm oil, as well to promote reforestation and sustainable gardens in urban areas.
"The launch of the TFA 2020 Colombia Alliance is important as a strengthening mechanism for joint action in Colombia to reach our deforestation goals," said Mariana Villamizar, Director of Public Relations at Grupo Éxito.
How dangerously dirty water is threatening one of the world's ancient religions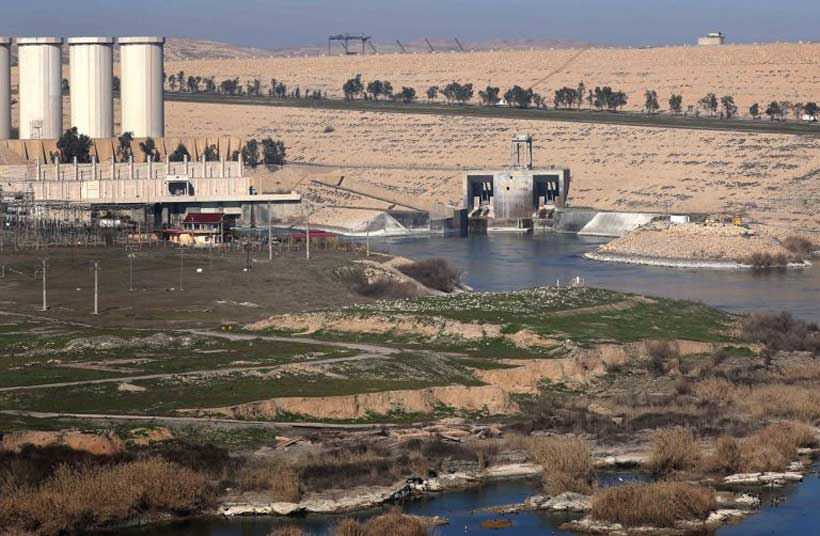 On an unseasonably warm winter afternoon in Baghdad, Sheikh Anmar Ayid hitches up his robe and crouches by the Tigris river. Rocking back and forth on his haunches, he flicks the water from side to side – all the while chanting rhythmically in Aramaic. After finishing his ablutions, a two-minute procedure, the young sheikh turns to a small mud-brick temple and begins to pray.
In past years, Ayid might then have quenched his thirst directly from the river. As a Mandaean priest, an adherent of a pre-Abrahamic faith that's native to the Fertile Crescent, he and his co-religionists believe the Tigris  – and the Euphrates – are sacred and flow from heaven. Clerics are consequently only supposed to drink from and eat food washed in their waters.
That, however, is scarcely even possible these days. Dirtied and drained almost from the moment they rise, Iraq's great waterways are in bleak states by the time they reach the country's heavily urbanized centre. To drink straight from them is to invite near instant sickness. And so as the rivers plumb desperate new lows, seemingly worsening by the year, the Mandaeans are struggling to practice their several thousand-year-old rituals.
"We depend on the water for everything, for worship, for daily life, for food," Ayid said. "But because the water is going from bad to very bad, we are negatively affected."
Across the world, water pollution is leaving a devastating trail in its wake. Eighty per cent of all wastewater goes untreated, and much of finds its way back into rivers and lakes – where it contributes to ecosystem and public health crises. Up to a third of all rivers are blighted with pathogenic waste, according to UN Environment data, and a seventh suffer from organic waste problems, mostly from agricultural fertilizer run off. In largely desert countries, like Iraq, worsening sandstorms and diminishing grass cover have caked the rivers with dust and saddled water treatment facilities with a new range of woes.
Never before, though, it seems, has poor water quality imperiled an entire religion. Already threatened by jihadists and criminal gangs, who damn them as heretics and target them for their historic role in the gold trade, the Mandaeans' numbers have fallen from 100,000 to less than 10,000 in Iraq since 2003. For those who remain, pollution's assault on one of the central tenets of their faith has added final insult to injury.
In Amarah, 350 km south of Baghdad on the Tigris, the pollution is so debilitating that not even boiling water is enough to prevent local priests from falling ill. At their heavily-guarded riverside temple in the Iraqi capital, Ayid and his colleagues have taken to leaving buckets of water to sit for a day, before skimming off the layer of fetid scum that's usually accumulated on the top. From Baghdad to the Mandaeans' traditional heartlands in the country's far south, there's so much glass and trash in the shallows that few worshippers dare set foot in the rivers without wearing sandals."Our religion believes human nature requires hygiene, and so for us many things are built around water," Ayid said. "But where is the hygiene here?"
What makes this all the more frustrating for many Mandaeans is that the culprits are hiding in plain sight. With insufficient wastewater treatment facilities and lax environmental regulations, ever-growing volumes of industrial and domestic refuse are seeping into the rivers. In Baghdad alone, dozens of places, including the Dora oil refinery and the massive Medical City hospital complex, discharge waste directly into the Tigris, according to local conservationists. All this at the same time as upstream dam construction and reduced rainfall cut the rivers' flow has brought the lifeblood of the Mandaeans faith to the brink of disaster.
"When water levels drop, the health of that lake or river is likely to be affected, both in terms of quantity and quality," says Lis Mullin Bernhardt, a Programme Officer in UN Environment's Freshwater Unit. "And the lower the flow, the less likely that water body is to be able to deal naturally with water pollution and contamination."
Globally, there is an increasing awareness that something drastic has to be done. UN Environment operates a monitoring system, GEMS/Water, which keeps tabs on river and lake water quality, and also helps states establish their own water quality surveillance networks. "For me, it's like going to the doctor," Bernhardt says. "You need that monitoring, those stats and numbers, to understand what's happening and know a bit more about what you can do about it." By encouraging the planting of water grasses and the preservation of wetlands, for example, UN Environment is pushing for green solutions to water quality problems.
But for the Mandaeans, the fear is that no manner of solutions might arrive fast enough to save their rituals – and perhaps their very existence. Scattered now across Europe, North America and Australia, they question whether a community as small as theirs can endure in diaspora. That a people whose faith teaches care for the environment might die in part because of it is a tragic irony not lost on Sheikh Ayid.
"Above all, we respect the water, of course. But we respect the Earth and the animals too. It is forbidden, for example, to play with a living tree, to slaughter an animal unless it is needed, or to throw things into the river," he said. "Our daily life depends on nature, but nature is not being kind to us."
First published in UN Environment
Promoting food production that values ecosystems
Kenya is looking to develop agricultural activity that recognizes the benefits of biodiversity and climate-friendly land management.
UN Environment and the National Museums of Kenya have agreed to work together to develop policy reforms in agriculture that take into account the value of ecosystems. A scoping workshop for the three-year German-funded project entitled Supporting Biodiversity and Climate-friendly Land Management in Agricultural Landscapes will take place on 21-22 February 2018. Other collaborating countries are Colombia, Tanzania and Thailand.
Within UN Environment the project is being led by The Economics of Ecosystems and Biodiversity (TEEB) unit, which focuses on "making nature's values visible".
The project seeks to:
mainstream the values of biodiversity and ecosystem services into decision-making at all levels
help decision-makers recognize the wide range of benefits provided by ecosystems and biodiversity.
demonstrate their value in economic terms.
Agriculture is at the centre of human well-being and sustainable development. It has influenced our value systems, our cultural heritage, the structure and location of our communities, and the development of other sectors in the economy.
However, the ties between food systems and human health and cultural heritage are increasingly becoming invisible, as are the impacts our production systems are having on nature. This invisibility discourages stewardship of our natural resources and fosters their unsustainable use, generating negative impacts for both present and future generations.
2015 TEEB for Agriculture and Food (TEEBAgriFood) Interim Report seeks to explain the complex links between ecosystems, agriculture and the food we eat. It provides insights into the importance of ecosystems and biodiversity, and the (visible and invisible) impacts of different production systems on human and ecological well-being.
Much of the project's work will focus on building national, regional and local government capacity to produce tailored economic assessments of ecosystems. The ecosystems and agricultural landscapes that are critical to policy will be chosen at the workshop.
The project will consolidate guidance and training for TEEB national implementation; provide technical support on valuation and accounting for specific national-level TEEB projects; and enhance the communication and dissemination of TEEB results.
5 ways the United Kingdom is leading the fight against plastic pollution
We're only two months into 2018, but this year has already seen a number of concrete steps to combat plastic pollution in the United Kingdom. Changing public opinion, along with new restrictions on sending plastics to China (which previously took in 66 per cent of the UK's plastic waste), have forced businesses and government bodies to reconsider traditional strategies for dealing with discarded plastic.
1. Queen Elizabeth bans disposable plastic
Buckingham Palace has implemented a plan to phase out the use of disposable plastics at royal estates. The new waste plan calls for ending the use of plastic straws and bottles in public and private dining areas. Additionally, biodegradable takeaway containers will be introduced. The Queen was reportedly inspired after working on a wildlife film with Sir David Attenborough, whose recent involvement in the BBC series Blue Planet 2 has been praised for bringing greater attention to the issue of plastic pollution in the world's oceans.
2. Restaurants ditch plastic straws
An increasing number of UK restaurants and pubs are joining the global movement to end the use of plastic straws. Chains such as Costa Coffee, Pizza Express, Wagamama restaurants, and Wetherspoons have all put plans into place to phase out the use of non-biodegradable drinking straws in 2018. A number of independent establishments have also followed suit, encouraging customers to forego the straw or use a biodegradable one.
3. Scotland announces nationwide bans
While many companies and individuals have made great progress by phasing out plastic straws, the British nation of Scotland took it a step further by announcing plans for a countrywide ban on straws, which will be developed this year. This came on the heels of a previous announcement in January to ban the sale and manufacture of plastic cotton buds, which will be phased out over the course of 2018.
4. The UK says no to microbeads
In January, a government ban on plastic microbeads officially went into effect. The miniature plastic particles are widely used in cosmetics, soaps, and toothpastes, and due to their small size, can slip through treatment plants and pollute rivers and lakes. The first phase of the ban prevents the plastics from being used in the making of cosmetics and cleaning products, followed by a complete sales ban in July. This law follows similar ones passed by the United States, Canada, and Ireland, as well as moves by global cosmetics companies to phase out the use of such products.
5. Supermarkets go plastic free
In January the UK supermarket chain Iceland made headlines when it announced plans to eliminate plastic packaging for all Iceland branded products. The company released a five-year strategy that calls for introducing paper and pulp food containers, as well as paper bags, all of which can be returned to in-store recycling facilities. The company has already banned plastic straws and is beginning to introduce the new packaging over the next couple of months. Other companies such as Tesco and Aldi UK have announced similar plans, a response to increased demands from shoppers for environmental responsibility.
This article was originally published by UN Environment