"Everybody has stories to tell:" Creating art space for children at National Gallery Singapore
[yt_dropcap type="square" font="" size="14″ color="#000″ background="#fff" ] C [/yt_dropcap]hildren need space to grow and art plays a pivotal role in creating not just any space, but a creative and conducive space. Knowing that is one thing, making such space available for children is a whole new world.
This year, for the first time, the National Gallery of Singapore is making it possible. In its first Gallery Children's Biennale, Singapore is leading the way in Asia to create space for children through art. The exhibition targets young visitors and it is curated in such a way that aim to captivate the imagination of the young: making art fun, interactive and accessible. The objectives are simple: to nurture children's deeper understanding and appreciation of art since the young age and creatively engage children with art in a new innovative and educational way.
Ms. Chong Siak Ching, CEO, National Gallery Singapore said "The Gallery believes that art education plays an important role in developing innovative and expansive thinking in our young. For the Gallery Children's Biennale, we engaged artists to create works accessible for young visitors to showcase how art can be fun, inspirational and educational. This will be a good platform for families to come together and explore fresh perspectives while engaging with art."
Under the theme "Dreams and Stories", Gallery Children's Biennale is under the guiding philosophy that "every child is creative. We believe everyone dreams and has stories to tell – and we want to active their senses, and enable them to express their thinking, ideas emotions," said Suenne Megan Tan, the Director of Audience Development and Engagement at the National Gallery Singapore.
"A key aim of the Gallery Children's Biennale is to incubate, pilot and research new approaches of art engagement, within a museum context, where artists and visitors function as partners and contributors to-ward a shared learning experience. While this advances the development of art education and the learning of art by an individual, it also transforms museums into active learning environments in which people can feel, think, look and respond, moving comfortably from what they know to new areas of knowledge", said Mrs. Tan.
To achieve this, the Gallery brought together 9 exceptional artists from Singapore and broader Southeast Asia to showcase their masterpieces. Some are existing work, some are newly commissioned. Ranging from art installations to performance art, the different forms of art present an inspiring sensory experience for young visitors to engage with art in a new and educational way.
Of all the installations, 5 are created by Singapore artists, 2 by Southeast Asian artists, and 2 by Asian art-ists. Four artists, namely, Singapore's Cultural Medallion awardee, Chng Seok Tin, Vincent Leow, Ian Woo and Tran Trong Vu are part of the national collection, and whose works are also on display in the DBS Singapore Gallery and UOB Southeast Asia Gallery. The likes of team Lab and Mark Justiniani are artists of international repute that create unique participatory and immersive works. While world-renowned, Yayoi Kusama amplifies the Gallery's mission of bringing high-level artworks that has the capacity to embrace the public and offer art that welcomes our children. Similarly, Robert Zhao and Lynn Lu have also created works to express their beliefs and concerns about the world we live in.
The special thing about these artists is that they are creating works that are more engaging for children, allowing children to touch, stick, walk, browse, organise and even perform an artwork in order to bring young audiences closer to the usually distant, if not venerated, art pieces. Through this process, it is hoped that visitors will be inspired to revisit works of art in the Gallery and contemplate the ever-changing ways in which art constitutes a larger story of who we are. Each art installation is created with accompanying activities and ideas for discussion that aim to spark the imagination of young minds, and generate creative thinking for a new generation of Singaporeans.
But all of these cannot be achieved over night.
Gallery Art Biennale is a small step toward a larger goal of instilling the love of art amongst Singaporean. It is an auspicious start for a long term process. There will be more activities throughout the year at the National Gallery to nurture the love for art for children. The Gallery believes that early exposure to art is beneficial to the holistic well-being of a child as it can improve a child's literacy, critical thinking and creative skills, among other benefits. All year long, at the Keppel Centre for Art Education offers Family Weekends (a series of workshops, interactive tours and storytelling sessions the 2nd weekend of every month) to create a shared learning experience for children and their family. In conjunction with Gallery Children's Biennale, a series of public programmes, film screenings, special tours for families, and artist-led workshops for children have been lined up. Visitors can also look forward to an outdoor festival in August.
Although the primary objective of the Biennale targets young visitors, the entire installation speaks to everyone in the family. Because "everybody has stories to tell", the aim of Gallery Art Biennale is ambitious. It is hoped that through such interactive and engaging process using different kinds of art, the audience to the Biennale will go through a transformative experience, visitors will be emerged knowing more about themselves and the world around them.
"This first edition of Gallery Children's Biennale welcomes the inner child in every one of us, regardless of age, to embark on this creative journey to explore the world through the eyes of nine artists from Singapore and beyond. We hope that both the young – and the young at heart – will be inspired by the installations and programmes," added Ms Suenne Megan Tan
Gallery Children's Biennale opens to public 20 May to 8 October 2017. The Gallery Children's Biennale is a ticket exhibition. General admission rules apply. Free entry for Singaporeans & PRs. For more details, visit www.childrensbiennale.com. The Gallery Children's Biennale will be held once every two years.
2018 Crystal Award: Leading artists who are bridge-builders and role models for all leaders of society
Actor Cate Blanchett, musician Elton John and actor Shah Rukh Khan are the recipients of the 24th Annual Crystal Award, the World Economic Forum announced today. The winners will be honoured at the opening session of the Forum's Annual Meeting 2018 in Davos-Klosters, Switzerland, on the evening of Monday, 22 January. The award celebrates the achievements of leading artists who are bridge-builders and role models for all leaders of society.
"We heartily congratulate the 24th Annual Crystal awardees. Their commitment to dignity and to the upholding of essential human values serves as an inspiration to us all, particularly in these trying times when compassion is needed more than ever," said Hilde Schwab, Chairwoman and Co-Founder of the World Economic Forum's World Arts Forum, which gives out the awards.
Awardees
Cate Blanchett, for her leadership in raising awareness of the refugee crisis
Cate Blanchett is an internationally acclaimed award-winning actor and director of both stage and screen. Appointed a UNHCR Global Goodwill Ambassador in 2016, in recognition of her commitment to refugees, she has lent her voice and influence to raising awareness, advocating and fundraising for the UNHCR. Having met refugees in countries including Lebanon, Jordan and her home country, Australia, she advocates for increased solidarity and responsibility sharing for the 65 million-plus displaced people across the world. She has brought her creative skills to bear in sharpening focus on the individual human stories that lie behind the vast numbers.  Blanchett said: "As a UNHCR Goodwill Ambassador, my job is simple: to help connect people to the human stories of those forced to flee, and to state the case for all of us to stand with refugees."
Sir Elton John, for his leadership in the fight against HIV/AIDS
Sir Elton John is one of the world's most successful musical solo artists of all time, whose career has spanned more than five decades. With thirty-five Gold and twenty-five Platinum albums, he has sold more than 250 million records worldwide. In 1992, he established the Elton John AIDS Foundation (EJAF), which today is one of the leading non-profit HIV/AIDS organizations. EJAF has raised more than $400 million to date to support hundreds of HIV/AIDS prevention, service and advocacy programmes around the globe. In 1998, HM Queen Elizabeth knighted him Sir Elton John, Commander of the Order of the British Empire for his services to music and charitable causes. Sir Elton John recently received the Harvard Foundation's Peter J. Gomes Humanitarian Award. John said: "AIDS is the leading cause of death for women of childbearing age, yet the medicine and know-how exists to prevent this. If we want to give the next generation a better future, we could solve this problem. What it takes is our collective passion and compassion."
Shah Rukh Khan, for his leadership in championing children's and women's rights in India
Shah Rukh Khan is one of Bollywood's most prominent actors who has been at the forefront of the Indian film and television industry for over 30 years. He is the founder of the non‐profit Meer Foundation, which provides support to female victims of acid attacks and major burn injuries through medical treatment, legal aid, vocational training, rehabilitation and livelihood support. He has also been responsible for the creation of specialized children's hospital wards and has supported childcare centres with free boarding for children undergoing cancer treatment. Khan said: "With victims of acid attacks I have had the privilege to witness the unparalleled courage and compassion that women are capable of. I have seen the transformative strength of goodness and the healing power of gentleness."
New Museum on Underwater Archaeology opens in Mexico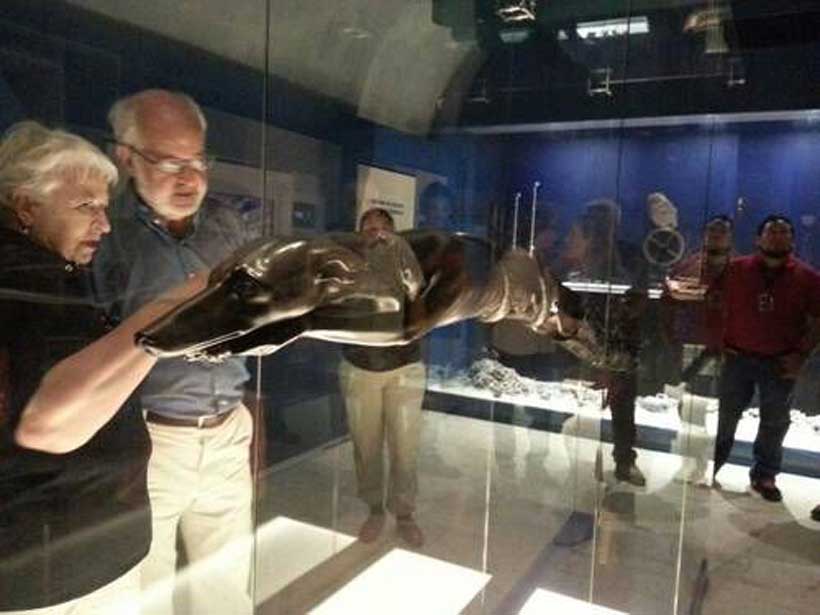 On December 5th 2017 the new Museum of Underwater Archaeology opened in the 18th century fortress of Reducto San Jose el Alto, in Campeche, Mexico.
The museum was designated by the 6th session of the Meeting of States Parties to the 2001 Convention on the Protection of the Underwater Cultural Heritage as a Best Practice of access to underwater cultural heritage. It has been considered one of the most important in underwater archaeology in the Latin America and Caribbean Region by Xavier Nieto Prieto, Vice-President of the Scientific and Technical Advisory Body to the 2001 Convention (STAB) at the opening event, where Helena Barba and Michel L'Hour, also members of the STAB attended.
The Museum contains spectacular finds from Mexican cenotes and from historical shipwrecks as well as a collection that retraces all the Mexican history through the archaeological sites found under water. The Museum uses new technologies to reconstruct sites and is illustrated with different media platforms on the history of the discoveries.
Designed to preserve the underwater cultural heritage, the 2001 Convention seeks to promote public access to this heritage and to stimulate archaeological research. The Museum of Underwater Archaeology of Campeche is an example of how the submerged heritage can be shared with the society for its benefit and enjoyment.
The museum has also been evaluated as a Best Practice concerning Underwater Cultural Heritage by the STAB. The STAB is an Advisory Body compound of 12 experts elected by the Meeting of States Parties. It provides advice and assistance in technical matters in the national implementation of the 2001 Convention and in the observance of the Rules of its Annex in all activities directed at the underwater cultural heritage. The STAB recommended, during the 5th session of the Meeting of States Parties (2015), to promote examples of best practices worldwide. These initiatives include maritime heritage museums, scuba diving routes, virtual exhibitions, and other cultural activities.
UNESCO Launches Global Report Re-shaping Cultural Policies
Audrey Azoulay, Director-General of UNESCO, together with Annika Markovic, Ambassador and Permanent Delegate of Sweden to UNESCO, representing Alice Bah Kuhnke, the Swedish Minister for Culture and Democracy, launched on 14 December UNESCO's new 2018 Global Report, Re| Shaping Cultural Policies.