Hit and Run, Iran? The Military Dynamics of Nonproliferation
Weapons of Mass Destruction or of mass delusion? To nail or derail
Ambiguity in Iran's weapon acquisition dynamics exacerbates mistrust, which is the core reason for the present standoff at the negotiating table. In this paper, I elucidate the Iranian military's capability and intention by delving into the main componential elements of weapon acquisition.
Weapons of mass destruction (WMDs) are not suitable for the Iranian Army, given its non-mechanized nature; its defensive military posture; its current status as a non-nuclear weapon state; and its sufficient conventional preparation to meet its protective security interests. This paper proposes three interlinked policy approaches to resolve the current impasse: (1) utilize Iran's technological dependency by requiring maximum international supervision of its dual-use but peaceful technology; (2) encourage Iran's problem-solving role and pacific behaviour by streamlining the current sanctions to avoid harming the Iranian economy as a whole; and (3) consider an alternative, noncoercive policy that respects Iran's legitimate technological and conventional defensive needs. This non-coercive approach would open the door to collaboration rather than confrontation through a gradual, piecemeal, and reversible policy.
1. Introduction
There are five military reasons why weapons of mass destruction (WMDs) are not an appropriate class of weapons for Iran. Careful examination of these reasons may help us to understand Iran's position on the acquisition of WMDs. First, tactically speaking, Iran is a non-possessor of nuclear, chemical, and biological weapons; second, the Iranian Army, because of its low number of armored vehicles and its logistical, communication, and command features, is a non-mechanized army; third, the Iranian Army is organized according to a defensive military posture; fourth, WMDs are not strategically suitable for Iran given its protective security interests; and finally, Iran's current conventional destructive capability meets the regime's core protective security interests without WMDs.
These five characteristics support the claim that WMDs are not suitable for the Iranian Army in a regional conflict. A dilemma arises, however, between Iran's secret pursuit of an enrichment program and the last three decades of discriminatory policies refusing Iran access to modern technology. Such a conflict demonstrates the inherent tension between the Nuclear Nonproliferation Treaty's (NPT's) prohibition on proliferation (see Articles 1 and 2) and its provision of the right to nuclear energy (see Article 4)[1]. Ultimately, the boomerang effect of incremental sanctions and prolonged negotiations with the P5+1 may set both sides on a path with unwanted and unwarranted consequences. To avoid this, the P5+1 should strive to better understand the Iranian military's weapon acquisition dynamics and to approach negotiations with an impartial and sound judgment.
Two main concepts in understanding weapon acquisition are means and ends. These two notions were introduced into the literature of military studies by Carl von Clausewitz. His definition of war as a "real political instrument, a continuation of political commerce…by other means" highlights the importance of military means and their political ends[2].This definition has been widely adopted by other strategists as well. For example, Liddle Hart defined strategy as "the art of distributing and applying military means to fulfill ends of policy[3],"and Hedley Bull considered strategy as "shaping means so as to promote ends in any field of conflict[4]." Barry Posen focuses on the interaction between means and ends instead of on one as the cause of the other. He defines strategy as a "chain of political ends and military means[5]."Hence weapon acquisition could be considered a political as well as a military instrument to achieve victory in war and to maintain security in peacetime. By this account, the acquisition of WMDs could be understood as the response of a state's military policies
to these two aims. Accordingly, a state's decision for weapon acquisition could be examined in terms of means and ends. Means encompass the tactical utility of a weapon in case of a probable war, and ends embody the strategic utility of a weapon during both war and peacetime. These two tactical and strategic concepts of the utility of WMDs are developed in this study to illuminate the appropriateness of WMDs for the Iranian Army.
2. Tactical Utility of WMDs for Iran
On the tactical level, three characteristics can help to determine Iran's disposition toward the acquisition or rejection of WMDs. The first characteristic is whether the Iranian military currently possesses WMDs capability; the second is whether it has a mechanized army; and the third is whether the Iranian Army has developed an offensive or defensive military posture. This paper postulates that the closer the Iranian government is to possessing WMDs, the more mechanized its army, and the more offensive its military posture, the less likely it will be to reject WMDs.
2.1 IRANIAN WMDS CAPABILITY
To describe a country as a WMDs possessor means that the state has the capability of mass
producing, weaponizing, and applying lethal chemical or biological agents, or nuclear weapon grade material, in war. By this definition, Iran does not possess chemical, biological, or nuclear weapons.
2.1.1 CHEMICAL WEAPONS CAPABILITY
Iraq's use of chemical weapons against Iran and Iraqi-Kurdish citizens in the 1980s, which was not met with serious international opprobrium, provided sufficient reason for Iran to research, produce, and develop lethal chemical agents for military application, at least for the period of the armed conflict. Despite such a volatile history, Iran did sign the Chemical Weapons Convention (CWC) on January 13, 1993, the first day that it was open for signature, and it ratified the Convention on November 3, 1997. The CWC entered into force for Iran on December 3, 1997[6].Iran has publicly acknowledged the existence of a chemical weapons program that was developed during the latter stages of the 1980 to 1988 war with Iraq. On ratifying the CWC, Iran opened its facilities to international inspection and confirmed that all its chemical weapons activities had been terminated and the facilities destroyed prior to the treaty's entry into force. The CWC utilizes three different verification systems: routine
inspection, challenge inspection, and clarification on State declarations. Since 1999 the Organisation for the Prohibition of Chemical Weapons (OPCW) has conducted scores of routine inspections in Iran, and to date no state has chosen to activate the challenge inspection provisions against Iran. There is only one report that the United States and Britain called for a challenge inspection to question Iran's initial declaration[7],but this was resolved by a clarification from Iran.
Iran's capability in chemical technology and material originated in old chemical industries, such as the Abadan refinery, the first of its kind in the Middle East. A more recent example is Pars Chlorine, a large factory in the north of Iran, which has the technological capability to produce dual-use chemicals. Pars Chlorine started operation in the city of Tabriz on November 22, 1998, with an export capability of two million U.S. dollars. The factory produces various chemicals, such as liquid chlorine, caustic soda, and chlorine acid, which are mainly used in water chlorination, detergents, paper mills, soap, and glass manufacturing[8]. There is sufficient domestic peaceful use for these products in Iran, and the Iranian general balance of trade does not show a significant change in export or import of chemical agents by which one could deduce that Iran is covering up chemical weapons production[9].
Iranian pursuit of chemical weapons defence has a long history. Between the years 1955 and 1960, eleven Iranian officers attended U.S. Army chemical and biological weapons (CBW) training courses to prepare for chemical weapons defence, given the probability of a Soviet chemical attack[10]. In April 1988, the Yasa Factory of the National Industries Organization began producing gas masks, initially in limited numbers, and a new area decontamination system known as Deraksh-6 was introduced at the same time[11].11 These preparations provided Iran with sufficient defensive power against chemical weapon attacks in any future war. Although Iran did develop the know-how for mass production of chemical weapons and is prepared for chemical weapons defence operations, it is not currently in possession of chemical weapons, and is therefore considered a non-possessor in this study.
2.1.2 BIOLOGICAL WEAPONS CAPABILITY
The Central Intelligence Agency believes that "Iran probably has the capability to produce at least small quantities of BW [biological warfare] agents[12]."The U.S. Office of the Director of National Intelligence's (ODNI's) January 1 to December 31, 2006, report to Congress, addressing Iranian biological warfare programs, stated that "Iran probably has the capability to produce large-quantities of some Biological Warfare (BW) agents for offensive purposes, if it made the decision to do so[13]."The 2010 ODNI report changed its 2006 assertion, however, assessing that "Iran probably has the capability to produce some biological warfare (BW) agents for offensive purposes, if it made the decision to do so." This qualified assessment could be interpreted as an indication that "U.S intelligence probably does not have evidence of any current Iranian BW program[14]."
Allegations made by Iranian opposition groups regarding Iranian biological warfare programs have never been substantiated, but the level of techniques utilized by Iranian institutes speaks for itself. Iran's high level of technology and experience suggests that, although Iran has not yet realized an offensive biological weapons program, it has the capability should it decide to do so[15]. The fact is that Iran did accede to the Geneva Protocol in 1929 and ratify the Biological and Toxin Weapons Convention (BTWC) in 1973, and it has actively participated in all subsequent negotiations to develop the Convention. In 1998 Iran hosted a trial inspection visit of the Razi Institute, the biggest institute of its kind in the country, on behalf of the BTWC[16].
2.1.3 NUCLEAR WEAPONS CAPABILITY
The issue of Iran's nuclear weapons capability is more complicated and more sensitive than its chemical and biological capabilities, thus it absorbs a great deal of international diplomatic and academic attention[17]. Iran and the International Atomic Energy Agency (IAEA) entered into an agreement for the application of safeguards in connection with the Treaty on the Nonproliferation of Nuclear Weapons. The agreement was entered into force on May 15, 1974, after being circulated by the IAEA on December 13, 1974[18].18 The IAEA's most comprehensive report, however, in November 2011, expressed its "serious concerns regarding possible military dimensions to Iran's nuclear programme[19]."19 These concerns were not actually new but were rooted in earlier reports confirming Iran's failure in a number of instances over an extended period of time to meet its obligations under its Safeguards Agreement, with respect to the reporting of nuclear material; its processing and its
use; and the declaration of facilities where such material has been processed and stored. The same controversial 2011 report, however, as well as a few reports in 2012, detracted from the above concerns by conveying that "the Agency continues to verify the non-diversion of declared nuclear material at the nuclear facilities and LOFs [locations outside of the facilities] declared by Iran under its Safeguards Agreement[20]."
Meanwhile, past estimates about when Iran might be able to produce a nuclear weapon have been proven unreliable[21]. In 2011 Director of the IISS Non-Proliferation and Disarmament Programme Mark Fitzpatrick concluded that, if Iran uses all its centrifuges at Natanz for weapons purposes, and if these centrifuges can continue to perform at their maximum output, then "a little over a year and seven months would be required for the first bomb's worth of HEU [highly-enriched uranium][22]." Fitzpatrick concluded in an October 2011 report that "[w]e can have high confidence that Iran does not today have a nuclear weapon and that it won't have one…a year from now," but he confirmed in the same report that "I have no confidence that Iran won't have a nuclear weapon two years from now. If they wanted to go for it and if everything went right[23]."This assessment does not take into account the time needed for the weaponization of the HEU or the gap between a nuclear explosive
device and a deliverable weapon. If we also consider the estimation of outgoing Mossad Director Meir Dagan, that "Iran will not have a nuclear bomb earlier than 2015[24],"the unreliability of current forecasts would be doubled.
Joseph Cirincione discusses five factors that are drivers or barriers for nuclear proliferation, namely (1) national security enhancement; (2) symbolic value of prestige; (3) domestic politics of three musketeers associating soldier, scientist, and political leadership ; (4) technology to maintain scientific achievements; and (5) economics that is commonly shared by the other four dynamics[25]. Cirincione believes that, of these five dynamics for proliferation, security is the most relevant factor for Iran, given Iran's peripheral stance that it would have much to gain and little to lose, while the other elements play minor roles. Nuclear weapons are non-prestigious to Iran because Iran has identified itself as being against proliferation in many regional and international conferences, and it has gained much prestige for its anti-proliferation disposition.
Domestically, harmony between military and scientific bureaucrats in exaggerating unsubstantiated security threats and/ or overstating the utilities of nuclear weapons may not be sufficient to convince Iran's theological leadership, who declared WMDs a religiously forbidden (haraam) class of weapons[26]. Technologically, the case of Iraq proved that developing countries are vulnerable to a "technology-denial strategy." In fact, the combination of sanctions and UN inspections crippled Iraq's nuclear project[27]. Nuclear weapons are neither economically reasonable nor could they be substitutes for conventional weapons[28]. Each class of weapons is designed for a particular mission and function, thus a WMD cannot replace conventional weapons, nor can it compensate for any weaknesses in conventional arms.
Finally, could nuclear weapons be an ultimate security guarantor against an existential threat to the Islamic Republic of Iran? Does any existential enmity exist around Iran to threaten its core and principal security interests? The second part of this study examines the background of the enmity and the regional conflicts surrounding Iran. It deduces that, after the fall of Saddam Hussein in Iraq, there has been no core security threat near Iran that is likely to necessitate the use of WMDs. Thus, a security model could not be applied to gain support for Iran acquiring nuclear weapons. Two classic cases that appear similar to Iran, South Africa during apartheid and Israel, are rejected because the Cold War has ended and the threats surrounding Iran are non-existential.
It is questionable, however, why the Islamic Republic decided to secretly pursue its enrichment program in the mid-1980s, in the middle of the war with Iraq. The Iranian concealment policy and its safeguard failures could be explained on two accounts: (1) technological discriminatory restrains; and (2) Saddam's WMD preparation. Iran's decision was in part a response to the explicit technological discrimination envisaged in the Western countries' policy of refusing Iran technological access, and to the Western countries' self-assigned role of denying Iran its legal rights under the NPT to access the peaceful uses of nuclear technology. In addition, Iraq's application of WMD against not only military targets but also civilians during the Iran-Iraq War left Iran with no choice but to engage in preliminary phases of enrichment, far short of a nuclear deterrence, to discourage such
a belligerent enemy from entering into a mutually expensive nuclear arms race. The multifaceted capability of Iraqi preparation for nuclear, chemical, and biological weapons was revealed after Iraq's first defeat in 1991, but secret reports of its activities were circulated to Iranian services much earlier through Iraqi oppositionists living in Iran during the war. Those reports of Iraqi WMD activities and actual use of chemical weapons substantiated a real threat to Iranian security until the collapse of Saddam's regime. Hence, mutual understanding between Iran and the IAEA regarding past Iraqi threats, as well as a discussion of technological discriminatory restraints, formed the cornerstone of their agreement in 2003 to initiate corrective measurements to resolve past issues.
The IAEA report on Iran, published August 30, 2012, confirmed that Iran has increased its production of twenty-percent-enriched uranium, and it has doubled the number of centrifuges it has installed (without feeding uranium hexafluoride [UF6] to start working) at the Fordow underground site. It was also revealed, however, that Iran had converted about half of its twentypercent- enriched uranium into fuel plates for a small research reactor in Tehran[29]. Iran's decision to convert so much of its twenty-percent-enriched uranium into fuel plates makes it very difficult to reconvert the uranium back again to be used in weapons application, and thus moves Iran further away from a weapon capability.
Despite many speculations that Iran is looking for nuclear weapons, the country is a member of the NPT and has repeatedly denied any intention of acquiring nuclear weapons. It has, however, long been involved in developing nuclear technology. Thus, if Iran decides to produce a nuclear explosive device, there is an embryonic capability to do so in a certain period of time, albeit under harsh and risky international, as well as regional, circumstances.
2.2 A MECHANIZED OR NON-MECHANIZED ARMY
The second major characteristic to consider in determining Iran's disposition toward the acquisition of weapons of mass destruction is whether it has a mechanized or a non-mechanized (infantry-based) army. The infantry-based force differs from the mechanized-based army primarily in terms of size, technological level, and the ability to integrate arms into operations[30].
Infantry-based forces have some armor, but they rely on dismounted or motorized infantry for the bulk of their combat power. At the most, they conduct set-piece operations, integrating arms at the tactical level. There is a significant change in the outcome of a mass destructive war depending on whether an army is mechanized. Mechanized armies have two advantages over non-mechanized armies in such wars. First, a mechanized army has a greater maneuvering capability and greater speed, which will help to minimize the effects of WMDs in combat. Second, armored vehicles are sealed to be resistant to a WMDs attack's side-effects, such as nuclear heat and radiation orbiological and chemical contamination.
To define an army as mechanized, the percentage of armored vehicles could be considered a crucial element. According to U.S. military authorities, "Mechanized-based armies normally mount at least 40 percent of their ground forces in armored vehicles[31]".
Thus, one way to assess whether an army is mechanized or non-mechanized is to divide the total active military personnel of the army by the number of its armored vehicles to determine the quantitative ratio of the personnel to the mechanized power of the army. The bigger this number, the less mechanized an army.
With 523,000 active military personnel, Iran has the most populous army of the Persian Gulf region. But this large manpower is not matched by a proportionate number of armored vehicles. The total number of military armored vehicles in the Iranian Army, according to the Military Balance for 2011, is approximately 2,978[32].Thus, there are only 5.7 armored vehicles for every 1,000 active military personnel (including the army, navy and air force). This ratio is 27.6 per 1,000 for Saudi Arabia and 81.5 per 1,000 for Israel. Table 2 shows the ratios across the Persian Gulf[33].
Iranian efforts to build up a mechanized army have made slow progress since the end of the war with Iraq given financial problems, foreign restrictions, and above all, the state's lack of an urgent objective to enlarge the mechanized echelon of the army.
Still, it is not sufficient to count main battle tanks and armored personnel carriers to judge whether an army is mechanized. At least two qualitative elements should be added to the quantitative analysis: (1) the power of mobilization or maneuverability; and (2) organizational coordination[34].In determining the mobilization power of a mechanized army, logistics can produce qualitative improvements in military effectiveness. The organizational effectiveness of an army can be explained as the coordination between the different arms of a force, not only between ground forces, but also between the army, the air force, and other participants in an operation.
The qualitative shortfall of the Iranian Army to provide a professional mechanized force could be traced to its logistical and coordination problems, which have historic and social roots. Iran's modern army is almost eighty-five years old, and its official formation dates back to the first conscript army in 1926, which came after a controversial approval by the parliament under the direct influence and insistence of Reza Shah Pahlavi[35]. The logistical problems of the Iranian Army did not begin with the revolution. Two determinant factors were in place before 1979, and they have not yet been resolved. The first is the diversification of military purchases, and the second is the lack of a united military command, even at the regional level. By 1979 Iran had military procurement contracts with thirty-three nations[36]. It is almost impossible to prepare the logistics necessary for such a diversified army in a war for an extended period of time.
Even before 1979, the Iranian Army's lack of unified command was represented in its regional divisions' separate operational and logistics commands. Although regionally organized, military units were not concentrated, and their operational and logistics commands reported separately to Tehran[37]. The political reasoning behind these military decisions was to avoid a power base that might attempt a coup. This prevented military divisions from achieving rapid action and organizational mobilization, and thus loosened the basic infrastructure necessary for the operation of a mechanized army.
Since the Islamic Revolution of 1979, another military division has grown: the Islamic Revolutionary Guard Corps (IRGC), or Sepah Pasdaran Enghelab Islami. The IRGC competes with the national army in terms of allocation of resources and loyalty to the regime. In 2005 a new doctrine was introduced to the Iranian Army, namely the mosaic defense, which was designed to overhaul the command-and-control structure of the IRGC's land forces, increasing their independence and flexibility in responding to local events. This new doctrine, while helpful in defensive operations, may not succeed in offensive operations, because of both insufficient power projection capability and institutional and bureaucratic differentiations between the IRGC and the regular national army[38]. The duality in the armies of one state decreases the effectiveness of the whole army and divides material units, command, and communication into two groups of independent, parallel players. Therefore, because of its low number of armored vehicles; its thin logistical preparation; and its lack of effective communication, control, command, and military coordination to sustain a massive offensive operation, the Iranian Army is non-mechanized.
2.3 MILITARY POSTURE
Finally, the importance of WMDs for an army can be determined by its military posture. WMDs are primarily used as offensive weapons because of their surprise effect. They are, therefore, well suited to an army with an offensive military posture. Each military posture necessitates specific, measurable preparations and capabilities. A country with a defensive military posture does not want to start a WMDs war because it would not be prepared for such a war. In broad terms, a state's military posture includes force structure and operational strategy, and it can be determined by examining four factors: geography, military technology, economy, and politics. The Iranian military posture is defensive in each of these regards.
Geographical conditions compose the strategic depth of a state. Iran, with over 75 million inhabitants populated across 1.64 million square kilometers of uneven land, has enough natural and human resources that its national security could be better served by resorting to a defensive military posture.
Technological improvements and their military usage can result in the destruction of enemies at much greater distances and with much greater accuracy. Information technology, particularly in satellite command and control, could diminish the strategic value of land. Any such decreases could increase the probability of preemptive, and thus offensive, considerations in the military posture of a state. Yet modern military equipment and its related technology are imported commodities in Iran. The Western boycott of military technology and equipment to Iran has diminished its technological improvements, particularly in the high-tech military industry and modern warfare. These restrains have pushed Iran's military thinkers to rely on their own capabilities, which were modest at best during wartime and highly protracted afterward. This is particularly true with regard to more complicated technologies. Achievements have primarily been in less complicated weapon systems, such as small arms and light weapons, mortars, ammunitions, and light army personnel carriers. According to The Military Balance, "neither the IRGC nor Artesh (national army) is sufficiently well organized, equipped or trained to conduct sustained battle beyond Iran's borders[39]."
Economic conditions can also act as a barrier to an offensive military posture, given the cost of keeping a military force in an alert position. Offensive forces, in comparison with defensive ones, should be greater in number and have better training and equipment to perform successful operations, which makes the whole process an expensive one. Thus, financial problems may motivate a state to take a defensive military posture. Comprehensive sanctions by the UN Security Council and even more severe unilateral sanctions by the United States and the European Union, which most recently extended to the financial transactions of the Central Bank of Iran, have highly affected Iran's economy, to the extent that the country cannot even realize the benefits from its high rate of oil exports and the surplus made in relation to its imports. The high percentage of the annual inflation rate, in addition to economic stagnation and diminishing economic growth from 7.5 percent in 2002 to 5.1 percent in 2004 and 1.8 percent in 2009, in the face of ever rising oil prices, has held the whole economy of Iran in a futile situation[40]. Therefore, economic problems motivate Iran to take a defensive military posture.
Finally, political circumstances, which compel a country to take an offensive or a defensive military posture, have both internal and external origins. Internally, they could involve the revolutionary, ideological, and hegemonic expectations that a state promotes. External political conditions are based on the level of uncertainty a state is suffering from with regard to its surrounding neighbors or the international system. Internally, more than three decades of revolutionary life, hard economic conditions afterward, and internal factional rivalry, particularly after the 2009 presidential election, have led to restraint in the idea of exporting the Islamic Revolution. Iran's revolutionary and ideological self-expectations are now practically limited to its national boundaries[41].
It is arguable that Iranian support for the Shiite Hezbollah and Sunni Hamas groups against Israeli occupational forces represents an offensive military posture beyond Iranian borders. This support, however, demonstrates a religious commitment, and it is more support for a global Islamic idea than for an Iranian ideological policymaking that could instigate Israeli antagonism. The fact that the Organization of Islamic Cooperation (OIC), the second largest intergovernmental organization after the United Nations, with membership from fifty-sevenstates spread over four continents, was established in 1969, only after the arson of al-Aqsa Mosque in occupied Jerusalem, speaks for itself[42].42 The majority of resolutions approved by this organization are about Palestine. Each year, the OIC special committee of Palestine confirms all the resolutions in three areas: (1) the "question of Palestine"; (2) "AlQuds" (the Arabic term for Jerusalem); and (3) the "Arab-Israeli conflict" adopted by the Islamic conferences and AlQuds Committee. It also reaffirms the centrality of Palestine's cause for the whole Islamic community (literally named as Ummah)[43]. Beyond any ideological difficulty, the fact that Iran does not share a border with Israel changes the nature of their hostility into a proxy war at most, far from their core security interests.
After the occupation of Iraq and the formation of a new, friendly government with a Shiite majority in power, the major threat of Iraq to Iran has been sharply diminished. The U.S. presence at both the eastern and western borders of Iran could be considered a new threat, of course, but this is a temporary situation that will change over time. In addition, both Iran and the United States share the interest of keeping current administrations in Iraq and Afghanistan stable, under their influence, and working properly—at least until they have better alternatives. Iran, therefore, has no pressing reasons to feel that its national security is threatened by its current neighbors.
Iran is unwilling to use WMDs as a strategic deterrent because this would entail costs similar to an offensive doctrine, including heavy costs for preliminary requirements, extensive material preparations, and participation in arms races,. It would also go beyond Iran's natural position, which is based on denying any war objectives against its core security interests. While offensive doctrine aims to disarm an adversary by destroying its armed forces, defensive doctrine sets its sights on denying an adversary's probable war objectives. Deterrent doctrine aims to punish an aggressor and to raise their costs without reducing one's own, thus encompassing the main characteristics of "denial" and "retaliation" of both defensive and offensive doctrines[44].As a result, a deterrent doctrine is considered to have the same effect and to need the same preparations as an offensive doctrine. Offensive and deterrent doctrines increase the probability and intensity of arm races because they create the logic of a preemptive attack[45].Defensive doctrine, by contrast, produces fewer such destabilizing effects. Iran would therefore be better off with a defensive military posture.
3. The Strategic Utility of WMDs for Iran
The strategic utility of WMDs is not in the military field, but against urban-industrial centers to trigger a collapse on the enemy's "home front[46]."Thus, the strategic utility of WMDs could be analyzed in two specific ways: the preparation for a mass destructive capability, and the core aggressive or protective security interests that could lead to such massive destruction. It is postulated that, to the extent that Iran's mass destructive power is based more on WMDs than on conventional weapons, and to the extent that its core security interests are more aggressive than protective, it is less likely to abandon its pursuit of weapons of mass destruction. Thus, Iran's mass destructive capability could be analyzed based on its preparation for applying WMDs or on its conventional substitutions. These conventional substitutions could utilize high-explosive ammunition, and their delivery systems could consist of ballistic missiles and air strategic bombers. The next step is to study the background of enmity in the region to determine whether Iran is likely to require weapons of mass destruction to advance a core security interest. The background of enmity involves the history of regional conflicts, which affect the national security of a state. Core security interests can be classified as protective or aggressive. Protective security interests are those national security issues that must be protected to avoid a core security threat to the state (e.g., the territorial integrity of a state). Aggressive security interests are those that can push a state to threaten a core security interest of another state.
3.1 IRAN'S CONVENTIONAL MASS DESTRUCTIVE CAPABILITY
Conventional high-explosive ammunitions could be considered to have massive destructive capabilities when delivered to crowded urban areas. Thus, the analysis of Iranian conventional mass destructive capability includes ballistic missiles and combat aircraft. Iran has a number of mediumand short-range ballistic missiles. The short-range ballistic missiles are mostly developed internally. More important to this study is Iran's improving medium-range missile capability, which includes Scud B and C; Shahab 1, 2, and 3; Ghadr 1; and Sejjil 2 missiles. The Military Balance reported in 2005, and again in 2011, that Iran has about 18 Scud B/C launchers, with 200 to 300 surface-tosurface Scud B/C missiles; and 30 CSS-8 launchers, with 175 tactical missiles[47].Scud B missiles, particularly the North Korean made, have a 320 to 340 kilometer (km) range and a 1,000 kilogram (kg) payload. Scud C with a half payload has a 500 to 600 km range[48].
Shahab is a liquid propellant missile system that was indigenously developed. Shahab 1 and 2 are reverse-engineered copies of Scud B and Scud C. They are therefore included in the above estimate of Iran's Scud missiles inventory. Shahab 3 is a modified No-dong North Korean system with a 1,300–1,500 km range and 760–1,100 kg warhead, and Iran is likely capable of deploying a single battalion consisting of 6 launchers and 24 missiles in the field. Therefore, as Gary Samore confirmed, it seems that Iran has established a technologically advanced ballistic missile program, which suggests that Iran intends to rely on missiles as long-range strike capabilities[49]. Two other long-range missiles under development by Iran are Ghadr 1 and Sejjil 2, which are supposed to be launched by the same 6 launchers as the Shahab 3[50]. The Sejjile 2, with a 2,200 to 2,400 km range, is the longest range solid-fuel missile under development. Despite success in its flight test, the Sejjile 2 is still a couple of years and several tests away from becoming operational[51]. From a military perspective, the utility of Iran's missile strike would be severely limited by its poor accuracy; hence, without a high casualty rate, it could not be applied against critical military activities in the field, or even against the enemy's cities and economic industrial complexes[52]. It is thus questionable why Iran has developed its ballistic missile program to such an extent, given that it is too inaccurate to use effectively with any conventional explosives.
The Iranian missile program has a history that makes it a legitimate conventional program, despite its shortcomings and unreliability as a system. Historically, the Iranian missile program is a remnant of two events during the 1980–88 war: the Iraqi use of Scud missiles against Iranian cities; and the U.S. military arms embargo. First, the Iranian air defense establishment had the ability to intercept planes and siren their imminent attack to the cities; long range-missiles, however, could escape short range interception. Hence, during the war, missiles had an effect like a surprise, large-scale terrorist attack against the Iranian home front. Second, the existing U.S. arms embargo on complicated arms, including U.S. fighter jets and long-range missiles, left Iran empty handed and unable to respond in kind to the Iraqi missile attack. The Iranian indigenous missile industry was therefore established in response to a real threat in kind from Iraq. Although the program was formed only later in the war, and in much more limited scope and numbers than Iraq's program, the continuation of the U.S. ban on Iranian military imports provided enough reasons to continue its development.
Another point to consider is the crosswise gap between Iran's furthest points in the northwest and the southeast, which is longer than the range of any Iranian missiles. Iran's diagonal distance from the Azerbaijan Province in the northwest to the Sisstan Province in the southeast is approximately 2,333 km[53]. Such a long distance could provide a militarily convincing reason, based on defensive rationality, for the high range of Iran's missile capability.
Combat aircraft, which are normally equipped to deliver ordnance in air-to-air or air-to-surface operations, include Fighter Aircraft (FTR) and Fighter Ground Attack (FGA). FTR is specified for aerial, while FGA is a dual-capable aircraft fighter, reconnaissance, and even bomber. Thus, FGA is more suitable for mass destruction. Iran has 108 FGA, including 65 F-4D/ E Phantom II; 30 Su-24MK; 7 Su-25K; and 10 Mirage F-1E (including former Iraqi fighters); and up to 3 Saegheh indigenously developed FGA[54]. A long-range bomber must have an unrefueled radius of action of greater than 5,000 km; medium range, 1,000-5,000 km; and short-range, less than 1,000 km. Light bombers are those with a payload of under 10,000 kg[55]. By this definition, all Iranian bombers can be classified as short-range light bombers. Iran therefore has a limited number of missiles with a range of up to 600 km, and a few more missiles with a range of up to 1,300 km; it also has short range aircraft bombers with less than a 1,000 km combat radius, which gives it a limited capacity for conventional mass destruction. Thus, the Iranian Army could be considered regionally to have a limited massive destructive capability, given its conventional capability.
3.2 IRAN'S CORE SECURITY INTERESTS AND THE HISTORY OF REGIONAL ENMITY
Does a major enough threat or background of enmity exist between Iran and its rival neighbors to accelerate the probability of the use of weapons of mass destruction? The background of enmity in the region should be assessed to explain the regional conflicts that could have an effect on the national security of Iran. As many experts have observed, Iran's security environment has improved dramatically over the past decade, with the neutralization of its two greatest external threats: Saddam Hussein's Ba'athist regime in Iraq; and the Taliban in Afghanistan[56].The elimination of Tehran's traditional security threats does not mean that Iran has stable relationships with its neighbors across the board, but they have not yet threatened its homeland and core national security interests. In the meantime, there are other possible reasons why Iran would be in need of a strategic deterrent as a basic insurance policy, including variables such as the presence of U.S. forces on both Iran's western and eastern borders, representing a hostile and nuclear-armed superpower; a history of enmity with neighboring Iraq, which has harbored ambitions of nuclear WMD attacks in the region; and the surrounding presence of other nuclear-armed states, including Russia and Pakistan.
Although the presence of U.S. military forces in Iraq, Afghanistan, and the Persian Gulf presents new challenges, it has a temporary nature and is not threatening to the territorial integrity of Iran. The professional behavior of the Iranian and U.S. Navies in the Persian Gulf over the last two decades exemplifies the possibility of harmony and even cooperation in harsh situations such as fighting piracy and responding to natural sea disasters.
Other than the two World Wars, Iran has faced a military threat to its national security only twice during the twentieth century, namely the Soviet occupation of the north-western part of the Iranian Azerbaijan Province; and the war with Iraq. In the first incident, Soviet troops supported the call for the separation and independence of Iranian Azerbaijan and its unification with the Republic of the Soviet Azerbaijan in the aftermath of World War II . Although this was solved diplomatically, the incident left a legacy of ambition for the unification of a greater Azerbaijan that would include several Iranian provinces and one of the Soviet republics in the region. Following the disintegration of the Soviet Union, Iran has developed good relationships with the three new republics of Armenia, Azerbaijan, and Turkmenistan in bilateral as well as regional agreements, such as the Economic Cooperation Organization. In addition, the political and military weaknesses of these republics, along with the cooperative bilateral relationship between Iran and Russia, prevent these newly emerged states—Azerbaijan in particular—from making any boundary claims against Iran. Moreover, Iran plays a balancer role in relation to these republics, maintaining peace and preventing one from gaining superiority over the others.
The second threat was the Iraq-Iran border disputes and clashes. Iraqi claims over the boundary river of Arvand, or Shatt al-Arab, have led to fighting between the two countries on three occasions. There were two minor conflicts before the Islamic Revolution and one major war from 1980 to 1988. The two minor conflicts concluded with the Algeria Agreement in 1975, and the major one ended after the Iraqi invasion of Kuwait in 1990. The U.S. occupation of Iraq in 2003, which led to the removal of Iraq's anti-Iran Ba'athist regime and the instatement of a friendly regime with a majority Shiite sector in power, further reduced Iraq's threat to Iran.
Two other threats to the national security of Iran are: (1) Iran's rivalry with Pakistan over Afghanistan; and (2) its dispute with Sharjah, one of the seven Sheikhdoms of the United Arab Emirates (UAE), regarding the sovereignty of Iran over three islands in the Persian Gulf. The difficult situation in Afghanistan involves not only the remnants of Taliban and al-Qaida, but also narcotics and well-organized gangs. Illegal operations have already corrupted part of the Afghan administration, particularly in the provinces farthest from Kabul. It is estimated that about 2,000 illegal armed groups operate throughout the country[57].They are heavily engaged in the narcotics trade, which threatens the security and the stability of Afghan society and of its neighbors—Iran in particular—to the extent that "criminality is probably a more serious threat than terrorism[58]."
The rivalry between Iran and Pakistan in Afghanistan has not been a core security threat for either country, more closely resembling a proxy war far removed from the heartlands of the two countries. Traditionally, Iran has sympathized with the Shiite minority, Tajikistan has supported the Tajik minority, and Pakistan has supported the Sunni Pashtoon minority. In the meantime, the gradual reduction of U.S. and European NATO troops, and their replacement with the Afghan National Army, diminishes the U.S. threat to Iran, while increasing Iran's responsibility as a major player in the security of the region. Since the defeat of the Taliban, Iran has actively participated in the reconstruction process of Afghanistan, and it is among the biggest donors. By contrast, Pakistan has lost the majority of its influence. The nature of threat coming from Afghanistan has therefore witnessed a major shift from military-political to a softer social threat.
The acquisition of nuclear weapons is not, in fact, a matter of national security for Iran. "Nuclear weapons for Iran are not critically vital as they are for Pakistan in relation to its more populous and stronger rival, India, or for India in relation to China and their rival global context[59]." With the destruction of the Iraqi mass destructive capability, Iran is left with no rivals among its neighbours that possess a similar capability, with the exception of Pakistan. Pakistan is not considered a critical threat, however, because of Iran's support for Pakistan in its dispute with India over Kashmir, as well as the old and profound friendly relationship between the two countries: Iran was the first country to recognize the independence of Pakistan and to militarily support it during its war with India; and Pakistan in turn supported Iran in its war with Iraq. In addition, there remains a large Shiite minority in Pakistan and, finally, one should not forget that the initial Iranian centrifuge technology and material was imported from Pakistan with the full knowledge of Pakistani military and intelligence.
One more minor dispute between Iran and its neighbors is with Sharjah, but this dispute has already shifted to a regional debate over Iranian sovereignty in the Persian Gulf. Iran followed a bilateral solution for Abu Musa and the two Tonbs, and signed a modus vivendi memorandum of understanding (MoU) with the ruler of Sharjah in 1971 for economic and security cooperation over Abu Musa[60]. The MoU ruled out the possibility of violent actions over Abu Musa by either side in the future. Support by the Gulf Cooperation Council (GCC) member states for the UAE's sovereignty over all three islands, however, changed an ordinary bilateral debate into a regional discussion. Iran challenged the GCC support for the UAE by declaring a twelve-mile limit for its territorial water, which placed all three islands within the sovereignty of Iran[61]. These three islands represent a strategic concern for Iran because all of its crude oil is exported through the Persian Gulf and the straits of Hormuz—thus, these islands guarantee the safe passage of Iranian oil to the whole world. No other country on the Persian Gulf is in a similar position. By delivering the responsibility for the security of Abu Musa to Iran in the aftermath of the British evacuation, the MoU of 1971 indirectly recognized sovereignty of Iran over this island. The military presence of Iran in these islands is not a threat to the other Persian Gulf states, given the improbability of war. For all these reasons, Iran's security interests are protective, not aggressive.
4. Conclusion and Policy Recommendations
Iran is a non-possessor of nuclear weapons and, despite its preparation for defense against chemical weapons and its procurement of the know-how for their mass production, it is also a non-possessor of chemical weapons. Iran has not exploited any offensive biological weapons program, although it has the capability to develop such a program if it so decides. The Iranian Army, because of its low number of armored vehicles, and also its logistical, communication, and command features, in comparison with its rival neighbors, is quantitatively and qualitatively a non-mechanized army organized according to a defensive military posture. In sum, Iran is unlikely to pursue the acquisition of nuclear weapons for the following reasons:
Iran would not be in a position to integrate WMD systems into its war-fighting

doctrine, because Iran has not been preparing for the different aspects of a massive

operation utilizing WMDs. Thus, they would not be tactically appropriate in a

regional conflict.

The Iranian Army, because of its low number of armored vehicles and its logistical,

communication, and command features, is both quantitatively and qualitatively a

non-mechanized army organized according to a defensive military posture.

Iran's security interests are protective, not aggressive, and its conventional destructive

capability meets its core protective security interests without mass destructive

weapons. Iran would not need strategic weapons to coerce adversaries or to pursue

aggressive interests, because there are no such compelling interests within the core

security interests of Iran.
Why, then, is Iran's position regarding WMDs frequently distorted? Western countries' discriminatory export control regimes over the last thirty years could be considered a main tactical explanation for Iran's ostensible pursuit of mass destructive weapons. Long time regimes of export control and military embargoes, even on conventional weapons, which commenced long before the opening of the Iranian nuclear file, have had a boomerang effect. When added to the current mixture of unilateral, multinational, and international sanctions, it may explain the current stalemate in negotiations, Iran's lack of trust of the P5+1 negotiation objectives, and the failure of the UN machinery to resolve this issue.
This paper offers three main policy recommendations to help resolve the current impasse in negotiations. First, the non-indigenous nature of the Iranian nuclear industry and its technological dependency on foreign suppliers suggest that possession of dual-use technology and materials is necessary but not sufficient for proliferation. This is because of Iran's vulnerability to foreign supply for sensitive materials and technology. Thus, this technological dependency, in addition to the strict international supervision that Iran is under (such as the IAEA Safeguards and OPCW inspections), could be utilized interdependently in a balancing approach to manage Iran's possession of dual use, but reasonably proliferation-free, technology. An intrusive system of tense and thorough observation by the international professional community could help to support this approach. The link between the promotional and regulatory aspects of a multilateral agreement on employing dual use technology may work as a means of crisis management through strict regulation and continuous supervision. It could be much more successful than current incremental sanctions that have entailed crisis augmentation.
Second, the P5+1 and the United States, in particular, should support Iran's role as a balancer in the region. The non-adversarial and non-ideological nature of Iranian foreign policymaking in relation to its neighboring countries could make Iran a vital player in better stabilizing the region. Iranian behavior in the region shows a history of pacifism and problem solving. Take, for example, Iran's tacit and indirect cooperation with the United States during the Afghanistan campaign against the Taliban; its calming and controlling of Shiite extremists in Iraq; its role as a middleman between Azerbaijan and Armenia; and its avoidance of radicalization on a range of regional issues, from Chechnya to the Bahrain uprisings. The professional behavior of the Iranian Navy and the U.S. Navy in the Persian Gulf over the last two decades is another example of the possibility for harmony and cooperation in the region.
Finally, the current U.S. policies of isolation, threats, sabotage, and sanctions have been applied and have proven to be unsuccessful in curbing the question of the Iranian nuclear file, or even in slowing down Iran's mastery of nuclear enrichment. As Kenneth Katzman most recently reported to the U.S. Congress, "The principal objective of international sanctions—tocompel Iran to verifiably confine its nuclear program to purely peaceful uses—has not produced that outcome to date[62]".It is therefore time to rethink the efficiency of the policy of coercion by testing an alternative, non-coercive policy. This includes respecting Iran's legitimate technological and conventional defensive needs, and streamlining the current sanctions to avoid harming the Iranian economy as a whole, which only weakens and thins the middle class—the key sponsors of temperate policies in Iranian society and body politic—rather than curtailing suspicious nuclear activity in Iran. The non-coercive approach would be an opening to collaboration rather than to confrontation as a gradual, piecemeal, and reversible policy. Not only can it open breathing space for a constructive approach to break
the current stalemate, but by addressing legitimate concerns on both sides, it could initiate a move toward a more stable Persian Gulf through mutual understanding, cooperation, and trust.
---
[1] United Nations Office for Disarmament Affairs (UNODA), "Treaty on the Non-Proliferation of Nuclear
Weapons" (New York: UNODA), http://www.un.org/disarmament/WMD/Nuclear/NPTtext.shtml.
[2] Carl von Clausewitz, On War, Vol. 1, trans. J.J. Graham (London: Kegan Paul, 1911), p. 23.
[3] Barry Buzan, An Introduction to Strategic Studies: Military Technology and International Relations, (London:Macmillan, 1987), p. 3.
[4] Ibid., p. 3.
[5] Barry R. Posen, The Sources of Military Doctrine: France, Britain, and Germany between the World Wars (Ithaca, N.Y.: Cornell University Press, 1984), p. 25.
[6] See the Organisation for the Prohibition of Chemical Weapons, http://www.opcw.org/about-opcw/memberstates
[7] Gary Samore, Iran's Strategic Weapons Programs: A Net Assessment (London: International Institute for Strategic Studies [IISS], 2005), p. 73.
[8] British Broadcasting Corporation, Summary of World Broadcasts, weekly report, MEW/0566 WME/[13], p. 4.
[9] International Trade Statistic Year Book 2002, Vol. 1(New York: UN Reproduction Section, 2004), pp. 489–493
[10] Gordon M. Burck and Charles C. Flowerree, International Handbook on Chemical Weapons Proliferation (Boulder, Colo.: Westview, 1991), p. 252.
[11] Ibid., p. 252.
[12] See: http://www.armscontrol.org/factsheets/iranprofile
[13] "Unclassified Report to Congress on the Acquisition of Technology Relating to Weapons of Mass Destruction and Advanced Conventional Munitions for the Period 1 January to 31 December 2006" (Washington, D.C.: Office of the Director of National Intelligence, 2008), p. 4, http://www.counterwmd.gov/files/Acquisition_Technology_Report_030308.pdf.
[14] »Unclassified Report to Congress on the Acquisition of Technology Relating to Weapons of Mass Destruction« and Advanced Conventional Munitions, Covering 1 January to 31 December 2010" (Washington, D.C.: Director
of National Intelligence), https://www.fas.org/irp/threat/wmd-acq2010.pdf. Cited in the Nuclear Threat Initiative's (NTI's) report on WMD in Iran, http://www.nti.org/country-profiles/iran/.
[15] For a detailed analysis, see Richard F. Pilch and Raymond A. Zilinskas, eds, Encyclopedia of Bioterrorism Defense (Hoboken, N.J.: Wiley-Liss, 2005), pp. 278–280.
[16] "Unclassified Report to Congress on the Acquisition of Technology Relating to Weapons of Mass Destruction and Advanced Conventional Munitions for the period 1 January to 31 December 2006," http://www.counterwmd.gov/files/Acquisition_Technology_Report_030308.pdf.
[17] For a reliable account of reports, resolutions, and background facts and figures, see "IAEA & Iran," http://www.
iaea.org/newscenter/focus/iaeairan/index.shtml. See also Bruno Pellaud, Negotiating with Iran: Testing Alternative Approaches, in Joachim Krause, ed., Iran's Nuclear Programme: Strategic Implications (New York: Routledge, 2012), pp. 53–81.
[18] See the International Atomic Energy Agency (IAEA), "The Text of the Agreement between Iran and the Agency for the Application of Safeguards in Connection with the Treaty on the Non-Proliferation of Nuclear Weapons," INFCIRC/214 (Vienna: IAEA, December 1973), http://www.iaea.org/Publications/Documents/Infcircs/Others/infcirc214.pdf.
[19] See IAEA, "Implementation of the NPT Safeguards Agreement and relevant provisions of Security Council
resolutions in the Islamic Republic of Iran," report by the director general of the IAEA to the boards of governors, GOV/2011/65 (Vienna: IAEA, November 8, 2011), par. 53,
http://www.iaea.org/Publications/Documents/Board/2011/gov2011-65.pdf.
[20] See ibid., par. 52.
[21] "Weapons Proliferation in the New World Order," 102nd Congress, 2nd sess., January 1992, which concluded that Iran would have the bomb by 2000. Cited in Joseph Cirincione, Jon B.Wolfsthal, and Miriam Rajkumar, Deadly Arsenals, Nuclear, Biological, and Chemical Threats, 2nd ed. (Washington, D.C.: Carnegie Endowment for International Peace, 2005), pp. 295, 308.
[22] Mark Fitzpatrick, Iran's Nuclear, Chemical, and Biological Capabilities: A Net Assessment, Executive Summary (London: IISS, February 3, 2011), http://www.iiss.org/publications/strategic-dossiers/irans-nuclear-chemical-andbiological-capabilities/.
[23] Ibid., Iran Nuclear Brief (London: The Arms Control Association, IISS, October 3, 2011), p.1.
[24] In his retirement speech to the Israeli Knesset Foreign Affairs and Defence Committee on January 7, 2011,
Mossad Chief Meir Dagan stated that Iran would not be able to produce a viable nuclear weapon before 2015. He elaborated that Iran is still far from being capable of producing nuclear weapons and that a series of malfunctions and failures have set the Iranian nuclear weapons program back by several years. Yossi Melman, "Outgoing Mossad Chief:Iran Won't Have Nuclear Capability Before 2015," Haaretz, January 7, 2011, http://www.haaretz.com/print-edition/news/outgoing-mossad-chief-iran-won-t-have-nuclear-capability-before-2015-1.335656.
[25] Joseph Cirincione, Bomb Scare: The History & Future of Nuclear Weapons (New York: Columbia University
Press, 2007), p. 47.
[26] "On numerous occasions, the Iranian people and government officials have announced that they do not seek
to develop nuclear weapons and that nuclear weapons have no place among the needs of the nation and the military system of the country. We believe that using nuclear weapons is haraam and prohibited and that it is everybody's duty to make efforts to protect humanity against this great disaster. We believe that besides nuclear weapons, other types of weapons of mass destruction such as chemical and biological weapons also pose a serious threat to humanity The Iranian nation which is itself a victim of chemical weapons feels more than any other nation the danger that is caused by the production and stockpiling of such weapons and is prepared to make use of all its facilities to counter such threats." The Center for Preserving and Publishing the Works of Grand Ayatollah Sayyid Ali Khamenei, "The Supreme Leader's View of Nuclear Energy," April 13, 2011, http://english.khamenei.ir//index.php?option=com_content&task=view&id=1442&Itemid=13.
[27] Cirincione, Bomb Scare, p. 75.
[28] Ibid., p. 77.
[29] See "Implementation of the NPT Safeguards Agreement and Relevant Provisions of Security Council Resolutions in the Islamic Republic of Iran," GOV/2012/37 (Vienna: IAEA, August 30, 2012), par. 23–25, 37, http://www.iaea.org/Publications/Documents/Board/2012/gov2012-37.pdf.
[30] Armor- and Mechanized-Based Opposing Force: Organization Guide, Field Manual Headquarters, No. 100-
60 (Washington, D.C.: Department of the Army, July 16, 1997), p. iv, http://www.fas.org/man/dod-101/sys/land/
row/100-60.pdf.
[31] Ibid., p. iii.
[32] IISS, The Military Balance, 2011 (London: IISS, 2011), p. 309.
[33] Information for this chart extracted from ibid.
[34] See John Chipman and Sidney Bearman, Strategic Survey, 1995–1996 (London: IISS, 1996), p. 30.
[35] Stephanie Cronin, "Conscription and Popular Resistance in Iran, 1925–1941," International Review of Social
History, Vol. 43, No. 3 (December 1998), pp. 451–471, http://journals.cambridge.org/action/displayFulltext?type=1&fid=69726&jid=ISH&volumeId=43&issueId=03&aid=69725.
[36] Richard A. Gabriel, ed., Fighting Armies: Antagonists in the Middle East: A Combat Assessment (London: Greenwood, 1983), p. 99.
[37] Ibid, pp. 97–99.
[38] IISS, The Military Balance, 2011, p. 297.
[39] Ibid, p. 298.
[40] The Economist Intelligence Unit (EIU), "Country Report: Iran, March 2005" (London: EIU, 2005), pp. 27, 30. See also World Bank Statistics, "Iran, Islamic Rep. at a Glance" (Washington, D.C.: The World Bank, March 29, 2012), http://devdata.worldbank.org/AAG/irn_aag.pdf.
[41] Anthony H. Cordesman, Iran's Developing Military Capabilities, draft report on CD (Washington, D.C.: Center for Strategic and International Studies, December 14, 2004), p. 2.
[42] See the official site of the Organisation of Islamic Cooperation (OIC), http://www.oic-oci.org/.
[43] See Annual Ministerial Sessions reports See also "Report of the Meeting of the OIC Six-Member Committee on Palestine Submitted to the Annual Coordination Meeting of Foreign Ministers of OIC Member States" (New York: United Nations, September 28, 2012), http://www.oic-oci.org/english/conf/fm/acm2012/REP-PALESTINE-ENGLISH.pdf.
[44] Barry Posen's definition of offensive, defensive, and deterrent military doctrines may help us to identify the particular task of weapons in each military doctrine. See Posen, The Sources of Military Doctrine, pp. 14–16.
[45] On the logic of pre-emptive attack in a nuclear war, see: Bruce G. Blair, The Logic of Accidental Nuclear War
[46] The concept of targeting weapons of mass destruction on urban-industrial centers originates from the development of air power theory in the 1920s and the 1930s and the strategic bombing campaigns of World War II. One of the leading air-power strategists was Giulio Douhet, who believed that bombing could be used directly against an enemy's industrial, commercial, transportation, and civil population. See Jeffrey Legro, Cooperation under Fire: Anglo-German Restraint During World War II (Ithaca, N.Y.: Cornell University Press, 1995), p. 100. See also Theo Farrell and Helene Lambert, "Constructing Nuclear Use: Deterrence Norms and International Law in State Practice," paper presented at the ECPR-ISA Joint Conference, Vienna, Austria, September 16–20, 1998.
[47] See IISS, The Military Balance, 2004-2005 (London: IISS, 2005), p. 124; and IISS, The Military Balance, 2011, pp. 309–310.
[48] Martin S. Navias, Going Ballistic: The Build up of Missiles in the Middle East (London: Brassey's, 1993), pp. 20, 24.
[49] Samore, Iran's Strategic Weapons Programs, pp. 89–105.
[50] IISS, The Military Balance, 2011, p. 310.
[51] Fitzpatrick, Iran's Ballistic Missile Capabilities, p. 61.
[52] Ibid., pp. 132–133.
[53] See Helen Chapin Metz, ed., "Iran: A Country Study," December, 1987, http://www.country-data.com/cgi-bin/query/r-6398.html. 54
[54] IISS, The Military Balance, 2011, p. 311.
[55] For detailed specification of the combat aircraft, see Gordon M. Burck and Charles C. Flowerree, International Handbook On Chemical Weapons Proliferation (Boulder, Colo.: Westview, 1991), pp. 508–509 table 9.1.
[56]IISS, The Military Balance, 2011, p. 296.
[57] Isobelle Jaques, Afghanistan: Beyond Bonn (Steyning, U.K.: Wilton Park, May 2005), p.16.
[58] Ben Smith, Afghanistan Where Are We? Central Asian Series, No. 05/30 (Oxford: Conflict Studies Research
Centre, June 2005), p.18.
[59] Shahram Chubin, "Does Iran want Nuclear Weapons?" Survival, Vol. 37, No. 1 (Spring 1995), pp. 89, 93.
[60] For the details of the Memorandum of Understanding between Iran and Sharjah, see Hooshang Amirahmadi,
Small Islands, Big Politics: The Tonbs and Abu Musa in the Gulf (London: Macmillan, 1996), p.162.
[61] IISS, Strategic Studies, 1993–1994 (London: IISS, 1994), p. 141.
[62] Kenneth Katzman, Iran Sanctions, Congressional Research Service (CRS), Report for Congress (Washington,
D.C.: CRS, September 13, 2012), p. 2.
Assessing failures of "Humanitarian Intervention": Finding a "non-traditional"approach
Within the context of traditional theory of international relations humanitarian intervention is referred as "intervention-from-above", highlighting the "tactics of intervention" by various states, international institutions, government sponsored think tanks and international aid organizations. At the global level, flow of international aid is unidirectional (traditionally flowing from North to South); although, intervention is not only limited to North, but may occur regionally in the South too. Historically, the world has witnessed tensions highlighting "certain drawbacks" in the global legal system particularly within the context of a donor country "crossing humanitarian boundaries, sovereignty, the principle of non-intervention, while purposefully meddling in the regional affairs of the host", violating every nomenclature of humanitarian assistance and instigating dilemma among probable future host economies.
Today, host countries are forced to question the objectives of donor economies. Many states begin formulating an "after-effect strategy" in case the donor intends to violate, in the light of many least economic developed economies being host, fewer states respond. From the aforementioned arguments, the questions that challenge policy makers of today are: Does humanitarian intervention bring results? Does it truly assist the host economy? If it does, which is the best effective and efficient plan of action?
Policy makers must focus their attention on the "flaws in international law highlighted in the aforementioned arguments". Furthermore, historically it has been seen that, nations ignore legal guidelines and international laws which does not benefit it while giving jurisprudence to politics than the international laws.
Today, the focus of the article will be on the three traditional pillars of humanitarian intervention, the donor's "capability" to assist the host, the donors "interests" in providing assistance to the host, and the "after-effects" on the host; in an effort to "effectively" understand and identify factors responsible for recent "negative outcomes" from humanitarian interventions while identifying alternative non-traditional approaches of humanitarian intervention shifting the focus of political thinkers and strategic experts from military theories, while giving special emphasis on the role of non-government development agencies and civil society organizations. Keeping all relevant actors in play, it is literally impossible to predict the success of "traditional grass-root focused "humanitarian intervention especially when the "much advanced top-down approach" continue to fail.
The quest to identify non-traditional theories of humanitarian intervention, also termed by strategic experts as "bottom to top approach", will be the focus of this article. It will be safe to say that, such non-traditional approaches, will depend majorly, on intervention policies of humanitarian aid agencies and public works development focussed institutions of non-governmental organizations, development focussed civil society and volunteer groups from the masses, civil rights advocacy groups and organizations advocating for a specific society.
Decoding the myths
Political and Strategic experts have, classified, two types of traditional "humanitarian intervention" theories. The first theory relies on aggressive military intervention to fulfil strategic objectives of the host and is carried under the leadership of one or more host states, or by unanimously approaching the United Nations Security Council and other regional and international institutions.
The first theory comprises of intervention tactics, which could fulfil positive humanitarian objectives of great benefit for the host, however it remains secondary to the intervention objective implemented by the host. For example, repetitive acts of crimes against humanity, horrific abuses by successive regimes could come to an end through an intervention which is designed specifically by the host government. It is important to note that, such intervention is rare, especially considering the "humanitarian" view of this form of intervention, instead their long presence could result in oppression against the masses forcing the host to use all forms of excessive force.
Some historical examples include devastation of Germany during World War II, the Liberation of Bangladesh in 1971, and the invasion of Cambodia by Vietnam in 1968. Policy makers must understand that, interventions at such level involves specific military and political goals that starts with "intervention and occupation" for an indefinite time.
In this form of humanitarian intervention, genocide, crimes against humanity and violence induced on local masses are common. Such acts are destitute to walk among the strategic and military objectives of the host. However, in regions where the host intervened without any strategic objectives, for example intervention on Kurdish regions since World War I, and military confrontation against the indigenous tribes of Amazon, excessive violence induced against human life have been categorically side-lined or purposefully ignored.
In the second theory of humanitarian intervention, human rights abuses instigate an "aggressive response", although without any strategic advantage. If the intervention does takes place, it will be implemented without a "clear sight, objective or commitment" on the host intervening state, the commitment would be largely to challenge the political structure or the authority responsible for carrying such horrific crimes. Strategic and political experts refer this scenario, which remains active in the Middle East today, "the CNN factor", an aggressive wide scale visual representation of horrors and distress particularly depicting crimes against humanity, stressing the masses of West to force their governments to response, particularly "Americanised" nations.
If the agendas established by policy makers are restricted, and the actors tasked to "bull-work" the humanitarian intervention agendas follow strict discipline and designated guidelines, simultaneously earning the trust of the masses, humanitarian intervention in this platform could bring relief to the socio-economic havoc wretched life of the masses. This initiative has been implemented for the Kurds living in northern Iraq post-Gulf War, in the early years of relief and rehabilitation initiatives in Somalia (before invasion),and deployment of UNPROFOR aid and relief units for the then civil war-stricken masses of Croatia, the then Bosnia. In the aforementioned examples, however, the strategic objectives to eliminate the factors responsible for the crisis were absent, on larger extent, the crisis devastated the lives of millions.
If the state intervening in the crisis receives armed responses that could increase volatility in the region, then the state forces intervening could deploy evasive tactics and steer away from the confrontation. The participation of Washington has been vital with relevance to its extensive experience in humanitarian intervention. During Clinton administration, the US aggressively shifted its policy of "strategic objectives dipped humanitarian intervention" and an example to this "doctrine" was largely visible during the "initial deployment of medical and food aid workers" deployed in Somalia, eliminating the "strategic discourse" while establishing an example of "stringent and self-restraining" regime. The new established theory was a perfect example of "intended humanitarian intervention" of a state, having an edge over responses taken by globally established international institution.
The change in international relations dynamics followed by acute regional, religion/ sectoral "coloured" violent conflicts has resulted into numerous debates on "humanitarian intervention as a viable tool in global politics". The debate however, failed to separate the two theories of humanitarian intervention aforementioned discussed. This has resulted in "fragmented policies which not only failed but also became a principle factor in fuelling regional conflicts, further deteriorating an already deteriorated situation" leading to discontent and apprehension towards humanitarian intervention, while fuelling rage among the local masses and apprehensive governments towards UN actions. Clearing the "thick air" is not the purpose of this article, but many progressive steps could be taken in an effort to identify alternative theories.
Establishing outcomes from intervention
To begin with, a political tool such as an "intervention", if introduced as a traditional mechanism in foreign policy, is troublesome even without the presence of "strategic action", witnessed from the example of US intervention in Vietnam, or Soviet Union intervention of Afghanistan.
Using military superiority and using it to achieve desired political objectives/agendas is increasingly becoming difficult inspite of the "rightist regimes in the West". The traditional tools of foreign policy (aggressively used by Washington during post-World War II until the end of Cold War) such as "cloak and dagger diplomacy", "gunboat diplomacy" which elevated Washington's position as a hegemon, benefitted many US intelligence agencies in holding many economies hostage without any resistance. In the light of globalisation, tradecraft tactics evolved and advanced weaponry, began playing a much larger role.
In 1983 when a single truck exploded inside the barracks of US soldiers, Washington which was already on an edge, withdrew the remaining stationed US forces and shifted the US foreign policy which was focussed on rebuilding and restructuring city of Beirut during post-1982 war. An aggressive President Bush Jrdid not undertake restructuring and rehabilitation initiatives in Iraq, which could have forced Washington to deploy forces in Iraq which could have instigated terror factions in targeting US soldiers. Bush understood the "careful policies implemented by Clinton administration "particularly the actions taken by Washington in Somalia an example of "self-limiting" the objective to strictly humanitarian intervention. His objectives were very clear, turning Iraq's fate into Bosnia was all he feared.
Since 1989, the traditional concepts of international relations have evolved. The pragmatic but traditional theories that were applicable in IR are fairly limited. This has largely been a "misconception" among traditional international relations theorists, military and political experts making their expectations uncleared:
a) Even today, traditional theorists continue to believe, that cooperation and coordination among the nations could only be effective within the UN.
b) The aforementioned notion comes from the successful restoration of Kuwaiti sovereignty after the deployment of UN forces. The resultant of the conflict created a biased approach on a half-baked truth followed by rhetorical idea that combined security initiatives would be sufficient to mobilise large troops and financial assistance to implement resolutions passed by the United Nations Security Council. The traditional theorists failed to acknowledge the presence of Washington's "hunt for oil" and Israeli's "security dilemma". They also failed to foresee the lust for Middle East economies to acquire nuclear weapons.
c) Numerous severe simultaneous humanitarian crisis erupted which resulted in dictatorial regimes and failed states. The continent of Africa witnessed subsequent collapse of imperial regimes while the Central Asia witnessed the collapse of Soviet Union and the then Yugoslavia, which paved the way for ethnic conflicts, civil war and nationalist dictatorial regimes.
d) It was by now evident that, cost-efficient intervention will not be effective and even an objective focussed intervention will not bear desired results fearing which no political leadership was willing to accept the high cost of collateral damage during uninsured even in the name of "vital national interests." Reinforced by poor political leadership in intervened states and their failure to adhere or implement any concrete domestic policy along with subsequent challenges to domestic security, decision makers "waited and watched".
e) In colonial dominated regions particularly Africa, Latin America and Caribbean and South Asia, the concept of" humanitarian intervention" represented the interest of traditional colonial forces in the region, paving a way to regain dominate the lost territories, particularly those with significant Muslim population. This "delusion" idea was further fuelled by the West's retention of oil in the Gulf but refraining from taking any action against "systematic killing, ethnic cleansing" of Muslims in Serbia. Furthermore, the use of technology in the urban setting especially in the regions of Mogadishu to hunt warlord Aidid, reinforced their idea.
Strategy or Politics?
Bringing the focus back on political leadership, Bosnia was "political fore-play" which backfired. Argued by ethics professors even today, the reluctance to interfere, even after witnessing the horrors in war, mass killings, rape, gender-based violence and genocide reminding the days of World War II gripped Europe, the world has been reminded of another holocaust. It is nothing less than a betrayal to the lives of people who took a pledge "Never Again", the pledge was disrespected by the ugly truths of international political world. When thousands of leftists were brutally murdered in Singapore, the West particularly Washington compensated the loss of lives with the fear of communist controlled Singapore. When Indonesia invaded East Timor, dismantling all trumps (sovereignty, national and territorial integrity and right to existence) of international relations, instigating a policy on mass rape, murder, extensive killing and genocide which resulted in the deaths of over half of the then population, intervention in all forms remain absent.
Perhaps evidently, inspite of genocide carried by communist regime on large scale in Cambodia, forced the West not to intervene (presence and support of China)in the Vietnam invasion of Cambodia which resulted in the end of Khmer Rouge. Policy makers must understand that, the decisions under taken by the West form a pattern: strategic objectives outweigh even the harshest and deplorable humanitarian crisis.
The aforementioned statements points towards the fact that, there is an imminent need to re-evaluate and reassess humanitarian intervention policy. Today, the masses will not accept the decision to "fight someone else's war" irrespective of deplorable circumstances. This could come as a relief for many rightist political leadership, but it practically "chokes" the nation's policy for humanitarian intervention.
A failed political leadership to blame?
It is important to note that, the political leadership reluctance highlights the "inadequate importance" given to the segment of humanitarian intervention in international diplomacy coupled with the "saga of failure" of global powers and international established institutions failures in the past. Coupled with the failure of political will and leadership, identifying "strategic interests" and formulating a strategy resulted in some of the worst humanitarian crisis in Haiti, Bosnia, Somalia, Rwanda. The larger responsible segment of this failure goes to liberal "appeasing" foreign policy coupled with strategic interests and domestic security preferences. Historically, Washington was pushed to take a leading role and pulled by its own masses particularly when the "stakes were too high" overseas. This "tendency" continues to thrive within power nations which is evident from the on-going Rohingya crisis in South Asia.
The fundamental issue with humanitarian intervention lies largely on "intervention" aspect rather than "humanitarian" support, the larger perception remains the same "internal violence being the only factor capable of changing the dynamics of the domestic policy of a state". Policy makers must note that, if the nation undertakes the responsibility of providing" clean water, food, medicine, temporary shelter for refugees and internal displaced conflict-ridden masses" limiting the action to strictly humanitarian, then nations should not consider it an "intervention" even if the host country has not acknowledged or given a formal consent. If the intervening state intents to meddle with the host state's internal issues particularly in times of internal conflict or civil war, then the intervening state will fail even if its intentions are "humanity centred".
It is imperative for policy makers to identify or formulate strategies of "humanitarian intervention" without instigating further violence, fuelling crimes against humanity, genocide, factors leading to further deterioration of the host state.
Violence against Healthcare: Social and Humanitarian Implications
Historically, medical treatment during conflict has not been taken for granted as it is nowadays. For instance, in the 16th century, soldiers were not immediately taken from the battlefield to the nearest medical treatment facility, they had to wait two or more days until their conditions stabilized. Worst case scenario, they wouldn't make it. Their sufferings were alleviated when the first surgeon began treatment on wounded soldiers. Ambroise Pare was the one who decided to give them a chance at survival. Therefore, back in the day, the term "violence" could not be associated with "healthcare", since there wasn't any humanitarian assistance available in the first place.
In the 21st, violence against healthcare does very much happen. Campaigns such as "Health Care in Danger" conducted by the ICRC and reports such as the UN Special Rapporteur on the Right to Health have coined the phrase "compounded cost of violence on healthcare" as a result of this type of violence occurring.
The case of Syria is a tragic example and it might seem more relatable to the general public due to the fact that is a contemporary humanitarian disaster. In one of the reports on 'Protecting Healthcare in Conflict' released by the Commission of Inquiry on Syria demonstrates just how devastating is the purposeful zeroing in on the destruction of medical facilities, the targeting of health care staff and the refusal of certain ethnic groups to allow the treatment of the ill and wounded. These attacks are having consequences of paramount importance on the increasingly significant exodus of healthcare staff, the vaccination campaigns that are being sharply curtailed and the inventory that is facing a seemingly insurmountable stock-out.
Variations in Violence
The most pervasive mode of violent attacks is on the medical personnel, irrespective of the fact that they are from an INGO or belong to the local workforce.  According to Bruce Eshaya-Chauvin, medical adviser to the ICRC, "healthcare workers in conflict zones are literally being hunted down". Through the killing by armed groups of expatriate healthcare staff, their kidnapping from the workplace, their arrests and the constant threats coming from insurgents and governments in an equal manner, not to mention the countless explosive weapons used by armed forces during combat that render medical staff collateral victims and cause them severe injuries or even death, the healthcare system is being shattered from its roots.
Interesting cases have occurred when medical staff have been threatened to provide care for specific ethnic groups during the hijacking of an ambulance. An assistant medical coordinator at the ICRC in Bangui, Central African Republic recalled an instance in which she was "threatened by armed men who insisted on getting in the car and making us take them where they wanted to go. When we tried to explain our work to them they became angry and threatened us with machetes and rifles." ("Effects of Violence on Healthcare", 2014)
Another way through which violence against medical staff can be seen is through the limitation imposed by armed groups on the doctors while practising their jobs. For instance, a certain Dr. Cox talked to Discovery News about the rules of war and his experiences in Congo by saying that due to mortar rounds having fallen near the hospital, he had to tap the windows of the operating room to prevent them from shattering and perform the surgery while wearing body armour. This severely limits the way they practise medicine and puts them under constant psychological terror.
Violent events that are affecting the healthcare system as a whole are also those aimed at healthcare buildings. By buildings, it is meant hospitals, blood transfusion centres, laboratories, first-aid centres and those buildings in which medication and medical equipment is stored. Healthcare infrastructure is being hit by weapons during conflict, is being entered into by police and state armed forces or is being occupied for strategic reasons by armed groups. This ultimately leads to hospitals being unable to run generators because of lack of fuel or to the same healthcare buildings running out of drugs. According to the World Health Organization, 37% of the hospitals from Syria have been destroyed, while 20% have been severely damaged. There, the hospital under MSF jurisdiction was completely destroyed together with the rest of the town. This was the only hospital with surgery capabilities and the ability to provide treatment for tuberculosis and HIV for 270,000 people. Having suffered such a high degree of destruction – medical equipment, laboratory work and blood transfusions being thoroughly dismantled – it became extremely difficult for MSF to resume its activities. Nevertheless, the MSF personnel did manage to resume its activities by treating approximately 1,600 malnourished children only in the first 3 weeks.
Violent events also affect healthcare transportation. By transportation, it is meant medical vehicles such as ambulances, medical aircrafts, medical ships and machines used for the transportation of medical equipment or medical supplies. These vehicles are being attacked while en route by armed groups or state armed forces, they are being damaged by the same groups with the help of explosive devices and, most commonly, are being delayed and harassed at checkpoints. According to the Syrian-American Medical Society, 78% of the ambulances operating on Syrian territory have been badly damaged. The most representative cases in point are the attacks on healthcare infrastructure happening in Libya, thoroughly reported by the international media and the aid organizations.
Patients are also being attacked. Some even refuse to go to the hospital for fear of being identified by their wounds. Bijan Farnoudi, from the ICRC, told Al Jazeera that "a lot of the time they die because the ambulance didn't make it in time, because the hospital they were trying to seek shelter in was destroyed the night before, or because they were simply too scared to travel to make it to the nearest clinic", the latter also being a type of psychological violence against patients.
Doctor Rubin Coupland, a British war surgeon from the ICRC, is also advocating for the safety and dignity of patients by encouraging for the speeding of ambulance inspections at checkpoints. "It should take maybe five minutes to inspect an ambulance, not five hours". He goes on to say that "you don't have to put dogs in the ambulances to run all over the patients, as we've seen, to check for explosives".
Another way through which patients are suffering from violence is by being abducted. For instance, in January 2014, the police raided a Ukrainian centre of the Red Cross. This event escaladed even further and the healthcare workers soon found themselves being shot at while witnessing the abduction of their wounded patients ("Attacks on Healthcare", 2014)
Consequences of violence against healthcare
According to the Iraq's health ministry, 18,000 out of 34,000 doctors fled the country between the years of 2003 and 2006 due to increasing violence. That led to the breakdown of the country's health system, according to the founder of the NGO, Doctors for Iraq. The same individual warns that there are only 11 surgeons in Mogadishu, the Somali capital, "if anyone was killed, there would be no one to replace them".
The worst-case  scenario in this situation is the complete withdrawal of entire agencies from disease-ridden areas. Unfortunately, this is not simply a scenario. For instance, MSF decided to pull out of Somalia in 2013, after 22 years of continuous humanitarian work due to the fact that 16 of its workers had been killed since 1991 and several had been attacked.
Both the fleeing and the withdrawal of healthcare workers have preposterous implications. The skills of these workers are often irreplaceable and the ability to recruit people after all the previous attacks becomes exceedingly problematic since they all have even more reasons to be afraid of getting killed.
There seems to be a whole campaign out there that has as its main purpose the targeting of anti-polio healthcare staff. For instance, only in Pakistan, in December 2012, 9 anti-polio workers were killed by gunshots, which led the United Nations to decide against the continuation of the eradication program in that zone of conflict. Approximately 2 weeks after this unfortunate incident, other 7 more workers, assigned to do community development work, were killed only because they were associated with the anti-polio work carried out by their colleagues. In February 2013, this time in Nigeria, members of an Islamist group killed 9 other healthcare workers. Since 2012, a shocking 60 healthcare workers dealing with anti-polio vaccinations have been killed, threatening a polio "renaissance".
The same issue applies in terms of non-infectious chronic diseases. Because of this "militarization of healthcare", many refugees are more predisposed towards overcharging and exploitation since they are not in their home country. Adjacently, the surge in non-infectious chronic diseases in war zones is something to keep an eye on since they are progressively in the foreground. Proof gathered from both natural disasters and warfare points out to the excess in mortality and morbidity as caused by non-infectious diseases such as diabetes, hypertension and cancer. Moreover, not being able to access basic medical care leads to a propensity towards outbreaks of cholera, dysentery, typhoid or hepatitis.  All those seemingly routine blood tests needed for chronic diseases, such as the thyroid stimulating hormone or different types of medications like an asthma inhaler become unavailable when violence against healthcare buildings, ambulances or stores occurs. Maternal deaths are another reason why the lack of international healthcare or the lack of access to it is so sharply felt. These deaths – that can otherwise be considered preventable – happen because of mishandled home deliveries, all the missed abortions which in many cases led to sepsis and all the conflict-related impediments that constrain both patients and physicians' access to one another.
Since many doctors are being considered "enemies of the regime" for treating protestors, for instance, they are constantly targeted which makes hospitals unsafe places to seek treatment in. That leads to an increase in the setting up of alternative places to practice "medicine" such as makeshift hospitals, underground networks of healthcare workers or, in some cases, somebody's living room.  People choose to be treated in these parallel healthcare establishments for fear of being arrested or, even worse, tortured by their ethnic group for entrusting their health to these medical practitioners that are viewed as foes. However, these places have unsustainable and disjointed care.
Non-measured, non-existent…
"What we are surprised about is how much these incidents almost go unnoticed" said Yves Daccord, the Director-General of the ICRC. This is probably due to the fact that all of these repercussions brought by violence on the healthcare system are equally tough to measure. As Rudi Coninx from the Emergency Risk Management and Humanitarian Response department at the World Health Organization stated, "If you ask someone at WHO, 'What is the extent of the problem?', if they were honest, they would say, 'I don't know', as nobody collects these data in a systematic way".
Legal Provisions 
A year after the creation of the ICRC, the Geneva Convention of the 1864 set the legal basis for the neutrality and protection of medical personnel, hospitals and ambulances against violence during active combat (ICCR, 1864). However, the Geneva Conventions that are currently serving as the legal frameworks for the carrying of medical activities in armed conflicts were negotiated in 1949. They were subsequently amended with the inclusion of the Additional Protocols that were meant to take into consideration newer types of conflict. However, these violations of the law go far beyond the principles enshrined in the Geneva Protocols. According to the Special Representative of the Secretary-General for Children and Armed Conflict, Leila Zerrougui, the aftermath of conflict affects children's right to healthcare, in terms of their ability to access healthcare services during wars and the difficulties encountered by the healthcare personnel in providing for their most basic needs. That happens in spite of the legal framework constructed by the United Nations Security Council in which the protection of children in conflict zones is rendered a priority. The denial of humanitarian access to healthcare services is situated among the other six violations classified by the UNSC as gravely affecting the wellbeing of the children. Another violation is represented by the attacks on hospitals and schools. The main idea is that all of these violations are inadequately covered in the current legal framework meant to protect healthcare in conflict zones.
Refashioning the System                              
Steps towards the remodelling of the healthcare system have already been taken starting with the mere acknowledgement of the problems posed by the violence against healthcare. For instance, in May 2011, at the World Health Assembly, the government expressed avid interest towards the matter by simply admitting violence against healthcare does happen; more than that, it is pervasive and something needs to be done about it.
Nonetheless, this is not the stage at which things should be stopped. Appropriate measures to advance the delivery of healthcare by enhancing security need to be taken both within the health community itself and in the arenas of politics, law by creating standard operating procedures within the military and enhancing humanitarian dialogue. For example, in the realm of politics, the obstruction in the manufacture and trade of light weapons and small arms could lead to less civilian deaths in active combat. Another solution to protect healthcare workers is to establish a special protection force. Furthermore, something that is already being done with leaders of rebel groups such as Charles Taylor is the prosecution of attack perpetrators on healthcare personnel at the International Criminal Court.
"One of the first victims of war is the healthcare system itself", as Marco Balden interestingly stated. Some even believe that the legal framework is not as relevant anymore due to the urgency and importance of the matter. For instance, Paul Christopher Webster, an award-winning documentary film director who has reported from 20 countries since 1992, sustained the idea that "we need to focus on the consequences and not get bogged down in legalistic debates". He then went on to say that "this issue [violence against healthcare] is very real and very important for huge numbers of patients".   Regardless of differing opinions, what needs to be borne in mind is that the sick and the wounded are being denied healthcare that can make a difference between life and death when healthcare workers and killed, injured or threatened and when ambulances and hospitals are rendered non-functional.
Forced Population Transfers, Mass Expulsions, and Migration: The Law and its Claw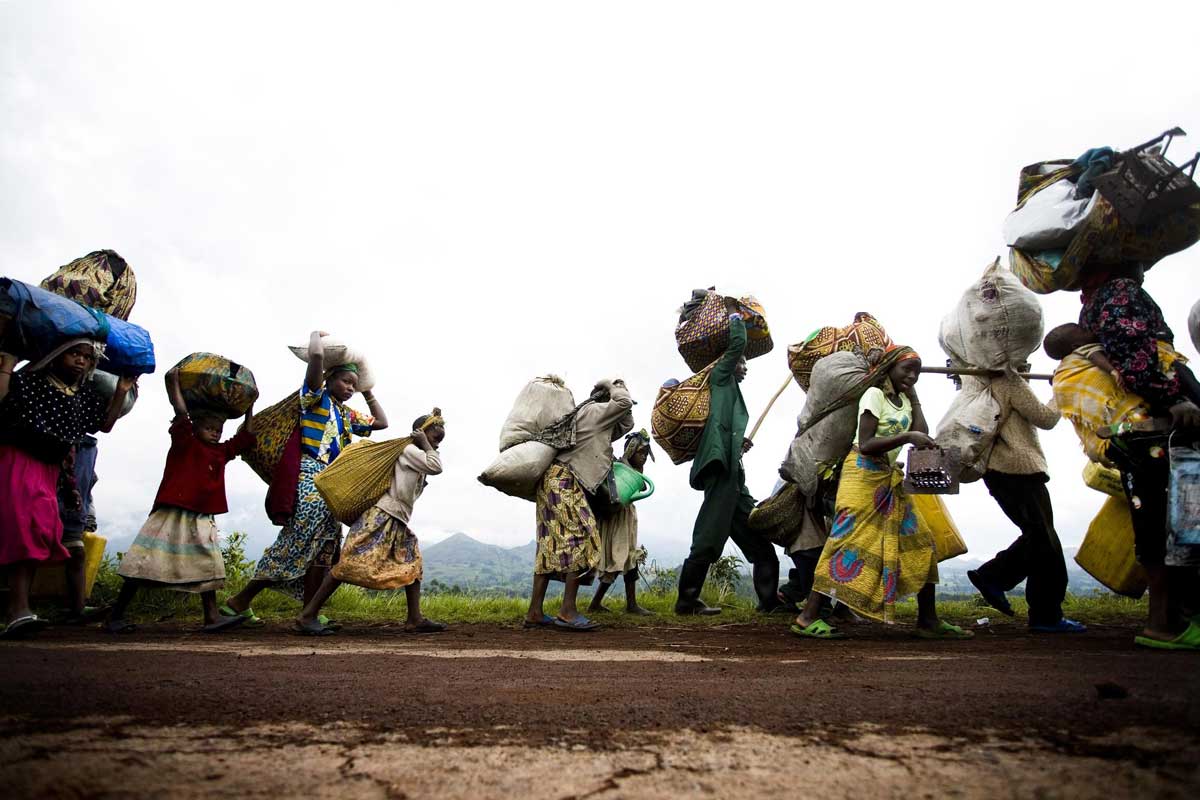 Human inception with autochthonic affinities coated in political proclivities harbingered and vouched for exclusivity of ethnicity, race,and religion in every part of the world. But civilizations have been interacting, intermingling andintermixingever since the people have accomplished the art of movements from one place to another by utilizing and developing the transport technologies of all kinds. However, in the contemporary circumstances, humanity is at war per se that pandered to a catena of causes of population movements across the human spectrum. Population transfers, expulsions, and forced migrations that take place in inconsistent conditions and a wide diversity of circumstances at the moment are coordinatedby a convoluted hodge-podge of legal labyrinth comprising the IHRL—International Human Rights Law, IRL— International Refugee Law, IHL—International Humanitarian Law, and IDL—International Development Law.The population transfer is allowed only in rare and restricted circumstances, with the standards of lawful transfer determined by explicit or implicit prohibitions contemplated predominantly in IHRL and IHL.
The Draft Population Transfer Declaration (PTD) defines illegal Population Transfer and the Implantation of Settlers, 1997 annexed to the Final Report of Special Rapporteur Al-Khasawneh, which was acceptedby the UNCHR (UN Commission on Human Rights) and ECOSOC in 1998. The PTDwas drafted by the UNCHR's Sub-Commission on Prevention of Discrimination and Protection of Minorities, which was renamed as Sub-Commission on the Promotion and Protection of Human Rights in 1999 until its functions and responsibilities were assumed in 2006 by the United Nations Human Rights Council (UNHRC). The Article 3 of the PTD defines "unlawful population transfer" as "a policy or practice having the goal or result of transferring the people into or out of a territory either within or across an international boundary or within into or out of an occupied territorywithout the informed and free consent of such transferred population and any obtaining population."The focus of this entry is, first, in those circumstances in which expulsions and transfers may be lawful; and, second, upon the preconditions, limitations, and other requirements, including most notably the right to compensation which needs to be satisfied to render such transfers lawful. However, the forced population transfers have been ruminated upon separately.
The Genesis of the Legal Norms
History is replete with instances of population transfer and its devastating effects on communities and individuals. There is no shortage of examples: population transfer and slavery; dispossession of indigenous peoples; population transfers as a result of treaties. Forthree centuries, before the slave trade was legally prohibited in Britain in 1807,  and afterwards, at the international level,by the General Act of the Brussels Conference Relating to the African Slave Trade-1890, the Slavery Convention-1926 and the Supplementary Convention on the Abolition of Slavery, the Slave Trade and Institutions and Practice Similar to Slavery-1956, was banned. The transatlantic slave traders enslaved and transported at least 12 million Africans to the Americas. The American Colonization Society, established in 1816, organized the transportation of free black Americans and manumittedand emancipated the slaves to Liberia, a policy which generated significant debate and which had been disputedat the time by many African-Americans. While deportation for slave labourwas rightly condemned as a war crime at Nuremberg, the failure of the Tokyo Tribunal to condemn the transfer of "Comfort Women" into sexual slavery during World War-II has been justly castigated.It has been highlighted in the Gender-Based Crimes judgment handed down by the non-governmental organization calledWomen's International War Crimes Tribunal that conducted the Trial of Japan's Military establishment's Sexual Slavery in 2001.
Indigenous people have been subject to widespread population transfers. Colonialism and Colonization led to the large-scale dispossession of indigenous peoples. Beginning with the Indian Removal Act, 1830[28 May 1830] whereunder an Exchange of Lands instead of the Indians Residing in any of the States, or Territories, and for Their Removal from the West of the Mississippi Riverwas provided.Consequently, series of statutes in the United States of America provided for the forcible removal of an estimated 100,000 Native Americans to reservations to make way for the settlers. Segregationist practices and policies in South Africa saw the creation of reserves for Africans and eventually led a system of apartheid based on Racial and Religious Discrimination popularly also known as South African Bantustan Policy to the establishment of the much-criticized homelands. Article-II (d) of the International Convention on the Suppression and Punishment of the Crime of Apartheid, 1973 prohibits, among other things, the creation of separate reserves on racial grounds. However, indigenous people continue to suffer population transfers often as a result of development projects reported by the Royal Commission on Aboriginal People, 1996 of administrative and development relocations of Canadian aboriginal people.
The population transfers have also been provided for by treaty. Greece and Bulgaria agreed to the consensual exchange of minorities in the 1919 Convention Respecting Reciprocal Emigration. The Convention relating to the Exchange of Greek and Turkish Populations-1923whereunder compulsory transfer of 1.5 million ethnic Greek population of Turkish nationality, and 400,000 ethnic Turks of Greek citizenshipwas provided. The treaty provided for a commission of representatives from Greece, Turkey, and the Council of the League of Nations to supervise transfers and the payment of compensation. However, controversy ascended over its scope ratione personae.  When the treaty's compensation provisions proved unworkable, they were replaced by lump sum agreements.
The Legality of Forced Population Transfers
The legality of forced or compulsory population transfer was robustly contested at the time both at and beyond the conference table. Extensive population transfers took place before, during, and after World War-II, including those resulting from some bilateral population transfer treaties between the Reich and, for example, Italy, the Baltics, and the Soviet Union. Typically these deals included an "option clause" although it has been disputedwhether, in practice, consent was freely given. It is more accurate to categorize these events as a forced population transfer, as millions of individuals were in fact forcibly expelled (whether from the German-occupied territory, or within the Soviet Union) in blatant and unprecedented violations of international law.
At the conclusion of World War II, compulsory population transfers continued on a massive scale in Europe by inter-State agreement. A few weeks after the Allies adopted the UN Charter, the Soviet Union, the United Kingdom, and the US agreed at the Potsdam Conference-1945 that transfer to Germany of the German population in Czechoslovakia, Hungary, and Poland "will have to be undertaken" as per the Article XIII of the Potsdam Protocol and should "be effected in an orderly and humane manner" although in practice it was neither. The legality of the Potsdam Protocol under international law, as well as the subsequent forced population transfer, was stronglycontested at that time.Particularly, Article 7 of the PTD provides that international agreement can not legalize population transfers which violate fundamental human rights norms. Post-World War-II population transfers were not limited to German minorities: the agreement between Hungary and Czechoslovakia to exchange 200,000 Magyars and 200,000 Slovaks in February 1946 represents just one of some bilateral population exchange agreements of the impugned period.
The Potsdam Protocol has been regardedas an attempt to validate expulsions already in progress, as much as an endeavour to regulate future population transfers. Similarly, the Agreement between India and Pakistan on Minorities designated as "New Delhi Accord"-1950 served more like a "formal recognition of a fait accompli of the population transfer of about ten million population of Hindus and Muslims between India and Pakistanin the wake of the partition of the Indian Sub-continent in 1947. As the Preliminary Report observes, while such transfers were in some degree consensual and aimed at avoiding inter-ethnic conflict, they involved "a tragic human rights trade-off." During the armed conflict in the former Yugoslavia, numerous resolutions by the UN Security Council (UNSC), including UNSC Resolution 826 (1993) and 859 (1993) called for the reversal of the effects of ethnic cleansing in Yugoslavia in its post-dissolution stage. However, some commentators criticized the General Framework Agreement for Peace in Bosnia, and Herzegovina popularly designated as Dayton Peace Agreement that ended the war in 1995, for affirming territorial changes brought about by ethnic cleansing.
With the entrenchment of IHRL in the second half of the 20th century, it is increasingly accepted that population transfers violate a series of human rights guarantees as identified in the judgments of Cyprus v. Turkey delivered by the European Court of Human Rights (ECtHR) on May 10, 2001. The Cyprus v. Turkeywas decided by the European Commission of Human Rights on October 04, 1992.The Sub-Commission constituted forthe Prevention of Discrimination and Protection of Minorities,and its Special Rapporteur studied the population transfer from the early 1990s, and his Final Report was published in 1997. The Final Report had recommended the adoption of a Comprehensive International Instrument on Population Transfer and appended the Model Declaration on Population Transfer to apply in all situations, and to all persons, groups, and authorities under Articles 1 and 2wherein a number of its terms reflect the current customary international law.Moreover, the jurisprudence developed by the International Criminal Tribunal for the Former Yugoslavia (ICTY) has also significantly influenced the development of the law on forced population transfer.
The Current Legal Phantasmagoria
If the international legal policy has changed over time to restrict the legality of population transfer, history offers valuable lessons. Firstly, it regrettably demonstrates the recurrent use of population transfers in State and nation-building. Secondly, it shows the international community's all-too-frequent de facto acceptance of population transfer or its effects in pursuit of its perception of how the interests of peace are best served. Thirdly, as instances of population transfer demonstrate, the enforcement of law poses considerable challenges. But it is also worth emphasizing the existence of significant new problems, including the question of climatic displacement identified in the UNHCR "Forced Displacement in the Context of Climate Change: Challenges for States under International Law." Therefore, the Forced population transfers are, as the Preliminary Report concluded, prima facie unlawful because they violate core norms of IHRL and IHL. A vast pool of human rights instruments prohibit the mass expulsion of nationals and aliens, and the rights of Internally Displaced Persons (IDPs) not to be arbitrarily displaced is recognized in the authoritative soft law developed by the UN Secretary-General's Representative on Internal Displacement adopted as UN ECOSOC "Guiding Principles on Internal Displacement" in 1998.
As Article 3 of the PTD makes clear, the concept of population transfer encompasses settler infusion such as the implantation of Moroccan, Indonesian, and Chinese settlers into Western Sahara, East Timor, and Tibet respectively. By altering the demographic composition of host populations, settler infusions can jeopardize the exercise of the right to self-determination. In practice settler infusion and expulsion are often related, as is illustrated by the illegal expulsion under the government of late Saddam Hussein of ethnic minorities from oil-rich regions of northern Iraq, accompanied by the resettlement of Arabs in furtherance of a policy of "Arabization." However, in certain assiduouslydefined circumstances, population transfers may be lawful. Article 3 of the PTD makes the legality of population transfer dependent on the informed consent of host and transferred populations. In areview of Special Rapporteur Al-Khasawneh's "Progress Report" under Para 25 along with international jurisprudence and international conventions, concludes that this principle of consent has reached the status of a general principle of international law. The transfer is non-consensual where it is forcible, coerced, or induced.  As obtaining informed consent often presents considerable difficulty, the Progress Report rightly emphasizes the need for monitoring mechanisms to ensure officialapproval.
International Human Rights Law
Additionally, population transfers may be lawful in certain situations such as national emergency, public disorder, or environmental crises, but in each case only subject to the fulfillment of conditions for lawful derogation from non-derogable human rights in thestate of emergency. For example, while it follows from the protection of freedom of movement under Article 12 of International Covenant on Civil and Political Rights-1966 (ICCPR), Article 13 of Universal Declaration of Human Rights (1948) (UDHR), and Article 5 of International Convention on the Elimination of All Forms of Racial Discrimination (ICERD) that population transfer within a State or across an international border is prohibited, derogations from the right to freedom of movement, to the choice of residence, to leave, and to return are permitted. Such derogations are tightly circumscribed and limited to the public interest and compensation must be awarded as expounded by the "Inter-American Commission on Human Rights Report of November 29, 1983,ona section of the Nicaraguan population of Miskito origin and their Human Rights conditions. Similarly, Article 4 of the PTD permits displacement only where either the safety of the transferred population or imperative military reasons demand. In such circumstances, displaced persons should be allowed to return immediately when the conditions rendering their displacement imperatively cease. Transfers must not interfere with minority and indigenous rights of the host population.  Where the purpose or means of population transfer violate norms of jus cogens (peremptorynorms of international law), it is, indeed, prohibited.
Forced Population Transfer & Indigenous Peoples
The Preliminary Report states that population transfer is the primary cause of land loss of the indigenous people as it constitutes a principal factor in the process of ethnocide as discussed at Para 101 of the Report. However, while Article16 (1) of International Labour Organization (ILO) Convention No. 169 Concerning Indigenous and Tribal Peoples in Independent Countries (1989) states that indigenous peoples should not be removed from the lands they inhabit. This fundamental principle is subject to the exception and prerequisites detailed in Article16 (2) of ILO Convention No 169 as follows:Where the relocation of these peoples is considered to be necessary as an exceptional measure, therefore, such kind of relocation shall take place only with their free and informed consent. Where their consent cannot be obtained or ascertained, such relocation shall take place just following appropriate procedures or due process established by the national laws and regulationsincluding public inquiries where necessary, which provide the opportunity for valid representation of the peoples concerned.
If relocation occurs, indigenous peoples are entitled to be compensated for loss or injury as provided under Article 16 (5) of ILO Convention No 169 and they enjoy a right to return "wherever possible" once the reasons for relocation cease to apply [(Art. 16 (3) ILO Convention No 169)]. Where areturn is impossible, indigenous peoples should be provided with comparable alternative lands or, should they prefer, compensation (Art. 16 (4) ILO Convention No 169). These provisions concerning consent and compensation represent international custom (Progress Report Para. 27). Many indigenous groups have disassociated themselves from the convention, in part because of the overly permissive tenor of Article 16 of ILO Convention No 169 favours the State. The convention has also been criticized for failing to acknowledge the importance of the relationship of indigenous peoples to a particular place (Preliminary Report Para. 257). The non-binding Declaration on the Rights of Indigenous Peoples, adopted by the UN General Assembly (UNGA) on 13 September 2007, addresses some of these criticisms. Having noted in its Preamble the concern for the historical injustices indigenous people have suffered, among other things through colonization and the dispossession of lands, Article 10 of the Declaration on the Rights of Indigenous Peoples subjects relocation of indigenous people to their "free, prior and informed consent" in unqualified terms after "agreement on just and fair compensation" with an option to return where possible."The Declaration on the Indigenous Peoples' Rights" further provides that indigenous peoples have a right to redress and reparation for lands that have been taken or used in the past without their consent under Article 28. The Declarationobliges States to provide effective mechanisms to prevent and contain redress for forced population transfer under Article 8 (c) of the Declaration on the Rights of Indigenous Peoples regarding Environment and Indigenous Peoples also.
Population Transfer and Development
Beyond the context of indigenous people's rights, the legality of population transfers carried out to make way for development projects is not currently subject to specific regulation by international treaties on the progressive development of International Law. However, referring to sources such as the principle of self-determination enshrined in Article 1 of the ICCPR-1966.UN resolutions on the development and human rights and development and the environment, the Preliminary Report authoritatively argues that customary international law already governs these incidences of population transfer (at Paras 300–311). The Final Report concludes that the legality of such population transfers depends on them being non-discriminatory, in the public interest, that they do not deprive people of their means of subsistence, and are subject to the consent of the people to be transferred. Their consent must be procured after dialogue and negotiation with the population's elected representatives on "terms of equality, fairness,and transparency" (Article 68, Final Report). The transferred people should be provided with monetary compensation as well as equivalent land, housing, occupation, and employment.
Since 1980 the World Bank has responded to international pressure by developing a policy on involuntary resettlement documented by the World Bank Group. Operational Directive 4.30 (1990) was replaced in 2001 by Operational Policy 4.12 on-Involuntary Resettlement, as revised in February 2011. Reports have documented great enforcement difficulties, however, and resettlement has faced popular resistance as recorded on pages 211–212. The transnational coalition against the Narmada river dams contributed to the World Bank withdrawing its funding in 1993. A cross-border campaign, together with a negative World Bank Inspection Panel Report, led the Bank to withdraw its support for the China Western Poverty Reduction Project, which would have involved the settler infusion of around 58,000 Chinese into Tibet.
Population Transfer in Armed Conflict
Apart from voluntary transfers during international armed conflicts, under Article 49 of the 4thGeneva Convention Relating to the Protection of Civilian Persons in Time of War-1949 provides that during hostilities, temporary evacuation is permissible only where it is necessary for the "security of the population" or where "imperative military reasons do demand."  Similar arguments are also advanced in situations of International Armed Conflicts and Military Necessity etc. Even then, temporary evacuation is subject to some conditions. Firstly, displacement is not permitted outside the territorial boundaries of the occupied State unless impossible to avoid "for material reasons" (Article 49, Geneva Convention-IV). Secondly, on the cessation of hostilities evacuees should be returned home. Thirdly, occupying powers are obliged to provide "to the greatest practicable extent" proper accommodation for those evacuated, and evacuations should be carried out "in satisfactory conditions of hygiene, health, safety,and nutrition." Fourthly, family members should not be separated, and finally, protecting powers should be informed of all kinds of population transfers.
The transfer of acivilian population by an occupying power of its civilian population into occupied territory is also prohibited. However, there arefew disputes as to whether it constitutes a grave breach of the customary international law?In 2004, the ICJ held in the case of the Construction of a Wall in the Occupied Territory of Palestine and its Legal Consequences [2004] ICJ Rep. 136 Para 134 popularly called "Israeli Wall Advisory Opinion Case" that the construction of the wall and "its associated régime" violated the rights of the people of the Occupied Territory to freedom of movement, work, an adequate standard of living, education, and healthas well as the Jus Cogens right of self-determination.
In non-international armed conflicts, displacement is permitted only where it is required for the security of the transferees or imperative military necessity. In this case, Article 17 of the Additional Protocol-II, 1977 to Geneva Conventions-1949 requires that "all possible measures" must be taken to ensure the transferred population is "received under satisfactory conditions of shelter, safety, health, hygiene,and nutrition." Otherwise, population transfers "for reasons relatingto the conflict" are forbidden. The Final Report calls for the parameters of the concept of "military necessity" to be further developed to prevent abuse advocated at Para. 39. However, the belligerents have "broad powers" to expel enemy nationals during an armed conflict as documented and titled under Civilians Claims: Eritrea's Claims 15, 16, 23, 27–32 Para. 81 and further Paras 82 and 99; Civilians Claims: Ethiopia's Claim 5 Para. 121. These powers are not, however, unlimited. Belligerents must ensure the application of humanitarian law,and humanitarian standards, including those contained in Articles 35 and 36 Geneva Convention IV enshrined in the Civilians Claims: Ethiopia's Claim 5 Para. 122) but "Indiscriminate rounds-ups and expulsions based on ethnicity" are unlawful.
Remedies and Enforcement
Unlawful population transfer gives rise to State responsibility and individual criminal responsibility under Article 9 of the PTD where population transfers occur within the territorial boundaries of a single State, it may be difficult if not impossible to identify a State that is injured and, therefore, entitled to bring a claim under the traditional principles of State responsibility. However, third States may incur duties of non-recognition and non-assistance (the Construction of a Wall and itsLegal Consequences in the Occupied Palestinian Territory Case [Advisory Opinion, Para. 136]. From Britain's naval interdiction of slave traders in the first part of the 19thcentury through to the use of force by the North Atlantic Treaty Organization (NATO) against Yugoslavia wherein the right of humanitarian intervention to prevent population transfer has been contested in the case popularly known as Legality of the Use of Force Case (Yugoslavia v Spain, Provisional Measures Order).
The right to return is central to restitution in inter-regnum under Article 8 of the PTD. Evidence for its customary international law status can be drawn from some international instruments such as provisions in human rights instruments, e.g. Article 13 (2) of the UDHR, Article 5 of the ICERD, Article 12 (4) of the ICCPR, Article 22 (5) of the American Convention on Human Rights, 1969, and Article 12 (2) of the African Charter on Human and Peoples' Rights, 1981as well as UN Resolutions, Peace Agreements and Soft Law relating to IDPs (UN Guiding Principles on Internal Displacement, 1998). The Final Report considers that the State of origin is obliged to facilitate return (at Para. 60). The Dayton Peace Agreement made the return of refugees and displaced persons an "important objective of the settlement and resolution of the conflict in Bosnia and Herzegovina"as enunciated in Annexure 7, Article 1 (1) of Dayton Peace Agreement. It provides for refugees and displaced people to return to their "homelands of origin," leaving the choice of destination to the returnees, and for the return of their property and compensation.
The practice of return has proved problematic with multi-dimensional ramifications as the right has been insufficiently enforced is illustrated by repeated failures to implement UNGA Resolution 194 (III) (1948) concerning the return of Palestinian refugees, and to secure the return of refugees in Cyprus. Likewise, security concerns and delay in resolving property claims have proved formidable obstacles to implementing return provisions in the Dayton Peace Agreement. Moreover, the scope of the right to return, particularly the effect of the passage of time, is unclear. As the Final Report states, "peace is ultimately an act of compromise" as noted at Para 63.Thus, the ECtHR has observed that:
"It cannot be within this Court's purview in interpreting and applying the provisions of the Convention to execute an unconditional obligation on a Government to get on on the forcible ejection and rehousing of possibly large numbers of people (men, women, and children) even with the aim of justifying the rights of victims of violations of the Convention" (Demopoulos v. Turkey, Para. 116).
Of significant legal contestation is the effect of the Oslo Accords, which do not refer to UNGA Resolution 194 (III) on the right to return of Palestinian refugees. In 2003, the Danish Supreme Court refused to grant a right of return to the Thule tribe who were relocated in 1953 to facilitate the establishment of a US airbase, although it did order the payment of compensation (Hingitaq 53 v Prime Minister's Office, Danish Supreme Court [28 November 2003] (2004) 98 AJIL 572).Similarly, on a number of occasions the whilst English courts have ruled that Britain's removal of the Chagos Islanders between 1965 and 1973 to make way for an American Military Base, and the Orders in Council (2004) preventing their return, are illegal (R. [Bancoult] v. Secretary of State for Foreign and Commonwealth Affairs [No 2] [2007] EWCA Civ 498). The British government has opposed long-term resettlement, and the House of Lords has subsequently, on appeal, upheld the legality of prerogative orders preventing the unrestricted return of the Chagos Islanders (R [Bancoult] v. Secretary of State, Foreign and Commonwealth Affairs [No 2] [2008] UKHL 61).
Entitlement to compensation for unlawful population transfer forms part of duty on the part of the responsible State to compensate victims of human rights abuses, which is increasingly gaining recognition in modern international law (Report of the International Commission of Inquiry on Darfur Paras 590–603). Such a right is also recognized in specific international instruments, sometimes as a prerequisite to the lawfulness of transfer, but also for loss and injury arising from the transfer (Article 16, ILO Convention No 169; Article 8 of the PTD; Principle 29of UN Guiding Principles, 1998). The Progress Report suggests that in the case of lawful transfer damage should be compensated "as a matter of equity" as per Para137 that analyses the Equity in International Law. There is also judicial recognition of a victim's right to receive compensation for loss arising out of population transfer as stipulated in the Loizidou Case. This right may require general measures to be taken at the national level according to the Broniowski Case, Xenides-Arestis v. Turkey [ECtHR]). Further, in Demopoulos v. Turkey, the ECtHR dismissed the claims of Greek Cypriots based on the EuropeanConvention on Human Rights(ECHR) under its Article 8 and Article 1 of the Additional Protocol to the ECHR on grounds of non-exhaustion of domestic remedies, holding that the Turkish Republic of Northern Cyprus Immovable Property Commission provided "an accessible and practical framework of redressal in regarding complaints about interference with the property owned by Greek Cypriots adumbrated at Para 127. Amongst the recommendations of the Final Report at Para 74 is the establishment of an International Trust Fund (ITF) for rehabilitation of population transfer survivors. The issue of reparations for the slave trade remains contested which has been shown by discussions taking place during the World Conference against Racism, Racial Discrimination, Xenophobia and Related Intolerance in Durban in 2001.
Conclusion
It may aptly be understood that presently many regions in the world mainly Balkans and the Caucasus in Europe, South Asia (Statelessness) and South East Asia  (displaced persons—Rohingya refugees) have been devastated by ethnic and racial conflicts. The global conflicts in Gulf region, Syria, Yemen, Congo, Rwanda, South Sudan, Lebanon, etc. have triggered massive human displacements, refugee migration and asylum seekers that have been forcing people to flee within their homelands or abroad owing to fear of persecution.The absence of a single global instrument on population transfer leads to overlap, inaccessibility, and disparity in the level of protection available to victims of different forms of population transfer. Some of these problems would be overcome if States were to adopt the Population Transfer Declaration. Given the deleterious consequences of population transfer and the difficulties of enforcing the law on consent, return, and compensation, it might be questioned whether legal provisions still weigh too heavily in favor of States and entities seeking to transfer.